Craft Workshop Singapore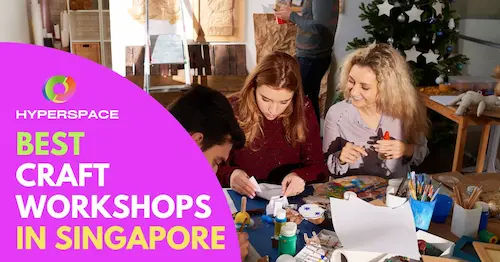 Craft workshops are a must for unleashing your inner artist and discovering new skills.
The best craft workshops in Singapore are Terrarium Workshop, Gel Candle Making Workshop, Neon Art Jamming Workshop, Tote Bag Art Jamming Workshop, Virtual Clay Making Workshop to name a few.
In order to achieve a fun workshop, consider the important factors in choosing such as duration, cost, material quality, and your team's capabilities.
FunEmpire is widely recognized as a top-notch provider of craft workhops and various team building activities in Singapore. With outstanding facilities, a wide workshops available, and a committed team, they ensure an impeccable experience that sets the benchmark for laser tag in Singapore.
So why wait? Unleash your creativity and build unforgettable memories with your team at these fun craft workshops in Singapore. Book your session today!
Benefits of Craft Workshop
Boosts Creativity: Being exposed to new techniques and ideas, which is a guaranteed experience in a craft workshop, can help generate fresh ones through stimulation. This new wave of creativity can enhance your problem-solving skills and become helpful in other domains of life.
Develops Focus and Patience: Completing a craftwork requires a certain level of commitment, persistence, and resilience which require focus and patience to develop. By participating in craft workshops, you can develop these skills which can be beneficial in many areas of life.
Socializing and Networking: When participating in a crafting activity or workshop, you get the opportunity to meet people who have the same interests as you. Not only would this lead to networking opportunities, but it could also ignite new friendships, and you could learn from others.
Improves Mental Health: Engaging in crafting has positive impact on mental health, reducing anxiety, stress and alleviating depression. It provides a sense of accomplishment and boosts mood, contributing to better mental health.
Increases Self-Esteem: Crafting is a fun way of creating something that makes you feel a sense of pride and joy, contributing to increased self-esteem and a sense of achievement for your inner artist.
Best Craft Workshop Singapore
Creative Workshops
1. Gel Candle Making Workshop
Open the door to unlimited creative possibilities and create your own candle as part of your team – it's an ideal way to bond with your colleagues! Experiment with different inserts, step up your candle-making skills, and take home a special memento that stands for all the fun you experienced while crafting something truly one-of-a-kind.
2. Leather Workshop
Unlock the secrets of hand-stitching leather, and join us in our Stitched Leather Workshop! We'll supply all the tools you need while guiding you along each step. Make your own card holder that will last a lifetime – but don't wait too long as seating is limited. Don't miss out on this incredible opportunity to expand your skillset – reserve yours today!
3. Cooking Classes
Transform your stress free session with a sensational Singaporean cooking experience! Our classes will provide you and the group an unforgettable flavor voyage, permitting each colleague to embody their internal chef. Cook local favorites that are bound to make everyone crave more of this amazing cuisine! The culinary quest has begun – start your learning journey now!
4. Neon Art Jamming Workshop
Illuminate your evening with our fascinating fluorescent neon paints and tools in the art space! Our Art Jamming session is one of a kind. Shake off all the stress from your day and get your hands dirty by designing an electric masterpiece that glows in the dark! Everything you need to craft an astonishing artwork is supplied – simply reserve your spot now and get ready for a remarkable experience unlike any other.
5. Balloon Sculpting
Unlock your creative potential and embark on a remarkable journey with FunEmpire's Balloon Sculpting Workshop! It is an enjoyable activity for anyone, where you will discover the secrets to crafting beautiful shapes such as butterflies, flowers or even pirate swords. Our professional instructors are always ready to assist in guiding participants throughout the workshop – all the mate
6. Canvas Art Jamming Workshop
Unlock your creative juices flowing with FunEmpire! The wonderful Art Jamming session offers an enjoyable and stress-free experience for friends, family members or colleagues. We provide all the essentials you need to have a successful painting event – no prior artistic knowledge required! Don't miss out on this special chance to unleash creativity and create something meaningful that will last forever!
7. Tote Bag Art Jamming Workshop
Are you looking for something extraordinary? Then FunEmpire's Art Jamming is your answer! With just the power of your imagination and all supplies provided, crafting a unique tote bag becomes an effortless experience. Even those without any art background can still join in on this creative journey – so why not embark today by letting yourself express freely!
8. Clay Making Workshop
Are you intrigued by the tantalizing dishes served in fine dining restaurants? Quench your curiosity and learn how to craft these intricate figures and different materials with clay, right here in this class! With no prior experience required, even beginners can easily master the step-by-step process.
Perfect for individuals or teams alike—regardless of age group—this activity promises an enjoyable experience sure to stimulate everyone's creative potential. Join us now and find out what culinary wonders await you!
9. Perfume Making Workshop
According to the saying, scent is a key indicator of personality. In our workshop, we offer you the opportunity to create your own signature aroma through combining various scents! This team exercise not only brings out each other's olfactory preferences but also encourages fun and camaraderie among all participants.
After this enriching experience concludes, everybody can bring home with them their very own signature perfume – making it an unforgettable reminder that will last for years and years!
10. Terrarium Workshop
Ignite your creativity and make an impact on the environment by joining Terrarium Singapore's workshop! Our experienced instructors have designed a custom-made program to ensure learning is fun, engaging, and gives you practical experience. Put together a miniature forest that can be yours or someone else's gift today – there isn't any better way of expressing how much you care for them! Register now so you can begin making something unique with terrariums!
Virtual Workshops
11. Virtual Clay Making Workshop
Are you looking for a creative and engaging team-building activity? Why not make your own unique keepsakes or clay figurines! Our top-notch air dry clay offers the chance to design projects without any worry of toxicity or weight. It's more than just enjoying some fun – it also gives you the opportunity to give special gifts that are custom made with love to those near and dear.
12. Virtual Art Jamming
Unleash your childhood dream and explore the world of art with our stimulating painting workshops. We provide all the materials such as canvases, tote bags, acrylic paint, pencils, and erasers – all you need to create your own masterpiece, including those that express ancient art!
Our expert facilitators will guide you every step along the way and even teach you about color mixing theory during this workshop. Do not miss out on this unique opportunity to transform ordinary surfaces into something spectacular – join us today!
13. Virtual Terrarium
Unlock your creativity with FunEmpire's Terrarium Home Kit – an art workshop delivered to you! Our kit contains all the materials, plus a delightful figurine, for constructing your own miniature garden. Not merely is it an enjoyable and unique craft activity to do with family or co-workers, but our experienced professionals will also supply theoretical and practical instruction on terrarium development from the comfort of your own home. Design a personal mini-garden that will bring much delight as well as create indelible memories!
14. Virtual Leather Workshop
Unlock your creative side and discover the art of leather crafting with our reasonably priced starter kit! Before you begin this amazing team building session, each person will receive all the necessary materials. Our knowledgeable instructor will then go on to enlighten you about different types of leather as well as upkeep basics.
You'll have a chance to show off what you've learned by creating personalized items like key fobs or coin pouches. Revel in pride at having made something that is both practical and special – only here with us!
15. Virtual Candle Making Workshop
Harness your creativity and unite with your team in the FunEmpire Virtual Candle Making Workshop! Our customized home kit offers all the necessary materials to construct a captivating, aromatic soy candle with essential oils along with an exquisite figurine. Seize this exceptional opportunity to foster solidarity and fortify collaboration between colleagues – partake in one of Singapore's leading corporate activities today!
Craft Workshop Singapore
Are you searching for the perfect activity for your next team building in Singapore? Look no further than FunEmpire in Singapore!
This vibrant city provides an abundance of art and culture – from virtual terrariums to candle-making, leather crafting and perfumery – with workshop activities as great as these, it's sure to unlock hidden potential.
Our qualified facilitators coupled with high quality materials ensure an experience like no other for all participants involved! Don't miss out on this unique opportunity to explore Singapore through our craft workshops today.
If you want to read more interesting articles, follow the links below:
Frequently Asked Questions (FAQ)
If you have any questions about Craft Workshops In Singapore, you can refer to the frequently asked questions (FAQ) about the Best Craft Workshops In Singapore below:
Additional Useful Articles
If you are looking for other useful guides and articles about Craft Workshops In Singapore, check them out below: