Singapore Team Building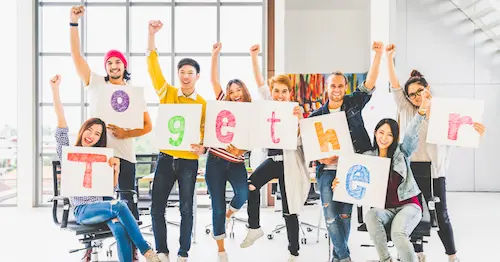 In order to achieve success, organizations need to value team building in Singapore as they promote rapport and cooperative attitudes among team members while enhancing creativity and problem-solving aptitudes.
The best Singapore Team Building ideas are Bubble Soccer, Combat Archery Tag, Amazing Race, Clay Making Workshop, and Virtual Squid Escape.
When choosing a team building activity, it is crucial to consider factors such as cost, activity type, group size, and time constraints.
FunEmpire's Singapore Team Building ideas are renowned as the best in Singapore. With over 8,000 5-star client reviews and an impressive track record of 50,000+ successful events, they are the go-to choice for memorable team-building experiences.
This article delves into the benefits of Singapore Team Building while providing practical ideas for companies seeking to foster teamwork and collaboration among their employees.
What Is Singapore Team Building?
The concept of Singapore Team Building is to facilitate a sense of togetherness and cooperation amidst an organization's members. It comprises physical exertions ranging from obstacle games, puzzle-solving, and team-based sports, as well as mental puzzles such as brainstorming and problem-solving exercises. The diverse array of activities and approaches utilized in team building cultivates robust bonding and enhances problem-solving abilities among team members.
10 Benefits Of Singapore Team Building
1. Improves communication among team members
Team building activities help team members learn how to communicate more effectively with each other. This can result in clearer communication and fewer misunderstandings or conflicts.
2. Fosters positive collaboration and healthy competition
Team building activities also help foster a sense of collaboration and teamwork among team members. At the same time, healthy competition can inspire team members to work harder and be more productive.
3. Increases team morale and motivation
When team members participate in team building activities, they often feel more engaged and invested in their work. This can boost team morale and motivation, leading to higher levels of productivity and job satisfaction.
4. Boosts creativity and productivity
Team building activities can also inspire team members to think outside the box and come up with creative solutions to problems. This, in turn, can lead to increased productivity and innovation.
5. Helps identify and address conflicts within the team
Team building activities can help identify any conflicts or issues that may be affecting the team's overall performance. Once these issues are identified, the team can work together to resolve them.
6. Builds trust and mutual respect among team members
Team building activities can help team members get to know each other better and build trust and mutual respect. This can lead to better working relationships and a more positive work environment.
7. Develops leadership skills and enhances problem-solving abilities
Team building activities often involve leadership and problem-solving exercises, which can help team members develop these important skills.
8. Enhances goal-setting and team planning
Team building activities often involve setting goals and working together to achieve them. This can help team members develop stronger goal-setting and planning skills that they can apply to their work.
9. Encourages diversity and inclusivity within the team
Team building activities can also help create a more diverse and inclusive team environment, where all team members feel valued and included.
10. Creates a culture of learning and continuous improvement
Finally, team building activities can help create a culture of learning and continuous improvement, where team members are encouraged to take risks, learn from their mistakes, and work together to achieve common goals.
Top Recommended Team Building Activities in Singapore
Adventure Activities
1. Poolball
Get ready to have an incredibly exciting time playing a variety of thrilling games, including Poolball Classic and Poolball Sabotage, on the world's largest pool table. Whether you're a part of a corporate team bonding event or just a group of friends, this game will challenge you to engage in strategic planning and effective team communication, regardless of your age or size. As a game that encourages a strong sense of camaraderie, it's suitable for both small and large groups. Come experience the thrill of conquering the giant pool table and have an unforgettable time!
2. Ninja Tag
Unleash your inner ninja with Ninja Tag! Join an action-packed team building adventure that includes foam Ninja Daggers, scoring vests, and exciting missions. Bond with your colleagues as you play various game modes and work together to emerge victorious. Don't miss out on the chance to fight like a true warrior – sign up for Ninja Tag today!
3. Laser Tag
Laser tag is an excellent game for team building, suitable for anyone regardless of age. It provides a unique opportunity for participants to engage in thrilling missions together and build strong bonds that will create lasting memories. Whether you prefer indoor or outdoor gameplay, laser tag is flexible and can adapt to group size and preferences. With its inclusiveness and versatility, laser tag is a perfect choice for team building events. Choose from exciting missions like Capture the Flag, Mission Impossible, and Domination to make teamwork building even more fun and beneficial. Remember, laser tag is more than just a team-building activity. It's also great for birthday celebrations, bachelor parties, or any other special occasion!
4. Bubble Soccer
Are you looking for an exciting and enjoyable team building experience in Singapore? Look no further than Bubble Soccer!
It's a thrilling game that allows you and your colleagues to bump around safely inside giant inflatable bubbles while strategizing as a group to achieve victory. Picture this: you and your teammates racing across the field, bouncing off each other, and laughing uncontrollably.
It's not just about the fun, though. Bubble Soccer also offers the added benefits of strengthened teamwork and improved collaboration. By engaging in this activity, you'll forge stronger bonds with your team and develop effective communication skills.
So, if you're ready to take your team building to the next level, give Bubble Soccer a try. Trust me, you won't regret it!
5. Saber Tag
Looking for a fun and exciting activity to add to your next corporate team building event or birthday celebration? Look no further than Saber Tag®!
It's a game that guarantees not only a unique and unforgettable experience, but also brings your colleagues closer together in a thrilling and action-packed adventure. Imagine the thrill of wielding a glowing saber and engaging in epic battles with your friends and coworkers, all in a safe and controlled environment. Whether you're a Star Wars fan or simply looking for an exhilarating activity, Saber Tag® is the perfect choice.
Join us at our conveniently located venue in Singapore, where you'll get to experience one of the coolest and most immersive games in town. Get ready to unleash your inner Jedi or Sith and create memories that will last a lifetime!
6. Combat Archery Tag
Archery Tag is an incredibly exhilarating and unique sport that combines the excitement of dodgeball with the skill and precision of archery. It appeals to people of all ages, from kids to adults, who are seeking a thrilling and action-packed experience.
In this heart-pounding game, teams face off against each other in a specially designed arena, creating a competitive and immersive environment. Players arm themselves with bows and foam-tipped arrows, aiming to eliminate their opponents while strategically dodging incoming fire.
Safety is of utmost importance, as all players are required to wear protective face masks to ensure a fun and secure playing experience. The foam-tipped arrows deliver a satisfying impact without any risk of injury, allowing participants to fully immerse themselves in the game without worry.
Get ready for an adrenaline-fueled adventure as you engage in this fast-paced and dynamic sport. Archery Tag is guaranteed to test your aim, agility, and teamwork skills, leaving you with an unforgettable experience and memories that will last a lifetime.
Creative Activities
1. Leather Workshop
FunEmpire's team-building exercise is absolutely perfect for anyone looking to kick off their journey with a bang! Whether you consider yourself a naturally creative individual bursting with artistic talent or a complete novice in the world of art, this session is tailor-made for you.
It's specifically designed to foster and cultivate stronger relationships among team members, all while providing a safe and supportive environment free from any form of criticism.
They can guarantee that this experience will be an absolute blast for everyone involved, irrespective of their artistic ability. So come on board and join us for a truly unforgettable and fun-filled time!
2. Art Jamming Workshop
Unleash your inner artist and channel your inner Van Gogh or Picasso by taking part in FunEmpire's Art Jamming Experience – Singapore's premier art jamming service. This unique team-building activity fosters cooperation, patience, and creativity among participants, making it an excellent way to build stronger relationships with your colleagues or friends. Regardless of your level of artistic experience, whether you're a seasoned artist or a beginner, this art jamming experience is an opportunity to explore your creative abilities and learn about the fundamentals of color mixing theory.
3. Clay Making Workshop
Indulge your creativity and foster teamwork by taking part in our Clay Making Workshop – an exciting and immersive team bonding activity. During this unique workshop, participants will have the opportunity to explore their artistic abilities and unleash their imagination through the creation of clay figurines. Whether you're a novice or an experienced artist, our skilled instructors will guide you every step of the way, ensuring that you have a memorable and enjoyable experience.
Not only does this workshop nurture your creative side, but it also promotes collaboration and camaraderie among team members. By working together to mold and shape the clay, participants will learn the value of effective communication, problem-solving, and cooperation. The shared experience of creating something beautiful with your colleagues or friends will forge stronger bonds and create lasting memories.
What sets our Clay Making Workshop apart is that there is no need to separate into different teams. Instead, everyone will have the opportunity to work together, fostering a sense of unity and teamwork. This inclusive approach encourages interaction and allows participants to learn from each other's unique perspectives and creative techniques.
3. Clay Making Workshop
Indulge your creativity and foster teamwork by taking part in our Clay Making Workshop – an exciting team bonding activity. This unique workshop not only nurtures your creative side but also promotes collaboration among team members. Best of all, you don't even need to separate into different teams! Create your own clay figurine and enjoy the experience of working together with your colleagues or friends – it's an excellent opportunity to strengthen bonds and have a great time.
4. Terrarium Workshop
Ignite your team spirit and discover the joys of collaboration with a Terrarium Workshop! This creative DIY project is an ideal way to take a break from daily life while exploring each other's talents. Participants will embark on this planting journey together, learning how interdependence strengthens any endeavor along the way. Harnessing shared energy and enthusiasm as you craft something beautiful– it's truly an unforgettable experience that encourages camaraderie in every step of the process.
5. Gel Candle Making Workshop
Make your team building session in Singapore unforgettable and enjoyable with our Candle Making Workshop! This workshop provides an excellent opportunity for all participants to create their very own personalized candle, which they can take back to the office or bring home as a keepsake. More than just an opportunity to learn a new craft, this workshop also allows your team to bond and work together to create something special. Best of all, designing scented candles guarantees an element of fun to your team-building activity, making it an enjoyable and memorable experience for everyone involved.
Quest Activities
1. Amazing Race
Explore the best of Singapore with FunEmpire's Amazing Race – the perfect combination of physical and virtual activities! In this exciting team-building activity, you'll get to immerse yourself in our nation's culture, solve puzzles, and discover Chinatown's iconic landmarks, all from the comfort of your own home. Designed for large groups who want to connect while adhering to social distancing guidelines, this activity is a fun and unique way to bring your friends or colleagues together. So, gather your team and race to the finish line – it's sure to be an amazing adventure!
2. Escape Room
Are you searching for a team-building activity that's truly unforgettable? Look no further than Escape Rooms! This exciting activity challenges your group to work together to solve a series of challenging puzzles while racing against the clock. With a vast array of themed rooms and mysteries on offer in Singapore, you're guaranteed to bond and have a blast with your colleagues. So, dig into your inner detective skills and get ready for an adventure you'll remember forever!
Leisure Activities
1. Cosmic Bowling
Elevate your game to new heights with cosmic bowling! Step into a world of vibrant lights and cosmic vibes, as you embark on this unique and exhilarating activity. Perfect for corporate team building in Singapore, cosmic bowling creates an atmosphere that fosters communication, teamwork, and trust among colleagues.
Imagine the sound of laughter echoing through the cosmic lanes, as your employees bond over strikes and spares. With each roll of the ball, the connection between your team grows stronger, building lasting memories and camaraderie.
Experience the electrifying twist on bowling that will leave a lasting impression. From the pulsating music to the neon-lit lanes, cosmic bowling is sure to create an unforgettable time for everyone involved. So, add some sparks to your game and embark on this cosmic adventure that will bring your team closer together than ever before!
2. Yacht Rental
Are you tired of the hustle and bustle of the city? If so, why not consider yacht rental in Singapore for your special occasions?
Whether it's a romantic proposal, anniversary celebration, birthday extravaganza, or corporate team building exercise, yacht rental adds an extra dose of luxury and sophistication to any event. Imagine cruising along the pristine waters, surrounded by breathtaking views, enjoying the finest amenities and personalized service. It's an experience that will create memories lasting a lifetime.
Don't miss out on this unique opportunity to indulge in pure opulence and relaxation. Treat yourself and your loved ones to an unforgettable yacht rental experience in Singapore – it's an investment in creating cherished moments that you won't regret!
3. Giant Board Games
Experience the joy of your favorite childhood classics like never before! Imagine towering over a colossal Giant Jenga, carefully strategizing your moves in life-sized Connect Four, skillfully picking up oversized sticks in Pick Up Sticks, and embarking on a thrilling adventure in an enormous Snakes & Ladders board.
These interactive board games will transport you back to those cherished memories, but this time, with bigger and more exciting challenges that will keep you entertained for hours.
Whether you're breaking the ice at a social gathering or simply looking to add an extra dose of fun to any occasion in Singapore, these larger-than-life games are guaranteed to create unforgettable moments. Don't miss out on the chance to relive the magic of your childhood and embark on a new level of excitement – join in on the fun now!
Virtual Games
1. Virtual Squid Escape
Looking for an exciting and unforgettable experience for you and your friends? Check out the Squid Game Escape Room! Put your brain power to the test with their clever masterminds and uncover hidden secrets, decode riddles, and race against time to break free. With certified facilitators leading the way, you will have a thrilling experience that you won't forget in a hurry – plus there's no maximum limit on participants, so remote teams can get involved too!
2. Virtual Amazing Race
It's time to embark on an unforgettable adventure around the world with The Amazing Race! Compete against your friends and colleagues, unlock hidden surprises, and work together to reach the finish line. Suitable for remote teams across different countries and without any limitations on the number of players, The Amazing Race is a great way to keep your team engaged and excited – even when working remotely. Certified trainers are on hand to guarantee an unforgettable experience for all participants – don't miss out and join in on The Amazing Race today!
3. Virtual Travel Experience
Experience the fun and excitement of virtual travel with FunEmpire's Virtual Travel Experience! With our unique Treasure Hunt, Virtual Amazing Race, and Virtual Escape Room experiences, you'll have the opportunity to explore Singapore's history from the comfort of your own home. Test your problem-solving skills as you collaborate with online peers to decipher interactive puzzles and gain insight into the culture of Singapore. Follow a captivating story line and complete various missions as you progress – all within a thrilling virtual setting. Plus, no size restrictions – invite participants from around the world and play remotely for a perfect team-building activity! Join FunEmpire's Virtual Travel Experience today for an exciting adventure!
4. Virtual Food Quest
Are you a food enthusiast? Then look no further than FunEmpire's Virtual Food Quest experience! Gather your friends, family, or colleagues and embark on a mouth-watering adventure through Singapore's unique culinary landscape. Solve interactive food-themed puzzles featuring various cuisines from around the world and test both your team's communication skills and culinary knowledge. Enjoy the fun and laughter that comes with playing this flavourful game – you might even find yourself craving some snacks afterward! Join FunEmpire's Virtual Food Quest today for an unforgettable gastronomic experience!
5. Virtual Escape Room
Looking for the perfect corporate team building experience? Look no further than FunEmpire's award-winning event experience! With our interactive platform hosting groups of two to hundreds, this virtual game is the ideal way to bond with friends, family, or colleagues. Test your problem-solving skills and strengthen relationships while in the comfort of your own home. And don't forget the prizes – you can win amazing rewards as a bonus! Don't miss out on this rare opportunity – join FunEmpire's virtual game today and enhance your problem-solving abilities!
Virtual Workshops
1. Virtual Leather Workshop
Unleash your creativity with FunEmpire's leather crafting home kit! Before your virtual team-building event, get ready to dive into the world of leather crafting with our affordable and comprehensive home kit. With the guidance of our professional facilitator, learn all the essential theories about different leather types and maintenance. Then put what you've learned into practice by stitching your own custom creations – a key fob or coin pouch – and enjoy the satisfaction of creating something unique and practical that you can use every day! Get ready to make memories with FunEmpire's leather crafting home kit today!
2. Virtual Clay Making Workshop
Get creative with FunEmpire's high-quality air-dry clay for your team-building activity! With our range of colours, textures, and shapes, you and your team can mould unique figurines or trinkets that will be special gifts for your loved ones. Plus it's not just about having fun – you can also safely create your pieces without worrying about toxins or heaviness. Have a unique and exciting experience with FunEmpire's air-dry clay today!
3. Virtual Art Jamming
Unleash your inner artist with FunEmpire's painting session! Get ready to tap into your creative side and join us for an exciting virtual painting session. Choose from a variety of materials, such as canvas or tote bags, acrylic paints, pencils, and erasers. With the assistance of our professional facilitators – who can provide basic color mixing theory instruction if requested – you'll create a stunning masterpiece that you can proudly display at home or in your office. Come bring out your creativity with FunEmpire's painting session today!
4. Virtual Terrarium Workshop
Unleash your creativity with FunEmpire's award-winning terrarium-making workshop! Now delivered straight to your doorstep, the FunEmpire Terrarium Home Kit contains all the materials you need for crafting your own mini garden. Our certified trainers will guide you through the theory and practical aspects of terrarium-making from the comfort of your home – not only is it a fun and unique craft session with your friends or colleagues, but also a great way to create beautiful memories that last. Make lifelong memories with your personalized mini garden today!
Singapore Team Building
Team building activities in Singapore are a great way to build relationships and strengthen bonds between coworkers, friends, or family. Whether it's virtual workshops, escape rooms, or terrariums, there are plenty of options for everyone. With the help of FunEmpire's certified trainers and facilitators, you can enjoy these team-building activities while in the comfort of your own home. Don't miss out on this opportunity to boost morale and improve collaboration in a safe and secure way!
Looking for other articles about team building in Singapore? Check out our recommendations:
Frequently Asked Questions (FAQ)
If you have any questions about Singapore Team Building, you can refer to the frequently asked questions (FAQ) about Singapore Team Building: Key Benefits & Ideas below:
Additional Useful Links
If you are looking for other useful guides and articles about Singapore Team Building: Key Benefits & Ideas, check them out below: