Birthday Celebration Singapore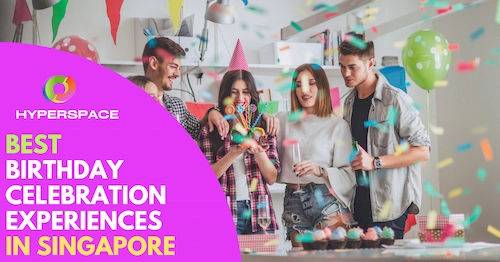 Birthday celebration Singapore experiences can vary widely from Adventure Activities to Creative Activities and even Virtual Activities.
When planning your birthday party, consider factors like price range, location, budget, and available packages. These are essential things in making sure that your day runs smoothly without any hassle at all. In that way, you can bond with your family and friends and make memories together!
It is also important to engage a reputable birthday celebration organiser in Singapore. With over 8,000 5-star reviews and 50,000 events under their belt, FunEmpire is highly rated as one of the best providers of birthday celebration experiences in Singapore.
If you're looking for ideas for your next birthday celebration in Singapore, this article introduces you to the best birthday celebration experiences in Singapore.
Key Consideration Factors
When looking for Birthday Celebration Experiences in Singapore, it's important to consider the following factors:
Budget: It can be difficult to make sure that everyone has a great time while still managing costs. Determine your budget and stick to it, you don't have to break the bank in order to create a great experience.
Location: Singapore has plenty of great options, from indoor playgrounds and parks to more traditional birthday venues in Singapore like restaurant or banquet halls. Be sure to consider your location carefully – both the distance and convenience are important.
Price Range: Make sure to check out the pricing for each party venue before making a decision. It's important to note that some birthday party venues may offer party packages or discounts for large groups and group bookings, so be sure to ask if this is available at your chosen indoor or outdoor venue.
Packages Offered: Many birthday celebration venues in Singapore will offer birthday party packages that include food, goodie bags, decorations, activities, and more. Ask what's included in each package and determine which one best suits your needs.
Now let's take a look at some of the best Birthday Celebration Experiences In Singapore!
Adventure Activities
1. Neon Laser Tag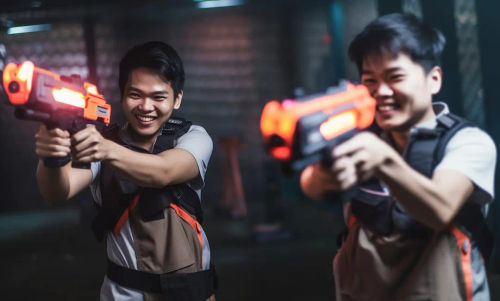 Celebrate your birthday with Neon Laser Tag at Hyperspace Singapore! Boasting the largest neon-lighted playing arena in Singapore, kids will be able to enjoy the ultimate game of hide and seek – complete with neon-lighted bunkers and inflatable walls!
And to make sure that the birthday kid stands out from the crowd, dress them up in white so they can glow in the dark. Set up an unforgettable party today with Hyperspace Singapore!
Alternatively, Neon Laser Tag is also a great activity for team building in Singapore!
2. Saber Tag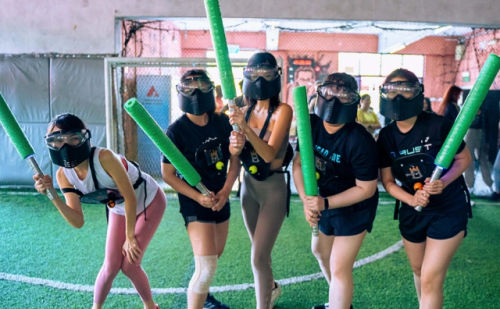 Make your kid's birthday party memorable with Saber Tag at Hyperspace Singapore! Transform the party venue into a Star Wars wonderland and let kids wield their own Sabers to accomplish game missions.
With plenty of decorations, delicious food, and all the activities, you can make sure that everyone leaves satisfied. End the night with a delicious Storm Trooper birthday cake for an epic celebration!
3. Combat Archery Tag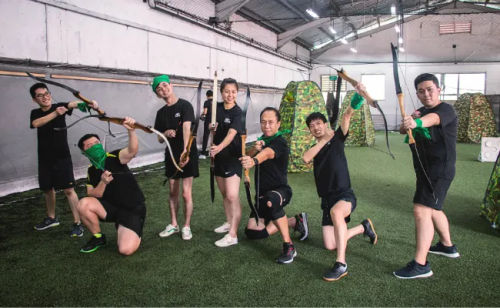 Hosting a Combat archery session is one of the most popular birthday party ideas among kids! If your children are 1.2m tall, they'll have an electrifying experience while being totally safe – equipped with foam-padded arrows to dodge and fire away at their opponents.
You can decide between playing the classic Combat archery or opting for Neon Combat archery; either way you're guaranteed a best party time that all party guests will enjoy!
4. Giant Whack A Mole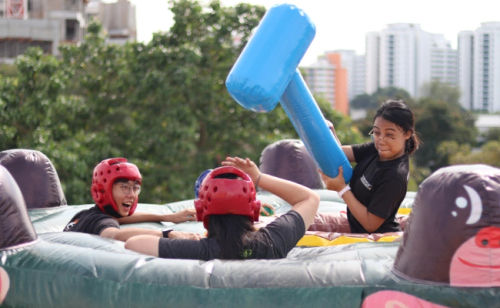 Have the coolest kids' birthday party ever with Giant Whack A Mole! Larger than life at 1.8 meters tall, this inflatable arcade game lets children experience their favorite classic in real life – and become a mole themselves! Hyperspace Singapore is the only party venue that can house it, meaning your child's special day will be unforgettable no matter what kind of weather comes along.
5. Poolball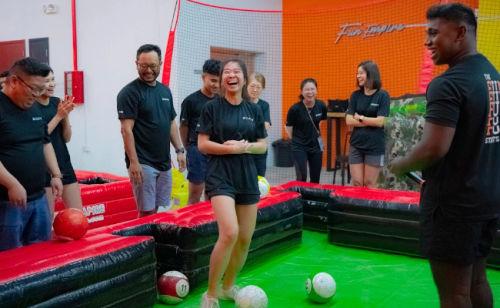 Are you searching for something new and exciting to do for your next birthday celebration? Look no further! Organize a Poolball kids birthday party today that is sure to give the children an unforgettable experience.
Instead of using cue sticks, they get to kick soccer balls towards seven meter-long table pockets. Futsal ideas are becoming outdated – take advantage of this unique opportunity and make those special guests feel extra appreciated on their big day!
6. Bubble Soccer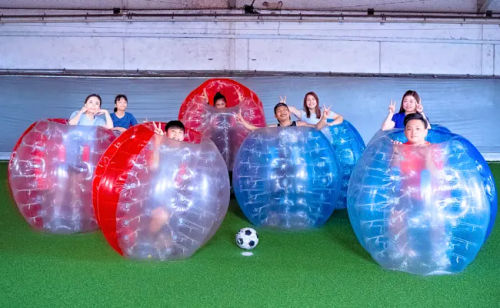 If you are looking for an exhilarating and fun birthday parties in Singapore, Bubble Soccer is the perfect activity! Not only will your colleagues and friends have a blast while safely bumping into each other, but they can also collaborate together to create strategies as a group.
You don't just get the advantage of pure entertainment – you'll also be able to de-stress while improving teamwork. When it comes to bonding with one another on someone's special day, there isn't anything better than this unique event!
7. Ninja Tag
Are you ready to prove your prowess and test your ninja skills? Look no further than Ninja Tag for an action-packed birthday party experience with foam daggers, scoring vests, thrilling missions – it's time to tap into that inner warrior within!
Join forces with family and friends as you battle in close combat situations. The various game modes provide endless entertainment that everyone can enjoy – so what are you waiting for? Unleash your power of a true ninja today!
8. Bullet Strike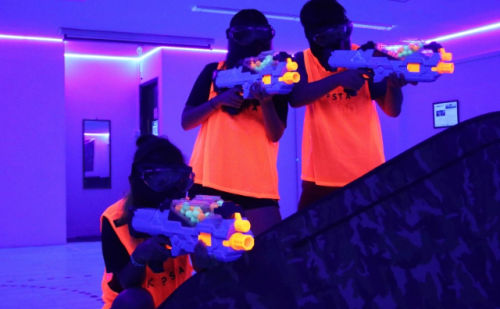 Get ready for an electrifying and thrilling birthday parties with Bullet Strike – an unforgettable and exhilarating experience! Utilize Nerf blasters to battle your opponents and blaze through various objectives. As each bullet is made from soft foam, players can stay safe wearing protective masks.
There are different game modes that require strategies and smart thinking for teams to win. Enjoy an ultra-fast pace of action as participants must devise clever plans to outsmart the opposition. Get set for a thrilling birthday party activity with Bullet Strike!
9. Saber Fit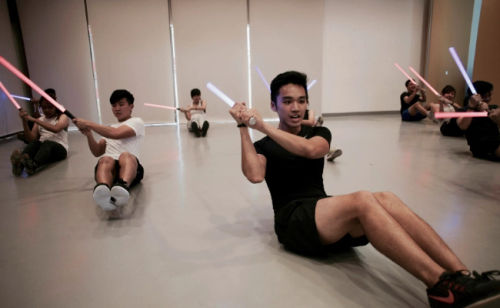 Get ready to be energized and challenged in an entirely new way with Saber Fitness – a high-intensity workout that fuses combat techniques and partner dueling! This exclusive activity is the perfect option for Singaporeans looking to celebrate your birthday party as it offers a one-of-a-kind experience for everyone.
Individuals will gain not only physical benefits, but also enjoy fostering meaningful relationships by participating in this amazing team exercise! Prepare yourself now for an unforgettable bonding session filled with excitement and hard work.
Creative Activities
1. Art Jamming Workshop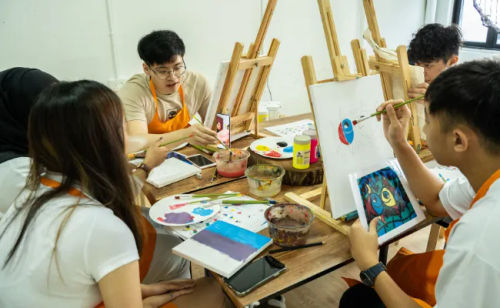 Unleash your children's creativity and make their birthday party one to remember by arranging a fun session for them! Kids are given the opportunity to use their imagination and express themselves through drawings on either Tote Bags or Canvases.
If you're looking for something extra special, why not opt for Neon Art Jamming at Hyperspace? Not only will it be an unforgettable experience, but they'll have physical mementos of the day that they can take home with them!
2. Terrarium Workshop
Celebrate your birthday with an exciting terrarium workshop! An ideal indoor activity for your party, everyone will get to express their own creativity and show off their terrarium designs.
At the end of the session, participants will be able to take home the gorgeous terrariums they created. It's one of the best team building activities in Singapore and a unique way to make your birthday parties even more special!
3. Leather Making Workshop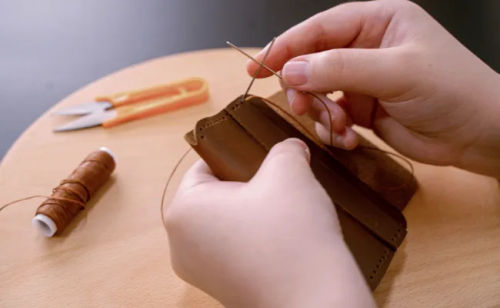 Searching for an exceptional way to celebrate your birthday in Singapore? Look no further than FunEmpire's Leather Workshop! Here, you and your group can learn about leather properties before getting the chance to craft unique pieces like coin pouches, key FOBs or luggage tags that can be stored as mementos or given away.
We offer both stitched and non-stitched leather making workshops so don't miss out on this opportunity – join us at Leather Workshop now and let's create something extraordinary together with your friends!
4. Clay Making Workshop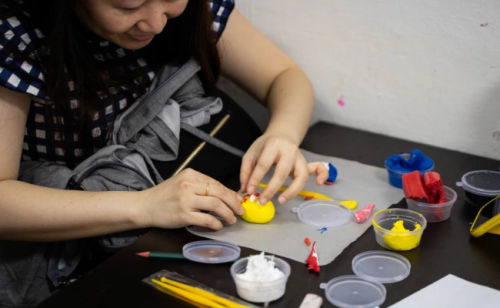 Clay Making Workshop is perfect for those seeking to express their creativity with birthday parties! All necessary tools will be available for each guest to craft pieces of clay into unique, tangible objects.
Not only does the workshop offer an opportunity to explore the amazing properties of clay, but it also allows guests' imaginations free reign as they shape and mould the clay – creating something truly special in the process!
5. Candle Workshop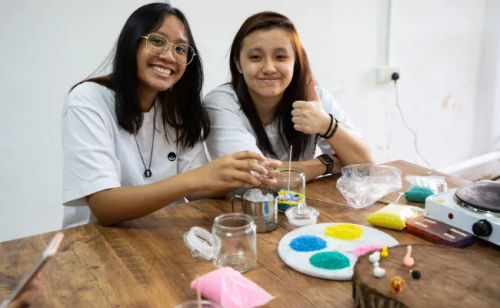 FunEmpire's Candle Workshop is the perfect way to celebrate your birthday! With two options – Soy and Gel candles – your guests can get creative and craft their own individual wax creations.
Not only will they be surrounded by an inviting atmosphere filled with captivating fragrances, but they'll also gain lots of knowledge that makes this activity even more meaningful. Make any birthday party one worth remembering with a candle workshop from FunEmpire!
6. Perfume Workshop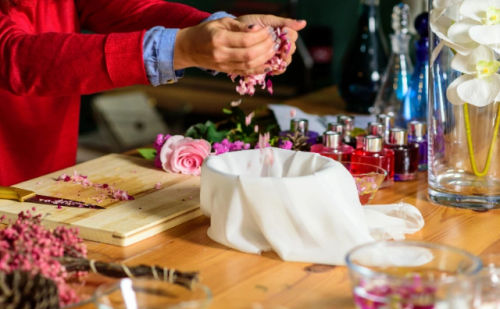 As the age old saying goes, a person's scent reveals much about them. With this unique perfume workshop experience for your birthday party, you and your friends will have the opportunity to craft individualized fragrances that reflect each of your personalities!
You'll gain an even deeper understanding of one another as you experiment with different aromas. At the end of it all, everyone leaves with their own custom-made bottle — ensuring a truly extraordinary event!
7. Cooking Class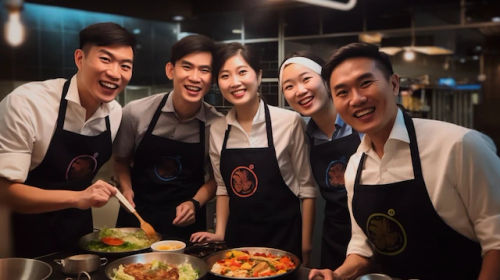 Experience the unique flavors of Singapore and become a master chef at birthday parties! Join us on a culinary journey and take part in one of our cooking classes, where you can roll up your sleeves and cook a variety of delicious local delights or your own cake.
Gather your friends and family for a fun-filled session, with the added bonus of being able to savor the meals at the end – this is one group activity you won't want to miss!
Quest Activities
1. Escape Room Puzzle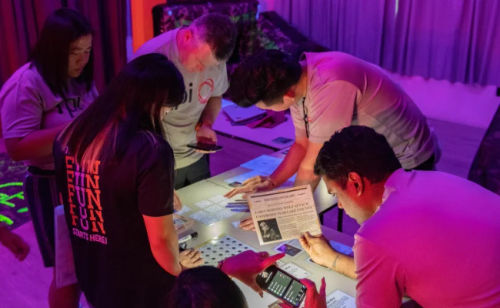 For an absolutely extraordinary birthday experience, Escape Rooms are the way to go! Gather with your friends and family as you join forces to solve brain-teasing puzzles while racing against time.
With a plethora of themes and mysteries in Singapore, you'll be sure to have an amazing party time connecting with each other during this unforgettable celebration.
Get ready for a thrilling journey that will keep everyone talking about it long after the party is over – unlock your inner sleuth now!
2. Amazing Race
If you're looking for an extraordinary way to commemorate a birthday, why not embark on this game? Guests can deepen their connections as they explore hidden gems and discover new territories. They will need to employ critical thinking in order to solve puzzles while attempting to beat the clock.
An excellent way of bonding with friends and family members, it is sure to be an unforgettable experience!
Leisure Activities
1. Giant Board Games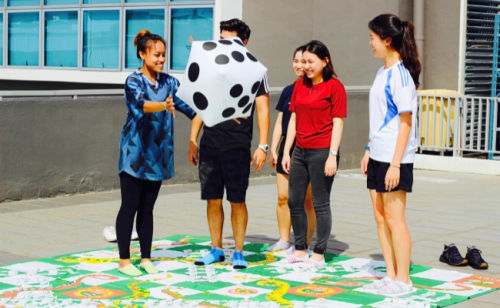 Are you excited to bring your favorite childhood memories back to life at a birthday party? With Giant Jenga, Pick Up Sticks, Connect Four and Snakes & Ladders available – the potential is boundless!
These interactive games are an awesome way of sparking conversations in Singapore. Perfect for any event – it's time to relive those classic recollections with greater challenges than ever before!
2. Cosmic Bowling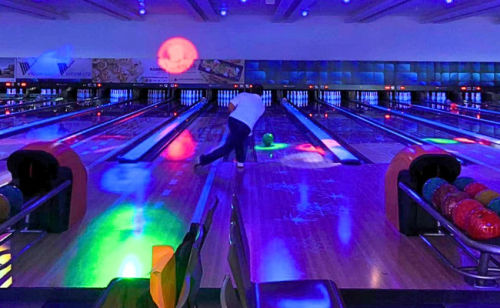 Transform your birthday party into an electrifying experience with the stellar game of Cosmic Bowling! Players can take their bubbling excitement to a whole new level as they attempt to achieve their highest score.
With its classic objectives, cosmic bowling guarantees a unique twist on this beloved sport that is unforgettable for everyone involved. If you're seeking something extraordinary and exciting for your special day, look no further than Cosmic Bowling!
3. Yacht Rental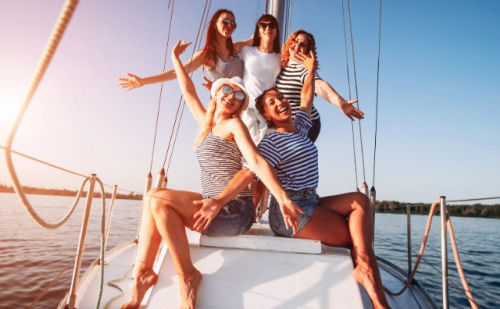 Make your special day truly memorable with an unforgettable yacht rental experience in Singapore! With luxurious boats at your disposal, you can explore the city from a whole new angle – perfect for all occasions, from birthday celebrations to get-togethers with friends and family.
Get away from the everyday hustle and bustle of the city life and make those moments even more special – take some time to treat yourself, because you deserve it! Let FunEmpire show you how to make lasting memories like never before.
Virtual Games
1. Virtual Escape Room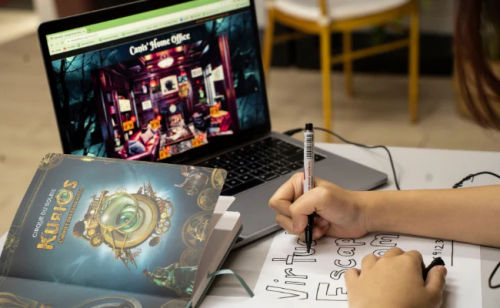 Bring out the detective in you and build strong relationships with FunEmpire's industry-leading virtual events—suitable for small birthday celebration to massive crowds!
With our one-of-a-kind birthday celebration, you'll be able to celebrate remotely while enjoying the convenience of your home.
Have a truly remarkable birthday party that will leave both your mind stimulated and heart fulfilled. Don't miss this wonderful opportunity; join us at FunEmpire now!
2. Virtual Amazing Race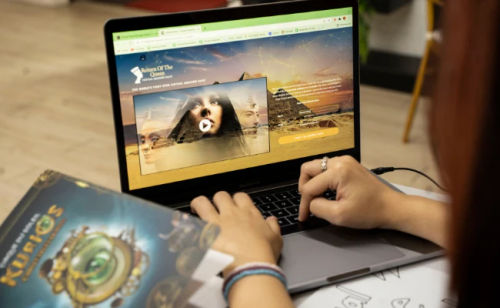 Join us today for an exciting, unforgettable celebration! Travel around the world on a thrilling adventure with your friends and colleagues, unlocking new surprises and working together in order to succeed.
With our Amazing Race, no-one will be left out – no matter how big or small your team is or what country they're from, everyone can participate safely from the comfort of their homes!
Let our certified trainers guide you through this amazing journey – don't miss this opportunity while working remotely!
3. Hybrid Amazing Race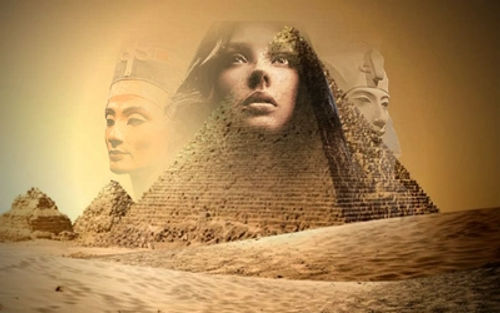 Embrace Singapore's culture, landmarks and cuisine from the comfort of your home with FunEmpire's Hybrid Amazing Race! With a combination of physical and virtual activities, you'll be able to solve puzzles while getting up close to Chinatown's renowned sights.
Create an unforgettable birthday party experience when you join us for this unique journey – explore our nation like never before as you bond physically and emotionally through play. Sign up now for an adventure that promises fun-filled thrills!
4. Virtual Food Quest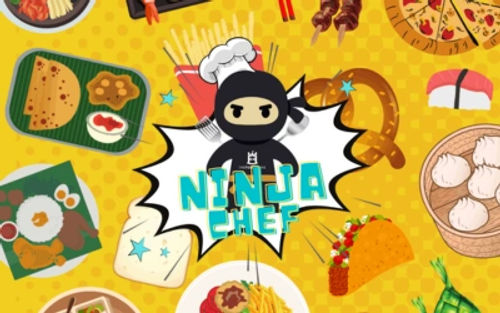 Are you a party food lover looking for something different? Try Singapore's unique Virtual Food Quest experience brought to you by FunEmpire – it's the perfect birthday party activity! Embark on an epic culinary journey as you bond with friends, family and/or colleagues.
Solve delicious puzzles around a variety of cuisines and put your knowledge to the test. Engage in meaningful conversations as you explore new dishes; there will be plenty of fun and laughter along the way! Get ready for a flavourful adventure that might even make your mouth water.
5. Virtual Squid Escape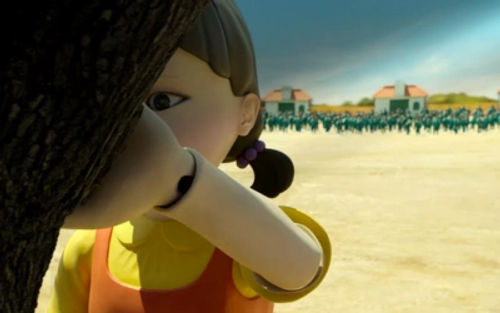 Celebrate an unforgettable birthday party with an adventure of a lifetime! Join the Squid Game Escape Room and put your wits to the test as you try to outsmart the masterminds behind the game. Solve puzzles, crack codes, and uncover secrets that will lead to freedom – but hurry before it's too late!
Our certified facilitators will orchestrate a thrilling journey for you and your crew – there is no maximum limit on how many people can join, which makes it perfect for groups of friends or remote teams from around the world.
Unforgettable adventures await with our incredible escape game experience! Get ready to be amazed.
Virtual Workshops
1. Virtual Art Jamming Workshop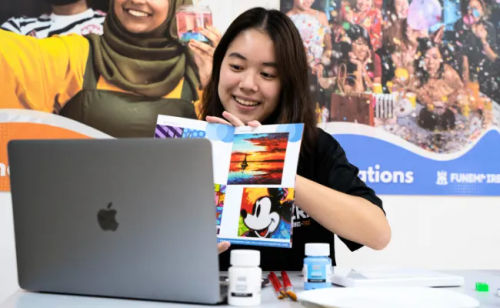 Add a creative twist to your next birthday celebration with FunEmpire's incredible Virtual Art Jamming Workshop! Our knowledgeable facilitators will guide you through an exciting journey of unleashing your inner artist.
With FunEmpire's Virtual Art Jamming Workshop, you'll be able to experience the world of art regardless of your skillset. Whether you're a veteran painter or a complete beginner, our knowledgeable facilitators will guide you through the process of unleashing your creativity and exploring new techniques!
2. Virtual Terrarium Workshop
Let's celebrate someone's special day with a creative and fun at-home project! With FunEmpire Digital Workshops, you can now craft a stylish terrarium in the comfort of your own home. Plus, each participant will receive one of our award-winning Terrarium Home Kits with all the necessary materials included.
Our certified trainers are ready to guide you through the theory and practical steps of crafting your very own mini-garden – complete with an adorable figurine for added pizzazz. Get ready for a blast on this simple birthday celebration!
3. Virtual Leather Workshop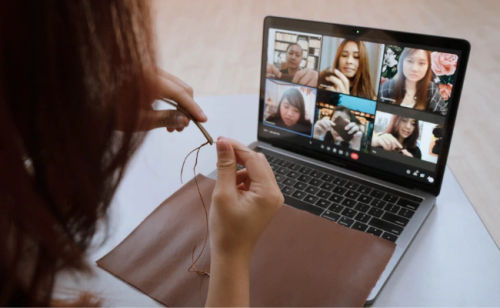 Make this birthday the most memorable one yet by signing up for our Virtual Leather Making Workshop! Our skilled tutors will assist you in mastering leather crafting and, before long, you'll be making fabulous customized products from your own home – perfect for beginners or experienced crafters eager to explore new avenues!
4. Virtual Candle Making Workshop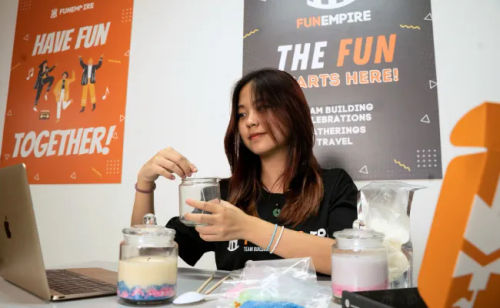 Create lasting memories with your closest family and friends at FunEmpire's Virtual Candle Making Workshop! Show off your creative side by crafting a stylish soy candle, which comes complete with an elegant figurine – all using the materials provided in our home kit.
Don't miss this one-of-a-kind opportunity to bond; come join us for an unforgettable birthday party experience today! Not to worry, our knowledgeable facilitator will be there throughout the virtual session to provide guidance for you and your group!
Birthday Celebration Singapore
Singapore offers countless ways to make your birthday celebration unforgettable.
Whether you're looking for creative workshops like Canvas Art Jamming and Tote Bag Art Jamming, or thrilling activities such as Laser Tag and Combat Archery Tag, there are endless options to create lasting memories with your loved ones.
Choose from these incredible experiences and have the best birthday party in Singapore with your friends and family. Don't wait any longer – plan a day full of fun and get ready for the ultimate birthday bash in Singapore!
Planning another type of event? The activities stated above are also great for team building in Singapore!
If you're looking for more recommendations, you can check out our other posts below:
Frequently Asked Questions (FAQ)
If you have any questions about Birthday Celebration Experiences In Singapore, you can refer to the frequently asked questions (FAQ) about the Best Birthday Celebration Experiences In Singapore below:
Additional Useful Articles
If you are looking for other useful guides and articles about Birthday Celebration Experiences In Singapore, check them out below: