Team Building Singapore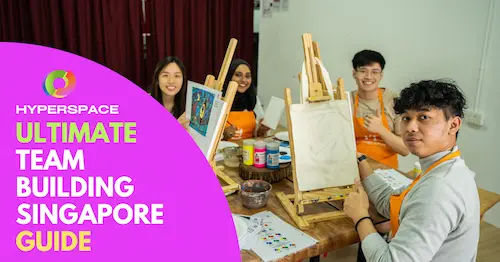 Team Building Singapore is a great way to enhance cultivate trust and effective communication among team members.
The best team building Singapore activities include Laser Tag, Escape Rooms, Archery Tag, Art Jamming, Terrarium Workshops, Bubble Soccer, Poolball, Giant Board Games, and Candle Making Workshops.
When organizing team building Singapore events, careful attention to participants' preferences, physical capabilities, activity goals, and available resources are important factors to consider.
Engaging a team building company in Singapore is a good option to ensure that your event is a successful one. In this regard, FunEmpire is rated as the best team building company in Singapore, with over 50,000 successful events and a substantial collection of 8,000+ 5-Star client reviews.
Continue reading to discover how to effectively organize a team building Singapore event!
What Is Team Building?
Team building is a way to improve how well a team works together by doing things that help people talk to each other and work together. It entails providing an atmosphere in which participants may collaborate and learn more about one another in order to better grasp how to function as a cohesive unit and improve overall team performance.
Outdoor sports-based challenges, corporate scavenger hunts, and problem solving challenges are among the favourite team building activities available in Singapore, as are artistic hobbies like cooking lessons and art jams.
There are a variety of indoor and outdoor choices available depending on the sort of event you're looking for.
Top 5 Tips For Organizing A Successful Team Building Event
Set Clear Goals And Objectives
Before organizing your upcoming event, it is important to have a clearly defined goal and objective that the whole team can work towards achieving. This will help ensure that all stakeholders are on the same page from start to finish and that everyone understands what the end result should be.
Select An Appropriate Venue
It is important to choose a suitable venue for your team bonding event, as this will set the tone for how successful or engaging the event will be. When choosing your location, think about how big it is, how easy it is to get to, what amenities it has, how much it will cost, whether the venue provides good food, and how close it is to your event. This will make sure that everyone has a good time.
Choose Appropriate Activities
Different activities require different levels of physical fitness or skill which need to be taken into consideration when planning an effective team bonding exercise in Singapore – so make sure to pick ones suited best for your group's level of entire experience!
Allocate Adequate Time
Many people underestimate just how long it takes to plan out successful corporate team building activities —shortchanging yourself by not allowing sufficient time could mean missing out on crucial details and aspects that would otherwise have made it more enjoyable (or even unique) than had you rushed through its preparation!
Follow-up
After the team event, it is important to have a follow-up session in order to review the results and assess whether the specific objectives and goals have been met.
This also allows for highly energetic teams to discuss what went well, what didn't, and how they could potentially improve their teamwork in future with an excellent team bonding activity.
Fun Team Building Activities in Singapore
Creative Activities
1. Canvas Art Jamming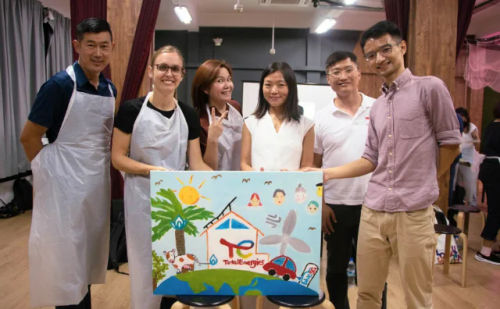 FunEmpire in Singapore created the entertaining "Canvas Painting Jamming." It's a studio where artists collaborate on a variety of size canvases. The basics of painting, including brush technique, color theory, and composition, will be covered in this course.
After familiarizing themselves with the resources available to them during the art jam, each group will be able to produce a canvas that really represents them.
Groups may utilize a variety of materials and techniques to create something really unique. In a group context where everyone's opinions count, it's a wonderful way to apply creativity for team bonding.
2. Tote Bag Art Jamming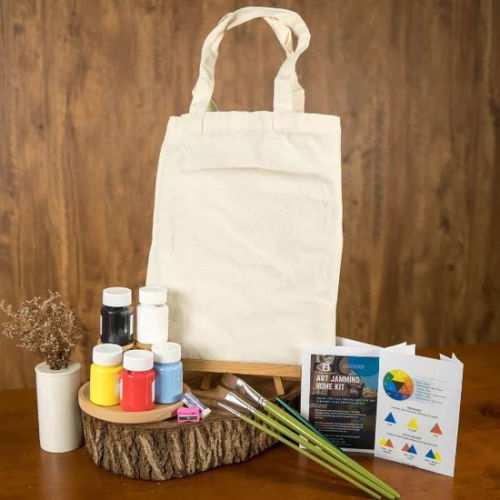 FunEmpire in Singapore fosters effective virtual team bonding with their Tote Bag Art Jamming event. Groups are taught how to create artistic masterpieces on canvas tote bags during this course. Starting with the foundations of painting on canvas, such as color mixing, brush use, and structuring forms and lines, is where we'll start.
3. Soy Candle Making Workshop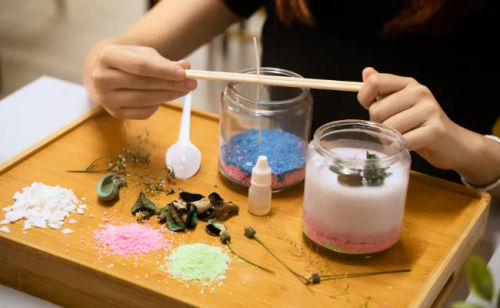 A fascinating and pleasant strategy to promote online cooperation is the Soy Candle Making Workshop on FunEmpire in Singapore. It will be possible for any group to create its own flavored and colored soy candles. Participants will get a thorough understanding of the many candle wax, wick, and fragrance options available to them.
4. Balloon Sculpting Workshop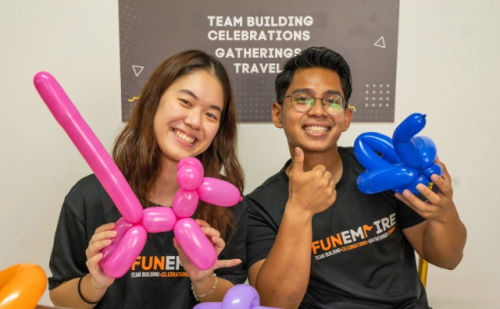 FunEmpire's Balloon Sculpting Workshop can be used as a fun and interesting way to build a team online. Balloons may be used to create magnificent, one-of-a-kind sculptures for decorating a group home.
In this excellent team building activity, students will learn the basics of balloon sculpture, such as how to handle balloons correctly, think about safety, and come up with creative ideas.
5. Stitched Leather Workshop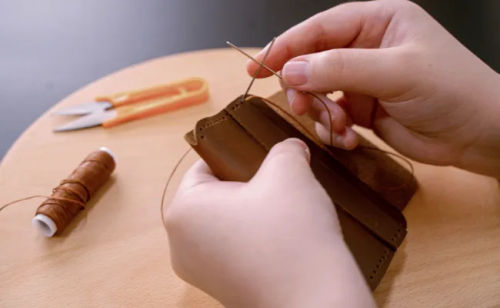 The Stitched Leather Workshop on FunEmpire is a great place for groups to collaborate on a common project. This course goes over the basics of working with leather, such as how to handle it and choose a design.
During this team bonding activity, participants will learn about the various leathers available on the market and have hands-on experience creating leather goods such as wallets and belts.
6. Terrarium Workshop
The Terrarium Workshop on FunEmpire makes it simpler than ever for a group to create something really unique. Participants will leave this class knowing how to make a beautiful terrarium on their own.
After a short explanation of the materials and methods used, each group will be shown how to choose plants, soil, stones, and other items to decorate their own terrariums.
7. Non-Stitched Leather Workshop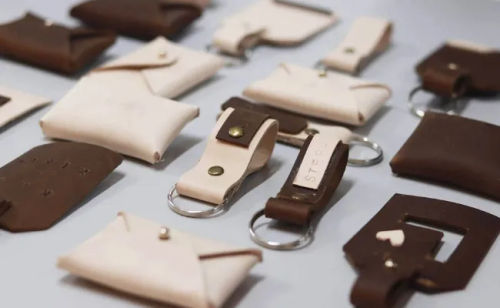 Singapore-based FunEmpire offers a virtual team building activity called the Virtual Non-Stitched Leather Workshop. The one-of-a-kind curriculum teaches students how to work with leather from beginning to end, including the design and creation of finished products.
This team bonding activity will teach students how to work with a variety of leathers and special equipment, including needles, rivets, and waxed linen thread.
8. Clay Making Workshop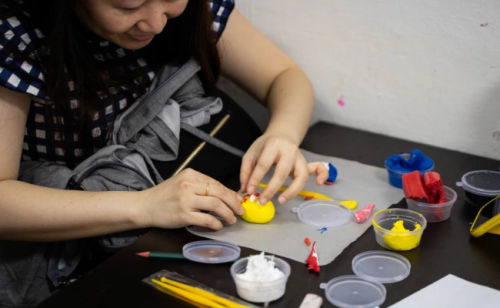 The virtual clay-making workshop on FunEmpire enables teams to connect while expressing their creativity. This team bonding activity is one of the most popular virtual team-building exercises because it allows participants to create digital clay sculptures.
Highly energetic teams have the option of taking their finished sculptures home with them or having them sent directly to their respective destinations. This eliminates the need to transfer things to and from the workplace. An online clay class is a great way for groups to bond and develop a cohesive team.
9. Gel Candle Making Workshop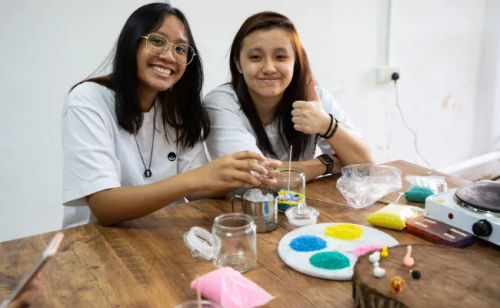 The Gel Candle Making Workshop on FunEmpire is another great virtual team-building exercise. This course offers a unique way to connect with one another while learning the fundamentals of making gel candles. Participants will learn about the basics of creating, designing, and decorating their own personalized gel candles.
During this course, teams will also have the opportunity to learn about the latest trends and techniques in the art of candlemaking. After the team building activity, teams will have a memorable piece to take home with them!
10. Cooking Class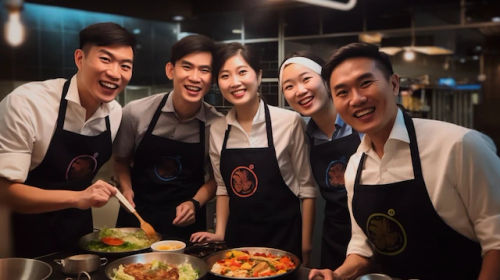 The cooking class on FunEmpire is designed to bring the kitchen into the workplace. This course teaches students how to prepare a wide variety of dishes, from starters to desserts. Teams will learn about different cooking techniques and be able to put their new skills into practice by creating dishes as a group.
Not only does this cooking team building activity create a unique environment for team building, but it also helps develop valuable culinary skills and enhance team spirit.
11. Perfume Workshop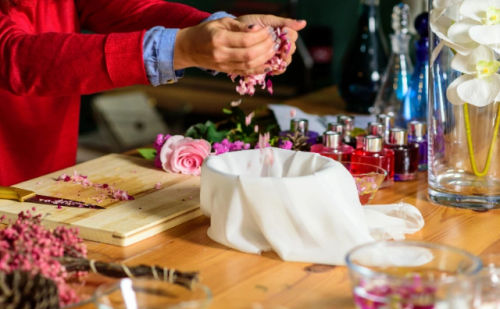 The Perfume Workshop on FunEmpire is a fun and creative way to let teams explore their senses through scent. Participants will learn about perfume making, designing fragrances, and creating unique aromas. Teams can create their own signature scents by combining various oils and essences. This interactive team building activity encourages groups to work together in order to achieve the desired smell.
Quest Activities
12. Amazing Race
Looking for a fun method of team building? Join us on one of the most thrilling team building activities across Singapore! As you and your teammates go through the numerous checkpoints looking for hidden gems, you will need to be resourceful and have strategic thinking to overcome your unique obstacles. Only after finishing each challenge can you earn points and go to the subsequent checkpoint. This exciting team building activity is the perfect way for groups to bond while having fun!
13. Escape Room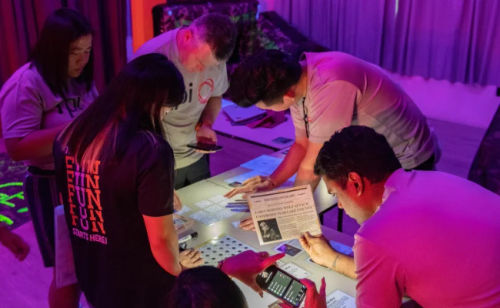 The award-winning program FunEmpire has gone digital! Thanks to cutting-edge technology, participants may now complete assignments from the convenience of their homes. This online game is an excellent way for you and your friends, family, or colleagues to test your active listening, strategic thinking, problem-solving, and clear communication skills while having fun. Then why not attempt it? It is a fantastic corporate team building activity for any forthcoming occasion!
Virtual Workshops
14. Virtual Candle Making Workshop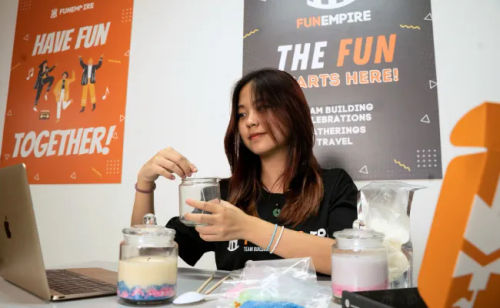 Virtual Soy Candle Making Workshop is a fun and engaging virtual activity offered by FunEmpire in Singapore. Teams may manufacture their own soy candles with bespoke fragrances and hues. Participants will learn about the many kinds of wax, wicks, and fragrances that may be used to create their own distinctive candles.
15. Virtual Clay Making Workshop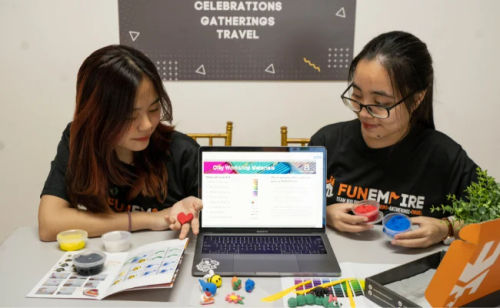 The Virtual Clay Making Workshop on FunEmpire is a great way for teams to work together and make something. This is one of the most popular virtual activities since users are able to create and shape their own clay creations. After a quick introduction to the principles of pottery, everyone will be permitted to produce their own works.
Using molds, stamps, and glazes, students will create creative pieces of art. FunEmpire offers everything necessary for this exciting team building activity, so you don't need to bring anything else. Teams may opt to take their sculptures home or have them delivered straight to their residences upon completion.
16. Virtual Non-Stitched Leather Workshop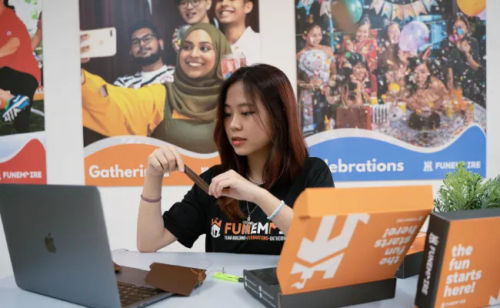 As a virtual activity, FunEmpire in Singapore provides the Virtual Non-Stitched Leather Workshop. This one-of-a-kind curriculum teaches participants everything from proper leather handling to product creation. Students will learn how to work with various kinds of leather and professional equipment, including needles, rivets, and waxed linen thread.
During the course, students will work in groups to enhance their leatherworking abilities and create unique, beautiful objects. After the fun team building activity, participants may take their work home.
17. Virtual Stitched Leather Workshop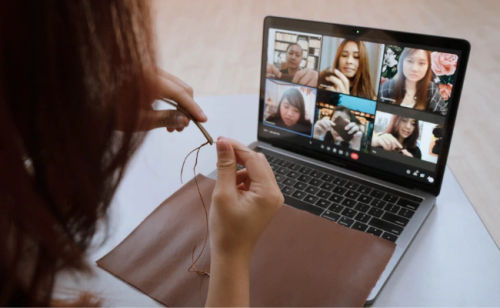 The Virtual Stitched Leather Workshop on FunEmpire is a great method for groups to collaborate on a project. In this course, students learn how to deal with leather, from handling it to coming up with creative concepts. The course will educate students on the many varieties of leather and provide them with hands-on experience producing leather products such as wallets and straps.
Needles, rivets, and waxed linen thread will be among the expert instruments at their disposal. Team members will have the opportunity to hone their leatherworking talents while creating lovely goods to take home at the conclusion of the program.
18. Virtual Balloon Sculpting Workshop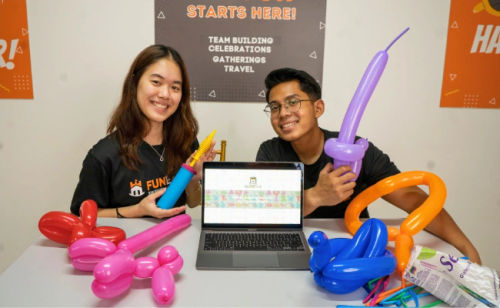 On FunEmpire, the Virtual Balloon Sculpting Workshop is a fun virtual pastime. Groups are capable of creating incredible personalized balloon sculptures for home decor. During the team bonding, people will learn the basics of balloon sculpting, such as how to handle the balloons correctly, think about safety, and come up with ideas. In addition, participants will learn how to choose the proper balloons and other materials to make a spectacular piece of art.
While they work in teams on the project, students will have the chance to enhance their problem-solving and creative abilities. Participants not only get to show off their work at the end of the course, but they also get to talk to each other, learn new techniques, and stretch their creativity.
19. Virtual Terrarium Workshop
The Virtual Terrarium Workshop on FunEmpire makes it easier than ever for a group to build something extraordinary. This team bonding will teach participants how to make a terrarium, including how to choose the appropriate plants and arrange them aesthetically.
Following a brief introduction to the materials and techniques, we will assist each group in selecting plants, soil, stones, and other embellishments for their terrariums. Groups might be able to make better things if they look at how plants interact with their surroundings.
20. Virtual Tote Bag Art Jamming
Paintings on Canvas Bags in a Virtual Reality Environment Jamming is an interesting virtual team building exercise provided by FunEmpire in Singapore. Groups learn how to paint masterpieces on canvas tote bags in this hands-on lesson. First, we'll talk about the basics of painting on canvas, like how to mix colors, use different brushes, and make interesting compositions.
After learning how to employ the available tools and resources, teams may begin to conceive their concepts. Teams may use any color and material combination to exhibit their individuality and creativity. Next, the participants will be shown how to carefully put their art into canvas tote bags.
21. Virtual Canvas Art Jamming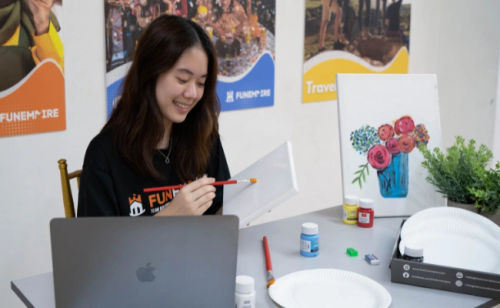 Virtual Canvas Art Jamming on FunEmpire is a unique and entertaining online activity. It is a workshop where individuals collaborate to exercise their creative juices make masterpieces on giant sheets of canvas. This team bonding will cover, among other things, the basics of color theory, brushwork, and composition. After learning about the different materials, each group will be able to make its own design on canvas. Teams may choose from a number of materials and methods to produce an original work of art.
Leisure Activities
22. Bowling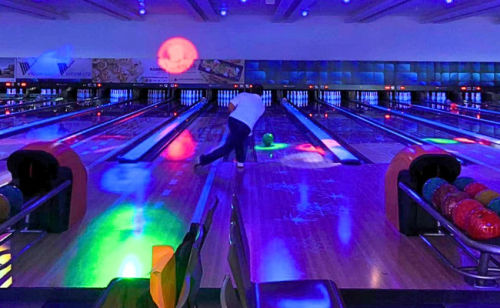 Neon bowling is a fun and novel twist on the standard bowling game! While you attempt to knock down as many pins as possible for the highest score, the luminous pins illuminate in a variety of mesmerizing colors. Despite the otherworldly atmosphere, it's simply ordinary bowling – without the blinding lights!
If your next corporate team-building event will take place in Singapore, why not check out a variety of team-building games? Not only will it be a pleasant way encourage engaging manner with employees, but it will also foster communication and increase team trust.
23. Giant Board Games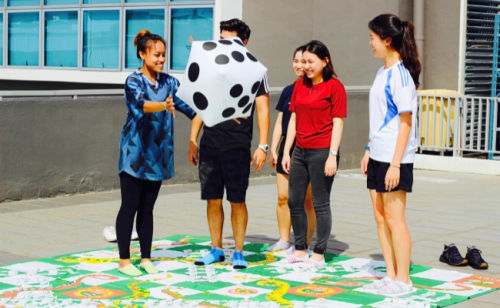 Giant Board Games SG is the answer if you want to go down memory lane and revisit your favorite childhood games in a bigger and more flamboyant style. Our one-of-a-kind assortment of life-sized reproductions of popular board games such as Jenga, Pick Up Sticks, Connect Four, and Snakes & Ladders will guarantee interactive fun with friends and colleagues! Never again be concerned about icebreaker activities; Big Board Games SG has you covered!
24. Yacht Rental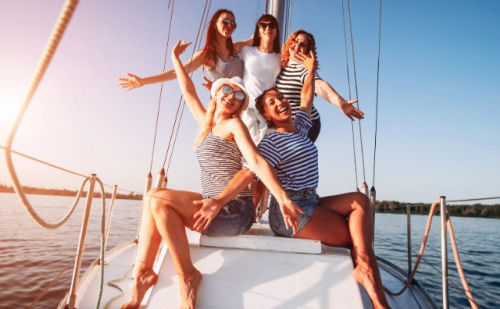 Are you looking for a unique location to commemorate major life events? In Singapore, there is no better option than to lease a boat. For a more intimate anniversary celebration or proposal night, choose a cruise that takes you away from the city's hustle and bustle. Renting a boat has become one of the most popular methods for creating an occasion that you and your partner will lovingly remember for the rest of your lives.
Virtual Games
25. Virtual Food Quest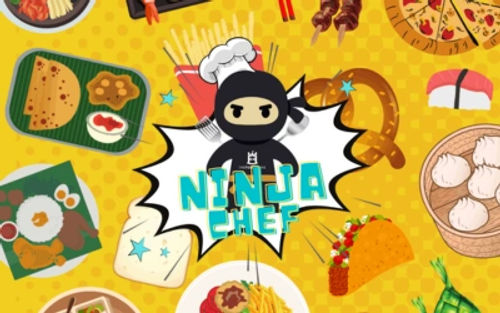 FoodQuest is an online game on FunEmpire that helps different teams improve their ability to work together. Teams will have to answer an array of food-related questions, including some about recipes and ingredients, as well as find hidden items within their environment to earn high score points and for the chance to win prizes.
Food Quest encourages participants to think logically and communicate effectively with each other, making it an excellent way for teams to build relationships, trust, and camaraderie.
26. Virtual Super Planet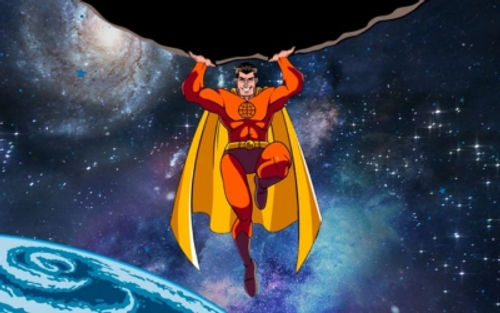 FunEmpire in Singapore provides Virtual Super Planet as a virtual activity. Different teams have to cooperate to find clues and solve puzzles in this game. Because the planet was destroyed, no one can recall its previous state. You've known all along that there are numerous universes where people exist. That is, you thought you did until she appeared in your dream and revealed your hidden abilities. Find more heroes, and talk to them about how to reconstruct the world.
27. Virtual Party Mania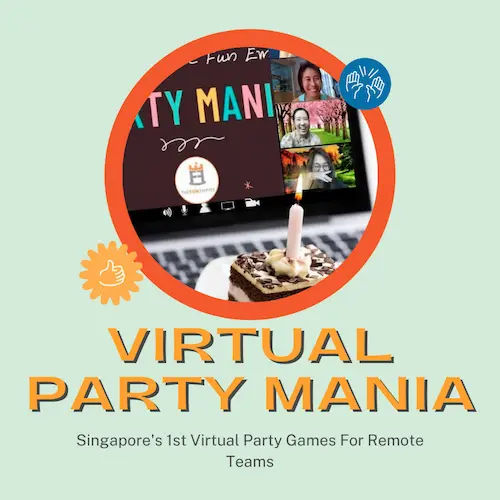 FunEmpire in Singapore provides the service Virtual Party Mania to allow its clients to socialize and establish connections. It's a good idea to choose Virtual Party Mania. As they include both trivia questions and entertaining activities, these online party games are perfect for any age group. Without having to organize who brings what, anybody can join in the fun as Zoom is accessible from anywhere with an internet connection.
28. Virtual Squid Escape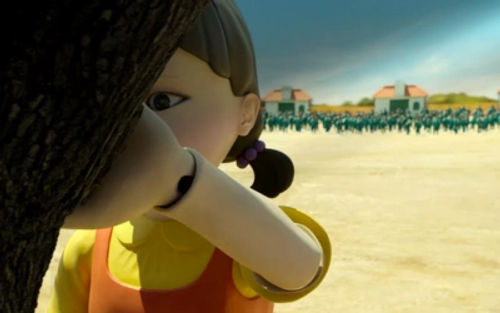 At FunEmpire in Singapore, you may take part in the breathtaking Virtual Squid Escape activity. This interesting Squid Game-inspired room-escape game is a lot of fun. You made the decision to leave and inform the authorities about the whole situation after seeing how poorly the game's organizers handled the participants. Virtual Squid Escape is a fun team building event because it has challenging puzzles and strange creatures to meet.
29. Virtual Time Travel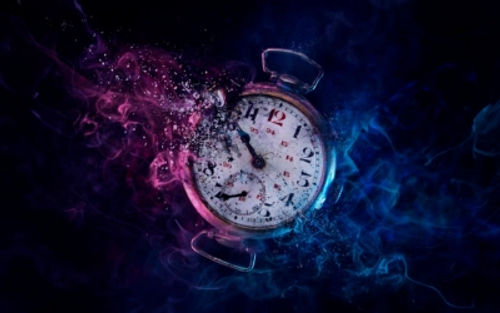 Everyone may have fun and learn something new in the Virtual Time Travel Virtual Escape Room. You travel through time with this virtual escape room to learn about various historical periods. Going back in time to solve puzzles and unearth mysteries will set you and your squad up for a thrilling journey.
To navigate the game's many rooms and stages, you'll require problem-solving abilities as well as creativity, coordination, and practice effective communication. You'll encounter odd animals, difficult riddles, interactive locks, mind-boggling mysteries, and much more as you go through each level.
30. Virtual Mayday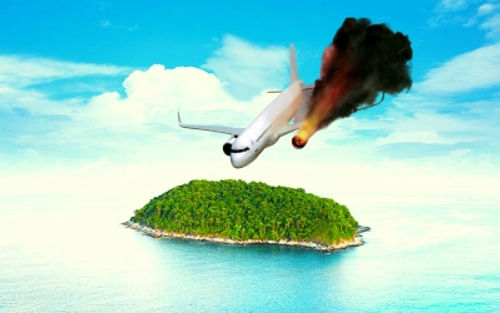 FunEmpire in Singapore provides virtual team-building exercises. "Virtual Mayday" is the name of one of them. Teams participate in this activity by cooperating to decipher clues and solve riddles. Learning more about one another's cultures, company values, and occupations is the aim. A naturalist named Louis is shipwrecked on an island by himself. Your squad is needed to help Captain Roger in this rescue operation so Louis may return safely with his important research.
31. Hybrid Amazing Race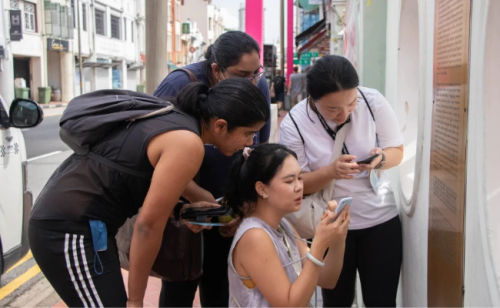 FunEmpire in Singapore provides "Hybrid Amazing Race" as a virtual activity. To gather information, crack codes, and figure out how to win the game, players must cooperate. Participants may gain knowledge about the customs, rituals, and social standing of other people. For players to join the game, their mobile devices, like laptops and phones, must be able to connect to the internet. For teams to complete tasks on schedule, planning is essential.
32. Virtual Amazing Race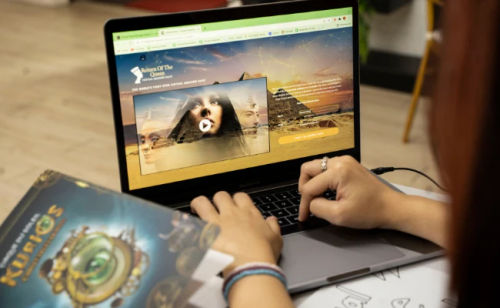 FunEmpire has a digital version of The Amazing Race that could be used to get people in Singapore to work together. Teams work together to find clues and get the answers in this group exercise. It's a great method for staff members to get familiar with the organization's policies and procedures while also learning about one another's cultures, worldviews, and perspectives.
A laptop or smartphone that can connect to the internet is required for each group. To make sure that every task is finished on time, teams must plan ahead.
33. Virtual Escape Room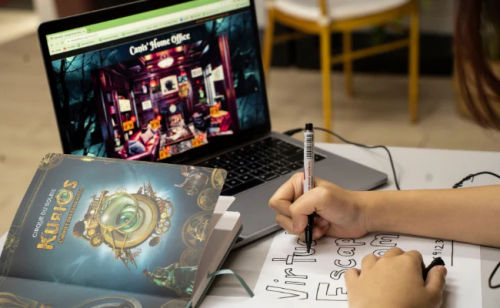 Singaporeans may participate in team-building exercises in virtual escape rooms with FunEmpire. This sort of activity occurs when individuals play online games that require interaction in order to progress.
Team members may have a better understanding of one another, their positions within the company, as well as the perspectives, values, and views of other team members as a consequence. People will require technology to participate in this team bonding event, such as PCs or phones with an internet connection. To ensure that their assignment is finished on time, teams must make a plan in advance.
34. Virtual Time's Ticking
The Time's Ticking Escape Room is a full-body experience that will challenge your problem-solving abilities. You may test your intelligence, creativity, and knowledge with the many puzzles, riddles, and other challenges in this game.
With an hour to explore the rooms, search for hints and cues, play games, and figure out what each room is hiding, you and your entire team will have plenty of time. Our escape room is a fun team building event, no matter how smart or skilled they are, because the level of difficulty can be changed.
35. Virtual Nightfall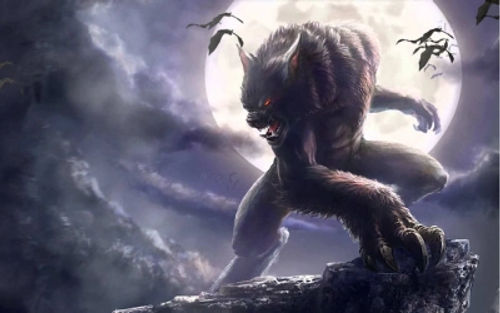 Your team's ability to think quickly will be put to the test with this exciting exercise, which is modeled around the popular board game Murderer. It necessitates collaboration, attention to detail, and persuasiveness in others. The entire team will take on a different character, such as a murderer, a detective, or even a superhero! Who will triumph in this grand struggle between good and evil?
36. Virtual Jack's Hangover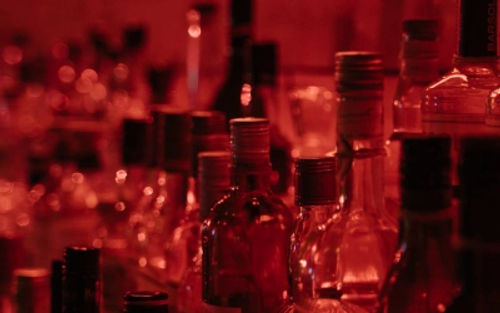 Would you help your friend Jack, who had a few too many drinks the previous night and is now experiencing a horrible hangover? The reason for this is that it is up to you and your fellow members of the community. Visit the casino where he was, then check out his hotel room as soon as you can. Try to put together as much information as you can.
37. Virtual Game Show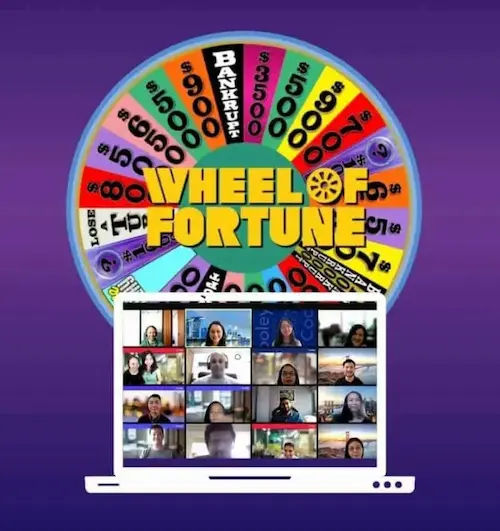 Do you want to improve your employees' relationships while still having a good time? There is now a game show challenge! Anywhere—from your office space to a café—can host this entertaining exercise that encourages participation. Participants will cheer, laugh, and offer high-fives throughout the event. It's a cheap substitute for any Singapore group, which is much better!
38. Virtual Travel Experience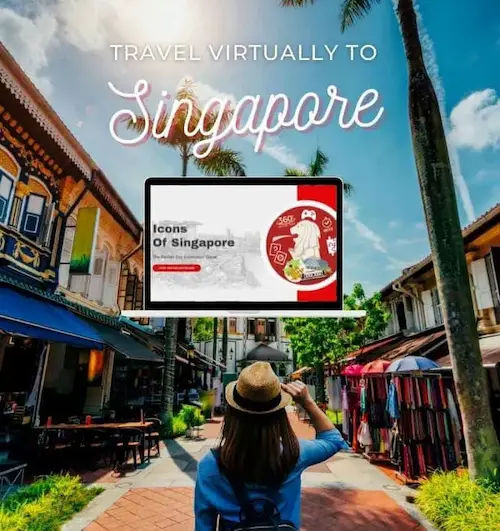 Join your coworkers in online groups to solve fun and interesting puzzles and learn about the country in an interesting and hands-on way. To learn the thrilling story, solve all of the riddles! This virtual travel experience should be your first choice if you're having trouble deciding which team-building activity in Singapore is best for you!
There is no restriction on how many people may sign up, so gather your local or international colleagues and check out our excellent possibilities right now!
Adventure Activities
39. Ninja Tag
Looking for a unique and entertaining activity in Singapore? You need not look any farther than FunEmpire's Ninja Tag! In order to win this healthy competition, teams must rely on their strategic thinking, quick wits, athletic prowess, and problem-solving skills. The objective is to complete an obstacle course without getting tagged by the other side.
40. Bubble Soccer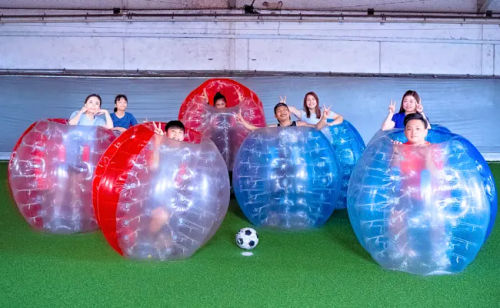 FunEmpire, which is situated in Singapore, provides Bubble Soccer, a novel game that is ideal for those who want to have fun while allowing colleagues to improve their communication and problem-solving skills. Players must inflate a bubble and utilize it to move around the pitch and score goals in order to participate.
Bubble soccer is a physically difficult, high-intensity sport with an emphasis on team work. The healthy mini competition and humorous antics of Bubble Soccer will make your next online event one to remember.
41. Poolball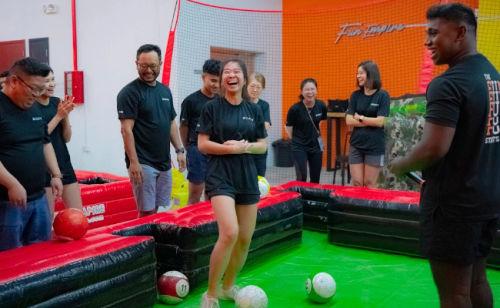 FunEmpire in Singapore offers the entertaining and thrilling game of pool. It is ideal for children who want to develop their problem-solving and communication abilities in a fun and competitive setting. Teams must apply strategy and cooperation to attack and defend their own goals in poolball.
The most effective groups will mix strategic planning with individual ability and tactical awareness. Poolball is ideal for all ages and ability levels, making it a fantastic opportunity for workers to bond through shared experiences!
42. Combat Archery Tag
Combat Archery Tag is a one-of-a-kind game on FunEmpire that lets players fight fierce battles and improve their archery skills at the same time. Combining dodgeball, paintball, and archery, this interactive game has gained popularity among Singaporeans of all ages.
In order to win this activity, teams must collaborate and make great judgments. The objective of Combat Archery Tag is for each team member to tag opponents on the other team using their bow and arrow set.
43. Laser Tag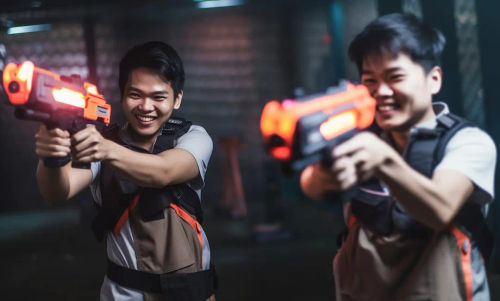 Laser tag is one of FunEmpire's distinctive best team building activities. It is a great way to help team members talk to each other and work together as they try to reach their goals. For laser tag, the latest laser guns, vests, and other pieces of equipment are required.
Then, players are told to move through the given area or place while avoiding enemy attacks and sneaking up on other teams. The environment is ideal for adults and children to foster strong relationships while having a good time together.
44. SaberFit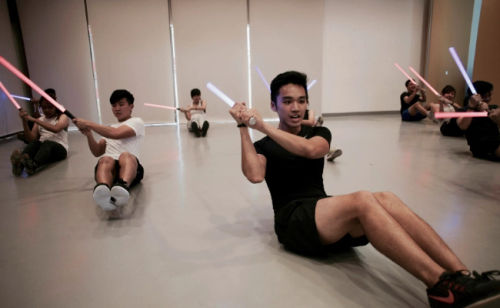 SaberFit, the world's first high-energy group fitness program, can help you get in touch with your inner warrior. It's not only a great way to socialize and work up a sweat as a group, but it's also the only activity of its kind that includes pair-work dueling exercises and fantastic team-building components. This great team bonding activity is ideal if you're looking for something unique and unforgettable for your next business event or activity in Singapore!
45. Bullet Ball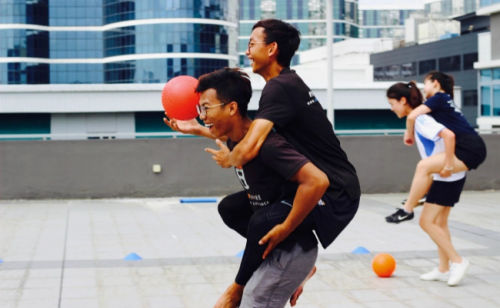 Do you ever force yourself to try something different? Try FunEmpire's Bullet Ball, an explosive and competitive spin on the time-honored game of dodgeball, at your next Singapore team building event. It is a product that will appeal to all consumers since it provides a high-octane rush at a reasonable cost.
46. Bullet Strike (Nerf Gun)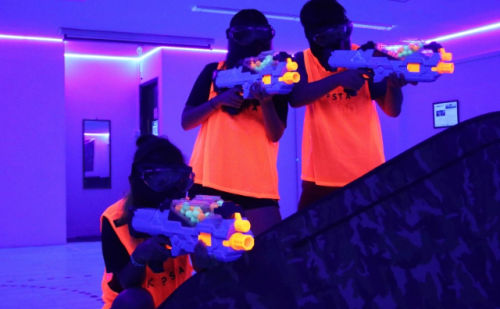 Nerf Gun is an engaging team game in which players try to complete a range of mission-based goals while pelting their opponents with soft foam shots. During this one-of-a-kind activity for building team work, the projectiles are made of a soft material that can't hurt anyone, and it will require teams to wear face protection.
47. Saber Tag®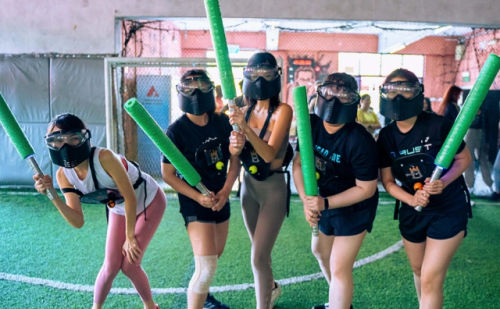 You can raise the stakes of the game by fighting with people on the other side while holding combat sabers to complete different game goals. Take part in missions such as Saber Wars and Defenders of the Galaxy. This thrilling game is perfect for workplace exercises to develop team work and as a casual game for birthday party fun.
Saber Tag® is one of the most exciting group activities in Singapore, and it will present you with a once-in-a-lifetime chance to bond and foster camaraderie. This is a once-in-a-lifetime opportunity.
48. Giant Whack-A-Mole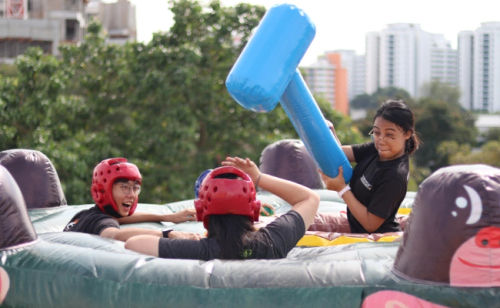 FunEmpire's Giant Whack-A-Mole is a great team-building activity. The game is played using gigantic foam moles that emerge from the earth, which players must smash with a large foam hammer. This fun activity may be played with friends or family for a fun time. This game is an entertaining method to bring people together and have crazy fun while developing team work. It will be a hit at your next team-building event in Singapore.
Top 5 Venues For Indoor Team Building In Singapore
1. FunEmpire HQ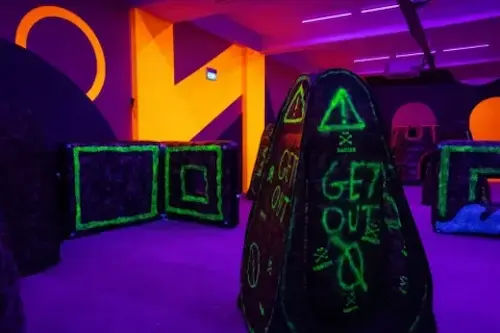 Would you prefer to have your event in a private location? Consequently, our event space near the Mattar MRT station is excellent for your requirements! Add some unique team building activities from FunEmpire to make it an even more memorable experience.
Whether it's gel candle making or poolball, this secluded Singapore location may help your collaboration goals reach new heights without disturbing spectators. Ensure that everyone's privacy is respected, and enjoy every minute in our enticing setting.
2. FutsalArena @ Yishun
Allow yourself the chance to embrace Futsal Arena @ Yishun and bid farewell to monotonous workdays! Here, you can get away from it all and enjoy a breathtaking view of Yishun Park. FunEmpire gives you the opportunity to hone your collaboration abilities via fun games like bubble soccer and laser tag. See who will rule supreme in these "fantastic" games by banding together until a victor is determined.
3. The Cage @ Kallang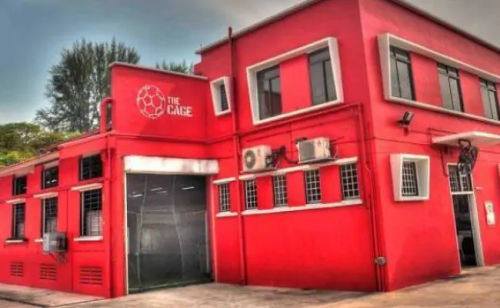 The ideal location for your future business event is Kallang! Take advantage of the plentiful, free parking and the secluded fields with plenty of seats that provide protection from bad weather. Also, we have partnered with skilled event coordinators to guarantee that all of your demands are met. Don't let this fantastic chance pass you by; book immediately!
4. Wing Fong Building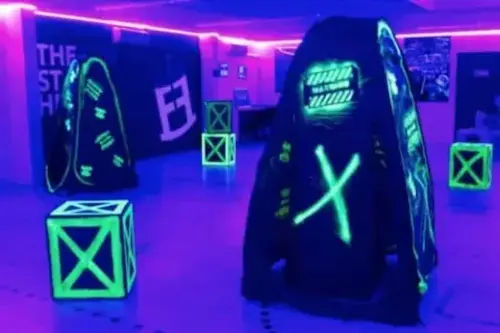 The Wing Fong Building on Guillemard Road is the ideal location for organizing and planning your next team-building event. This wide site is great for large events such as dodgeball or capture the flag since it offers enough parking and 24-hour accessibility.
Bring together all of your teams in a central area so that they can collaborate on a single objective in an engaging way. Be certain to take advantage of this wonderful chance to get accomplishment without difficulties!
5. CharisTurf @ Eunos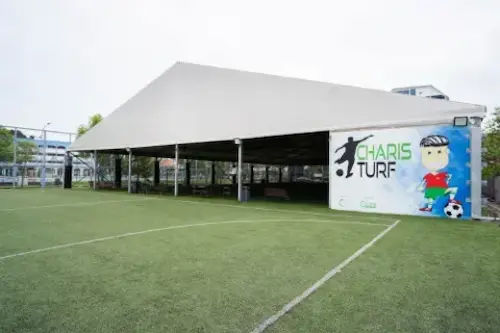 Looking for the right site to organize your next Singapore team-building event? The good news is that you need look no further than CharisTurf @ Eunos! This facility has sufficient room and parking, making it an ideal location for accommodating large gatherings. Here, you and your group may participate in an assortment of interesting games, like dodgeball, soccer, volleyball, and more!
Top 5 Venues For Outdoor Team Building In Singapore
1. West Coast Park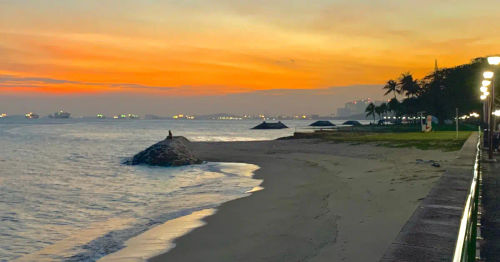 West Coast Park is the ideal location if you're looking for a quiet, isolated spot away from the city's noise and bustle. This 50-hectare park in the southwest part of Singapore has BBQ pits, camping sites, and a variety of team bonding activities, making it easy to reserve a location for outdoor team building activities. Don't forget to consider electrical demands while choosing an outdoor position here; with fewer visitors than other parks, this might be the perfect spot for everyone.
2. Sentosa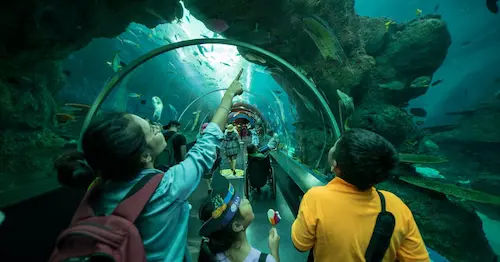 Sentosa Island is the ideal retreat from the bustle of the city if you are looking for peace and quiet. Here, in this magnificent paradise surrounded by sun-kissed beaches and glistening waters, you may relax with friends or co workers while engaging in the best team building activities or corporate events. It is an oasis unlike any other that will make you feel like you've never been so far from home!
3. Pasir Ris Park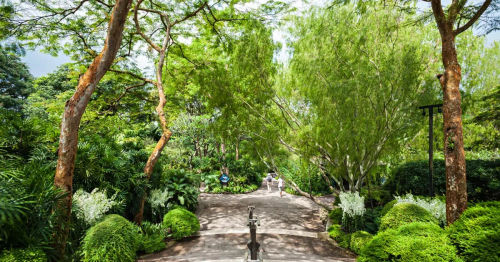 Take your family or coworkers to a day of amazing fun at Pasir Ris Park! This park is located on the eastern coast of Singapore and has 6 kilometers of scenic paths and mangrove woodlands.
You can also do water sports or rent grills so that you and your friends or coworkers can eat outside. Yet, there's more! Why not set up games on one of Pasar Ris Park's opengia fields for team-building exercises? With so many team bonding activities available, it will be difficult not to have fun!
4. East Coast Park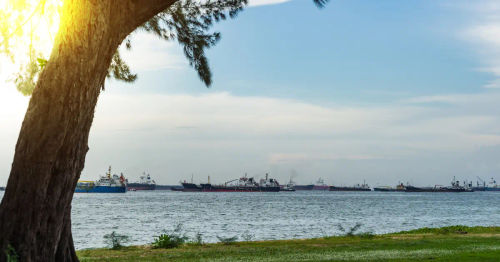 The famous East Coast Park in Singapore is a popular place for both locals and tourists because it has a lot of great places to eat and fun things to do. It's not surprising that business meetings are often held there, but the fact that it's a popular place means that it can get crowded.
Due to the fact that it is a public location, it may not always be possible to reserve an area solely for your group if you do not arrive early; thus, arranging team bonding activities that require greater seclusion might be very challenging here.
5. Labrador Park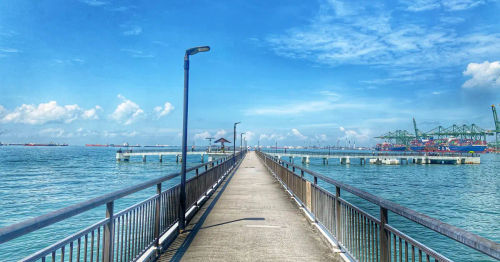 In Labrador Park, which is situated on the southernmost point of Singapore, enter the city's natural haven. This magnificent park is only a short stroll from the brand-new MRT station and has much to offer everyone. Visit Labrador Park to experience all it has to offer, including kid-friendly playgrounds, historic tunnels, and beautiful coastline vistas.
Top 5 Team Building Companies In Singapore
Some of our top suggested businesses for team building in Singapore are listed below. Do you want more choices? Check out our carefully compiled list of Best Team Building Companies in Singapore as well!
1. FunEmpire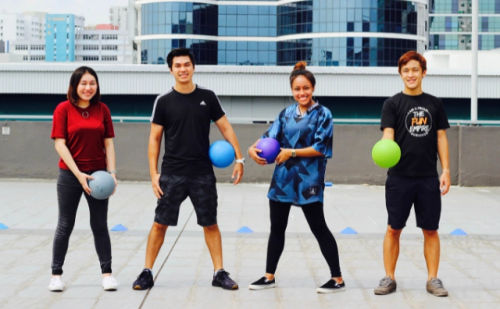 With FunEmpire, the top provider of high-caliber entertainment, you can transform your gatherings, celebrations, trips, and best team building activities into incredibly thrilling experiences. With FunEmpire, you can have thrills like never before!
2. Terrarium Singapore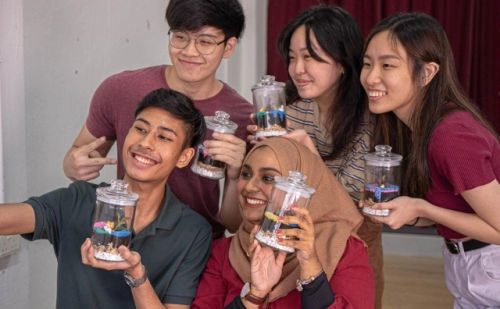 Stimulate your imagination and create an exceptional glass garden. By participating in our award-winning Singapore Terrarium Workshop, you may develop stronger bonds with family and coworkers. Our knowledgeable instructors will accompany you on every step of the trip – from the beginning to the end – to ensure a captivating experience!
3. Laser Tag Singapore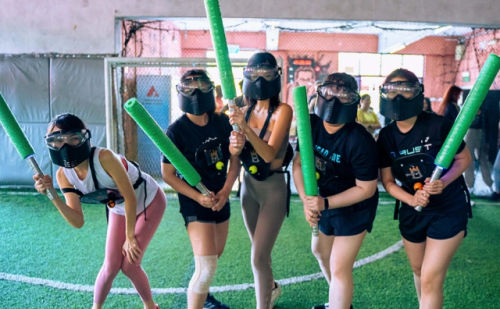 For a genuinely unique experience in Outdoor Laser Tag, look no further! Our advanced laser tag technology is combined with camouflage tents to provide an exciting experience. We are completely transportable and can deliver all of our equipment directly to your doorstep for your greatest convenience! Even if outside space is restricted or nonexistent, have no worry — we can set up inside.
4. Combat Archery Tag Singapore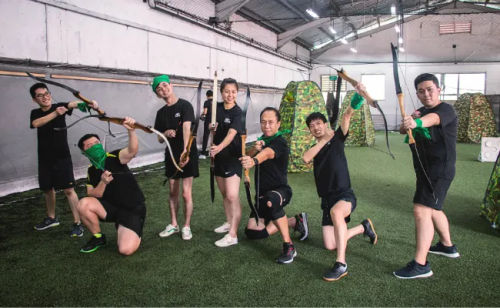 Are you ready for an adrenaline rush? Combat Archery Tag is the ideal high-energy exercise, combining paintball, dodgeball, and archery. This fun adventure may be enjoyed by the whole family, even children older than 10. Archery Tag Singapore guarantees an amazing experience with loved ones. Go out there and experience it for yourself now!
5. Poolball Singapore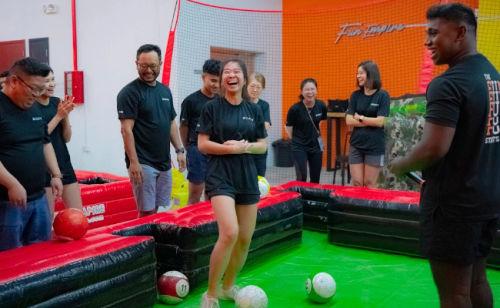 Poolball Singapore, a combination of two classic games, will provide you with an experience unlike any other. You will use soccer balls to aim and fire into pockets on an enlarged pool table, as opposed to pool cues. It is assured to bring hours of amusement and pleasure!
Team Building Singapore
The Ultimate Guide To Team Building In Singapore has provided you with all the information needed to make your best team building activities a success. And if you want an even more thrilling experience then be sure to check out FunEmpire, Terrarium Singapore, Laser Tag Singapore, Combat Archery Tag Singapore or Poolball Singapore – they will definitely provide amazing experiences that are bound to bring hours of amusement and pleasure!
So don't delay any longer; start planning your next fun activities in Singapore today!
If you're looking for more recommendations, you can check out our other posts below:
Frequently Asked Questions (FAQ)
If you have any questions about Team Building in Singapore, you can refer to the frequently asked questions (FAQ) about the best Team Building in Singapore below:
Additional Useful Articles
If you are looking for other useful guides and articles about Team Building in Singapore, check them out below: