Lighting Shop Singapore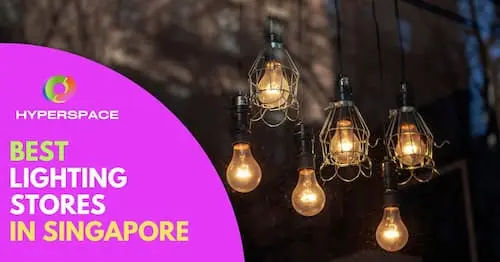 Many people are unaware of the tremendous significance lighting holds in interior design.
The best lighting shops in Singapore include Sol Luminaire, D'SOL DECO, HOME FIRST, Zenterra Lighting, and Verde Light.
When selecting a lighting store in Singapore, take into account factors like the range of products available, design options, pricing, customer reviews, and warranty coverage.
At a lighting store in Singapore, you'll discover an extensive selection of items, such as ceiling lights, pendant lights, chandeliers, wall lights, table lamps, and floor lamps.
This article will provide an extensive list of awesome shops to satisfy all your illumination needs!
Key Consideration Factors
Products: Make sure the store you're considering carries a variety of lighting fixtures. You should be able to find anything from basic bulbs to elaborate chandeliers and lamps.
Quality: The quality of the fixture is very important, since you want it to last for years! Check customer reviews online or ask shop representatives to make sure that their products are trusted and reliable.
Design: Different stores carry different designs and styles, so be sure to explore the store's selection before making a purchase.
Price Range: Consider your budget range when choosing a lighting shop in Singapore. Many establishments offer fixtures that fit all budgets, from low-cost ones to high-end options!
Best Lighting Shop Singapore
1) D'SOL DECO
D'SOL ensures that you obtain something truly special for your home by providing a remarkable selection of lights, furniture, accessories and artefacts. Relying on their team's impressive interior design background, they carefully select each item to ensure it meets its purpose in your space – unlike other retailers who take shortcuts. From captivating elegance to modern sophistication, D'SOL has all the pieces necessary for transforming any area into something extraordinary!
Key Differentiators
Has both an online shop and a brick-and-mortar presence
Sells designer and contemporary lighting into your home
Sells smart LED lights
Client Testimonial
On my two visits to D'Sol, Shawn gave exceptional service and lighting advice. He was patient with me and my Interior Designer (ID), taking the time to display multiple lights, as well as how it would appear in our space. Additionally, he offered guidance on height placement before adjusting after installation for a perfect fit at our place.

Diane Chang
2) HOME FIRST
In 2015, HOME FIRST Pte Ltd was founded by a family bursting with the ambition to be successful business owners. They were familiar with the typical cycle of buying BTO flats and resale flats in Singapore like other families before them. After they got their keys, they couldn't wait to explore all furniture and lighting stores around the country for their home makeover project!
Key Differentiators
Sells a wide range of quality lighting products
Offers expert advice on the best lighting options for your home
Provides installation and customization services
Client Testimonial
Dropped by with my partner 3 weeks ago, staff was friendly and helpful with the questions we had! They even recommended us on what lights can be placed in which room according to our needs. If you are looking for lights in woodlands, do drop by to take a look.

py
3) Zenterra Lighting
At Zenterra Group, they take pride in providing Singapore with the best prices on a vast selection of lighting. With an extensive online store featuring all kinds of fixtures and bulbs, you can find everything related to lights in one place – Zenterra Lighting! Explore their collection now for better illumination options and experience feeling satisfied afterwards.
Key Differentiators
Online store for a fuss-free shopping experience
Offers quality products
Wide variety of lighting products
Client Testimonial
Gemma provided exemplary service, being both polite and helpful. She expertly explained the luminary to me and recommended a new model that I ended up purchasing. One month later, she helped with the installation of three colored downlights. When trying to set up the remote control didn't work out as expected, Gemma concisely walked me through it on call while also sending video instructions for further clarification – five stars are definitely in order! Highly recommend her services!

Khin Seng Chan
4) Verde Light
Since its inception in 2010, Verde Light has been dedicated to offering industry-leading residential and commercial lighting solutions for both indoor and outdoor use. As a testament to their commitment to excellence and innovation, Verde Lights quickly became one of Singapore's most trusted suppliers of quality lighting products. Their success story continues in the South East Asian region with an ever-expanding base of contented corporate clients as well as consumers that have benefited from their services.
Key Differentiators
Provides a wide range of lighting products both for residential and commercial use.
Offers bespoke and customized lighting solutions
Wide variety of designs to choose from
Client Testimonial
Great Place for lighting experience while dining. Sales staff are professional and helpful to give suggestions.

Jason Yapsh
5) Design Light
Design Light is a remarkable store that offers everything from traditional to modern, and contemporary items. The knowledgeable and friendly staff will always be there with helpful answers or assistance you may need during your visit. Plus, it's all reasonably priced so you don't have to worry about breaking the bank!
Key Differentiators
Wide variety of lighting styles to choose from
Friendly and knowledgeable staff
Competitive prices
Client Testimonial
After visiting numerous shops, I found that the prices offered here are still the lowest. Furthermore, their excellent service and clear explanations make this an even more attractive option.

Joe Lim
6) KLITE Concept
KLITE is a Singapore-based lighting firm that specializes in LED lighting and designer lighting. Their motivation for setting up the company was to be able to provide customers with the most affordable prices on all LED lighting, something which they experienced first-hand when they were "chopped" after moving into their own apartment many years ago.
Key Differentiators
Specializes in LED lighting and designer lighting
Offers competitive prices
All items come with a guarantee
Client Testimonial
If you're looking for the perfect hanging light to add a touch of style and sophistication to your home, then look no further! I recently visited this store and was completely blown away by how helpful the staff were. The lady with braces gave me a thorough explanation on all their products – from striking lights to beautiful blinds – but it was her charming personality that truly left an impression.

Zaha Rahim
7) SG Light Store
SG Light Store is the go-to online lighting shop in Singapore for all your LED light needs. Not only do they provide a wide selection of SG lighting options, but also guarantee their high quality and reliability with up to 3 years of warranty coverage on Safety Mark Driver Lights! What's more, every product is certified by Singapore Safety Mark, CE and CCC marking – so you can rest assured that they're safe enough even for our own homes and offices. With us at SG Light Store as your trusted distributor of LED Lighting in Singapore – satisfaction is guaranteed ­­– twice over!
Key Differentiators
Fuss-free shopping experience
All products come with a 1-year warranty period
A trusted distributor of LED lighting in Singapore
Client Testimonial
As a long-time patron of this store, I can attest to the fact that it offers quality products at great prices. Not only that, but their staff is exceptionally knowledgeable about lighting on both WhatsApp and in-store. This shop has become my go-to source for home lighting needs – highly recommended!

Tim Bousky
8) Shiok Lighting
Shiok Lighting is devoted to creating the ultimate urban living experience for those with shared passions. Their stunning lighting designs provide a stylish atmosphere that brings people together in beauty. All of their products are made up of LED bulbs, delivering an exceptional combination of modern style and technology for your home. With Shiok's unwavering commitment to ensuring that you have LEDs at the heart of your residence, you can be sure it will be illuminated in sophistication!
Key Differentiators
Every collection is carefully chosen by their R&D team
Offers a portfolio based entirely on LED technology
Beauty and practicality can be united as one
Client Testimonial
The staff at this store are exceedingly courteous and meticulous. Their patience in explaining each step of my purchase made me feel confident with the entire process, as it was my first time purchasing lighting. I would highly recommend their services to anyone who wishes to make a smart buy on lights – stress-free!

Lawrence Lim
9) Million Lighting
Million Lighting revolutionizes the idea of lighting with its limitless creativity. By combining innovation and technology, they craft extraordinary custom-designed lights that not only illuminate but also serve as pieces of art. Thus, it comes as no surprise why some of the region's most distinguished businesses have sought out this company – from hotels to shopping hotspots! With Million Lighting's help, these establishments can bring in a unique ambience that sets them apart from their competitors.
Key Differentiators
Custom-designed lights to fit the specific style of your home
Highly experienced in creating lighting solutions for commercial buildings
Revolutionizing the idea of lighting with its limitless creativity
Client Testimonial
Great service and variety of quality lights. My electrician who installed them commented on the good quality. Recommended.

Eddie Cheng
10) Whiteluz
Whiteluz is a renowned Singapore-based business that specializes in lighting solutions for both residential and commercial spaces. With an emphasis on quality and safety, Whiteluz provides their customers with maintenance-free formulations so they can easily meet their busy lifestyle needs. Plus, you have the peace of mind knowing that every product comes with a 30-day money back guarantee! Don't wait any longer; come to Whiteluz today for your lighting solution needs!
Key Differentiators
Working towards a greener world
They commit to providing a safe to use and maintenance-free formula
With a 30-day money-back guarantee
Client Testimonial
This company for lighting is outstanding! The staff were so welcoming and helpful, and I'm beyond content with the product. I would certainly return here in the future – how can it get any better than this? Absolutely marvelous!

Tai Seng Cem
11) Sembawang Lighting House
For more than two decades, Sembawang Lighting House (SLH) has proudly provided a huge selection of home lighting fixtures and ceiling fans. Over 10 top brands such as KDK, Fanco, Crestar, Acorn and Samaire are all available in store. Customers can conveniently contact SLH via their website or WhatsApp message to make inquiries or transactions. Whether you're looking for crystal chandeliers, hanging dining lamps, acrylic ceiling lamps or track lights/downlights – they have it all!
Key Differentiators
Authorized dealer for 10 brand of ceiling fans
Wide selection of LED lighting fixtures
Professional electricians are available for installation services
Client Testimonial
I'm extremely delighted with my purchase from Sembawang Lighting. Shopping online was a breeze and the staff were incredibly helpful, providing answers to every single one of my queries. The installer also worked quickly while remaining tidy and accommodating – I couldn't be more content!

Anonymous
12) Screed
Are you looking for a reliable lighting company that can provide quality, maintenance-free solutions? Look no further than Whiteluz – Singapore's premiere lighting supplier. Not only do they specialize in residential and commercial illumination but their products are certified safe; all to give clients the assurance of ultimate protection. Plus, if ever their services aren't up to your standards, get your money back with Whiteluz' 30-day satisfaction guarantee! So why wait? Transform your home or business today with Whiteluz!
Key Differentiators
Working towards a greener world
They commit to provide a safe to use and maintenance free formulae
Client Testimonial
This is a really awesome company for lighting. Staffs are very friendly and nice, finally I found out satisfied products. I am willing to come back again in the future! Very good!

Tai Seng Cem
13) Light Makers
Key Differentiators
Unique, inventive and also a convenient all-in-one lighting supplier
Extended capabilities and product line
Constantly refreshing their line of lighting fixtures
Client Testimonial
When I was searching for modern lights to give my home a new look, Light Makers caught my eye. Nothing compared to the options they had available and the reviews were outstanding. So, after checking out their website, I decided to visit in person – and boy did it pay off! Nowhere else could provide me with what this shop offered: from beautiful lighting pieces that spoke directly to me, along with friendly service and reasonable prices.

Dennis Cheng
14) Lightcraft
Since 1977, Lightcraft Singapore has been a leader in the lighting industry as they have grown from creating light fittings to becoming a full-service provider. Proudly holding a license with the Building and Construction Authority since February 2000, their main showroom is located right here in Singapore. Their incomparable services have made them renowned for their top-quality marine lights -which you can find on some of the most prestigious yachts around the world! In addition to this impressive accomplishment, they are also credited with several commercial and high-end projects throughout our city-state nation.
Key Differentiators
Collaborates with hotel and serviced-home interior designers and architects
Worked on many commercial and architectural lighting projects in Singapore, Malaysia, Thailand and recently India
Custom-make light fittings according to the design and requirements of interior designers
Client Testimonial
They have a great selection of unusual lights design you won't find it at common light shops. Promotions are affordable. Nicole was welcoming to answer our queries and friendly. We got a few lights from them. Thanks Lightcraft!

Benjamin KF Tong
15) HorizonLights
HorizonLights is a rare store in Singapore that has an array of floor lamps for sale. Even better, their team searches the globe to get you various designs, types and functions at your fingertips! Cost-friendly options are available locally but if you want something truly unique with all the bells and whistles—you'll need to look abroad. Head over to HorizonLights and make sure you see it all before making any decisions!
Key Differentiators
One of the few lighting stores in Singapore with a wide range of floor lamps
Their team searches all over the world for unique and quality designs
Ensures cost-friendly options from both local and abroad
Client Testimonial
I had bought a lot of LED lights from HorizonLights! I was very surprised to get a good personal service from Jhonny who helped me to select the right choices and made sure that all are tested properly. Also gave his contacts for any help during installation. Very good experience! Quality of the lights are very good. I was able to install them with no difficulty. Value for money.

Subramanian Gopalaratnam
16) BL Singapore
With over two decades of experience, SINGAPORE LIGHTING is an expert in the industry and a leader when it comes to selling ceiling lights and fans for domestic and professional use. Their 100 per cent positive seller rating across Singapore speaks volumes about the quality of service that stands out from their competitors. Now you can trust BL Singapore with all your lighting needs!
Key Differentiators
100% positive seller rating across Singapore
Wide selection of domestic and professional lighting needs
24/7 customer service for any inquiries or problems
Client Testimonial
I had been dealing with BL lighting for the 3rd times. Usually I will go to their showroom in Jalan Besar . Shortlist those lights , took pictures. I will finalised the purchase through Whatapps which make it more convenience. Excellent service and delivery schedule is very prompt. He will recommend suitable locations for lights to be installed. I would highly recommend them based on their professional service, patience and after sales service.

Wilson Wun
18) ILITE SINGAPORE
Whether searching for something classic, modern, or elegant in design – they are the go-to destination for all of your lighting needs. Not only do they provide a variety of options to residential customers but also commercial companies. From chandeliers and track lights to garden lamps, downlights and wall sconces – their unique selection covers it all! Floor lamps, table lamps? Check! Indulge yourself with an array of choices from this one-stop shop.
Key Differentiators
Provide unique lighting designs
Wide selection of lights for both commercial and residential use
DIY installation services available
19) Aspire Lightings
When searching for the perfect LED lighting to suit your space, Aspire Lighting provides an all-encompassing service that includes knowledgeable and reliable advice on design. With a range of varieties from basic to modern-day, minimalistic, vintage Scandinavian or industrial – they have something sure to fit any home!
Key Differentiators
Competent, trustworthy guidance on lighting design
Wide range of LED lights
Showroom within the warehouse for customers to check out the lights and purchase right away
Client Testimonial
Fast and pleasant deal. Love the various lightings available. Service technician is friendly and professional to deal with installation work. Love the new look of my house.

Ayid ScreamAfterMidnight
20) ARC LIGHTHOUSE
Since 2011, a Singaporean firm has been dedicated to providing sustainable and cost-effective solutions with their selection of light fixtures, fittings, bathroom sanitary equipment, and kitchens. Not only are they helping people save money on utility bills but also improving daily lives by enabling them to do more things in an affordable manner. With eco-friendly products from this company, you can rest assured that your savings will last long!
Key Differentiators
They import the products directly from overseas manufacturing companies, mainly China and European Countries
Their Vision is to introduce eco-friendly & energy efficient products
Client Testimonial
Very helpful staff. Look for Jasmine! Amazing prices to boot.

Joelle Pang
21) Coconut Tree Lighting
Coconut Tree Lighting is a vibrant Singaporean company backed by an accomplished and qualified team of lighting industry professionals. Their customer-centric approach positions their clients' needs at the forefront, supplying only the highest quality lights available while providing exemplary customer service to all customers. Always looking for imaginative products, materials, solutions, and technologies to improve their services even further ahead of cutting-edge technological advancements in the field of lighting; they are committed to stay at that vanguard position indefinitely.
Key Differentiators
Young and energetic team
Support from experienced and qualified lighting experts
High quality lights at competitive prices
Solutions for a wide range of needs including commercial, industrial, residential, retail, leisure and medical
Client Testimonial
If you're looking for unique and hard-to-find lights, this small boutique has an impressive selection of designs.

Fei Sun
22) Regal Lighting
Regal Lighting Gallery vows to construct an honest and enduring relationship with their customers, while simultaneously aiming to customize services that best meet customer needs. Additionally, they can provide specific lighting solutions according to individual requirements. Their primary focus is on providing superior service – LED Lighting & Ceiling Fans are just some of the areas in which they specialize! Stop by their showroom today to learn more about what Regal Lighting Gallery has to offer you!
Key Differentiators
Experienced team of lighting specialists
Wide range of options is available
Affordable prices and excellent customer service
Client Testimonial
Two weeks ago, I visited Regal Lighting to acquire new lighting and a fan for my home. The salesperson was exceedingly friendly and knowledgeable in what they were selling; not only did they recommend the appropriate fixtures based on my needs – regardless of price – but also provided sound advice regarding things to keep an eye out for when making such purchases. All items arrived quickly and in perfect condition: if you are looking for quality products at economical rates, look no further than Regal Lighting – highly recommended!

Anonymous
23) Yafen Lighting
Ceiling fans are available at Yafen Lighting, Bathroom & Kitchen, and they provide a large range of ceiling fans, including ceiling fan with lights, ceiling fan without lights, and different-size ceiling fans. They stock more than 10 brands of ceiling fans, including Yafen, Fanco, Crestar, PO Eco, Eco Air, Potech, Rexant, Tech Fan, Tech Master and Rextone.
Key Differentiators
Wide range of ceiling fans
Competitive prices
High-quality products
Client Testimonial
Initially, we had reservations about going straight to a carpenter for our two built-in wardrobes and kitchen cabinets instead of using an interior design firm. However, with the reasonable price quote they provided us and their ability to install the project within two weeks, it was too good of an opportunity to pass up! Furthermore, we were delighted by the quality materials used; plywood paired with our chosen laminate on the outside. There was only a faint smell from glue that dissipated after several days – truly remarkable craftsmanship!

Kelly Chin
24) Lightart Studio
Lightart Studio is your local source for exquisite lighting designs that combine practicality with the latest trends. From conventional downlights to magnetic lighting, indoor and outdoor options, and even high-quality LED strips – their collection has something to meet any needs. Their impressive range of lights will be sure to brighten up any space!
Key Differentiators
Offers practicality with the latest trends
Places high importance on equipping spaces
Well-informed team of lighting experts
Client Testimonial
I was absolutely thrilled with the way their showroom enabled me to properly visualize how my home lights would look. Plus, the staff were incredibly knowledgeable and answered all my questions with patience. Ultimately, I managed to get perfect lighting for my house thanks to them!

Esther
25) lightings.com.sg
Lightspeaker.com.sg is an experienced Singapore-based company that has been providing quality lighting products in three stores since 2004! Through the years, they have taken extra steps to make sure that only trusted and reliable items can be sold both online and offline – you know you're always getting top-grade merchandise when shopping with them! Lightspeaker's commitment to giving customers their money's worth is what drives them forward, so don't hesitate to check out their collection for unbeatable lightings of excellent value!
Key Differentiators
Wide selection of lighting products
Provides quality and value to customers
Trusted and reliable items
Client Testimonial
Great service from Gewel! Super friendly and nice! Repeat customer and happy to work with her as she is very helpful and can provide good advice too. Thanks!

Joraine Tan
26) Three Cubes Project
Established in 2017, the 3 Cubes Project has made a name for itself as a favored supplier of architects, engineers, and interior designers looking to complete Industrial and Commercial projects. Moreover, they specialize in creating lights that draw from nature's beauty with only natural and sustainable materials – transforming any project site into an inspired environment! Whether you are searching for indoor decorative illumination or exterior architectural lighting solutions; The 3 Cubes Project is here with their diverse selection to meet your needs.
Key Differentiators
Uses only natural and sustainable materials
Specializes in industrial and commercial projects
Diverse selection of lights
Client Testimonial
We bought some awesome Yeelights for our house from Three Cubes and the team was so amazing. They did absolutely everything they could to guarantee that it arrived on time, even when we needed it ASAP. I'd highly recommend them and will definitely come back next time!

Wei Yee
27) Etch and Blots
When Etch and Blots first opened their doors at Keong Saik Road in 2014, the conditions were less than ideal. With just a small shophouse with inadequate ventilation and one sofa set on display –they had to get creative! Fast forward several years later, they now have an expansive 5500 square foot workspace located at 3 Little Road filled with a full team of professionals, two showrooms as well as bespoke workshop and studio space for inspired collaborations.
Key Differentiators
Full team in place
Bespoke workshop and loft-style studio for collaborations
Two showrooms
Client Testimonial
We recently purchased home furnishings from etch&bolts, and we couldn't be more pleased with the entire experience. From their impressive showroom full of fabric to choose from for our custom sofa, to the friendly staff who kept us updated on our bedroom set, dining table and coffee table which were slightly delayed due to COVID-19 – they provided thoughtful assistance throughout it all! We adore how everything turned out!

Valerie Chia
28) Chan Huat
Chan Huat Group, founded in 1985, is a top provider of lighting to both industrial and commercial customers across the region. Starting out as just a small distributor of electrical accessories for construction contractors, they have since grown into an esteemed business with international reach that offers superior-grade goods and reliable services. With their expansive selection of lighting fixtures, lamps and ballasts available worldwide – Chan Huat Group are now more equipped than ever before!
Key Differentiators
Latest exquisite lightings
Their values and motto is honesty, integrity and professionalism
Huge variety of products including pendant lights, light bulb, ceiling light, and more
Client Testimonial
Chan Huat has become my preferred destination because the staff there is highly knowledgeable and provide helpful advice without being aggressive. I have always experienced a great time shopping at this classic shop, as it not only offers reasonable prices but also employs competent salespeople and reliable installation technicians. Kudos to Chan Huat for its excellence!

Deah Borhan
Lighting Shop Singapore
Are you on the hunt for lighting stores Singapore? You're in luck! We may not be able to augment your space, but switching out your light bulbs and lamps can make quite a difference. There are also plenty of lighting stores Singapore featuring ceiling fans if that's what you need. So, why don't change up the lighting to give yourself more room without compromising comfort? It's easier than ever with these options at hand!
If you're looking for more recommendations, you can check out our other posts below:
Frequently Asked Questions (FAQ)
If you have any questions about Lighting Stores in Singapore, you can refer to the frequently asked questions (FAQ) about the best Lighting Stores in Singapore below:
Additional Useful Articles
If you are looking for other useful guides and articles about the best Lighting Stores in Singapore, check them out below: