Team Building Activities Singapore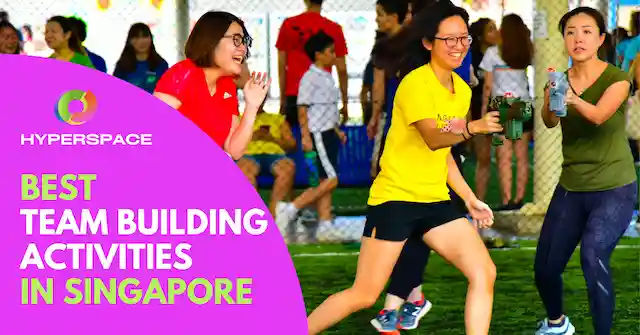 If you're looking for the best ways to spend quality time bonding with your team, here's the ultimate list of the coolest and most unique team building activities in Singapore.
Popular team building activities include Laser Tag, Amazing Race, Escape Room, Archery Tag, Art Jamming, Terrarium Workshop, SaberFit and Leather Craft Workshop.
We've leveraged our extensive research in team building in Singapore to curate the most innovative, fun and effective team bonding activities in the country.
In this guide, we've included all 4 main types of team building activities such as adventure, creative, quest and leisure. We promise that you and your team won't stop talking about them!
Unique Team Building Activities Singapore
Adventure Team Activities
1. Laser Tag
Laser Tag is an adrenaline-pumping team building activity for promoting team interaction and cooperation. Players are equipped with Laser Tag guns and vests, and must work together to accomplish different mission objectives and defeat their opponents.
Laser Tag is considered one of the most favourite team building activities in Singapore due to its exciting and fast-paced game play which allows teams to engage in healthy competition with each other.
Customer Review
"The Laser Tag experience at FunEmpire helped us to foster bonding and team spirit. The vibe here is awesome!"

VF Corporation (Google Review)
2. Combat Archery Tag
Combat Archery Tag is a thrilling team building activity that combines the intensity of dodgeball with the precision of archery, all in a safe and fun environment.
It not only stimulates teamwork and cooperation but also brings out the competitive spirit, making it a memorable experience for participants.
To succeed in this fun team building activity, you and your team members will need to employ effective communication, strategic planning and quick thinking to accomplish the different mission objectives.
Customer Review
I had an amazing time at the combat archery event organised by FunEmpire! Their attention to detail and dedication to creating a fun, safe, and engaging environment made this bonding session a memorable one.I recommend their combat archery sessions to anyone looking for an exhilarating and unique activity. Thank you both for a fantastic time.

Calvin Ng (Google Review)
3. Bubble Soccer
Bubble Soccer is a unique and laugh-inducing team bonding activity in Singapore where participants enter transparent, inflatable bubbles to play a variety of fun games like soccer, invasion, zombie and last man standing.
It's an unconventional way to get the team together, burning energy as well as stress, and forging a strong bond of camaraderie.
Customer Review
"Bubble Soccer with FunEmpire was an absolute blast! Our team had so much fun bouncing around and laughing together, it truly was a bonding experience like no other. The staff were friendly, professional, and ensured everybody was safe and included. We couldn't have asked for a better team-building exercise!"

Michelle Ho (Google Review)
4. Poolball
Poolball is an innovative, fun-filled game that blends the concepts of pool and football into one exhilarating activity.
It is played on a giant billiards table where, instead of using cues to hit billiard balls, participants use their feet to kick soccer balls into the pockets of the table.
This unique combination of two popular sports makes Poolball a game that's easy to pick up yet requires strategy and team work to win, making it an ideal team building activity.
The game of Poolball demands strategic planning and team performance, as players need to efficiently communicate and collaborate to pocket balls.
Poolball makes a great team bonding activity as it provides a fun way to unwind, but it also enhances cooperation and coordination within the team.
The strategic aspect of Poolball, combined with the non-contact turn-based game-play makes it an excellent team building activity to promote camaraderie and team spirit.
Overall, Poolball is a fun activity that gives a great team building experience for you to build relationships with your colleagues.
5. Bullet Ball
Do you ever encourage yourself to take on new challenges? Try out FunEmpire's Bullet Ball, an energetic and competitive variation on the time-honored game of dodgeball, at your next team bonding event in Singapore. Since it provides high-octane pleasure at an affordable price, it is a product that will be well-liked by all clients.
6. Bullet Strike (Nerf Gun)
In the exciting cooperative game Nerf Gun, players try to complete a variety of missions by shooting their opponents with soft foam projectiles. Participants in this unique activity to build group unity have to wear face protection, and the projectiles are made of a soft material that can't hurt anyone.
7. Saber Tag®
By engaging in battle with players on the other side while wielding combat sabers to accomplish a variety of game goals, you may raise the stakes of the game. Participate in immersive missions like Defenders of the Galaxy and Saber Wars. This exciting game is excellent for team building activities at work or as a birthday party activity. Saber Tag® is one of the most thrilling team-building activities in Singapore, and it will provide you with an opportunity to connect that you won't soon forget. You won't forget this experience; it will be unforgettable.
8. Giant Whack-A-Mole
FunEmpire offers the enjoyable team-building game Giant Whack-A-Mole. The game involves participants hitting enormous foam moles that are protruding from the ground with an equally enormous foam hammer.
You may have a blast playing this game with your friends or family! This game is a fun way to unite people and make them have a good time. It will undoubtedly be popular at your next team-building activity in Singapore!
9. Ninja Tag
Do you want to do something enjoyable and different in Singapore? There isn't much more to look at on FunEmpire than Ninja Tag! Teams must rely on their quick thinking, athletic prowess, and problem-solving skills to win this fast-paced game and engage in healthy competition with each other.
Participants try to go through a course of obstacles without being tagged by the other side. To up the ante, each participant is equipped with sensors that will sound an alarm if they are tagged. This action-packed game promotes team work and instills vital communication skills. Join FunEmpire right now to play Ninja Tag with us!
10. SaberFit
SaberFit is the first high-intensity group fitness program in the world, and one of the most unique team building activities in Singaporetea. It can help you get in touch with your inner warrior. It's not only a great way to bond as a team and work out together; it's also the only activity of its kind with pair-work dueling drills and other really great team-building elements. This is the perfect option if you're looking for something unique and unforgettable for your next business event or activity in Singapore.
Creative Team Activities
11. Canvas Art Jamming
Canvas Art Jamming by FunEmpire is a distinctive and entertaining team building activity. It's a fun team bonding activity where teams of individuals collaborate to produce works of art on huge canvases. The concepts of color theory, brushwork, and composition, to mention a few, will all be covered in this course. Each group will be able to create a distinctive canvas design once they are comfortable with the resources at their disposal. Teams may choose from a wide range of supplies and methods to produce a one-of-a-kind work of art.
12. Non-Stitched Leather Workshop
The Non-Stitched Leather Workshop is a team-building activity offered by FunEmpire in Singapore. This unique curriculum teaches participants everything from proper leather handling to product creation. The use of professional tools including rivets, waxed linen thread, and various kinds of leather will be covered in class. Participants will collaborate in groups throughout the workshop to develop their leatherworking abilities and create stunning, one-of-a-kind objects. After the workshop, participants may take their creations home.
13. Terrarium Workshop
With FunEmpire's Terrarium Workshop, creating great things as a group is easier than ever. In this session, participants will learn how to build a terrarium, including how to choose suitable plants and arrange them in an appealing way. We will give each group a brief overview of the tools and techniques utilized before assisting them in selecting the plants, soil, stones, and other accents for their own terrariums. By examining the relationships between plants and their environment, teams may become more adept at creating things.
14. Tote Bag Art Jamming
Tote Bag Art jamming is an entertaining team building exercise offered by FunEmpire in Singapore. In this practical session, participants create works of art on canvas tote bags. The workshop begins by discussing the fundamentals of painting on canvas, such as how to blend colors, utilize various brushes, and create appealing compositions. After learning how to use the tools and resources at their disposal, teams may start developing their ideas. Teams may exhibit their individuality and creativity by using any combination of colors and materials. Participants will then be given detailed instructions on how to place their artwork into canvas tote bags.
15. Stitched Leather Workshop
For people to get together and create something, FunEmpire's Stitched Leather Workshop is a fantastic option. Anyone may learn how to deal with leather in this session, from handling it to coming up with creative concepts. The lesson will teach students about the many kinds of leather that are available and provide them practical experience making leather goods like straps and wallets. The professional equipment students will be able to utilize includes needles, rivets, and waxed linen thread, to name just a few. While they collaborate to make lovely items to take home at the conclusion of the program, the team members will have the opportunity to hone their leatherworking talents.
16. Soy Candle Making Workshop
The Soy Candle Making Workshop is a fun and educational virtual activity offered by FunEmpire in Singapore. Teams are allowed to make their own soy candles with distinctive colors and smells. Participants will gain knowledge of the many kinds of wax, wicks, and scents that may be used to create custom candles. The course also goes through where to put the wick, how to prepare and pour wax, safety precautions, and how to take care of your finished products. Also, they may decorate their candle with dyes or dried flowers. After finishing their candle, teams are allowed to take their handmade item home as a memento.
17. Clay Making Workshop
For groups looking to communicate and collaborate, FunEmpire's Clay Making Workshop is a great option. Due to the fact that participants may create their own clay objects by designing and molding them, this session is one of the most well-liked online activities. After a quick lesson on the principles of pottery, everyone will be free to make their own masterpieces. Molds, stamps, and glazes will be used by the students to produce unique pieces of art. As FunEmpire offers everything you need for this activity, you don't need to bring anything else. Teams have the option of taking their finished sculptures home or having them delivered to their addresses.
18. Balloon Sculpting Workshop
A delightful virtual activity is the Balloon Sculpting Workshop on FunEmpire. Amazing personalized balloon sculptures may be made by groups for use as house decor. During the session, participants will learn the foundations of balloon sculpting, including how to handle the balloons properly, think about safety, and generate ideas. Also, participants will learn how to choose the best balloons and other materials to produce a wonderful piece of art. As they collaborate in teams on the project, students will have the chance to hone their creative and problem-solving abilities. Participants get to engage with one another while learning new skills and enhancing their creativity, in addition to having the opportunity to display their work at the course's conclusion.
Quest Team Activities
19. Amazing Race
Looking for a fun way to connect with your team? Come along with us on this exciting journey in Singapore! As you and your colleagues go through the various checkpoints, you'll need to be inventive in order to tackle our unique obstacles. Only after completing each task will you be able to go on to the next checkpoint. This is the ideal method for teams to connect while having fun on a puzzle hunt!
20. Escape Room
FunEmpire's Escape Room Experience offers an exciting adventure where participants solve puzzles, unravel mysteries, and escape themed rooms through teamwork and critical thinking. Great for friends, families, and team-building, it's an immersive challenge that promises unforgettable fun and skill development throughout the entire experience.
Leisure Team Activities
21. Yacht Rental
Are you searching for a one-of-a-kind spot to mark significant life events? There is no better choice than chartering a boat in Singapore. Choose a cruise that takes you away from the hustle and bustle of the city for a more private anniversary celebration or proposal night. Hiring a boat has become one of the most popular ways to create a memorable event that both you and your significant other will remember fondly for the rest of your lives.
22. Bowling
Neon bowling is a fun and unique spin on the traditional game of bowling! While you try to knock down as many pins as you can for the maximum score, the glowing pins light up in an assortment of captivating hues. Despite its out-of-this-world setting, it's still just plain old bowling – without the bright light! If your next corporate team building event is in Singapore, why not try out a few different forms of team building games? It will not only be a fun way to connect with coworkers, but it will also help develop communication and improve trust among teams.
23. Giant Board Games
Giant Board Games is the solution if you wish to relive your favorite childhood games in a larger and bolder format. Our one-of-a-kind collection includes life-sized replicas of famous board games like Jenga, Pick Up Sticks, Connect Four, and Snakes & Ladders that will ensure interactive fun with friends or coworkers! Never worry about icebreaker activities again because Giant Board Games has you covered!
Virtual Games
24. Virtual Squid Escape
You may take part in FunEmpire's breathtaking Virtual Squid Escape activity in Singapore. This intriguing room-escape game is based on the well-known Squid Game. You've made the decision to leave and report the incident to the authorities after seeing how poorly the game's organizers handled the participants. From challenging puzzles to seeing unusual creatures, Virtual Squid Escape offers something for everyone.
25. Virtual Time Travel
For people of all ages, the Virtual Time Travel Virtual Escape Room is an original and fun experience. This interactive escape room transports you to several historical periods so that you may learn more about them. As you travel through time to solve puzzles and unearth mysteries, you and your crew are in for a fascinating journey. To navigate the game's many rooms and stages, you'll require problem-solving abilities, creativity, coordination, communication, and other abilities. Strange animals, challenging riddles, interactive locks, mind-boggling mysteries, and much more await you as you go through each level. The Virtual Time Travel Virtual Escape Room is now available, so gather your team and get ready for a time-traveling adventure!
26. Virtual Time's Ticking
The Time's Ticking Escape Room is a thrilling immersive experience that will challenge your problem-solving abilities. This virtual reality game offers a variety of puzzles, riddles, and other tests to show how clever, creative, and educated you are. Your team and you will have an hour to explore the rooms, search for hints and cues, play games, and figure out what each room is hiding. Everyone may enjoy our escape room since the difficulty level is adjustable, independent of prior experience or skill level. The objectives in Time's Ticking are various, ranging from logic problems to physical barriers. It's a fantastic method for teams to learn while having a good time!
27. Virtual Nightfall
This intriguing exercise will put your team's ability to think quickly to the test. It is modeled off the popular board game Murderer. It demands individuals to work together, be able to pay great attention, and be able to convince others. Everyone will take on a unique character, such as a murderer, detective, or even superhero! In this great battle between good and evil, who will prevail?
28. Virtual Jack's Hangover
Are you ready to help your friend Jack, who had a few too many drinks the previous evening and is now experiencing a horrible hangover? The reason for this is because it is up to you and your fellow members of the military, not the other way around. As soon as you can, get over there, search his hotel room, go to the casino where he was, and try to put together as much information as you can. and Jack Will you have enough time to help him?
29. Virtual Game Show
Do you wish to increase the ties between your employees while still having fun? It's time for the Game Show Challenge! It's an entertaining game that everyone can play, whether it's in a boardroom at work or a café. Participants will cheer, laugh, and offer high-fives as the event is happening. Even better, it's a low-cost solution for any Singapore group! The Game Show Challenge is available right now for many hours of fun!
30. Virtual Travel Experience
Join your colleagues in online groups to solve amusing and educational puzzles and discover the nation in a fascinating and engaging manner. Solve every piece to unlock the captivating story! If you're having trouble deciding which team-building activity is best for you in Singapore, your first choice should be this virtual excursion! There is no restriction on the number of members, so gather your local and international colleagues and have a look at our excellent possibilities right now!
31. Virtual Mayday
In Singapore, FunEmpire offers virtual team-building exercises. The name of one of them is "Virtual Mayday." In this exercise, teams work together to decipher clues and solve riddles. The objective is to better understand one another's cultures, values, and occupations. A naturalist named Louis is trapped on a remote island. Your squad must aid Captain Roger in this rescue operation so that Louis may return safely with his vital research. Time is running out as a cyclone approaches the island, and Louis and I have lost all contact.
32. Hybrid Amazing Race
A virtual activity called "Hybrid Amazing Race" is offered by FunEmpire in Singapore. To locate answers, crack riddles, and figure out how to win, players must cooperate. The customs and traditions of other people, as well as their social positions, may be taught to participants. Players must be able to connect to the internet on portable devices like smartphones in order to play the game. To accomplish the tasks on schedule, teams must plan ahead. The Amazing Race mash-up is an excellent method for colleagues to get to know one another, have fun, and pick up new skills.
33. Virtual Amazing Race
To encourage cooperation among Singaporeans, FunEmpire has created a digital Amazing Race. Teams work together to find clues and get the answers in this exercise that is done in groups. It's a wonderful opportunity for staff members to get familiar with the organization's policies and procedures while also learning about one another's cultures, worldviews, and perspectives. Mobile phones or laptops with internet access are required for each group. For all tasks to be performed on time, teams must prepare in advance.
34. Virtual Escape Room
Singaporeans may participate in virtual escape room team-building exercises with FunEmpire. People participate in this sort of behavior when they play online games that need interaction in order to progress. As a consequence, team members may have a better understanding of one another, their positions within the company, as well as the values, opinions, and viewpoints of other team members. People will require technology, such as laptops or phones with an internet connection, to participate in this event. To ensure that their assignment is finished on time, teams must plan ahead.
35. Virtual Super Planet
The virtual activity Virtual Super Planet is offered by FunEmpire in Singapore. In this game, teams must work together to solve puzzles and discover clues. When the world was destroyed, no one can remember what it was like before. You've known all along that people exist on several planets. At least, you thought you did until she appeared in your dream and showed you what your hidden talents were. Find other heroes and seek their advice on how to reassemble the planet.
36. Virtual Party Mania
Virtual Party Mania is a service that FunEmpire in Singapore offers its customers as a way to communicate and get to know one another. A great option is Virtual Party Mania. These online party games are perfect for any age group since they include fun activities with trivia questions. Anybody may join in on the fun as Zoom is accessible from everywhere with an internet connection, so there is no need to organize who will bring what. No matter how many guests you invite to your virtual party, everyone will enjoy the games.
Virtual Workshops
37. Virtual Tote Bag Art Jamming
FunEmpire in Singapore's Virtual Tote Bag Art Jamming encourages productive virtual team building. Groups take part in a session where they create works of art on canvas totes. The basics of painting on canvas, such as color blending, brush choice, and structuring forms and lines, will come first. When teams have mastered the use of the tools and resources at their disposal, they may start to generate ideas. Each team is free to use whatever color and material combinations it chooses to express its own individuality. After that, individuals will be instructed on how to properly apply their artwork on canvas tote bags. The finished artwork and keepsakes from each team will be given back to them. Working together creatively might be a great way for individuals to connect.
38. Virtual Terrarium Workshop
The Virtual Terrarium Workshop by FunEmpire makes it simpler than ever for a group to create something really original. Attendees will leave this workshop fully prepared to create their own magnificent terrarium. Each group will be taught how to choose plants, soil, stones, and other objects to design their own terrariums after a brief introduction of the tools and techniques utilized. If teams have a better understanding of the relationships between plants and their surroundings, they could be able to produce more. Participants will collaborate in groups to make terrariums and other artistic items during the semester.
39. Virtual Non-Stitched Leather Workshop
The Virtual Non-Stitched Leather Workshop is a virtual team-building exercise offered by Singapore-based FunEmpire. The unique course teaches students how to work with leather from beginning to end, including the creation of finished products. In this course, students will learn how to use a variety of leathers and business equipment, like as rivets, waxed linen thread, and needles. The semester-long course will teach students how to work with leather and collaborate to create one-of-a-kind, superior products. Participants are invited to keep their final things when the session is completed.
40. Virtual Clay Making Workshop
Teams may interact while also expressing their creativity in FunEmpire's online clay-making workshop. This workshop is one of the most well-liked online team-building exercises since it enables participants to digitally create their own clay works of art.
41. Virtual Soy Candle Making Workshop
An interesting and entertaining method of encouraging online cooperation is the Soy Candle Making Workshop on FunEmpire in Singapore. Each team will be able to create their own soy candles with different flavors and colors. The various candle wax, wick, and fragrance options will be made clear to participants.
This lesson explains how to make and pour candles, where to place the wick, and how to preserve your candles in excellent condition. Youngsters might choose to add colored wax or dried flowers to their candle as decorations. As a memento of their time together, teams are allowed to keep their finished candles.
42. Virtual Balloon Sculpting Workshop
Online team building may be entertaining and intriguing with FunEmpire's Balloon Sculpting Workshop. A group home may be decorated with stunning, one-of-a-kind sculptures made out of balloons. Students will learn the fundamentals of balloon sculpting in this lesson, including how to handle the balloons safely, consider their safety, and develop imaginative ideas.
By the course's completion, participants not only get the chance to display their creations, but they also have the chance to interact with one another while discovering new techniques and expanding their creative abilities!
43. Virtual Stitched Leather Workshop
On FunEmpire, the Virtual Stitched Leather Workshop is a great place for groups to interact while working on a common project. The fundamentals of dealing with leather are covered in this course, from how to handle it properly to how to choose a design.
Participants will learn about the many types of leather available on the market and get experience making leather goods like straps and wallets during this session.
Students will get the chance to work with professional equipment such waxed linen thread, rivets, and needles. At the end of the session, participants will have the chance to create something beautiful to take home while honing their leatherworking skills and cooperating as a group.
44. Virtual Art Jamming
Join us for a creative outlet at our fun painting session. To make a work of art that can be shown anywhere, choose from a selection of supplies including canvas or tote bags, acrylic paints, pencils, and erasers.
Our knowledgeable facilitators may also be able to assist you with fundamental color mixing theory during the online conference. It's time to start painting! In Singapore, we offer a wide range of activities that are guaranteed to suit everyone. There are many ways to exhibit your creativity; just find them.
45. Virtual Canvas Art Jamming
A entertaining online activity called "Virtual Canvas Art Jamming" was created by FunEmpire in Singapore.
The principles of painting, including color theory, brush technique, and composition, will be covered in this workshop. After getting familiar with the resources available to them, each group will be able to construct an individual canvas that really reflects their identity.
Groups may use a variety of techniques and media to create something really original. It's a wonderful way to exercise creativity in a group situation where everyone's opinion counts.
Importance Of Team Building Activities in Singapore
Team building activities in Singapore are key to nurturing a happy, efficient workforce. They foster clear communication, teamwork, and employee morale, which in turn boosts productivity.
By recognizing individual strengths within a team, everyone feels valued for their unique contribution.
Planning a team building event also help shape a positive corporate culture by allowing colleagues to interact informally, breaking down barriers and fostering unity.
This improved understanding of each other's working styles and perspectives strengthens work relationships and enhances the overall sense of belonging within the organization.
Key Considerations Factors
When planning an exciting team building activity for your group, here are some important consideration factors to maximize team bonding:
Size of Group: Some team bonding activities may not accommodate the whole team or require smaller groups depending on various factors such as space needed or the difficulty level of the task at hand.
Budget Considerations: Decide how much you're willing to pay for a team building activity, as costs can vary significantly between different options.
Types of team building Activities: Choose from outdoor adventures, indoor team building games, Escape Rooms, Laser Tag, Candle Making Workshops and more!
Accessibility and Special Needs Requirements: Take into account any special requirements people might have, such as accessibility concerns or specific dietary needs, when choosing activities, venues, etc., so everyone can participate comfortably without feeling excluded or left out.
Time Frame: Plan for enough time for the team building activity to be successful and enjoyable for everyone involved.
Location: Choose an appropriate location that is suitable for the activity, taking into consideration weather conditions and other variables like the availability of facilities (e.g., zip lines).
Team Building Activities Singapore
All in all, Singapore is the ideal location for cool team building activities. From Laser Tag and Bubble Soccer to Art Jamming and Terrarium Workshops, there are several ways to have fun with your employees! In addition to fostering trust among workers, these activities may also improve communication skills, which are vital for establishing a positive organizational culture. Today, take advantage of Singapore's diverse selection of team building activities for your next team building event; you won't regret it!
If you're looking for more recommendations, you can check out our other posts below:
Frequently Asked Questions (FAQ)
If you have any questions about Team Building Activities in Singapore, you can refer to the frequently asked questions (FAQ) about the best Team Building Activities in Singapore below:
Additional Useful Articles
If you are looking for other useful guides and articles about Team Building Activities in Singapore, check them out below: