Ceiling Fans Singapore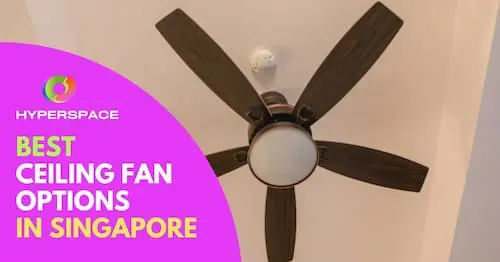 Ceiling fans improve the comfort of your home, providing cooling during summer, warmth during winter, and helping to save on energy costs!
The best ceiling fans in Singapore include Decco Sydney 54 inches DC Motor Ceiling Fan, KDK DC Motor Ceiling Fan U48FP, Kaze KZ-03 40 Inch Ceiling Fan, and Eco-Airx DC Ceiling Fan.
When choosing a ceiling fan in Singapore, consider several factors such as the size of the room, height of the ceiling, direction of airflow, style of the fan, and its price.
Standard, low-profile, and dual-motor ceiling fans are the three main types, each offering unique features and aesthetics.
This post introduces you to the Best Ceiling Fans that Singapore has to offer- so all that's left is picking out your favourite!
Key Consideration Factors
Price: When shopping for a ceiling fan, the price range will vary depending on factors such as size and quality. Generally speaking though, most fans in Singapore are not too expensive.
Size of The Room: Although there is no one-size-fits-all rule when selecting a ceiling fan, you should take into account the size of your room to make sure that the fan you choose is suitable.
Product Quality: As with any purchase, you should always look into the quality of the fan before buying. Ensure that it meets your requirements and is energy efficient!
Noise level: If you're looking for a ceiling fan for your bedroom or living room, then noise is something to consider. Look for fans that are relatively quiet so as not to disturb conversations or sleep.
Style: Aesthetic is also an important factor as ceiling fans come in a variety of designs and colours.
Best Ceiling Fans Singapore
1) Decco Sydney 54 inches DC Motor Ceiling Fan
The Decco Sydney 54 inches ceiling fan is the perfect addition to your living room with its four distinct color choices: GM, Bamboo, Oak and White. Each of these modern fans come standard with a light kit that includes Cool Light, Arm Light and White Light – making this gorgeous piece even more functional! No matter what hue best complements your home's decor, you can rest assured that it will look great in any space.
Key Differentiators:
Stylish
5 Speed selections
3 Blades ABS
2) KDK DC Motor Ceiling Fan U48FP
When seeking a reliable, high-quality ceiling fan, many Singaporeans turn to KDK. Combining illumination and ventilation in one unit with its sleek design and nine adjustable speed options, there is no doubt why this product remains popular. With exceptional power provided through the KDK fan system, you can rest assured that your space will remain cool while also taking advantage of modern lighting effects!
Key Differentiators:
With LED Light integrated with the fan
Smooth and strong airflow provided
9-speed control
3) Kaze KZ-03 40 Inch Ceiling Fan
Powered by a highly energy-efficient EEDC regimen, the Kaze KZ-03 40 Inch Ceiling Fan ensures that you consume minimal power while enjoying optimum illumination with its 3-Tone hues (day, warm and cool). Get the most efficient lighting experience without draining your electricity bills!
Key Differentiators:
6 speed functions
Contemporary aesthetic
LED Module with matching design aesthetics
4) Eco-Airx DC Ceiling Fan
As a Singaporean-made product, the Eco-Airx DC Ceiling Fan offers locals what they need and desire in terms of features. It has an energy-efficient DC motor with a lifetime guarantee on its engine that could help you save up to 80% utility costs! Its wooden blades are also made by hand which guarantees superiority over other designs. With all these advantages, the Eco Airx is truly your best choice for ceiling fans!
Key Differentiators:
Ultra silent operation
Coupled with Premium natural wood
Made from 100% handcrafted wood
5) Amasco Wale 52 Inches Ceiling Fan
Amasco is not a widely known brand in Singapore, yet its ceiling fans are nothing short of exceptional. The Wale 52 Inches Ceiling Fan has been upgraded to provide more power than ever with its robust engine and DC Brushless Motor design. Not only does this gorgeous fan look great in any apartment, but it also effectively cools the room quickly!
Key Differentiators:
Highly powered
6 Speed reversible fan
Uses 3D PC blade for maximum airflow
6) Spin Fans
Spin Fans made its debut in 2008 and has since transformed the perception of luxury and quality when it comes to ceiling fans. With Spin Fans, you can be certain that your fan will not only look good but also provide excellent performance.
Key Differentiators:
Perfect natural wind flow
Minimalist design
Extension rod installation
7) Acorn Intaglio DC-159 Ceiling Fan
The Acorn Intaglio DC-159 Ceiling Fan is truly ideal for any space. In fact, you should think about getting several of these fans to ensure each room and area in your home has one. This fan utilizes a DC motor with six speeds and the capability to reverse its direction; this not only helps conserve energy but also ensures that your house stays cool during hot days. Don't miss out on this fantastic opportunity!
Key Differentiators:
With innovative DC motor
Sleek and simple
Natural wind and forward-reverse functionality
8) Crestar DC ValueAIR 55 Inches Ceiling Fan
If you are seeking an aesthetically pleasing yet efficient fan, then the Crestar DC ValueAIR 55 Inches Ceiling Fan is your perfect choice! This gorgeous fan is crafted from natural wood and boasts a sophisticated modern design. Plus, with three LED light colors to choose from, you can customize its ambiance according to your mood! Appreciate style and comfort in one dynamic device – invest in the Crestar DC ValueAIR today!
Key Differentiators:
5 Blade fan
6 Speed fan functionality
With Remote Control
9) Yafen Ceiling Fan
At Yafen, you can find various lighting options as well as bathroom and kitchen accessories. Furthermore, their selection of ceiling fans is unmatched — with an array of styles to choose from whether you're looking for a fan with lights or one without. Plus, they carry sizes that are perfect for any room in your home!
Key Differentiators:
3 blades design
24W tri-colour LED
Slimmer profile
10) Kaze Quinto KZ05 Ceiling Fan
The Kaze Quinto KZ05 Ceiling Fan is an energy-saving masterpiece, with iSense technology that monitors and adapts to your environment to reduce power consumption. With its high-efficiency Direct Current motor featuring a patented design, this fan can provide up to 80% savings on electricity bills! This means you can keep cool without worrying about the cost of running it all summer long.
Key Differentiators:
Energy-saving fan
Motor optimization
Affordable ceiling fan
11) AMASCO Fanta 46 Inches DC Motor Ceiling Fan
The Amasco P-888 Fanta offers a remarkable 6-speed reversible fan that can rotate up to an amazing 245 rounds per minute! With the ability to adjust the light levels, you have three unique options. Plus, you'll be able to install the ceiling light directly onto your fan with ease. Furthermore, conveniently control when to turn on or off this luminescent feature by merely pressing one button from your remote controller!
Key Differentiators:
6 Speed Reversible Fan
DC Brushless Motor
Energy Efficient
12) Haiku H-series
Singaporeans, rejoice! PHYLUX is the only distributor of Haiku USA-based products in Singapore. From H-series to I-series and all the way to Big ass fans – they've got it all covered! With their innovative SenseME® technology as well, you'll be able to enjoy a comfortable atmosphere without having to worry about your energy bill soaring through the roof; this groundbreaking feature will automatically adjust fan settings depending on ambient temperature for maximum efficiency.
Key Differentiators:
Real bamboo material
Handcrafted
Tensile strength of steel
13) KDK T60AW DC Motor Ceiling Fan
Introducing the KDK T60AW, a revolutionary ceiling fan featuring an industry-first DC motor. Equipped with five elegant 60-inch blades and Auto mode technology that senses temperature fluctuations in your space, this advanced fan allows you to control speed dynamically based on actual environment conditions for optimum comfort.
Key Differentiators:
With Spring Singapore Safety Mark
3D Blade ensures stronger airflow
1st KDK Fan with DC Motor
14) AEF1 Decor Fan 38 Inches (L3F/BLBL)
Decor Fan SEA is a homegrown label dedicated to providing an attractive and chic fan. We love how modern it looks with its curved blades, which fit in seamlessly with any décor style. This fan comes in two colors – black and white – making it the perfect addition to any bedroom or living room as these classic hues are easy to match!
Key Differentiators:
3-tier lighting
10-Years Warranty on Motor with Decor Fan SEA
2-Years Warranty on Parts with Decor Fan SEA
15) Samaire Fanniti SA483 48 Inches Ceiling Fan
With Samaire Fanniti's SA483, you can find the perfect fan to complement any room in your house. Not only is this fan energy-efficient and friendly towards our environment, but it also provides excellent cost savings! Furthermore, its motor and water heating elements are designed for maximum durability and efficiency that guarantees a quiet operation when running. With so many designs and colours available to choose from, you'll be sure to maintain comfort while being eco-conscious at the same time!
Key Differentiators:
Highly Efficient and Powerful
Anti-Rust Fan Blades
Silent Motor
16) Sembawang Lighting House
If you're looking for an expansive selection of ceiling fans, then Sembawang Lighting House is the perfect destination. Despite its name, this brand offers much more than just lighting–in fact, upon accessing its website's homepage you'll find a vast array of aesthetically pleasing and reliable ceiling fan models to choose from. With Sembawang Lighting House at your service, look no further for quality products that will last year after year!
Key Differentiators:
Dependable ceiling fan installation service
Expert electricians
Provides professional installation services
17) Acorn Intaglio DC-159 52 inch Ceiling Fan
With the Ultra Silent Fan Motor, you can now experience a quiet and peaceful home without any whirring noise from your ceiling fan. You will no longer be distracted or annoyed by the sound of your fan – just enjoy its amazing look in silence!
Key Differentiators:
Homely Looking
Lifetime warranty on motor
1 Year warranty on parts
18) KDK 4 Blade 56inch Ceiling Fan R56SV
Singaporeans have long trusted the KDK brand for providing superior quality products at affordable prices. It's no wonder that when anyone hears of this revered name, an inherent trust is established. Boasting a high-efficiency rating, these fans also include a built-in safety feature which ensures dependable security for your home or office space – making it ideal to enjoy gentle air on hot days or in areas where silence and serenity are necessary.
Key Differentiators:
56-inch ceiling fan
4 Blades Design
Strong PPG blade
19) Fanco A-Con 52 Inches Ceiling Fan
With over 20 years of experience and 325 satisfied customers, Fanco is the perfect fan for your home. Not only does it keep your house cool, but you can also add a light kit to suit all of your needs. Plus, its vintage design will definitely impress any guests who visit! With its unbeatable cost-effectiveness and unrivalled style, make sure to get yours today before they're gone!
Key Differentiators:
Ultra silent motor
Cost-effective
Lifetime warranty for motor
20) Fanco FFM3000 Ceiling Fan
If you're looking for a cost-effective, rustic option to set the atmosphere of your room, this ceiling fan is ideal. With black, silver and white shades available in addition to an optional remote control for $65 extra and add-on light installation – there's nothing stopping you from achieving that perfect look!
Key Differentiators:
Extremely affordable
Customizable
Affordable
21) Fanco I-Con 48 Inch Ceiling Fan
With the Ultra Silent Fan Motor, you can now bask in tranquility at home without being bombarded by noisy fan blades whirling from above. Make your living space a serene oasis and bid farewell to disruptive noise with this sleek-looking fan!
Key Differentiators:
Homely Looking
Lifetime warranty on motor
1 Year warranty on parts
22) Elmark Aircraft A8 Ceiling Fan
When you're in the kitchen cooking for your family, it's essential to have a fan working and circulating air around. The Elmark Aircraft A8 is perfect for those smaller spaces that need ventilation during intense heatwaves – if you want a solution to maintain coolness while prepping meals, this fan is just the thing!
Key Differentiators:
AC Motor 18 inches ceiling fan
3 adjustable angles
110 Degree oscillating function
23) PO ECO DC Motor Ceiling Fan
Established in 1987 as a lightning manufacturer, PO Eco Fan has become an iconic name over the years. Besides making their own ceiling fans and LED lights, what sets them apart is their ability to be connected with Wi-Fi for voice control. Their innovation makes living smarter easier than ever before!
Key Differentiators:
Using 80% less electricity
Affordable
Can access net with voice control by Google Home and Alexa
24) Fanztec FT-TWS-1 52 Inch Ceiling Fan
Samaire Fanniti's SA483 ensures that you get the perfect fan to suit your home, with a vast array of models and colours available. Not only is this fan energy-efficient and eco-friendly, but it is also cost-effective! The motor and water heating elements are incredibly resilient as well as efficient, guaranteeing a whisper-quiet experience while in operation. With Samaire Fanniti's SA483 there's no need to compromise on quality or be concerned about running costs – both performance metrics work together perfectly for an unbeatable overall result.
Key Differentiators:
Highly efficient and powerful
Anti-rust fan blades
Silent Motor
Ceiling Fans Singapore
Looking for a ceiling fan that will keep you feeling cool and refreshed? With an abundance of options available, understanding the unique qualities each product offers and comprehending their respective benefits and drawbacks is key. Everything from cost-effectiveness to energy usage is taken into account when it comes to selecting the perfect fan!
Check out more of our related articles here:
Frequently Asked Questions (FAQ)
If you have any questions about Ceiling Fans in Singapore, you can refer to the frequently asked questions (FAQ) about the best Ceiling Fans in Singapore below:
Additional Useful Articles
If you are looking for other useful guides and articles about ceiling fans in Singapore, check them out below: