Go Kart Singapore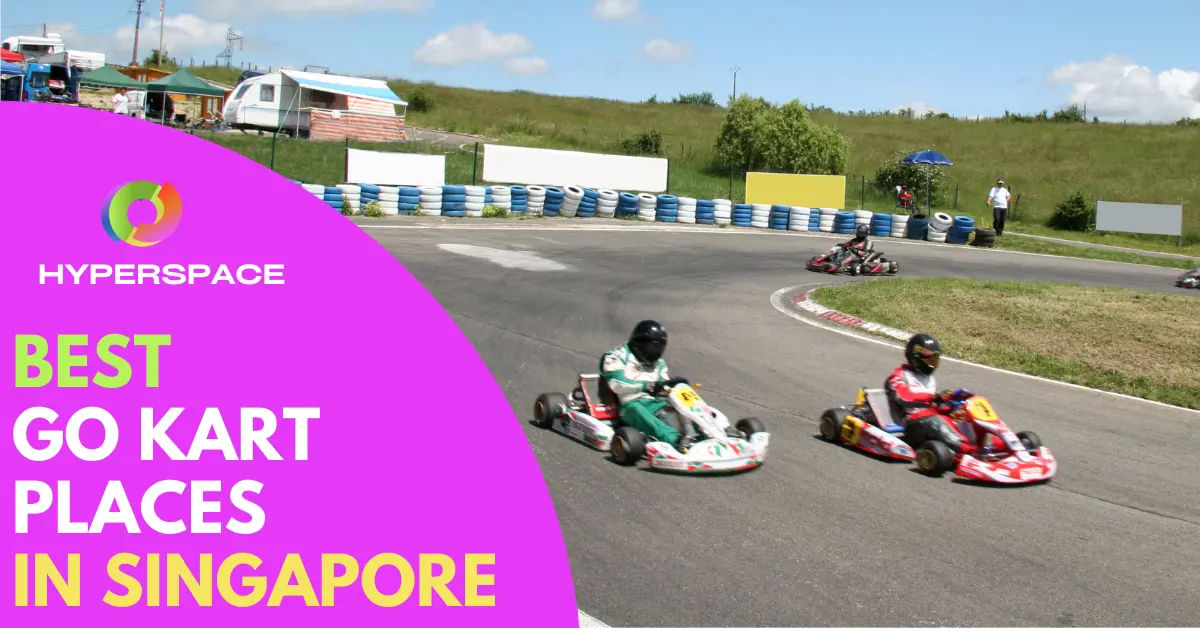 Singapore, a bustling metropolis known for its stunning skyline and vibrant food scene, has another thrilling facet to offer – GoKarting.
The best places for Gokart in Singapore are RaceHub Singapore, The Karting Arena Jurong, KF1 Karting Circuit Kranji, and KF1 Karting Circuit Singapore Expo.
When choosing the perfect GoKart arena, there are key factors that deserve your attention. Delve into the excitement of the venue's location, consider the pricing, ensure availability, and discover the level of service quality that will make your experience unforgettable!
GoKarting in Singapore offers an exhilarating adventure for both locals and tourists. Experience the thrill of speed in safe and well-regulated environments in the heart of this urban jungle.
Let's embark on a journey through the seven best places for GoKarting in Singapore, promising a wild ride full of exhilaration and high-speed fun.
Quick Summary
Best places for Gokart in Singapore are RaceHub Singapore, The Karting Arena Jurong, KF1 Karting Circuit Kranji, and KF1 Karting Circuit Singapore Expo.
When deciding on the GoKart arena to go to, it's important to take into account crucial factors like the venue's location, pricing, availability, and level of service quality.
In the heart of this urban jungle, Singapore, GoKarting emerges as an adrenaline-fueled adventure, offering both locals and tourists an opportunity to experience the thrill of speed in safe and well-regulated environments.
Key Consideration Factors
Before going into a Go-kart arena, make sure to consider these important factors:
Location: When looking for GoKart arenas, it's important to consider their location. Opt for arenas that are conveniently situated, allowing for a hassle-free and enjoyable experience.
Pricing: Take the time to do thorough research on the various prices offered by different GoKart places. It's essential to ensure that you get the most value for your money. Look for places that offer competitive pricing without compromising on the quality of the experience.
Availability: Check the availability of the GoKart place to ensure it aligns with your schedule. Look for arenas that have flexible operating hours, including evenings and weekends.
Service Quality: One of the key factors to consider when choosing a GoKart arena is the level of service and safety standards provided. Look for arenas that prioritize customer satisfaction and have well-maintained tracks and equipment.
Best Go Kart Singapore
1) RaceHub Singapore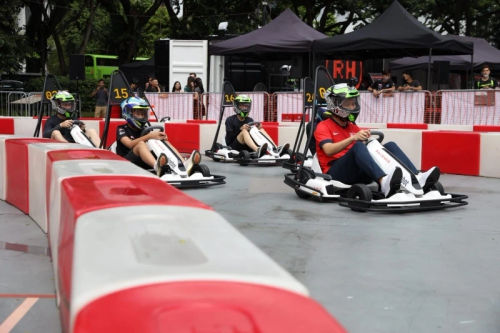 Get ready to fuel your adrenaline at RaceHub Singapore, conveniently nestled in the heart of town. Calling all go-karting enthusiasts! Brace yourself for an unforgettable experience like no other. RaceHub's cutting-edge electronically-powered go-karts are not just fast and exhilarating, but also fully adjustable, ensuring every racer finds their perfect position.
But wait, there's more! RaceHub takes go-karting to a whole new level with its innovative digitized tracks. Picture the thrill of go-karting right at your doorstep! Compete against your friends or challenge virtual opponents on these mind-blowing tracks, all while immersing yourself in the exhilaration of high-speed racing.
Get ready to rev up and unleash your inner speed demon at RaceHub!
2) The Karting Arena Jurong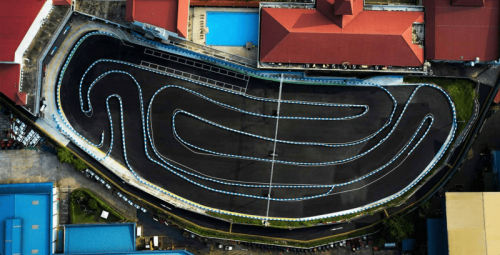 Welcome to the Karting Arena Jurong, right in the heart of Jurong! Get ready for an adrenaline-fueled adventure as you embark on an exhilarating go-karting experience. Whether you're a beginner or an experienced racer, this premier destination offers excitement like no other.
Picture this: a 700m track with 11 thrilling turns that will put your skills to the test. Feel the rush of adrenaline as you navigate each corner, pushing yourself to the limit.
But wait, there's more! At the Karting Arena Jurong, we've got two exciting options for all you racing enthusiasts. First up, Fun Karting! Challenge your friends or family members in a thrilling 10-minute session to see who can achieve the fastest lap time. It's not just about winning, it's about pushing yourself and experiencing the true thrill of kart racing.
3) HyperDrive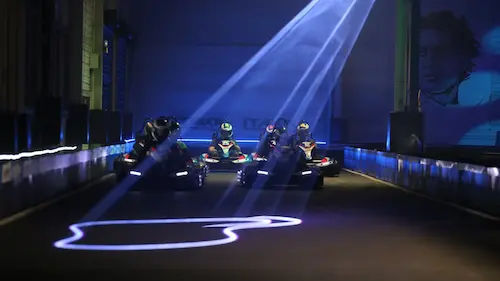 Experience a truly unique attraction that takes go-karting to the next level. This one-of-a-kind experience offers a futuristic go-karting adventure like no other. Get ready to be amazed by state-of-the-art electric go karts powered by 100% electricity and solar energy, ensuring an eco-friendly and exhilarating ride.
What sets this track apart is its exceptional three-level indoor racing route. Feel the excitement as you navigate through each level, encountering thrilling twists and turns along the way. But that's not all – this track also incorporates innovative virtual gaming elements, bringing the world of virtual racing to life. Imagine collecting power-ups, strategically positioning yourself, and competing with your friends just like in the beloved game, Mario Kart!
Get ready to embark on an unforgettable go-karting journey that combines cutting-edge technology, thrilling racing action, and the nostalgic charm of a beloved video game. This is an experience that will leave you with memories to cherish for a lifetime.
4) Skyline Luge Sentosa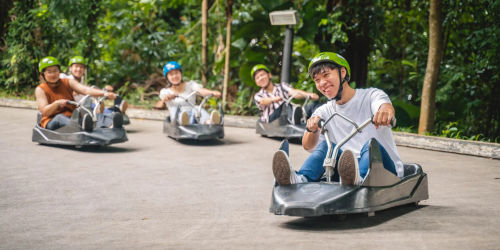 While not technically classified as traditional go-karting, one of Sentosa's most renowned attractions is the extraordinary Luge karting experience at Skyline Luge Sentosa. Prepare yourself for an exhilarating adventure that will send your adrenaline soaring as you zoom through a myriad of tunnels, slopes, and bends amidst the lush greenery that blankets the island.
Feel the caress of the wind in your hair and the surge of excitement coursing through your veins as you embark on a scenic Skyride, treating yourself to breathtaking panoramic vistas of the awe-inspiring surroundings.
And then, steel yourself for an electrifying downhill race on one of the four thrilling race tracks: Jungle Trail (622m), Kupu Kupu Trail (638m), Expedition Trail (658m), and Dragon Trail (688m).
5) KF1 Karting Circuit Singapore Expo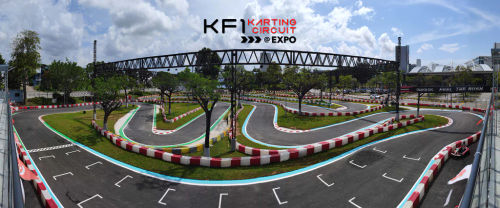 Situated in the vibrant East of Singapore, you'll find an impressive go-kart track that stretches an astounding 750m, making it one of the longest in the city. With its exhilarating 16 turns, this track promises an unparalleled racing experience that will leave you breathless.
Calling all Easties! This conveniently located track offers the perfect opportunity to satiate your need for speed. Feel the adrenaline rush through your veins as you skillfully navigate each and every turn, pushing your racing abilities to the absolute limit.
But the excitement doesn't end there. After an exhilarating session at the KF1 Karting Circuit Singapore Expo, why not extend your adventure at Changi City Point? Embark on a culinary journey, exploring the diverse range of flavors and cuisines that await you.
And if you're a fan of shopping, get ready for a truly satisfying spree as you peruse the countless retail outlets, ready to fulfill all your shopping desires. So, buckle up and get ready for an unforgettable experience that will leave you wanting more.
6) KF1 Karting Circuit Kranji
Situated in the lively district of Kranji, Singapore, lies an extraordinary go-kart track that offers an unparalleled rush of adrenaline. Prepare yourself for an exhilarating experience like no other as you navigate through the impressive 960m circuit, featuring a collection of 18 thrilling turns that will leave you on the edge of your seat.
The KF1 Karting Circuit Kranji guarantees a heart-racing adventure that will leave you yearning for more excitement.
Whether you are a seasoned racer with years of experience or a first-timer stepping into the world of go-karting, this track caters to all skill levels. It ensures that you get the most out of your time and money, providing an unforgettable adventure that satisfies your need for speed and fuels your passion for racing.
Get ready to immerse yourself in the ultimate go-karting experience that will leave you with memories to cherish for a lifetime.
7) The Karting Arena Bukit Timah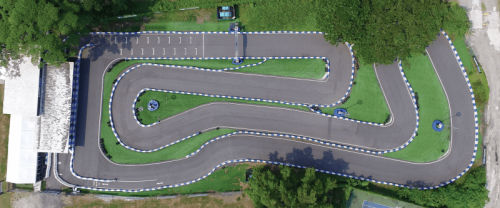 Conveniently located in the vibrant heart of Bukit Timah, The Karting Arena Bukit Timah offers an exhilarating experience with its thrilling 500m track, featuring not just one, not two, but nine exhilarating turns that will surely get your adrenaline pumping.
Whether you are searching for a fun-filled activity to enjoy with your loved ones within close proximity or looking for an extraordinary and exciting venue to host an unforgettable birthday celebration for either kids or adults, this exceptional option is guaranteed to provide a truly memorable and exhilarating experience that will be etched in your memories for years to come.
GoKart Singapore
In conclusion, Singapore offers a multitude of go-karting experiences, each one unique and exhilarating in its own way. From the eco-friendly and technologically advanced HyperDrive to the traditional yet thrilling KF1 Karting Circuits, there's a track to suit every racer's preference.
Whether you're a seasoned pro or a first-time racer, these tracks promise an adrenaline-packed adventure that will leave you craving more.
So gear up, pick a track, and let the fun begin!
Frequently Asked Questions (FAQ)
If you have any questions about GoKart in Singapore, you can refer to the frequently asked questions (FAQ) about the best GoKart places in Singapore below:
What are the best places for Go Kart in Singapore?
Some of the top spots in Singapore for Go Karting include The Karting Arena Jurong, RaceHub Singapore, KF1 Karting Circuit Singapore Expo, and KF1 Karting Circuit Kranji.
How much does go-karting cost in Singapore?
The prices for go-karting in Singapore differ based on the track and package you select. You can discover packages ranging from approximately S$23 to S$83, depending on your budget.
Are go karts legal in Singapore?
Indeed, go karts are permissible in Singapore, provided they adhere to the requirements and conditions specified by the Ministry of Home Affairs.
Why is go-karting so expensive?
The expenses associated with go-karting are high due to the need for specialized equipment, dedicated tracks, and staff to ensure safety and provide an optimal experience. Compared to other motorsports, the operational costs of running a go-kart business are considerably higher, resulting in increased overall expenses.
What is the height limit for KF1?
KF1 has a height requirement ranging from 120cm to 200cm.
Where can racers find a state-of-the-art race track in Singapore?
Maximum Drift Karting Arena is one of the best places for go kart racing in Singapore, offering a top-notch race track for adrenaline-fueled experiences.
Are there any venues in Singapore that offer sim racing experiences alongside go kart tracks?
Yes, racers' Sim Racing Studio provides a unique combination of sim racing and go karting, allowing enthusiasts to enjoy the thrill of virtual and real-life racing in one place.
Which go kart venue in Singapore is known for its tandem kart configurations?
Grand Prix stands out with its tandem kart configurations, providing the option for double seater go kart, perfect for enjoying the go kart racing experience with a friend or family member.
Can I host professional race events at go kart tracks in Singapore?
Absolutely! Both Maximum Drift Karting Arena and Arena Country Club offer excellent facilities and race tracks suitable for hosting professional race events.
Are there any go kart venues in Singapore with dedicated race control rooms?
Yes, Arena Country Club has a dedicated race control room to ensure smooth operations and enhanced safety during go kart races.
Where can beginners find novice karts to kick-start their go kart racing journey in Singapore?
Novice karts are available at multiple go kart tracks in Singapore, including Maximum Drift Karting Arena and Grand Prix, catering to beginners who want to learn and improve their skills.
Additional Useful Articles
If you are looking for other useful guides and articles about Go Kart in Singapore, check them out below: