Karaoke Singapore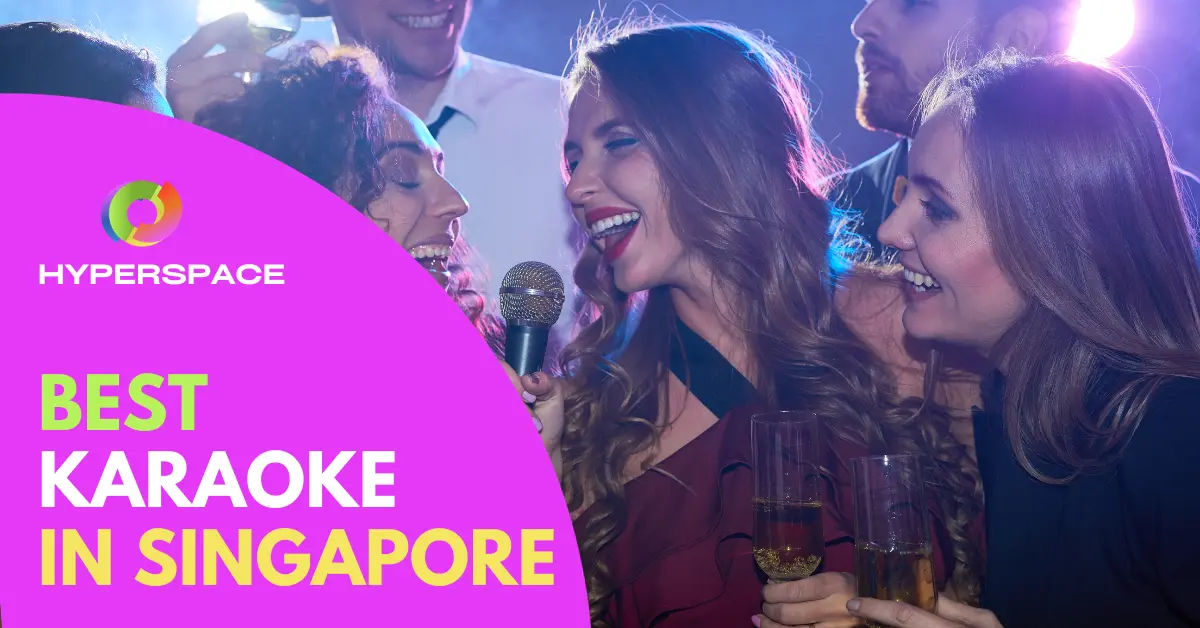 Singapore, renowned for its vibrant nightlife and entertainment scene, offers a plethora of karaoke spots for music lovers and aspiring vocalists.
The best Karaoke in Singapore are HaveFun Karaoke, Skinny's Lounge, Teo Heng KTV, Kommune, and K.Star.
When selecting a karaoke venue, consider factors such as the location, budget, range of services provided, and the atmosphere.
Karaoke bars in Singapore go beyond being mere singing venues – they are vibrant social hubs, where individuals from diverse backgrounds gather to relax, make lasting memories, and, of course, unleash their favorite tunes.
From private, cozy karaoke rooms to large, high-tech stages, the city-state presents an array of options that never fail to deliver a memorable singing experience.
Quick Summary
Best Karaoke in Singapore are Skinny's Lounge, Have Fun Karaoke, Teo Heng KTV, and K.Star.
When choosing a karaoke studio, prioritize factors like the location, budget, types of services offered, and the ambiance.
Karaoke spots in Singapore are more than just singing venues – they are social hubs, places where people from all walks of life come together to unwind, create memories, and of course, belt out their favorite tunes.
Key Consideration Factors
When choosing a karaoke place to go in Singapore, make sure you consider these factors:
Location: When choosing the best karaoke venues, it's important to consider their central location, ensuring easy accessibility for you and your friends.
Budget: It's essential to select a karaoke place that aligns with your budgetary constraints. Keep in mind that prices can vary significantly based on factors such as room size and services provided.
Services Provided: Different karaoke venues offer a range of services, catering to diverse preferences. Whether you're looking to indulge in games, enjoy a drink or two, or even customize your song choices, it's crucial to be aware of the services offered.
Ambience: Each karaoke place has its own unique atmosphere, setting the mood for your singing session. By choosing a karaoke venue that matches your desired ambience, you can enhance your overall experience.
Best Karaoke in Singapore
1. Skinny's Lounge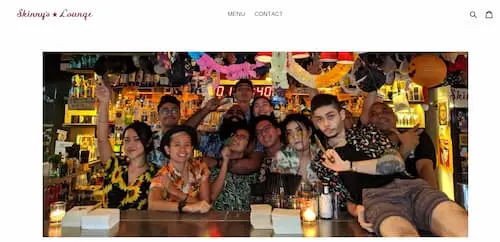 | | |
| --- | --- |
| Key Services | KTV Room, Cocktail bar |
| Address | 82, #01-02 Boat Quay, Singapore 049870 |
| Website | drinkskinnys.com/ |
| Phone | +65 9653 8886 |
| Email | karaoke@drinkskinnys.com |
| Operating Hours | Wed, Thu, Fri, Sun 5PM – 3AMSaturday, 5PM – 4AM |
Skinny's Lounge exemplifies the quintessential karaoke experience in Singapore, providing a unique blend of music, drinks, and social fun. Located in the heart of the city, this karaoke bar is a favorite among locals and tourists alike, known for its intimate, retro-styled interior that creates an inviting and relaxed atmosphere.
At Skinny's Lounge, patrons are not only treated to a vast library of songs spanning various genres and languages, but they also get to enjoy a well-stocked bar offering a wide range of beverages. From classic cocktails to a selection of craft beers and wines, there's something for every taste.
One of the standout features of Skinny's Lounge is its private karaoke room, equipped with best sound system, a large screen for lyrics, and comfortable seating — perfect for those who prefer a more intimate singing session with friends.
For those who wish to take their performance to the next level, the lounge also offers a larger stage area where you can sing your heart out to a lively crowd.
Apart from the music and drinks, Skinny's Lounge also ensures a memorable experience through its impeccable service. The friendly and efficient staff are always on hand to assist, ensuring every customer feels welcomed and catered to.
Whether you're looking to unwind after a long day at work, celebrate a special event, or simply show off your singing prowess, Skinny's Lounge promises an unforgettable karaoke experience in Singapore.
2. Ziggy's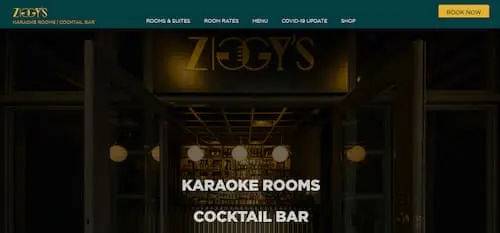 | | |
| --- | --- |
| Key Services | Karaoke Room, Lounge Rooms & Cocktail Bar |
| Address | #01-27 Robertson Walk, 11 Unity St, Singapore 237995 |
| Website | www.ziggys.com.sg/ |
| Phone | +65 6235 5400 |
| Email | info@ziggys.com.sg |
| Operating Hours | Monday to Saturday: 5PM–1AM |
Ziggy's is an incredibly exciting and vibrant karaoke spot nestled in the heart of Singapore. Renowned for its vast array of song choices, state-of-the-art sound systems, and an inviting, comfortable, and stylish atmosphere, it truly is the perfect place to unleash one's inner pop star.
Whether individuals are seeking a lively night out with friends or planning a team-building event with colleagues, Ziggy's promises an unforgettable family karaoke experience in Singapore.
The venue prides itself on delivering excellent customer service, going above and beyond to ensure every guest feels like an absolute superstar.
3. Teo Heng KTV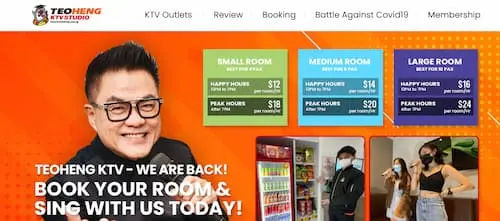 Key Services
Karaoke place with extensive song selection
Address
Suntec City, #03-380/381/382
3 Temasek Blvd, Suntec City, Singapore 038983

Causeway Point, #05-01
1 Woodlands Square, Singapore 738099

JCube, #03-14/15/16
2 Jurong East Central 1, Singapore 609731

The Star Vista, #01-23/28
1 Vista Exchange Green, The Star Vista, Singapore 138617
Website
https://ktvteoheng.com.sg/
Phone
6884 6266 (Suntec City Outlet)
6760 0345 (Causeway Point Outlet)
6734 6300 (JCube)
6775 1500 (The Star Vista)
Operating Hours
Monday – Friday / Sun & Holiday:
12PM–1AM
Saturday & Holiday Eve:
12PM- 2AM

Note: Both outlets will be operating from
12pm to 2am on Friday, Saturday, Public Holiday and Eve.
Teo Heng KTV has firmly established itself as a prominent and beloved name in Singapore's vibrant karaoke scene. With its commitment to providing an exceptional experience, this renowned karaoke chain has garnered a loyal following.
Offering an extensive song selection that caters to diverse musical preferences, it ensures that everyone can find their favorite tunes to sing along to.
One of the standout features is its commitment to affordability without compromising on quality. The themed rooms are not only reasonably priced but also well-maintained, creating a comfortable and inviting atmosphere for guests.
The commendable sound system quality further enhances the singing experience, delivering crystal-clear audio that allows singers to truly shine.
As a highly popular choice among locals and visitors alike, it has become synonymous with unforgettable family karaoke experiences. Its commitment to providing a welcoming and intimate setting sets it apart from other karaoke establishments.
4. Cash Studio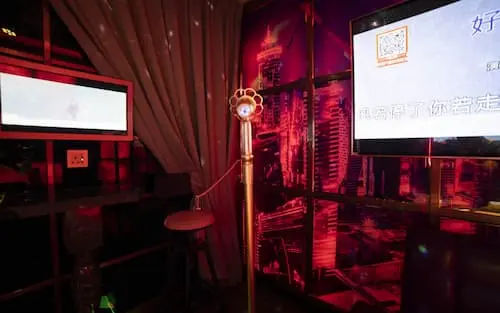 Key Services
Vibrant karaoke spot
Address
Cuppage Plaza
5 Koek Road
B2-09 to 20, Singapore 228796

Prinsep Street
72 Prinsep Street, Singapore 188671

Clarke Quay Central
6 Eu Tong Sen Street
#03-57 & #03-58
Singapore 059817

Dijitsun Mall @ Bedok
445 Bedok North Street 1,
03-03, Singapore 469661
Website
cashstudio.com.sg/
Phone
6533 0090 (Cuppage Plaza)
6336 6696 (Prinsep Street)
6238 8198 (Clarke Quay Central)
6244 4162 (Dijitsun Mall @ Bedok)
Email
admin@cashstudio.com.sg
Operating Hours
12pm till late daily
Cash Studio is renowned as one of Singapore's most popular karaoke hotspots, drawing in music lovers from all walks of life. With its extensive song library that spans various genres including pop, rock, R&B, and K-Pop, it caters to the diverse tastes of karaoke enthusiasts.
The inviting atmosphere, characterized by its comfortable and vibrant setting, creates the perfect ambiance for friends to gather, unwind, and showcase their singing talents in style.
Whether you are a seasoned family karaoke pro or a first-timer looking to unleash your inner superstar, it promises a memorable and enjoyable time.
So, gather your friends, prepare your favorite songs, and get ready for an unforgettable karaoke extravaganza!
5. Ten Dollar Club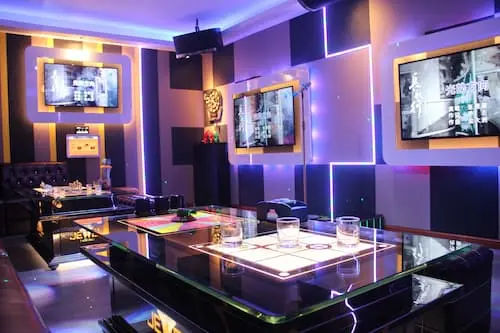 Key Services
Budget-friendly Karaoke Spot
Address
Balestier:
31 Ah Hood Road #01-05
Home team NS – JOM Club Balestier
Singapore 329979

Downtown East:
60 Pasir Ris Drive 3
Aranda Country Club, 3rd Floor
Singapore 519497

Khatib:
2 Yishun Walk, #04-07
HomeTeamNS Khatib, Singapore 767944

Jurong Safra:
333 Boon Lay Way, Singapore 649848

Punggol Safra:
9 Sentul Cres, Singapore 828654
Website
Facebook
Phone
6970 8908 / 6970 9808
Operating Hours
2pm – 10pm (Tuesday – Friday)
12pm – 10pm (Saturday – Sunday)
*Closed on Mondays
The Ten Dollar Club takes the karaoke scene in Singapore to a whole new level. This budget-friendly karaoke spot offers a unique and enjoyable experience that absolutely delivers in terms of value for money.
From its extensive music library that covers a varied range of genres, to its cozy and casual atmosphere, the Ten Dollar Club is the perfect place to belt out your favorite tunes without breaking the bank.
The Ten Dollar Club's passion for karaoke shines through in every aspect of their service. They constantly update their song library to include the latest hits, ensuring that their guests always have fresh options to choose from.
If you are on the hunt for a cost-effective and fun-filled family karaoke experience in Singapore, the Ten Dollar Club is definitely worth checking out.
6. Party World KTV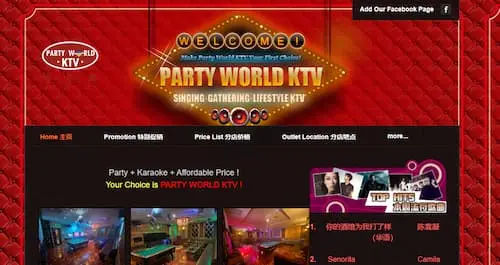 Party World KTV, located in the heart of Singapore, is an iconic family karaoke spot that has gained recognition for its exceptional offerings.
With its extensive selection of songs that span across various genres and eras, it ensures that there is something for everyone, regardless of age or musical preferences.
Not only does prioritize the music, but it also provides a top-notch environment for a truly immersive karaoke session. The private themed rooms are designed with cozy and contemporary decor, creating a welcoming and comfortable ambience.
The high-quality sound systems further enhance the audio experience, allowing you to showcase your singing talents in the best possible way.
7. K.Star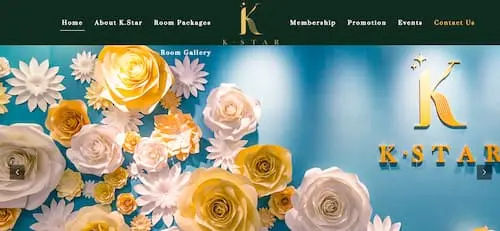 | | |
| --- | --- |
| Key Services | KTV bar |
| Address | Locations |
| Website | kstar.com.sg/ |
| Phone | (65) 9171 1588 (Orchard Central)(65) 9171 1588) (Plaza Singapura) |
| Operating Hours | Daily: 12PM – 6AM (Orchard Central)Daily: 12PM – 3AM (Plaza Singapura) |
K.Star is yet another popular family karaoke destination in Singapore that marries fun and style in its unique concept. As an artistic, self-proclaimed "boutique karaoke", it stands out for its chic and vibrant themed rooms, ranging from bohemian to edgy, making it a refreshing departure from conventional karaoke settings.
K.Star's music library is as eclectic as its decor, featuring a wide range of songs across multiple languages and genres. This mix ensures that K.Star caters to a diverse group of karaoke-goers, making it an inclusive spot for everyone to enjoy.
8. HaveFun Karaoke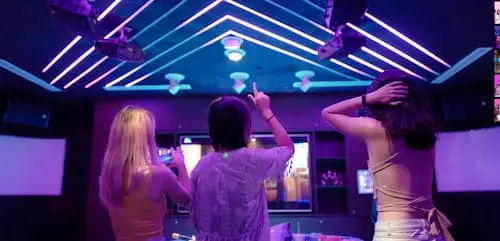 Key Services
Multi-faceted entertainment hub
Address
Outlets
Website
www.havefunkaraoke.com/
Phone
8909 1123
Email
customerservice@havefunkaraoke.com
Operating Hours
313 Somerset
12PM – 5:30AM Daily

Downtown East
11AM – 11:59PM Daily

SAFRA Toa Payoh
11AM – 12:30AM (Mon – Fri & Sun)
11AM – 1:30AM (Sat & PH Eve)

SAFRA Yishun
2PM – 11PM (Mon – Fri & Sun)
2PM – 3AM (Sat & PH Eve)
HaveFun Karaoke is setting a new standard for karaoke in Singapore with its innovative approach. Positioned as a fun and lively entertainment venue, it offers state-of-the-art equipment, ensuring superior sound quality for the most dedicated of karaoke enthusiasts.
They curate a comprehensive library of songs that gets updated regularly, keeping pace with the latest hits alongside timeless classics. The themed rooms at HaveFun Karaoke boast a modern, cozy design, perfect for groups of friends looking for an enjoyable night out.
To round out the experience, they also serve an assortment of food and beverages, allowing guests to refuel between performances. For those in Singapore seeking a fun, immersive karaoke experience, HaveFun Karaoke is a must-visit venue.
9. Kommune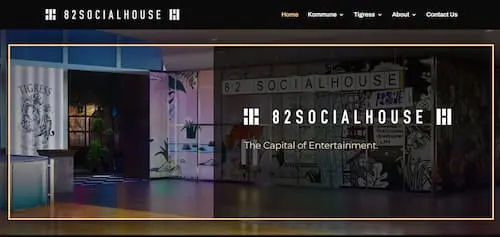 | | |
| --- | --- |
| Key Services | KTV Singapore, Karaoke Singapore |
| Address | Orchard Gateway, 277 Orchard Rd, #03-18, Singapore 238858 |
| Website | 82soho.com/ |
| Phone | +65 8112 0480 |
| Email | be@82soho.com |
| Operating Hours | Daily: 11:30AM–11PM |
Kommune Karaoke Bar is a hidden gem in the bustling city of Singapore, renowned for its intimate, laid-back atmosphere. This unique karaoke spot allows guests to indulge in their passion for singing while enjoying the cozy, relaxed setting.
Unlike the typical karaoke venues, Kommune offers a 'public karaoke' experience, where guests can sing their heart out in a shared space instead of private spacious rooms.
Their expansive song library covers a plethora of genres, languages, and eras, catering to the tastes of a wide audience.
10. Candy K-Bar

| | |
| --- | --- |
| Key Services | KTV Singapore, Karaoke Singapore |
| Address | TripleOne Somerset #02-07/08/09, 111 Somerset Road, Singapore 238164 |
| Website | www.candykbar.com/ |
| Phone | +65 8879 4922 / 8879 4922 (WhatsApp) |
| Operating Hours | Daily: 12PM – 12AM |
Candy K-Bar is a vibrant and energetic karaoke destination in Singapore that brings a youthful and fun-filled vibe to the karaoke scene. Known for its lively and colorful décor, Candy K-Bar offers private karaoke rooms that are designed with a fun and flamboyant style, making it an ideal spot for those looking for a high-energy karaoke session.
Whether you're a seasoned karaoke veteran or a first-time singer, Candy K-Bar provides a fun, inviting environment for a memorable karaoke experience in Singapore.
Karaoke Singapore
In conclusion, Singapore boasts a vibrant and diverse karaoke scene, offering a variety of venues that cater to different tastes and preferences.
Each spot provides its unique charm, be it through an extensive music library, a distinctive ambiance, or exceptional service.
Whether you're a seasoned performer, a casual singer, or a first-time karaoke-goer, there's a karaoke spot in Singapore that's perfect for you.
So, next time the urge to sing hits, consider any of these fantastic venues for an unforgettable karaoke experience.
Frequently Asked Questions
If you have any questions about Karaoke in Singapore, you can refer to the frequently asked questions (FAQ) about the best Karaoke in Singapore below:
What are the best Karaoke places in Singapore?
The best Karaoke in Singapore are HaveFun Karaoke, Teo Heng KTV, Kommune, K.Star, Cash Studio, Ten Dollar Club, Skinny's Lounge, Ziggy's, Candy K-Bar, Jewel Music Box, Board Games Karaoke Joint, Small Room Karaoke, and more!
Is karaoke allowed in Singapore?
Yes, karaoke is allowed in Singapore as long as the venue has a valid license.
Is karaoke popular in Singapore?
Yes, karaoke is very popular in Singapore and there are many venues across the city.
What are KTV lounges in Singapore?
KTV lounges in Singapore are karaoke venues with private rooms where guests can sing their hearts out with friends.
Can I rent a karaoke room per hour at these karaoke bars in Singapore?
Yes, most karaoke in Singapore offer deluxe room rentals on an hourly basis. This allows you to enjoy karaoke sessions for a specific duration without having to commit to a full night.
Are there additional amenities available at these karaoke bars besides karaoke rooms?
Yes, many karaoke in Singapore offer additional amenities to enhance your experience. Some may have pool tables, foosball tables, dart machines, or free WiFi for added entertainment during your karaoke session.
Which karaoke bar in Singapore has VIP rooms available?
Both Jewel Music Box and Star Karaoke feature deluxe and VIP suites that provide a more exclusive and indulgent karaoke experience. These rooms are designed to offer extra comfort and luxury for your karaoke party.
Do any of these karaoke bars in Singapore offer themed karaoke rooms?
Yes, HaveFun Karaoke is known for its variety of themed karaoke. From retro-themed rooms to futuristic settings, they offer unique and immersive karaoke experiences.
Do any of the karaoke bars in Singapore have pool tables?
Yes, some karaoke in Singapore, such as HaveFun Karaoke and Board Games Karaoke Joint, have tables available for additional entertainment alongside your karaoke session.
Additional Useful Articles
If you are looking for other useful guides and articles about karaoke bars in Singapore, check them out below: