Office Cleaning Singapore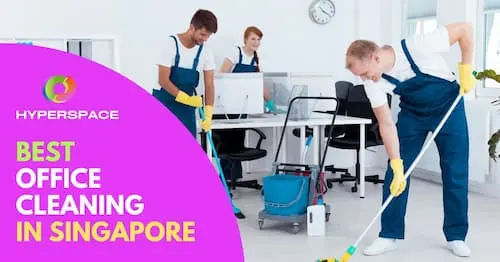 Keeping a clean workspace is crucial for running a successful business, and Singapore offers excellent office cleaning services.
The best office cleaning services in Singapore include SGcleanXpert, HelpToClean, Hiremop, MEIDE.SG, Luce Maintenance Group.
When choosing an office cleaning service in Singapore, consider factors such as pricing, reliability, and the quality of service provided.
In addition to office cleaning services in Singapore, there are also other services available such as carpet cleaning, window washing, and e-waste disposal.
Stop waiting around – contact one of these unmatched office cleaning Singapore services today and let them handle all your needs for you!
Quick Summary
Best office cleaning services in Singapore include SGcleanXpert, HelpToClean, Hiremop, MEIDE.SG, Luce Maintenance Group.
When selecting an office cleaning service in Singapore, take into account factors like pricing, dependability, and the level of service quality.
Office cleaning services in Singapore also provide additional services like carpet cleaning, window washing, and e-waste disposal.
Consideration Factors When Choosing An Office Cleaning Service In Singapore
Price: Doing thorough research into services and prices is vital to ensure you make the best decision. Make sure you understand all that's included in each package, plus any discounts available, before making a commitment.
Quality: When searching for a reliable cleaning service provider, you should always opt for one that is renowned for its quality services and trained staff who are well-versed in the art of office cleaning.
Safety: When selecting a service, ensure that they adhere to all safety regulations and utilize environmentally-friendly cleaning products.
Availability: Make sure that the company has a schedule that accommodates you and can fulfill all of your individual requirements.
Reputation: To ensure you find a reliable cleaning service, take the time to read online customer reviews and investigate the reputation of Singapore-based cleaners.
Services Offered: When selecting a cleaning service, be sure to inquire about the various packages they offer. Does the company provide specialised services like sanitisation, window and carpet maintenance? All of these factors should be taken into consideration when determining which provider is best for you.
Now that you know what to look for, here are the Cleaning Services in Singapore!
Best Office Cleaning Singapore
1) SGcleanXpert
Key Services:
Quality office cleaning, affordable prices
Website:
https://www.sgcleanxpert.com/
Address:
7500A Beach Road, The Plaza #05-319 Singapore 199591
Phone:
+65 8417 1368
Email:
admin@sgcleanxpert.com
Operating Hours:
Monday to Friday: 9 AM to 6 PM
Saturday: 9 AM to 1 PM
To bring convenience and high-value cleaning solutions to the people of Singapore, SGcleanXpert.com was created as an answer to the lacking quality services in this area. Our mission is to provide a wide range of cleaning services for homes, offices, and commercial spaces at competitive prices with our experienced team members delivering outstanding results every time!
Key Differentiators
Excellent service
Affordable pricing
Client Testimonial
Engaged their service for Air Con ledge cleaning. Admin side respond was responsive, they provide me a notice templet to drop at my neighbors door and also guide me through the booking process. The day before the actual cleaning they also dropped a reminder sms to owner.

V L
2) HelpToClean
HelpToClean cleaners have been applauded for their politeness and expertise, working across both Malaysia and Singapore. Through this popular cleaning platform, you can easily find a cleaner who suits your needs perfectly. Moreover, HelpToClean offers one of the most affordable services in Singapore. In addition to that, they also provide a system which allows users to rate each cleaner so as to select only the best ones!
Key Differentiators
Rating system
Affordable service
24-hour hotline
3) Hiremop
| | |
| --- | --- |
| Key Services: | Top-quality services with experienced cleaners and reliable customer support |
| Website: | https://www.hiremop.com/ |
| Address: | 28 Kallang Place #07-02 Singapore 339158 |
| Phone: | +65 6656 5180 |
| Email: | inquiry@hiremop.com |
| Operating Hours: | Monday to Saturday, 9:30am to 6pm |
If you're seeking a reliable and experienced office cleaning service, then look no further than Hiremop. Their team of dedicated professionals can provide full-time or part-time commercial office cleaning services in the district area with ease. We have a wide selection of cleaners that are available to suit your needs!
Key Differentiators
Quality service
Trained Legal Cleaners
Protection of $500K Insurance
4) MEIDE.SG
| | |
| --- | --- |
| Key Services: | Professionally certified & quality service |
| Website: | https://meide.sg/ |
| Address: | 682A Jurong West Central 1, Singapore 641682 |
| Phone: | +65 8595 8579 |
| Operating Hours: | 24 Hours, Daily |
If you're looking for a reliable cleaning firm that offers both home and office services, look no further than MEIDE. With MEIDE's customizable options, you can choose whether to employ their services on an as-needed basis or at your preferred frequency of cleanings. Plus, if ever needed, changing the schedule is effortless!
Key Differentiators
No agency fees
Reliable and highly trained cleaners
High cleaning standards
Client Testimonial
The cleaner I sent was incredibly meticulous and efficient. She managed to accomplish all the tasks that were necessary for me in a timely manner – so much so, that I even requested her services regularly! Furthermore, their affordability is exceptional; there's no doubt in my mind that I would highly recommend them to others.

Aparna Mahadevan
5) Luce Maintenance Group
| | |
| --- | --- |
| Key Services: | Professionally certified cleaners, affordable |
| Website: | https://sg.lucemg.com/ |
| Address: | 75A Killiney Rd, #02-03, Singapore 239529 |
| Phone: | +65 6734 4974 |
| Email: | sales@lucemg.com |
| Operating Hours: | 24 Hours Daily |
Luce Maintenance Group is the top choice for cleaning services in Singapore. With a deep pool of cleaners spread throughout commercial buildings on the island, from Queenstown to Yishun, you can rest assured that someone will always be available and ready to service your needs – no matter what! So don't worry about any illness or other medical issues taking away your cleaner; Luce has got you covered with reliable help every step of the way.
Key Differentiators
Reasonable prices
Trained cleaners
Wide coverage of cleaners
Client Testimonial
I have been taking cleaning services from Luce for a while now. The cleaners know their job well & Roi who is presently appointed for my place has been sincere and good at delivering cleaning services.

JSV A
6) Office Cleanz
| | |
| --- | --- |
| Key Services: | Cheaper and transparent rates |
| Website: | https://www.officecleanz.com/ |
| Address: | 10 Anson Road International Plaza #16-16., Singapore 079903 |
| Phone: | +65 6872 1224 |
| Operating Hours: | 24 Hours |
Put away the mop and bucket! Office Cleanz is here to help. Recognized as one of Singapore's top office cleaning services, they offer a first-rate service that will leave your workspace sparkling clean. Plus, you won't need to worry about lingering odors – Office Cleanz guarantees it'll be smelling great too! So why wait? Start making your workplace sparkle with Office Cleanz today!
Key Differentiators
Affordable rates
Flexible schedule
100% satisfaction guarantee
Client Testimonial
I was pleasantly surprised by the prompt and efficient service I received despite my last-minute request for an office cleaner due to our regular cleaner's unexpected leave. Dayang, who we were allocated, showed amazing proactivity in her job and demonstrated a great attitude that made us want her back for future days!

Hany Januar
7) Helpling
Look no further – Helpling is your go-to destination for finding a reliable cleaner. Easily search through detailed profiles of potential cleaners, with their names, pictures and customer reviews clearly visible to help you make an informed decision. Once you've found the perfect fit for your home's needs, schedule future appointments in mere moments!
Key Differentiators
Trusted Professional Cleaners
Dedicated 24/7 Account Managers
Rated 4.7 Stars On Google By 1500+ Clients
Client Testimonial
Been engaging their cleaning service for a few months now, I would say the standard of the helpers is good. They are friendly, well-trained, and quality of work is definitely good. And thanks to Rita & Lya who always attend to my last minute requests to accommodate my ever changing work schedules!

Wong Suet Peng
8) Abba Maintenance Services
Seeking the best office cleaner in Singapore? Look no further than Abba Maintenance Services! They offer dependable and affordable services, assuring clients of top-notch quality. With years of experience in this field, you can trust that your workplace will be neat and tidy after their visit. Why wait any longer? Contact them today to have your worries taken care of quickly!
Key Differentiators
Competitive prices
Well-trained cleaners
Wide coverage of services
Client Testimonial
We have been engaging Abba maintenance for disinfection services for the past 5 months. Reasonably priced for high quality cleaning, my place is as squeaky clean as the day I moved in!

Yixiang Low
9) Getz Cleanz
Getz Cleanz is the top-of-the line office cleaning service that specializes in leaving your space looking and smelling refreshed, spotless, and invigorating. What are you waiting for? Get in touch with them now to arrange a no cost assessment!
Key Differentiators
Trained professionals
Quality service
Flexible schedules
Client Testimonial
Very good service and professional.

Nicholas Tung
10) CleanWorthy
For more than 10 years, Cleanworthy has continually been providing exquisite cleaning services to an array of places including businesses, schools and retail malls. It stands out from the rest with its advanced approach to cleaning that not only invigorates your living or working space but also adds a modern touch to it.
Key Differentiators
Flexible Schedules
Clear-cut Pricing
Comprehensive Services List
Client Testimonial
The service I got was mold removal for the bathroom ceiling. After the service, bathroom ceiling is white and clean. Staff also provided advice on how to ensure the mold does not recur as toilet is usually damp and humid. Thank you for the good service!

Su su
11) Whissh Office Cleaning Service
Embrace the opportunity to be in the spotlight with Whissh office cleaning service! Renowned for our trustworthiness and dependability, we are Singapore's most trusted provider of quality workplace hygiene services. We guarantee competitive prices so you don't have to worry about breaking your budget while still enjoying excellent sanitation services that will make an impact on everyone who visits your business premises. So why hesitate? Get in touch with us today and let our professionals handle all of your requirements!
Key Differentiators
Experienced Cleaners
Secure Bookings
Environmentally Friendly Products
Client Testimonial
They have one of the most competitive rates in the market. Flexible to adjust their service frequency to accommodate our changing requirements. Assigned professional is trustworthy and friendly. And account manager keeps good contact to ensure business continuity. Well recommended!

Rena Tan
12) Lukis Cleaning Services
Lukis provides top-notch custom services to empower your work environment and ensure that it is a more pleasant place for everyone. For the past years, Lukis has been helping countless businesses in Singapore ranging from SMEs to MNCs maintain cleanliness in their offices. With us, you will be assured of premium quality service with an expert supervisor who visits your site regularly and inspects procedures implemented for better performance. Plus, each client gets a personal account manager dedicatedly looking out for them – giving you an unparalleled experience!
Key Differentiators
Provide services to more than 100 companies
Uninterrupted cleaning schedule
Professionally certified and insured
Client Testimonial
After engaging Lukis Cleaning Service for my office cleaning needs, I was delighted to receive prompt and detailed responses from Gary whenever I encountered any issues. He even went above-and-beyond by dropping by the office when needed to address any concerns or questions that arose. His exceptional customer service has been greatly appreciated, and if given another chance in the future, I would certainly hire them again without a doubt.

Tracy Lim
13) SG Office Cleaning
If you're searching for top-notch office cleaning services at an affordable rate, SG Office Cleaning is the perfect choice. As Singapore's leading office cleaning company, they are committed to providing their clients with high quality service and superior customer care. Don't hesitate – reach out to SG Office Cleaning today and let them take care of all your needs!
Key Differentiators
Prompt Service
High-Quality Cleaning Solutions
Affordable Prices
Client Testimonial
Elvin is very responsive and professional office cleaning Singapore service. Was the only one of several vendors contacted who asked for more detailed information in advance about the work required in order to be able to provide better service. This company goes the extra mile.

Yumi Davis
14) 6 Days
| | |
| --- | --- |
| Key Services: | Certified Cleaners with wide variety of services |
| Website: | https://www.6days.sg/ |
| Address: | 50 Serangoon North Avenue 4, #04-06, Singapore, 555859, Singapore |
| Phone: | +65 9841 2939 |
| Email: | booking@6days.sg |
| Operating Hours: | 24 Hours |
Since its inception in 2014, 6 Days Cleaning Services has become a highly respected and trusted name in the cleaning industry. The National Environment Agency (NEA) has recognized our company's efforts and all of our employees have received Singapore Work Skills Qualifications (WSQ). Theis office cleaning Singapore service prides itself on providing quality services to both homes and businesses alike.
Key Differentiators
NEA Certified Cleaners
Affordable Rates
Wide Range of Services
Client Testimonial
Very impressed with how easy this office cleaning Singapore is to book a session with them, just a few clicks to get a calendar reminder – and they even send an email & SMS reminder the day before the session too.

Amanda Yap
Office Cleaning Singapore
Office cleaning Singapore is a vital part of any business, and it's important to find the right partner for your needs. With so many options available in Singapore, you can be sure that there is a company out there that will provide high-quality services at an affordable rate. From experienced office cleaning Singapore services to secure bookings and environmentally friendly products – each company offers something unique. Be sure to do your research before making any decisions as this could make or break the success of your office cleanliness!
If you're looking for more recommendations, you can check out our other posts below:
Frequently Asked Questions (FAQ)
If you have any questions about office cleaning services in Singapore, you can refer to the frequently asked questions (FAQ) about the best Office Cleaning Services in Singapore below:
What are the best office cleaning services in Singapore?
The best office cleaning services in Singapore include SGcleanXpert, HelpToClean, Hiremop, MEIDE.SG, Luce Maintenance Group.
What kinds of commercial cleaning services are available in Singapore?
There are several types of commercial cleaning services available in Singapore. These include regular office cleaning, upholstery cleaning, and specialized cleaning services. The best service providers have well-trained office cleaners who can handle a wide range of tasks.
Why should I hire professional office cleaners?
Professional office cleaners have the skills and experience necessary to maintain a clean, healthy work environment. They are trained to handle different cleaning tasks efficiently, ensuring that your office is always in the best condition.
What is upholstery cleaning and why is it important?
Upholstery cleaning involves the deep cleaning of furniture fabric to remove dust, allergens, and stains. Regular upholstery cleaning can help extend the life of your office furniture and improve the overall aesthetic of your workspace.
How often should I schedule regular office cleaning?
The frequency of regular office cleaning depends on the size of your office and the number of employees. Some offices might need daily cleaning, while others might only require weekly or bi-weekly cleaning. It's best to discuss your needs with a professional cleaning service to determine the most suitable schedule.
Are there any reputable office cleaning services in Singapore?
Yes, there are many reputable office cleaning services Singapore. When choosing a service, look for licensed cleaning professionals who have positive reviews and a proven track record.
What are the benefits of hiring professional cleaning services?
Hiring professional cleaning services can save you time and effort. These services use commercial-grade equipment and cleaning products to ensure a thorough cleaning process. Plus, they can work around your schedule, making it easy to set up a cleaning appointment.
What should I look for in a professional cleaning service?
When choosing a professional cleaning service, consider their experience, training, and certifications. They should be licensed cleaning professionals who are well-trained in different cleaning methods. It's also important to check reviews and references to ensure they have a good reputation.
Who are well trained office cleaners?
Well-trained office cleaners are professionals who have undergone rigorous training in various cleaning techniques. They know how to clean different types of surfaces and use cleaning equipment safely and effectively.
What does the commercial cleaning process involve?
The commercial cleaning process usually involves a thorough cleaning of all office areas, including floors, desks, restrooms, and common areas. It can also include specialized tasks like upholstery cleaning. The exact process will depend on the specific needs of your office.
What sets the best office cleaning services in Singapore apart from other cleaning services?
The best office cleaning services in Singapore stand out from other cleaning services due to their professional team, comprehensive range of offerings, and strong emphasis on customer satisfaction. Their services span from regular house cleaning, toilet cleaning to specialized residential cleaning. A friendly customer service team is always available to handle customer inquiries promptly and efficiently, ensuring that every cleaning job is carried out to the highest standards.
How does public liability insurance factor into choosing an office cleaning service?
Public liability insurance is crucial when choosing an office cleaning service. This type of insurance protects both the cleaning company and the client in the event of any accidental damage or injury during the cleaning job. The best office cleaning services in Singapore carry sufficient public liability insurance to provide peace of mind to their clients, demonstrating their commitment to professionalism and client safety.
Are residential cleaning services included in the offerings of the best office cleaning services in Singapore?
Yes, the top-rated office cleaning services in Singapore often extend their expertise to residential cleaning as well. They understand that a clean living space is just as important as a clean working space. Whether it's house cleaning or toilet cleaning, their professional team is equipped with the skills and tools necessary to deliver top-notch cleaning services in both commercial and residential settings.
Additional Useful Articles
If you are looking for other useful guides and articles about Office Cleaning Services in Singapore, check them out below: