Renovation Contractor in Singapore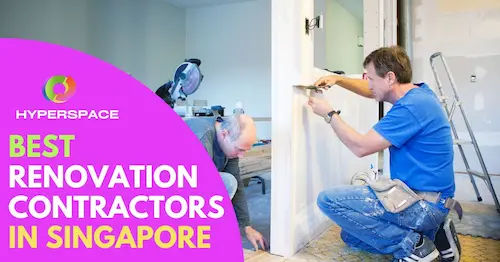 Hiring the right renovation contractor can be challenging.
The best renovation contractors in Singapore include Empire Works, Artdecor Design Studio, Renovation Contractor Singapore, OfficeStac, and Livspace Singapore.
When choosing a renovation contractor in Singapore, consider factors such as their expertise, reputation, portfolio, and feedback from customers.
Renovation contractors in Singapore provide various services such as interior design, space planning, construction, painting, plumbing, electrical works, and specialized remodeling.
Read on for more information about their services and how you can find the perfect fit for your needs!
Best Renovation Contractor in Singapore
1. Empire Works
Empire Works is a top-tier renovation contractor in Singapore with an outstanding track record of delivering successful projects and satisfied clients. They offer a full suite of renovation services, including carpentry, project management, and space planning, and are known for their attention to detail and meticulous approach to every aspect of the renovation process. What sets Empire Works apart is their commitment to personalized attention, assigning a dedicated team to each client to ensure that their unique needs and preferences are always taken into consideration. With Empire Works, clients can trust that their renovation project will be handled by a team of skilled professionals who are experts in their respective fields. Plus, all clients receive a 5-year warranty on their renovation project, providing further assurance of quality workmanship and reliable customer service.
Key Differentiators
Personalized Attention: Empire Works assigns a dedicated team to each client, ensuring that their specific needs and preferences are taken into consideration throughout the entire renovation process.
Attention to Detail: Empire Works is known for their meticulous approach to every aspect of the renovation project, ensuring that every element of the design is executed with precision and care.
Comprehensive Services: Empire Works offers a comprehensive range of renovation services, including carpentry, project management, and space planning, allowing them to handle all aspects of the renovation project in-house and ensuring a seamless and cohesive design.
Client Testimonial
We engaged Empire Works for the renovation of our new home and are very pleased with the services! Our house ended up looking better than we envisioned it, thanks to their eye for detail, giving us ideas as to how/what we can do to beautify our home. We also really appreciated that they gave their personal opinions as well, if they thought that something we wanted was not necessary and we could save a lot just from that!
Their friendly, approachable nature was also very helpful as it made it easier for us to communicate with them & clarify any queries we had regarding the renovation etc. On top of all that, we were very amazed with their efficiency, such that we were able to meet a tight deadline. Everything was completed quickly and smoothly, with timely updates on the process. Thank you Ivan and Jave for being such a wonderful duo! We will definitely recommend Empire Works to our friends and family!
Much Love from Sam's Squad!

Lyana Kenit
2. Artdecor Design Studio
Artdecor Design Studio has a positive track record. It's a premier interior design studio that offers home renovation, commercial renovation, and custom-made furniture. All clients of Artdecor Design Studio, which is recognized for merging beauty and usefulness to create appealing, practical rooms, will have a team in charge of the entire process, from beginning to end. From consultation through completion of post-construction cleaning, each customer's project will be handled by his or her own team.
Key Differentiators
Helps business owners apply for certificates
1-year warranty for the materials used
This renovation contractor will deliver seamless project management
Client Testimonial
My family is very satisfied with the design of this new home, especially the children like to play in the room and are full of curiosity about those designs. Edgar is a very reliable designer. Although the design drawings have been discussed and changed many times, he still works very hard to ensure that I get what I want. I don't worry about handing over the whole project to him, because he will update me frequently to make sure I understand the whole process. He is a very professional designer.
3. Renovation Contractor Singapore
Renovation Contractor Singapore is the one-stop shop for all your home renovation needs. Specializing in interior design, they offer comprehensive services to help create your dream home. With a team of experienced professionals, you can rely on them to craft residences of all types in Singapore.
Key Differentiators
Prompt after-sales support
Open seven days a week
Uses quality materials
Client Testimonial
Awesome experience overall. Aidil was accommodating and very resourceful regarding any issues with our house renovation. Did whole house plastering for cracked walls, painting and kitchen cabinet. Price was reasonable compared to outside market. We got our favourite wall paint colour with his help too. Thankiu. Recommended service…
4. OfficeStac
OfficeStac is a business specializing in remodeling commercial offices. They work with all kinds of commercial spaces, such as stores and company buildings. They are one of the few companies that focus on office renovations and designs in the island. Their custom cabinets are made to be strong and durable, and their design-build team includes seasoned professionals like architects, carpenters, painters, plumbers, electricians, among others. With their experienced commercial renovation crew, they can upgrade any small or large workspace.
Key Differentiators
Customized just for the clients
Wide range of commercial spaces
Client Testimonial
This is best company for renovation. Very good at the service . i"m really impressed about great finish and our office reinstatement. recommended reinstatment services too.
5. Livspace Singapore
Livspace is Asia's largest interior designer company, and has stayed as the top choice for renovation firms in Singapore due to its wide range of services. It works with renowned interior designers who are experienced in overseeing every home refurnishment project from beginning to end in Singapore.
Key Differentiators
One-year extensive warranty
Employs award-winning contractors and designers
Seamless project management
Client Testimonial
What I loved the most about my experience of working with Livspace is that they do not behave like they run the show – it is solely focused on the client and their vision and requirements. Incredible bunch of people to work with and would recommend them for all those who are looking to redo their home.
6. JS Carpentry & Contracts
JS Carpentry & Contractors are a Singapore-based building construction firm, having worked on thousands of both residential and commercial properties. They can take on any type of property, from pre-owned homes to business units, and they are particularly renowned for their carpentry services. Each custom carpentry job is covered by a three year warranty, while all other renovations are secured with a one year limited warranty.
Key Differentiators
Offers minor and major renovation services for residential and commercial projects
No middlemen fees
More than 60 years of experience
Client Testimonial
Had engaged JS Carpentry while checking the feedback and the pricing on their website.

Was positive about the reviews and pricing as it is being posted online for anyone to make the decision.

As my wife and me had gotten our resale Flat in July and would like to move in quickly for our child to grow in a safe place.

Hence being a bit of a minimalist, had drew out some Ideas on what we need for the Cabinets, it wasn't the best of the sketch and was assigned to Justin to help us in doing a proper sketches and review on the Home renovation.

Was happy with the end result, as Justin was professional and quite talented with his work, hence our idea was accepted and got moulded into reality and will be moving in a shortest time possible, can't be as appreciative as we can right now! Thanks JS Carpentry for the quick work and delivery under 1 week time!
7. Om Decor Pte Ltd
What sets Om Decor apart from the rest is their targeted approach to renovating retail outlets and food establishments for small to medium-sized companies. The company has an experienced team of interior designers and carpenters knowledgeable in commercial space design and building. They are praised for their comprehensive restoration services that cover budget planning, design consultations, furniture detailing and drawing establishment, site inspection, structural QP/PE endorsement, and business certification applications.
Key Differentiators
Competitive price
Renovation contractor specialising in commercial renovations for retail and food spaces
Client Testimonial
My partner and I engaged Om Decor for our commercial unit. Joseph is a very meticulous, patience and creative person. He paid attention to all our requirements and gave good insights on what works and what is just plain impractical. We took his recommendations and are very happy with the results. Thank you and well done to Joseph and the team!
8. Thomson Renovation
For ten years, Thomson Renovation has carried out over 500 restorations on residential and commercial buildings in Singapore. These tasks range from reviving properties of different types to operating on businesses of all sizes. Thomson Renovation prides itself in being very responsive to clients, always taking their suggestions into consideration. Without a doubt, they are one of the best renovation contractors who deliver high quality service in their field.
Key Differentiators
Thomson Renovation renovates all types of homes
Constant updates from the Thomson Renovation team
Thomson Renovation provides good customer service
Client Testimonial
I highly recommend Thomson Renovation.I found the service extremely professional and simple to work with for someone who works full-time and travels a lot. The team had a brilliant understanding of what I liked and didn't like and made the most of my budget to make our home a lovely home. We enjoy all about our new home and I'd suggest it to anyone who wants quality expertise with value for money. For the price I am really pleased with the quality of workmanship and materials, compared to the past few renovations I have had. The process was super smooth and I would definitely hire them again should I need any future renovation work.
9. Chuan Fong Renovation
For over thirty years, Chuan Fong Renovation has grown its reach to nearly a thousand homes and businesses in Singapore, solidifying their place as one of the top renovation companies currently operating. Their services span from residential and commercial remodeling projects to offering electrical solutions for industrial enterprises across the island – all without having any middleman costs like most renovation contractors do.
Key Differentiators
Competitive rates
No-obligation, free consultation services
This renovation contractor's reputation is impeccable
10. KWYM Interior Designs
Founded in 2008, KWYM Interior Designs is a full-service residential and commercial interior design firm based in Singapore that offers clients remodeling services at a reasonable cost. In the time since opening, they have completed hundreds of restorations on properties all over the island, from HDB flats to offices and retail spaces among many others.
Key Differentiators
Renovation prices at competitive rates
With in-house carpentry workshop
Diverse portfolio, including commercial and residential projects
11. TCA Design & Build
Founded nine years ago, TCA Design & Build is a design and build firm based in Singapore that focuses on crafting one-of-a-kind constructions for both residential and business needs – all while ensuring that their creations are of the highest quality available. With an unwavering dedication to their clients, they seek to offer their services regardless of the situation.
Key Differentiators
Multi-awarded firm
Innovative concepts
Modern and unique designs
12. Reno Pro
Reno Pro provides renovation services for residential and commercial properties in Singapore and Malaysia. It can handle most property types on the island, including HDBs, condominiums, BTOs, and landed properties, among others. Reno Pro serves clients from a variety of sectors, including food, insurance, retail, education, and healthcare.
Key Differentiators
Good customer service
Offers full and partial renovation
13. Qanvast
Qanvast is a home remodeling platform that connects homeowners with the appropriate interior design companies. More than 25,000 homeowners in Singapore have used Qanvast to locate interior designers who can meet their demands and requirements. It's constantly reviewed to guarantee its dependability and provide users comfort when utilizing the platform.
Key Differentiators
Efficient home renovation platform
Covers 50% of the contract value
Client Testimonial
I have had the pleasure of working alongside of the IDs Alex Lim from Ace's Design on several renovations on my unit. His professional knowledge, attention to detail and ability to listen and understand clients needs and wants have been valuable. He deliver projects on time and on budget, with happy clients at the end. I will continue to recommend them as a dependable, honest Interior Design.
14. Eight Design Pte Ltd
Eight Design Pte Ltd is a one-stop-shop for all of your house renovation needs. They are both an architect and a contractor for home improvement projects. The company was founded in 1997 by two landscape architects with over 15 years of expertise. They've worked on a wide range of residential and commercial projects, emphasizing creativity and innovation. Their goal is to provide service excellence for the entire project from start to finish to all of their clients.
Key Differentiators
Wide range of projects
Excellent services
Client Testimonial
We only did partial renovation for our new place due to timeline issue. Brandon was helpful in providing detailed timeline for the whole project so we could plan our furniture purchase and moving date accordingly. He's also very responsive whenever we have queries about the design, materials etc and provided good advice to help us save some cost. Even after the renovation is done, he would help to follow up the contractors to fix some minor issues in our house. Good service in overall.
15. New Interior Design
New Interior Design was founded in 2011 to serve the community by providing interior design and carpentry services for remodeling projects or new construction. The team at New Interior Design, which includes professional designers as well as skilled workers and carpenter experts, delivers confidently and skillfully because of it. They take pleasure in being a part of one of the most dependable businesses in the industry. Their years of expertise, abilities, and know-how allows them to work on a wide range of houses and spaces, including but not limited to common homes and condos, kitchens, toilets, and other areas.
Key Differentiators
Diligent and efficient staff
Award-winning company
Diverse portfolio
16. Titanz Interior
Titanz Interior was founded in 2013 and has since expanded to become one of Singapore's most in-demand renovation firms. It handles small residential properties, but it isn't afraid to tackle big renovations. In response to the growing demand for renovations in Singapore, Titanz Interior chose to take direct carpentry into its own hands in order to serve customers more quickly and effectively. It gives its carpenters an edge because most of the work on their projects are carpentry jobs.
Key Differentiators
In-house carpenters able to do bespoke carpentry work
No middleman fees
On-time renovation services
Client Testimonial
Alhamdulillah. Our BTO reno finally completed. We would like to sincerely thank our ID Fahmi Mustakim for making our home renovation a smooth and fuss-free process. He is easygoing, professional,efficient, very flexible and accommodating.

From start to finish, Fahmi has displayed utmost professionalism and creativity in delivering our home renovation project. He gave ideas and at the same time provided all the necessary advise along the way. We share with him the concept we want and also our budget. More importantly, he kept the entire reno on schedule, and completed it just in time.

We definitely were satisfied with our renovation journey with ID Fahmi Mustakim and his team.

Good job guys!!
Will recommend Titanz Interior for sure!!
17. 3D Innovations
3D Innovations has its own team of contractors, designers, carpenters, painters, and craftsmen, resulting in reduced renovation expenses and allow it to do strict quality and material control to make sure that every item used is of quality. If you're interested in their services, you can visit their showrooms around the island to see how they can remodel your HDB apartment into your dream house.
Key Differentiators
Renovation packages
Free quotation
Reduced renovation costs
Client Testimonial
Our ID is Joanne Tay and she has been meticulous and paid attention to every little details which we might have missed. We are satisfied with the end results of the renovation. Will highly recommend her.
18. M2 Décor
M2 Decor has been in business for 30 years. They have established themselves as a one-stop renovation company for interior design and carpentry, in addition to being a renovation contractor. They can even advise you on building layout, furniture choices, and interior design, which is not typically covered by renovation contractors in Singapore. They may also provide a 3D visualization service to help you better envision your area before the structure begins construction.
Key Differentiators
Over 30 years of experience
Value for money
Client Testimonial
Great job helping me to hack certain parts of my house that many other contractors were not confident to hack due to high level of technical skill required. M2 Decor did a great job hacking it seamlessly. Very happy with the workmanship!
19. Childcare Renovation
Childcare Renovation focuses on creating safe spaces for children. They serve both residential and commercial clients, including schools, indoor play centers, medical facilities, and other learning areas for children. They improve safety for infants and children by providing an inviting, secure atmosphere. The organization also ensures that the area is properly planned to enhance kids' cognitive, motor, and social capabilities.
Key Differentiators
Works on both residential and commercial spaces
One of the few renovation contractors that focus on child safety
10 years of experience
20. Jaystone Renovation Contractor
Jaystone Renovation Contractor is a Singapore-based renovation contractor specialising in all aspects of house renovations. It's recognised for offering one-stop renovation services, including consultation, drawing plans, concept development, project costing, and project management. Because it is a direct contractor, no middleman fees will be charged when selecting its services. It would be a fantastic decision for those who want to cut costs.
Key Differentiators
Free quotation
Most work will be done in-house, so cheaper fees
Client Testimonial
Responsible and reliable company. At 1st their worker work without using leveling tool, 2nd day only can see the wall tile some not in even. WhatsApp the issue to them, they able to come and rectify. Just need to monitor their worker to make sure the quality.
21. Unimax Creative
Although Unimax Creative is a lot more than simply a remodeling business (they are an award-winning interior design and renovation firm with a comprehensive range of services), they have been included on our list because they are an outstanding and trustworthy option. They were founded in 1997 and now have a staff of 30 designers and salespeople. To date, they've completed residential and commercial projects that have been wonderfully remodelled.
Key Differentiators
They are an award winning interior design firm
Years of experience
Exceptional final result
Client Testimonial
We enjoyed working with Unimax and our Interior Designer – Tony has been responsive and responsible. We can safely let him handle the coordination with the workers, and the workmanship is superb. The outcome of the renovation matches the ID of the pictures shown. Tony is energetic and does not compromise quality with his work. He constantly updated us on the renovation progress, and spent numerous hours to discuss with us on the designs. We highly recommend Unimax as your one-stop renovation should you are looking for a good and responsible ID/ contractor.
22. ZLC
ZLC is a Singaporean boutique renovation firm that specializes in carpentry, as well as kitchen renovation. The crew that constructs their cabinets has gone through the UrbanKitchen by BLUM program. If you choose this option for renovating your kitchen, not only will it be beautifully created, but the materials utilized will also be of excellent quality and under a BLUM warranty.
Key Differentiators
Competitively priced services
Comprehensive interior and renovation services, especially for kitchen renovation
30 years of experience
23. Renovation Guys
Renovation Guys is one of Singapore's finest renovation contractors, with groundwork, brickwork, plastering, plumbing work, electrical installations, custom carpentry, and flooring finishing services available to residential properties and businesses. What makes it an ideal choice is that it has a competitive pricing policy that enables it to develop a renovation package that fits the budget of its clients.
Renovating a kitchen, bathroom, bedroom, or ceiling can all be done by the renovation firm. Other services include electrical repairs, painting services, and plumbing work.
Key Differentiators
Reno Guys follows a competitive pricing policy
Expert team of carpenters and designers
Over 30 years of experience in the Reno Guys team
Client Testimonial
Very reliable renovation company. Accommodate to my family needs. Easy to reach them when problems/issues occurs. They will definitely resolved the issue. Great service provided! Love the renovation that has been well done. Absolutely beautiful. Thank you reno guys! Special thanks to Mr Faiq.
24. GOAT Creative Studio Pte Ltd
Goat Creative Studio Pte Ltd specializes in building the house of your dreams. They are a full-service renovation contractor and interior designer who is committed to providing service excellence as well as post sales service. From design to carpentry, they are a dynamic renovation company that can deliver the finest possible outcome for your commercial or residential project.
Key Differentiators
Quality services
Exceptional final result
Suitable renovation contractor for both residential and commercial projects
Client Testimonial
Jack made our dream home come true. We understood how tedious home renovation could be but Jack made this experience very worthwhile. He was very responsive and always suggesting ideas for our new home which we appreciated it as we did not think of it. He also came down personally many times to spot check on contractor's work which we were very grateful to.

We finished our house renovation less than 2 months, with all defects fixed. We had some delays in our renovation due to our pandemic situation and contractor not able to get the parts to fix up our cabinets doors. Once done, Jack informed us that he will ask for the carpenter to redo it due to low quality, I felt that as an ID he really went the extra mile to check each part. We highly recommend GOAT Creative Studio and we are very thankful to Jack for his expertise as an ID!
25. Hua Kwang Furniture and Decoration
Hua Kwang Furniture's service is both professional and reliable. They can handle our customer's demands without sacrificing quality, as they have their own manufacturing/warehouse area, allowing them to serve their customers while maintaining quality and at no extra cost as agreed. The owner may give expert advice and recommendations when it comes to the design and furnishings of your project.
They recognize and appreciate their consumers for their unwavering loyalty and referrals. They are dedicated to offering the best craftsmanship and high-quality materials at reasonable prices while also guaranteeing client happiness by being trustworthy always, with over three decades of expertise.
Key Differentiators
Makes sure clients are satisfied
Many experience
Quality service
Client Testimonial
Really glad me and my wife engaged Hua Kwang Furniture as our contractor for our first BTO! Great experience dealing with Mr Pang, very friendly and helpful. Throughout the entire renovation period, he was 24/7 contactable and provided us with many renovation advice and tips. Both of us were very held up with work, but i am glad everything turned out well under the hands of Mr Pang. The quality of the carpentary works were also really good! Everything was above expectation. Knowing we had a tight schedule, Hua Kwang also managed to complete our project in time!

We are very happy customers and definitely if there is any renovation in future, it will always be Hua Kwang Furniture! Great Work!
26. 9 Creation
9 Creation, the best house renovation company in Singapore has several benefits. To begin with, their employees must have extensive expertise in the field of interior design and have acquired a variety of years of training before being hired. This ensures that they only recruit the finest team members, allowing them to achieve the greatest possible level of excellence with each project.
Each crew must also go through training on a regular basis to ensure that they are up to date on industry developments and can continue to deliver industry-leading services in the event of a crisis. Every project has this desire to learn and improve, which is evident in the outcomes that they achieve.
Key Differentiators
Experts in this field
Many years of training
Client Testimonial
Working with Kent of 9 Creation was a very good and pleasant experience.

He was able to capture and propose the basic design ideas of each renovation part. The renovation was major including 3 bedrooms, 1 kitchen and 1 balcony and other minor efforts.

The quote was reasonable and that too after the variations.

The project management was good. The quality and value in the workmanship etc was pretty good.

The follow up efforts were also good.

It is important to work with the ID for an overall successful project and in this aspect, Kent is a very pleasant and reasonable person to work with.
27. Office Empire
Regardless of how your company is evolving, Office Empire can help you with making your new office fit-outs, office relocations and relocations, office modifications, or office restorations an efficient and cost-effective process. Their experienced office renovation teams have all worked in the business relocation sector and believe they've perfected the art of running an office renovation in the most cost-effective manner. They're equally at home with commercial relocations, industrial relocations and factory restorations, large or small scale. Their team is well equipped to handle all aspects of office renovations along with specialised skills in complete refurbishments.
Key Differentiators
Affordable prices
High quality services
28. LAI Renovation
Lai Renovation & Construction has a committed group of experts that is BCA and HDB certified and well-trained. They're 100 percent dedicated to delivering zero mistakes and on time every time, from hacking through dismantling services. You may save thousands of dollars by cutting out the middleman with Lai Renovation & Construction. If you're seeking the help of a renovation company, please trust Lai Renovation & Construction.
Key Differentiators
Well trained team
Cost effective
Client Testimonial
Both Mr Lai and Son Choon Wei are very professional and accomodative. They are very responsive towards any enquiries, patient and take on full resposibility on our full house renovation. Even Covid hits hard they able to fulfill the timeline given. Their contacts and contractors are knowledgable and good. We are able to turn our house into a smart home ultimately our dream home. Best of all our reno is worth the $$$! Thank you so much and keep up the Good Work!
29. TK Contractors
They are a renovation company that offers a wide range of renovation and interior design services. Commercial, industrial, and residential services are available. They've developed their own tiler, electrician, painter, and carpenter workshop among other things by combining their original talents. To preserve high-quality execution, they prioritize execution rather than subcontracting any work (with some exceptions). They've placed their hands on the most effective of it all, resulting in a more efficient renovation contractor. This also allows them to make appointments directly with clients and conduct project discussion sessions in person.
In the case that they outsource any work, they keep a close watch on the end result. Renovation is one of the few businesses that rely heavily on word-of-mouth recommendations. As a result, they want you to feel proud of your job. TK Contractors Pte Ltd ultimately aims to raise the standard of competence in this field. Please trust their dedication to deliver exceptional results and professionalism in every job.
Key Differentiators
High quality execution
Efficient in their work
Seamless project management
Client Testimonial
Used them for my first commercial space. Honest company to work with which only suggest things that are suitable and necessary rather than many others who suggesting unnecessary things to a quick buck that are not in your best interests. Fair and transparent prices. Earnest and hardworking workers (electrical, Plumbing and carpentry) that ensure the job is done fast and well.
30. Hoong Fatt Heng Renovation Pte Ltd
Hoong Fatt Heng, one of the oldest and most reputable renovation contractors in Singapore, has provided renovation works for residential and commercial projects since 1981. Founded by Tony Choo, this renovation contractor is able to help you achieve an exceptional final result, regardless of whether you are renovating your current space or building a new house.
Key Differentiators
Quality work
Decades of experience
Client Testimonial
Tony, the founder is amazing! Highly recommended. My renovated property is beautiful, and my family loves it and commended the great job done. Price wise, it was all very reasonable as well.

Right from initial survey to quotation to actual work and follow up, he was very professional, attentive and super patient. Not only did he try his best to execute as per our requests, he also provided valuable input whenever he thought our designs/ plans were not feasible or practical.
Throughout the renovations, I made numerous major changes to the original plan. This required a lot of schedule changes and coordination on Tony's part. Given the current tight labour shortage, sub contractors are especially tough to manage these days. Yet, Tony patiently acceded to all of my requests and amendments, and ensured that the reno went super smoothly. In addition, Tony also went out of his way to help me rectify other problems in another property simultaneously.

Thank you Tony and team. We will definitely come back to you in future! Definitely worth engaging this renovation company!

Sze May888 Sim
31. Larry Contractors
Finding the right renovation contractor in Singapore is essential to realizing your goal of living or working in your ideal environment. Larry Contactors has the knowledge and experience to handle projects that are tailored to your specific requirements in order to produce outstanding outcomes.
They provide a comprehensive selection of educational topics in practical advise on designs and unique viewpoints on achieving your objectives if you're unsure about what you want. They value their clients', which encourages them to strive for excellence in their services, performances, and management to achieve good results.
Key Differentiators
Quality results
Makes sure clients are satisfied
Client Testimonial
I highly recommend Nee Meng from Larry Contractors. Their services are professional and great to work with. All the planning works are well scheduled and timely during the renovation period. It was a hassle free journey for my resale flat renovation. Pricing was affordable and high quality workmanship! Thank you for the great work!
32. Diva's Interior
In Tradehub 21 in Singapore, Diva's Interior is a home interior design firm that was founded in 2014 to provide high-quality and expert interior design and remodeling services for their customers.
They are the ideal business for you if you are searching for fresh and creative interior design ideas for your house, need assistance with your house renovation project, or want to develop an office space that maximizes productivity and efficiency.
Key Differentiators
Affordable & Efficient
Quality work
Client Testimonial
We engage Diva's through Renodots's recommendation. Our ID is Zune. He is meticulous, offer advise which was helpful as we were 1st time home owner and takes time to understand our needs. We send him some inspiration photos from Pinterest and he execute that to exactly what we wanted given the space constraint that we have. We are very happy with his service and will definitely recommend him to other home owners looking for a reliable ID.
33. Casa Interior Design Pte Ltd. – Renovation Singapore & Interior Design
Casa Interior Design takes pleasure in our work and is completely dedicated to client happiness, as they are one of the most prominent interior design and renovation firms. In every job, they deliver the quickest turnaround time and high-quality workmanship available. Their employees are fully focused on their clients' demands.
Key Differentiator
Award-Winning Interior Design & Renovation Company in Singapore
Client Testimonial
ID: Calvin

My family was extremely satisfied with the level of professionalism and effort that Casa and the ID, Calvin, had committed during the duration of the renovation. Calvin had been very patient and helpful throughout the months, attending to all concerns and requests that we had with regards to the renovation works.

The end product of the renovation was delivered smoothly and our home had been aesthetically improved with a beautiful interior within the kitchen and bathrooms
Renovation Contractor in Singapore
Are you looking for a renovation contractor for your home? Fear not – our list of some of the most trusted Singapore-based companies should give you plenty of good options no matter what kind of service you require, from general kitchen renovation down to specific jobs such as plumbing or carpentry works. In case one of them appears to be just right for the job, please contact us with your needs so that we can assist in choosing an excellent fit. Here's wishing all the best with all future renovations – may this article prove helpful!
If you liked reading this article, check the links below to read similar articles:
Frequently Asked Questions (FAQ)
If you have any questions about renovation contractors in Singapore, you can refer to the frequently asked questions (FAQ) about the best Renovation Contractors Singapore below:
Additional Useful Articles
If you are looking for other useful guides and articles about best renovation contractors in Singapore, check them out below: