Wedding Gown Rental Singapore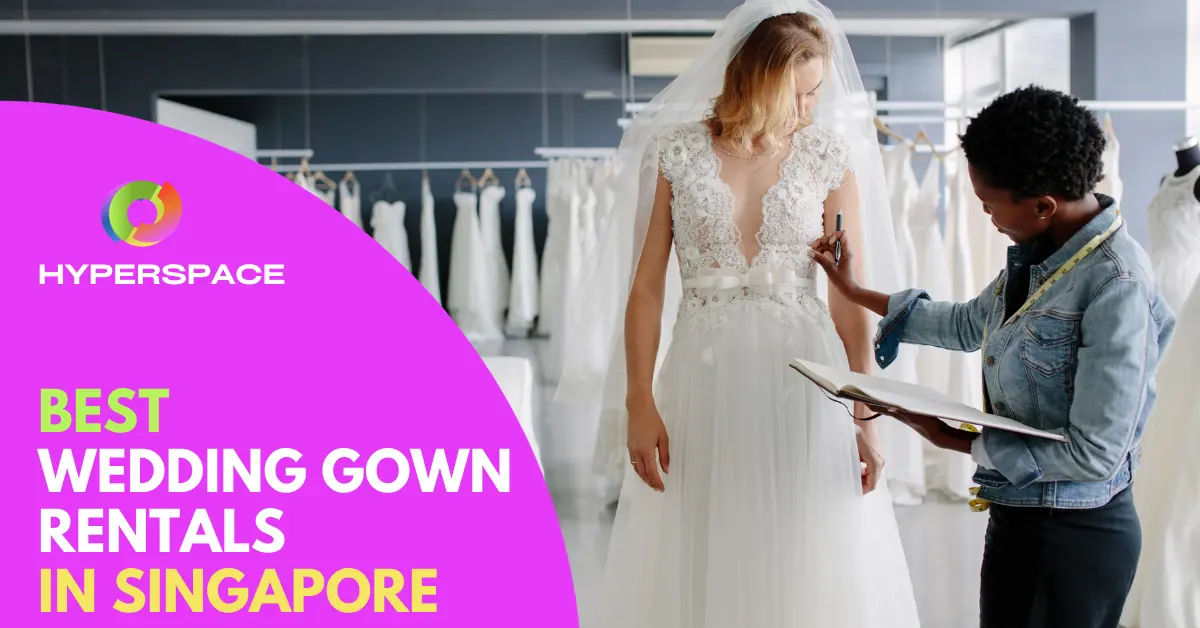 When planning the perfect wedding, one of the key aspects that requires meticulous attention is the bridal gown.
The best shops for wedding gown rentals in Singapore include Digio Bridal, The Gown Warehouse, Louvre Bridal, and La Belle Couture.
When selecting a rental shop for wedding gowns in Singapore, take into account factors like the range of options, affordability, customer service, quality, and style.
In Singapore, there is a wide selection of wedding gown rentals that provide a variety of stylish and high-quality bridal wear.
This guide offers a curated list of top wedding gown rentals in Singapore for your perfect dress that exudes elegance on your special day.
Quick Summary
Best shops for wedding gown rentals in Singapore include Digio Bridal, The Gown Warehouse, Louvre Bridal, and La Belle Couture.
When choosing a wedding gown rental shop in Singapore, consider factors such as variety, budget, customer service, quality, and style.
Wedding gown rentals in Singapore offer a diverse range of stylish, high-quality bridal wear that caters to various tastes and budgets, ensuring every bride can walk down the aisle in her dream dress.
Key Consideration Factors
When choosing a wedding gown rental in Singapore, make sure to consider these important factors:
Variety: Choose a shop that offers a wide range of styles and designs to suit your preferences.
Budget: Determine how much you are willing to spend and find a rental shop with options within your budget.
Customer Service: Look for shops that offer excellent customer service, as they will assist you in finding the perfect gown and make sure it fits perfectly.
Quality: Make sure the gowns are of high quality and have been well-maintained to ensure you look flawless on your special day.
Style: Every bride has a unique style, so choose a rental shop that offers options that align with your personal taste.
Best Wedding Gown Rental Singapore
1) Digio Bridal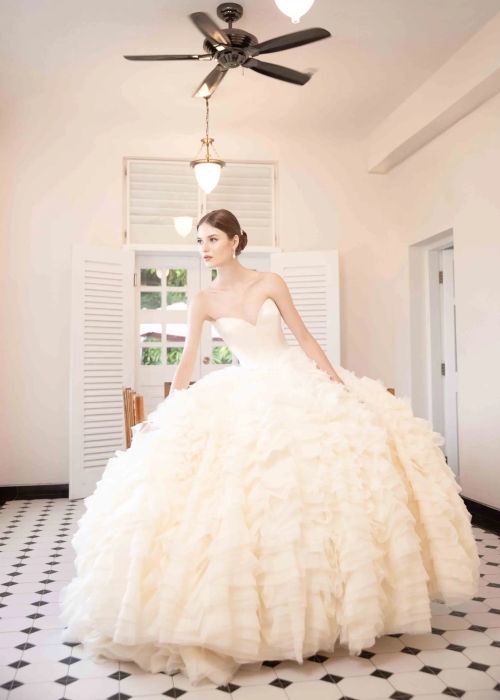 When it comes to discovering a rental shop that offers a wide variety of choices, Digio Bridal is the ultimate destination. With their extensive assortment of wedding dresses, conveniently categorized by designs, colors, and lengths, they unquestionably hold the title for the best place to rent wedding gowns in Singapore.
With their meticulously arranged system, effortlessly navigate through their extensive wedding gown collection to discover your dream bridal dress at Digio Bridal. If you're on the hunt for the perfect wedding gown, look no further than Digio Bridal – your ultimate destination.
2) Cang-Ai Wedding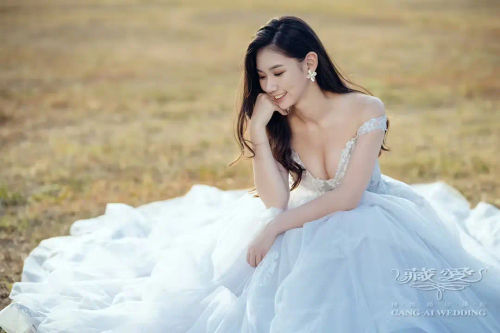 Key Services:
Taiwan-designed gowns
Website:
https://www.cangaisg.com/
Address:
85 Tanjong Pagar Road (088506)
Phone:
+ 65 62208520
Email:
cangai@hotmail.com
Operating Hours:
Monday – Friday: 12:00 – 21:00
Saturday – Sunday: 11:00 – 21:00
Experience the pinnacle of bridal elegance at Cang-Ai Wedding, where dreams are transformed into reality. Indulge in a realm of exquisite Taiwan-made dresses, intricately designed to make you the most enchanting bride imaginable.
With an unparalleled collection of breathtaking bespoke gowns, their boutique presents a captivating range of styles to cater to every bride's individual taste and personality.
Experience the joy of trying on a variety of styles, from delicate lace to sleek satin, until you discover the one that captures your heart. Let their team of skilled consultants accompany you on this magical journey, ensuring that each moment is filled with wonder and joy.
Make your wedding day an unforgettable occasion, dressed in a breathtaking Cang-Ai Wedding gown that will leave everyone in awe. Step into the spotlight and be the most radiant bride anyone has ever seen. Visit their boutique today and watch your bridal dreams come true.
3) Luna Bianca
| | |
| --- | --- |
| Key Services: | Wedding Gown Rental, Intimate Wedding Packages, Pre-Wedding Photography, Wedding Day Photography |
| Website: | www.LunaBianca.com.sg |
| Address: | 21 Tan Quee Lan Street, Heritage Place #01-02, Singapore 188108 |
| Phone: | 63389839 / 81142888 (Whatsapp) |
| Email: | Hello@LunaBianca.com.sg |
| Operating Hours: | 12pm – 9pm, Daily |
Situated in the lively Bugis district of Singapore, Luna Bianca Bridal boutique is committed to providing an unmatched bridal experience that exceeds all expectations. Their utmost aim is to guarantee top-notch service for every wedding couple, creating timeless and unforgettable memories.
At Luna Bianca Bridal, customers can indulge in a wide array of stunning wedding gowns sourced from Europe. Each design is meticulously crafted to fulfill every bride's dream. Whether you're looking for a breathtaking gown to rent or a captivating pre-wedding photoshoot with our talented photographer, Luna Bianca Bridal is honored to be a part of your extraordinary wedding journey.
Luna Bianca Bridal recognizes the uniqueness of every love story. This is why they provide personalized wedding packages and a diverse selection of à la carte options, enabling customers to customize their wedding experience according to their specific preferences.
Luna Bianca Bridal strives to transform each customer's vision into reality and curate a celebration that truly embodies their distinctive style and personality.
4) Louvre Bridal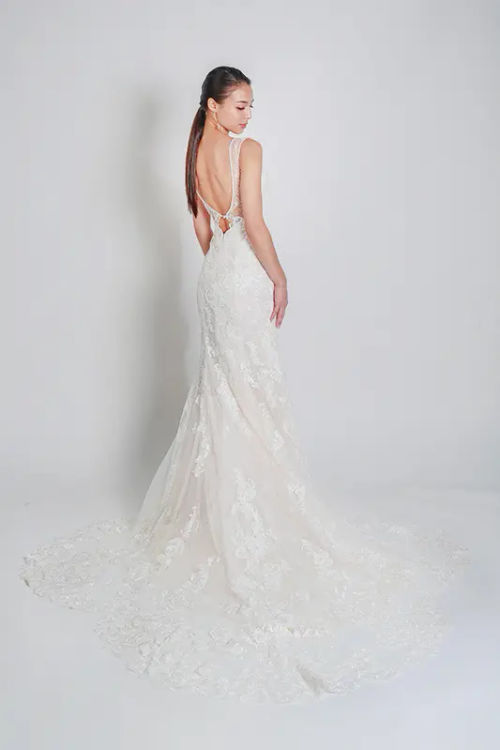 Inspired by the sophistication and elegance of the Louvre Museum, The Louvre Bridal shop exudes beauty in every aspect. With a focus on celebrating individuality, they offer a unique collection of wedding gowns and bridal attire that are true works of art. Brides in Singapore can explore a range of versatile wedding dresses and evening gowns that enhance their natural beauty.
The bridal shop offers a wide range of unique and exquisite bridal gowns. You can explore the latest designs from Korean, Japanese, and local designers, all available for rental.
Whether you envision a classic princess look in a traditional ball gown or a contemporary and daring mermaid dress, they have a premium selection of bridal dresses and colored evening gowns to suit your preferences.
5) Yvonne Creative Bridal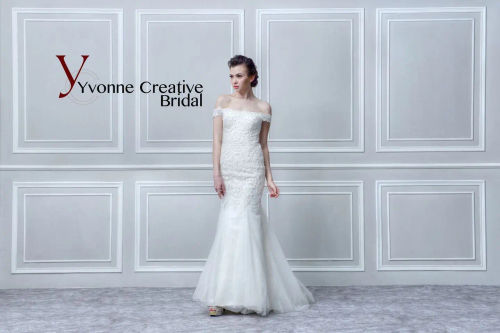 Key Services:
• Wedding and evening gown rental
• Makeup and hairstyling
• Pre-wedding and actual day photography
• Actual day videography
• Bridal bouquet
• Wedding car decoration
Website:
http://yvonnecreative.com.sg/
Address:
3 Ang Mo Kio Street 62, Link @ AMK #03-08, #03-09 (Show Room), #07-09 (Studio), Singapore 569139
Phone:
+65 6292 0342 / +65 6227 8830 (Tel)
Email:
sales@yvonnecreative.com.sg
Operating Hours:
12pm – 9pm (Mon, Wed – Sat), 11am – 8pm (Sun)
Yvonne Creative Bridal is a wedding business with a strong reputation for reliability, backed by over 23 years of exceptional expertise and experience. Leading this esteemed establishment is Yvonne Tan, the visionary director and creative mastermind behind the brand.
Yvonne Creative Bridal is dedicated to delivering exceptional quality, specializing in designing unique and personalized wedding gowns. Each gown is meticulously crafted to showcase the bride's individuality, ensuring an unforgettable wedding day experience.
Yvonne and her dedicated team put their utmost passion and dedication into designing a gown that reflects the bride's dreams and aspirations. At Yvonne Creative Bridal, brides can anticipate meticulous attention to detail, flawless artistry, and a personalized journey that exceeds expectations.
6) Love, Fioyo
| | |
| --- | --- |
| Key Services: | Wedding Dress Rental, Wedding Gown Rental, Intimate Wedding Packages |
| Website: | www.lovefioyo.com/rent-couture |
| Address: | 91 Bencoolen St, #06-06 Sunshine Plaza, Singapore 189652 |
| Phone: | +65 8878 0918 |
| Email: | support@lovefioyo.com |
| Operating Hours: | Open 24 hours |
Love, Fioyo is the perfect place for all your bridal fashion desires, offering a wide range of styles from everyday looks to exquisite couture gowns. With the convenience of online rentals, especially in today's new normal, you can easily elevate your outfits with Fioyo's innovative Convertible dresses.
Experience the versatility of "One Design. Multiple Looks" and add depth and character to your wardrobe effortlessly. Centered on fashion sustainability, our outfits are designed to be versatile for weddings and events. Furthermore, these stunning convertible bespoke gowns can easily transition into everyday attire!
Love, Fioyo provides a diverse range of wedding dresses, allowing you to showcase your personal style, whether it's simple, modern, minimalistic, classic, bold, or adventurous.
Aligned with their brand philosophy of "Be your own label," Love, Fioyo seeks to empower women and brides to embrace their individual style and personality.
7) La Belle Couture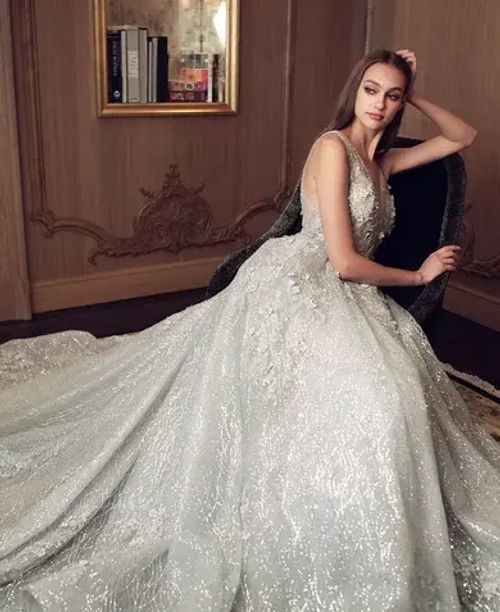 For those seeking a bridal boutique in Singapore that offers more than just beautiful wedding dresses, La Belle Couture is the ideal option. Setting itself apart from other bridal stores in Singapore, it provides a wide range of wedding-related services, such as wedding planning and photography.
La Belle Couture offers a stunning assortment of more than 250 wedding dresses, carefully crafted by acclaimed international bridal fashion designers.
According to feedback from previous clients, working together with them is a breeze. One client even mentioned that their team is made up of wonderful, creative, and passionate individuals who deliver exceptional service. Additionally, the unique items in their package caught their attention due to their exclusivity.
8) Wedding Crafters
The WeddingCrafters gown collection is meticulously crafted with love and care in their intimate studio. It exudes a whimsical and romantic aesthetic, ideal for the contemporary bride. The #WCstyle showcases captivating floral appliques, intricate laces, and stunning fabrics.
From tulle to organza, crepe to lace, our creative process begins with a vision of the possibilities that lie within the fabric. Gradually, this idea takes shape and evolves from a concept into a tangible reality. The Wedding Crafters dedicate themselves to crafting new designs every 4 months, tailored to meet the individual needs and desires of each bride.
9) The Gown Warehouse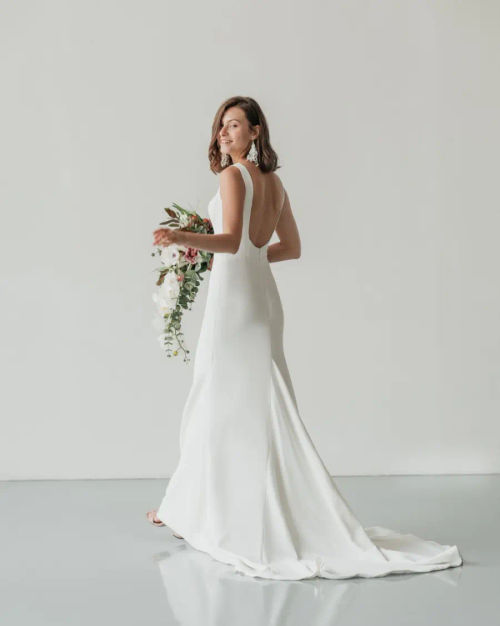 The Gown Warehouse is a boutique specializing in bridal gowns, offering a distinctive lifestyle concept for couples in Singapore seeking their ideal wedding dress.
True to its name, The Gown Warehouse provides a diverse selection of wedding gown designs that embody the latest trends, ensuring a comprehensive and captivating experience for brides as they embark on their search for the perfect dress.
The Gown Warehouse promises a vast array of options and a mesmerizing experience for every bride who steps into their boutique. Get ready to be enchanted by their renowned lace and meticulous craftsmanship.
10) Fleur D'sign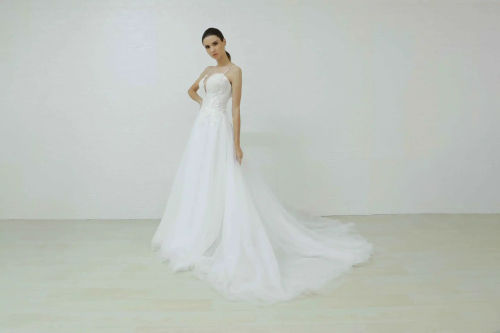 Key Services:
Bridal Boutique, Wedding Florist, Bridal Studio
Website:
https://fleurdsign.com
Address:
371, Upper Paya Lebar Road #01-05
YiKai Court, Singapore 534969
Phone:
+6591698088
Email:
sales@fleurdsign.com
Operating Hours:
Monday – Off
Tuesday to Friday – 11am to 9pm
Saturday & Sunday – 10am to 6pm
Public Holiday – Off
Flourish Designs provides all the essential elements for a bride-to-be's dream wedding. Whether you have a traditional or modern style preference, and whether you opt for a ready-made or custom wedding gown, you can rely on them to assist you in finding the ideal dress at an affordable cost. Their team of stylists ensures a personalized experience that brings your bridal vision to life.
Fleur D'signs offers a wide selection of rental gowns to suit various styles and preferences, including modern, antique, and bohemian designs. If the available dresses don't meet your needs, they also provide the option for custom-made gowns.
The most attractive feature is the complete lack of hidden fees! Fleur D'sign boutique in Singapore also provides wedding packages and beautiful floral arrangements to guarantee a breathtaking and stress-free wedding. Their bridal services include makeup, photography, and flowers – Fleur D'sign boutique has everything you need taken care of.
Wedding Gown Rental Singapore
In conclusion, Singapore boasts an impressive array of bridal boutiques that offer a diverse range of wedding gowns to suit every style, preference, and budget.
From vintage to modern, bohemian to classic, these boutiques offer meticulously crafted designs, personalization options, and comprehensive bridal services.
Whether you're looking for a rental gown or a custom-made design, these boutiques ensure a personalized and memorable experience, helping every bride to feel beautiful and confident on her special day.
Frequently Asked Questions (FAQ)
If you have any questions about wedding gown rentals in Singapore, you can refer to the frequently asked questions (FAQ) about the best Wedding Gown Rental Shops in Singapore below:
What are the best shops for wedding gown rentals in Singapore?
The best shops for wedding gown rentals in Singapore include La Belle Couture, Louvre Bridal, The Gown Warehouse, and Digio Bridal.
What does it cost to hire a wedding dress?
The price range for renting a bridal dress in Singapore varies from $500 to $2000, depending on the chosen wedding boutique and specific gown.
What is a good wedding gown budget?
For a wedding gown in Singapore, it is advisable to have a budget ranging from $1000 to $1500. This range provides a wide selection of gowns from well-established bridal boutiques. However, it is important to note that the final cost may vary based on any additional services or alterations required. It is always recommended to have a discussion with the desired wedding boutique regarding pricing and budget beforehand.
How does gown rental work?
When renting a gown, the usual process involves choosing a wedding dress from the boutique's collection, trying it on for fitting and alterations, and then returning it after the event. Some boutiques might also provide extra services like gown cleaning and preservation. To ensure a seamless rental experience, it's important to discuss all the specifics with the boutique in advance.
What are the advantages of opting for wedding dress rentals instead of purchasing a gown?
Wedding dress rentals offer several advantages over purchasing a gown. Firstly, they provide access to a wide variety of designer gowns and styles, allowing you to find your dream wedding gown without the hefty price tag. Additionally, renting a gown eliminates the need for long-term storage after the wedding, saving you space and hassle. Lastly, wedding dress rentals are often more affordable compared to buying a gown outright, making it a practical choice for budget-conscious couples.
Can I also find wedding photography services along with gown rental packages?
Yes, many gown rental providers in Singapore offer comprehensive packages that include wedding photography services. These packages allow you to not only rent your dream wedding gown but also capture beautiful memories through professional photography. By opting for such packages, you can enjoy the convenience of booking multiple wedding services in one go, saving you time and effort during the planning process.
Do gown rental packages usually include accessories like a wedding veil?
Yes, most gown rental include accessories like a wedding veil. Renting a wedding veil is a cost-effective option as it complements your gown without the need for separate purchase. When selecting a gown rental package, inquire about the availability of accessories such as veils and bridal bouquets, so you can complete your bridal look without any additional hassle.
Are wedding suits available for rental as well, or only wedding gowns?
Many gown rental providers also offer wedding suit rentals for grooms and groomsmen. This allows couples to conveniently rent their wedding outfits from the same provider, ensuring a cohesive and coordinated look for their big day. Whether you prefer a classic tuxedo or a modern suit, inquire about suit rental options when exploring gown rental providers in Singapore.
Can I find makeup and hairstyling services along with gown rental packages?
Yes, it is common for gown rental packages to include additional services such as makeup and hairstyling. These packages provide a one-stop solution for all your bridal needs, allowing you to have your dream wedding gown, professional makeup, and hairstyling services all in one package. Make sure to inquire about the availability and details of these services to ensure they align with your preferences and vision.
Are there affordable gown options available for rental in Singapore?
Absolutely! There are numerous bridal shops and gown rental providers in Singapore that offer a wide range of affordable gowns for rental. These affordable gown options cater to different budgets while still providing beautiful and high-quality choices. When searching for gown rental services, explore various providers to find the best options that suit your style and budget, helping you fulfill your wedding dreams without breaking the bank.
Additional Useful Articles
If you are looking for other useful guides and articles about wedding gown rentals in Singapore, check them out below: