Dessert Singapore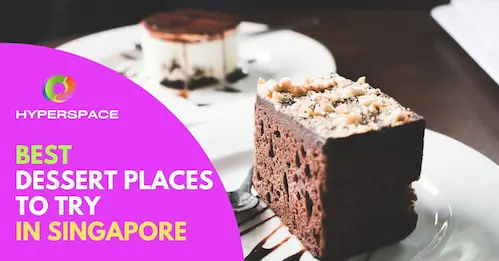 In Singapore, the dessert scene is a delightful fusion of cultural heritage and innovative creations that push the boundaries of dessert art.
The best dessert places in Singapore are Drips Bakery Cafe, DOHKIE, Mrs. Plumps, Dolç Patisserie, and KURA.
When choosing a dessert spot in Singapore, consider factors like pricing, quality of ingredients, variety of options, location, and operating hours.
Ice kachang, chendol, as well as traditional pastries such as ang ku kueh and mooncakes, rank high among the delightful desserts cherished by numerous people in Singapore.
So keep reading if you're ready for some indulgent sugary delights that will surely satisfy your cravings.
Quick Summary
Best dessert places in Singapore are Drips Bakery Cafe, DOHKIE, Mrs. Plumps, Dolç Patisserie, and KURA.
When selecting a dessert place in Singapore, take into account elements such as pricing, ingredient quality, range of options, location, and operating hours.
Ice kachang, chendol, and traditional pastries like ang ku kueh and mooncakes are among the top Singaporean desserts enjoyed by many.
Key Consideration Factors
Types of Dessert Available: What kind of dessert do you feel like having? Are you looking for something classic or something more intricate and extravagant? There are plenty of choices in Singapore, including ice cream, pastries, cakes, tarts, hot desserts and more.
Price: Depending on the type of treat you're after, prices can range from affordable to steep. It's important to check out what's available within your budget range.
Location: It's always a good idea to find out the location of the dessert shop before you head on over. This is especially helpful if you're looking for something close or convenient for friends or family.
Customer Service: Do some research on the customer service and ambience of the dessert shop. If you're looking to throw a special event, make sure that their staff are professional and friendly.
Best Dessert Singapore
1) Drips Bakery Cafe
Key Services
Round and baked tarts, Dessert Singapore
Website
www.drips.com.sg
Address
Tiong Bahru:
82 Tiong Poh Road #01-05
Singapore 160082

Takashimaya:
391 Orchard Road #B2-31 Takashimaya Shopping Centre Ngee Ann City
Singapore 238872
Phone
62220400
Email
dripbakerycafe@gmail.com
Operating hours
Tiong Bahru:
Sunday to Thursday: 9AM – 9PM
Friday and Saturday: 9AM – 10PM

Takashimaya:
Daily: 8AM – 9PM
At Drips Bakery Café, an artisanal café in the heart of Tiong Bahru since 2010, we are devoted to providing you with a unique gastronomic experience. Our signature tart – Seasonal Fruit Tart – is crafted from only the most premium ingredients and fruit procured from all over the world. Enjoy its delectable sweetness resulting from fresh fruits paired with Madagascar vanilla-infused custard enveloped by our luxurious handcrafted French butter tart shell. Indulge in this extraordinary culinary delight!
Key Differentiators
Artisanal dessert café
Famous for its signature tart
Uses quality ingredients
Customer Review
Hello! My friend and I had the pleasure of trying out your newly opened cafe at Takashimaya. We absolutely adored both the pastries and, especially, the exceptional services provided by your friendly staff members. With their positive energy, attentiveness to detail and outstanding customer service attitude – we just have to express our utmost appreciation for them all! Please pass along our heartfelt gratitude when you can.

@grouchytigeress
2) DOHKIE
Since 2018, DOHKIE has been spicing up Singapore with the first and only edible cookie dough shop. Not a day goes by without us whipping up something special—fresh cookie dough made daily in 8 delectable flavours to tantalize your taste buds! Indulge your sweet tooth with deliciousness from DOHKIE.
Key Differentiators
First and only edible cookie dough shop in Singapore
Offers 8 unique flavours of cookie dough
Dine-in and takeaway options available
Customer Review
Their staff is the epitome of unintrusive but always helpful and welcoming. They've made the small space conducive for hanging out with friends or chilling alone if you have none. Also the branding is perfection. Is it a fishball? A potato? Nobody knows!! But maybe, just maybe, an unbaked cookie. Thanks for being the definitive DOH joint here in Singapore.

Anonymous
3) Mrs. Plumps
| | |
| --- | --- |
| Key Services | Healthier-alternative ice creams, Dessert Singapore |
| Website | www.mrsplumps.com |
| Address | imPAct@Hong Lim Green, 20 Upper Pickering St, #01-01, Singapore |
| Phone | 9186 5011 |
| Email | mrsplumps.icecream@gmail.com |
| Operating hours | Monday to Friday: 12:30PM – 6:30PM |
Mrs. Plump, a mom of two picky preschoolers, created the original superfood ice cream in Singapore! She ingeniously blends fruits and vegetables into their beloved dessert by using agave, dates and other naturally sweet ingredients to satisfy their sugary cravings while adding all the necessary nutrition they need. Kale, chia seeds and berries are carefully emulsified for an incredibly tasty treat that will have everyone fooled!
Key Differentiators
Uses natural and organic ingredients
Contains hidden fruits and vegetables
Healthy ice cream alternative
Customer Review
I'm telling you, this is the most divine vanilla ice cream I've ever tasted! Whether it's Chocolate Kale or their keto variety; my son raves about the Vietnamese Coffee flavor. Not only do they make delicious treats but they also care for our environment by using eco-friendly packaging.

Anonymous
4) Dolç Patisserie
Key Services
Patisserie cafe serving food, beverage and desserts, Dessert Singapore
Website
www.dolcpatisserie.com
Address
67 Kampong Bahru Road #01-00
Singapore 169371
Phone
96784686
Email
dolcpatisserie@gmail.com
Operating hours
Monday, Wednesday to Saturday: 9AM – 6PM
Sunday: 10.30AM – 5PM
Closed on Tuesday
Dolç Patisserie is a unique pastry shop merging French cooking methods with modern tastes and Iberian influences. Using only the highest quality ingredients, Dolç manufactures mesmerizing treats that are both exquisite in flavour as well as visually attractive. In an effort to bring Barcelona's classic desserts to Singaporeans, exclusive baked items will be made available during limited times of the year showcasing Spain's renowned dessert culture. Whether it is a warm buttery croissant or petit gateaux – there will always be something special at Dolç Patisserie to tantalize your sweet tooth!
Key Differentiators
French-inspired pastry shop
Uses high-quality ingredients
Offers limited-time treats influenced by Spanish dessert culture
Customer Review
We are so elated to have stumbled across this patisserie with delicious desserts and croissants! We made two visits, sampling the Ham & Cheese Croissant, Royale (dark chocolate dessert), Charlotte (strawberry mousse with basil), and Elsie (cream cheese yogurt & coconut). All of them were absolutely scrumptious – truly satisfying! Needless to say, we'll definitely be back for more.

Seyeon Jeon
5) KURA
Key Services
Pastry bakery shop, Dessert Singapore
Website
www.kura.sg
Address
46 Kim Yam Road, The Herencia, #01-07
Singapore 23935
(Located at Drop Off Point B)
Email
hello@kura.sg / order@kura.sg
Operating hours
Daily 11AM – 6PM
The name KURA is a combination of the two co-founders' names, Koojee and Rachel, but it also has an additional meaning in Japanese for a small house that stores precious items. The founders have artfully incorporated both French techniques with Japenese flavours to create delightful artisan pastries.
Key Differentiators
Serves up both Traditional and Western Drinks. R
Having almost all sorts of flavours ranging from Fruit base to Tea base to Dark Chocolaty Base
Japanese dessert place
Customer Review
Their signature tart is an absolute delight for chocolate lovers! Each layer of coconut milk and dark chocolate mousse, followed by a buttery base bursts with flavor that will put even the most grumpy person in good spirits. This delectable treat is especially great for women during "that time of the month," but it's also perfect to be enjoyed all year round – no matter your gender.

Raelynn Burge
6) Dessert First
Key Services
Retail sales of Hot & Cold Desserts. Also partnering with delivery platforms like Grabfood & Foodpanda.
Website
www.dessertfirst.shop
Address
8 Liang Seah Street #01-04
Singapore 189029
Phone
92415672
Email
dessertxian@gmail.com
Operating hours
Monday to Thursday: 12.30PM – 12.30AM
Fridays to Saturday: 12.30PM – 1.30AM
Sunday: 12PM – 12.30AM
Since 2009, Dessert First has been providing mouth-watering desserts made with the purest natural ingredients. Located in Liang Seah, their inviting atmosphere and budget-friendly treats make for a delightful experience. Refresh your taste buds with uniquely flavored shaved ice – from mango to durian! Or indulge in classic Belgium Waffles topped off with delectable ice cream that is sure to delight any dessert lover. Come join us at Dessert First today – you won't be disappointed!
Key Differentiators:
Uses fresh and natural ingredients
Home-made Belgium Waffles
Variety of flavoured snow ice/shaved ice
Customer Review
Dessert First is a top-notch spot for desserts! Their food is of high quality, reasonably priced, and served with outstanding customer service. I recently tried the Durian Ice & Thick fluffy Salted-Caramel Waffle; it was absolutely delicious and I highly recommend it! Without doubt, I'll be back here again soon to satisfy my sweet tooth cravings.

Anonymous
7) The Tiramisu Hero
Craving an up-to-date twist on the classic Italian treat? Look no further than The Tiramisu Hero – where unparalleled customization options are available that you won't find anywhere else. Located in Jalan Besar's vibrant neighbourhood, this outlet has been serving authentic tiramisu since 2013. You can choose from a variety of flavors like hojicha, yuzu and Milo; as well as specify your preferred wetness level, sweetness levels and even alcohol content! So come by to taste why we're known for having some of the best tiramisus around.
Key Differentiators
Authentic Italian-style Tiramisu
Wide range of customizable options
Up to 20 available flavours
Customer Review
The price and portion are really worth it. We didn't try the tiramisu because we were very full but we did tried the chocolate tester and yum, the chocolate with dried strawberry tastes good.

Anoynmous
8) Melted Bakehouse
Satisfy all your melty cheesecake dreams with Melted Bakehouse's selection of seven delicious renditions of the trendy basque burnt cheesecake. From their crowd-pleasing Forest Basque Burnt Cheese Cake, generously topped with a variety of berries, to the decadent Chocolate Basque Burnt Cheese Cake made from Valrhona chocolate fudge and cocoa powder atop its charred crust – you won't be disappointed! Served always with an honest heart and quality guaranteed, choose Melted Bakehouse for all your cheesy cravings.
Key Differentiators:
Flexible pick up time for self-collection at any hour of the day
Quick replies & confirmation at any hour of the day
High-quality ingredients used
Customer Review
I'm incredibly grateful to meltedsg for the gorgeous cake! My kids were absolutely delighted when they saw it. The intricate design was impressive, but even better, the cake tasted delicious! I would highly recommend them for any special occasion sliced cakes you need.

Ken Koh
9) The Durian Bakery
Ready for a delicious experience? The Durian Bakery creates mouth-watering durian desserts that will be sure to make even the pickiest eaters happy. With their trademark attention to detail, each cake is made with love and adorned with exquisite decorations – making it an ideal choice for any birthday celebration. If you're looking for something extra special, take advantage of their exclusive range of birthday cake accessories!
Key Differentiators
Uniquely crafted durian cakes
Customizable decorations and accessories
High-quality, premium ingredients used
Client Testimonial
The durian taste is so authentic! Probably the best durian pastry I ever had. Went to their store since i was nearby and bought a box of the durian puff. Friendly counter staff. Used to think emicake durian puff is the best but this win hands down! Will definitely purchase again and try other products. Good job!

A Happy Customer
10) Nasty Cookie
Key Services
Handcrafted gourmet cookies baked to perfection, Dessert Singapore
Website
www.nastycookie.com
Address
Nasty Cookie @ Funan:
107 North Bridge Road, Funan Mall #02-35
Singapore 179105

Nasty Cookie Factory @ Kaki Bukit:
1 Kaki Bukit View #01-02
Singapore 415941
Email
hello.nastycookie@gmail.com
Operating hours
Funan:
Daily: 12:30PM – 9PM

Kaki Bukit:
Weekdays: 10AM – 8:30PM
Weekends: 1PM – 8:30PM
In October 2018, Nasty Cookie made its debut in Singapore as an innovative New-York gourmet cookie shop. With a crunchy, chunky and chewy combination of textures like no other, the jumbo NY inspired cookies are crafted with only premium dark couverture chocolate for an indulgent taste that hits just the right balance between rich sweetness – these aren't your ordinary treats! Let your taste buds be tantalized by this unique delight; get ready to experience something superiorly different with every delicious bite of nasty cookies.
Key Differentiators
Handcrafted, freshly baked cookies
Premium dark couverture chocolates used
Unique texture and luxurious taste
Customer Review
These delectable flavour bombs are the ideal combination of sweetness and crunch. With every bite, your taste buds will be tantalized by their crispy outer layer paired with an ooey-gooey center. I highly suggest you try these Lotus and dark chocolate cookies–they're delicious! What's more, there's still many flavors to explore here: red velvet or peanut butter anyone? Regardless, I guarantee it'll be worth the trip back for another visit!

Su L
11) FLOR Patisserie
Key Services
Japanese-inspired French pastries bakery, Dessert Singapore
Website
www.cakeflor.com.sg
Address
Siglap:
42 Siglap Drive, Singapore 456167

Duxton Hill:
2 Duxton Hill #01-01, Singapore 089588

Capitol:
13 Stamford Road #01-11 Capitol Singapore, Singapore 178905
Phone
Siglap: 62430813
Duxton Hill: 62238628
Capitol: 69777202
Email
sales@cakeflor.com.sg
Operating hours
Siglap: 11AM – 6PM
Duxton Hill: 11AM – 7PM
Capitol: 11AM – 7PM
FLOR Patisserie serves a unique assortment of exquisite Japanese-inspired French pastries, crafted with only the purest and freshest ingredients. Our signature treats are heavy on fresh fruit and lighter in flavour than your typical French pastry. From our iconic Strawberry Shortcake to Yuzu Strawberry Tart, you'll be sure to find something that pleases your palate – not to mention our ever-changing Tofu Chiffon cake with its delicious seasonal flavours! At FLOR Patisserie we believe in honest baking; come by for a taste today.
Key Differentiators
Unique Japanese-inspired French Pastries
Fresh high-quality ingredients used
Seasonal flavours available
Customer Review
To say I enjoy Flor's delectable cakes is an understatement; they are simply Divine! Recently, I ordered a Mont Blanc cake for online delivery and the presentation was superb. It was clear that much effort had gone into crafting it. Our family devoured it in no time! Additionally, two weeks ago at your Capitol outlet, the staff went above and beyond by giving me a carpark coupon due to my spending – proving just how passionate I am about your wonderful confectioneries.

Brillyn Toh
12) The Wonderment Collective
Key Services
Premium Gifting Company that provides artfully handcrafted bakes – both traditional and western delicacies – in beautifully designed packaging, Dessert Singapore
Website
www.thewondermentcollective.com
Address
90 Lorong 23 Geylang, #01-01 Agrow Building
Singapore 388393
Phone
6980 0793
Email
enquiries@thewondermentcollective.com
Operating hours
Weekdays: 10AM – 6PM
Saturday: 10AM – 1:30PM
Closed on Sunday and Public Holidays
For over 90 years, the family of TWC has been sharing their time-honored recipe for Pineapple Tarts and other delectable bakes. With a sweet yet balanced flavor profile from locally sourced ingredients and a hint of delicate spices that enhance the pineapple jam, you won't need to look any further than TWC's exquisite tarts once you've tried them. Perfectly caramelized with love in each bite – it'll be sure to tantalize your taste buds!
Key Differentiators
Locally sourced ingredients
Hint of delicate spices in the pineapple jam
Caramelized with love in each bite
Customer Review
At The Wonderment Collective, it's not about noisy fun and merriment. We invite all of our guests to bask in the tranquility of this sacred place as a moment for inner peace and introspection. It may be ideal for those special first dates but TWC is even better when you just want some time alone with yourself – away from any distractions or interruptions where you can take a few minutes to find solace within your own thoughts.

Zat Astha via SethLui
Dessert Singapore
Enjoy these tasty treats before you make your next resolution to lose weight and reduce sugar intake this year! And don't worry, if you can't keep that pledge we won't say a word. So dig in and savour the sweetest things life has to offer. Here is our list of scrumptious dessert places in Singapore – let's get started on those resolutions after indulging one last time!
Looking for more interesting articles to read? Check out some of our blog posts down below!
Frequently Asked Questions (FAQ)
If you have any questions about Desserts in Singapore, you can refer to the frequently asked questions (FAQ) about the best Desserts in Singapore below:
What are the best desert places in Singapore?
The best dessert places in Singapore are Drips Bakery Cafe, DOHKIE, Mrs. Plumps, Dolç Patisserie, and KURA.
What are some of the best places to try sweet treats in Singapore?
Singapore is a paradise for dessert and ice cream lovers. Some top places to try sweet treats include Plain Vanilla Bakery, known for their delightful cupcakes, and Ah Chew Desserts, famous for their traditional Chinese desserts. Another must-visit is the ice cream shop that specializes in freshly churned, handmade ice cream.
Where can I find unique flavors like Earl Grey Lavender in Singapore?
You can find unique dessert flavors like Earl Grey Lavender at many boutique bakeries and dessert shops in Singapore. One such place is Plain Vanilla, which often experiments with unusual and delightful combinations.
What is special about Ah Chew Desserts?
Ah Chew Desserts is a popular dessert shop in Singapore that specializes in traditional Chinese desserts. They offer a wide range of sweet treats but are particularly known for their innovative use of sweet potato in their desserts.
Can you recommend a place that serves sea salt gula melaka?
Yes, if you're a fan of the unique combination of sea salt and gula melaka, you should visit the ice cream shop that offers this flavor in their freshly churned, handmade ice cream.
I'm a huge fan of chocolate cake. Where can I get the best one in Singapore?
A: There are many places in Singapore that serve delicious chocolate cake, but one standout is the Plain Vanilla Bakery. Their rich and moist chocolate cake is a favorite among locals and tourists alike.
What are some traditional Chinese desserts I can try in Singapore?
Singapore is rich in traditional Chinese dessert. At Ah Chew Desserts, you can enjoy a variety of these, including those made with sweet potato, red bean soup, and glutinous rice balls.
Where can I find desserts with roasted pistachio in Singapore?
Roasted pistachio is a popular ingredient in many desserts in Singapore. You can find it in ice cream cakes, as a topping on freshly churned ice cream, or even in traditional desserts at various dessert shops.
What makes Plain Vanilla Bakery so special?
Plain Vanilla Bakery is loved for their simple yet delicious treats. They make everything from scratch, using only the finest ingredients. They're especially known for their cupcakes, which come in a variety of flavors including cinnamon brown sugar.
Are there any places that offer ice cream cakes in Singapore?
Yes, there are many places where you can enjoy ice cream cakes in Singapore. One such place is the ice cream shop, where the cakes are made with their handmade, freshly churned ice cream. They offer a variety of flavors, including unique ones like roasted pistachio and sea salt gula melaka.
Additional Useful Articles
If you are looking for other useful guides and articles about the best desserts in Singapore, check them out below: