Halal Food Arab Street Singapore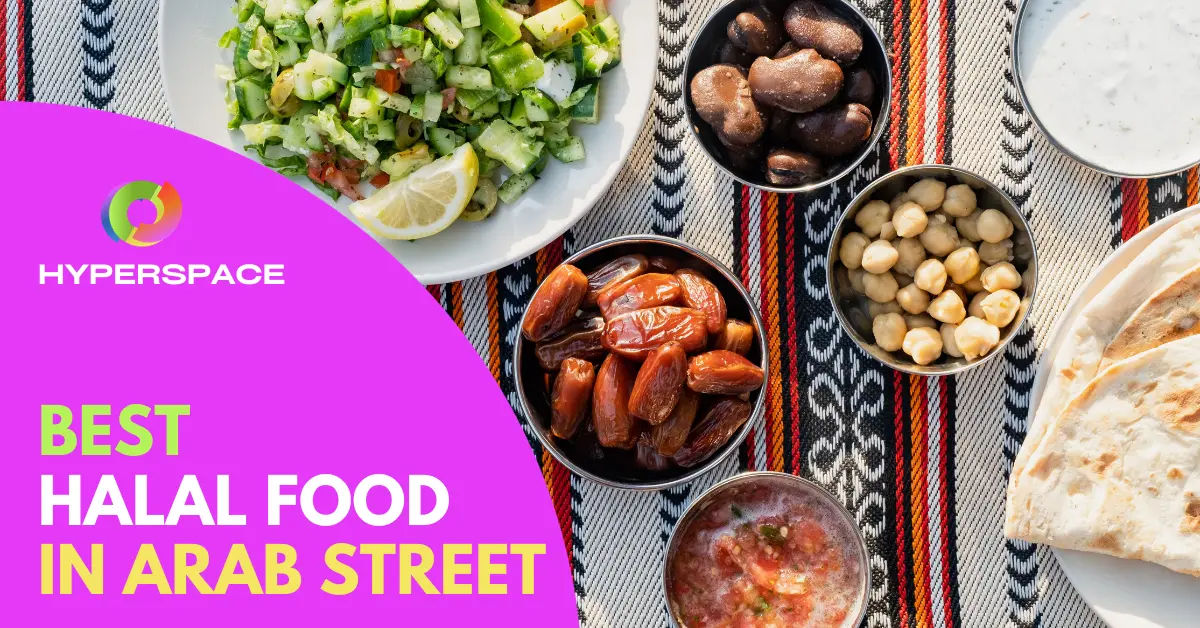 Arab Street, known for its vibrant culture and rich heritage, is also a culinary paradise for those seeking delectable Halal food in Singapore.
The best Halal food options in Arab Street Singapore include Butter Studio, The Straits Teppanyaki, Overrice, ASAP & Co., and Fluff Bakery.
When selecting a Halal restaurant, take into account elements like the menu, dining atmosphere, authenticity of the cuisine, and the presence of a halal certification.
Arab Street in Singapore is a food lover's paradise, with a wide range of Halal dishes representing diverse cuisines. Immerse yourself in a culturally rich and vibrant atmosphere as you indulge in the essence of this culinary haven.
Here, we have curated a list of the best Halal food spots on Arab Street, each promising a unique gastronomic experience that caters to every palate.
Quick Summary
Best Halal food options in Arab Street Singapore include Butter Studio, The Straits Teppanyaki, Overrice, ASAP & Co., and Fluff Bakery.
When choosing a Halal restaurant, consider factors such as menu, dining experience, cuisine authenticity, and halal certification.
Immersed in the heart of Singapore, Arab Street is a haven for food lovers, offering a variety of Halal dishes that capture the essence of diverse cuisines, all served within a culturally rich and vibrant atmosphere.
Key Consideration Factors
When choosing halal food, make sure to consider these important factors first:
Menu: It's important to check the menu beforehand to ensure that the restaurant serves a variety of halal dishes and caters to your dietary needs.
Dining experience: The ambiance and atmosphere of a restaurant can greatly affect your overall dining experience. Make sure to choose one that offers a comfortable and enjoyable setting for you.
Authenticity of cuisine: For those who are looking to experience the true flavors of a particular cuisine, it's essential to choose a restaurant that serves authentic dishes.
Halal certification: Look for halal certification from recognized authorities to ensure that your food is prepared according to Islamic dietary guidelines.
Best Halal Food Arab Street Singapore
1) Badoque Café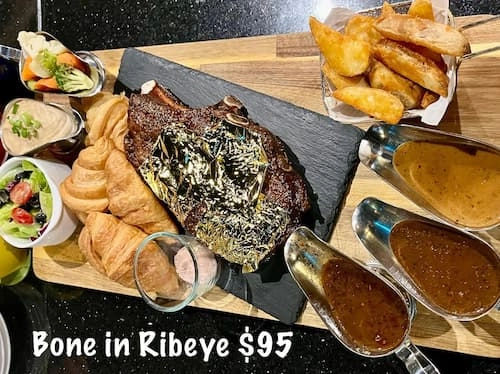 Badoque Café, a halal certified resto, is renowned for its outstanding service and generous portions of delectable food. A trip to this halal certified cafe is truly a worthwhile venture.
When you're in town, be sure not to pass up the opportunity to try their tantalizing Rib Eye Steak, scrumptious Breaded Oysters, and flavorful Squid Ink Risotto. Treat yourself to these culinary delights and relish in the unforgettable dining experience that Badoque Café has to provide.
2) Butter Studio
Key Services
Bakery
Address
147 Jln Besar, Singapore 208865
Website
https://thebutterstudio.com/
Phone
+65 6294 7115
Operating Hours
Wednesday 11AM–8PM
Thursday 11AM–8PM
Friday 11AM–9PM
Saturday 11AM–9PM
Sunday 11AM–8PM
Monday 11AM–8PM
Butter Studio is renowned for its wide array of delightful offerings, ranging from gourmet pastries and delectable sweets to juicy burgers. Whether you're in the mood for a hearty breakfast or craving something sugary, this café has got you covered.
Savor their must-try dishes like the classic Good 'ol Benny or the fluffy Traditional Buttermilk Pancakes. For those with a sweet tooth, don't miss out on Butter Studio's handcrafted Sea Salt Nutella Tarts and their irresistible artisanal ice cream made with Belgian Chocolate.
With such an extensive selection of mouthwatering treats, Butter Studio is a paradise for food enthusiasts and a must-visit destination for anyone looking to satisfy their cravings.
3) Fluff Bakery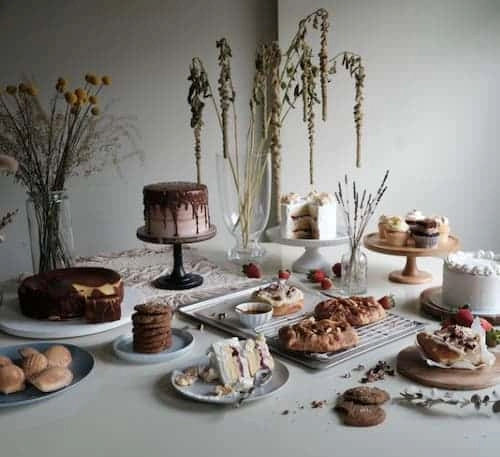 At Halal Artisanal Fluff Bakery, they prioritize your peace of mind by exclusively serving halal meat. You can rest assured knowing that the food you'll be enjoying is prepared according to halal standards.
Additionally, they offer a dine-in option with its own distinct set of restrictions, providing a unique and fulfilling culinary experience unlike any other. Join them for a truly satisfying and nourishing journey.
4) ASAP & Co.

ASAP & Co. is a trendy halal brunch restaurant that combines a steakhouse-dessert bar concept, offering a delightful fusion of sweet and savory flavors. No longer do you have to struggle with choosing between the two.
Savor their delicious menu options, like the ASAP Ultimate Breakfast with 12-hour smoked brisket, or try something new with their delightful Baby Dutch Pancakes and flavorful Shabsouka. With their diverse and mouthwatering dishes, ASAP & Co. guarantees an unforgettable dining experience that will leave you yearning for more.
5) Olivye Cafe Gelato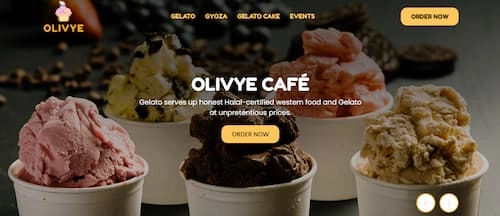 Immerse yourself in the delightful culinary experience at Olivye Cafe, renowned for its certification. As you enter this gastronomic haven, you'll be greeted by a wide selection of Western delicacies at the Gelato shop. From juicy steaks and flavorful pastas to delectable sandwiches and refreshing salads, every dish is meticulously prepared with utmost care and attention to detail.
Get ready to be captivated as you explore a variety of unique and tantalizing flavors that go beyond the ordinary. For a delightful surprise, go beyond the familiar tastes of Hazelnut and Chocolate, and instead, savor the exotic flavors of Chempedak or Durian.
Whether you're looking for a romantic outing or simply craving a culinary adventure, Olivye Cafe offers the perfect blend of familiarity and novelty, creating a cozy cafe that will leave a lasting impression on your taste buds and in your heart.
6) Penny University
Key Services
Easygoing cafe dishing up breakfast sets, brunch & finger foods, plus coffee, juice & kombucha.
Address
402 E Coast Rd, Singapore 428997
Website
https://www.pennyuniversitysg.com/
Phone
+65 6345 9055
Operating Hours
Daily:
8AM–6PM
If you and your crew are searching for an amazing place to grab a delicious meal, look no further than Penny University. This charming café not only offers a cozy and welcoming ambiance, but also a mouthwatering menu that will satisfy all your cravings. From the irresistible Sourdough Toast to the indulgent Eggs Benedict with Smoked Salmon, the culinary delights at Penny University are simply irresistible.
But that's not all! For those with a sweet tooth, their Vanilla-infused Greek Yoghurt with Granola is a heavenly treat that will leave you wanting more. And if you're in the mood for something savory, you absolutely must try their Croque Monsieur. Each dish is meticulously prepared to perfection, ensuring a delightful dining experience for everyone.
In addition to their delectable chef-prepared comfort food offerings, Penny University takes pride in its wide selection of teas. Whether you prefer the classic Earl Grey, the refreshing French Peppermint, or the fragrant Moroccan Rosebuds, you'll find a tea that perfectly suits your taste buds. And let's not forget about their exceptional coffee selection, which is guaranteed to please even the most discerning coffee aficionado.
7) Tipo Pasta Bar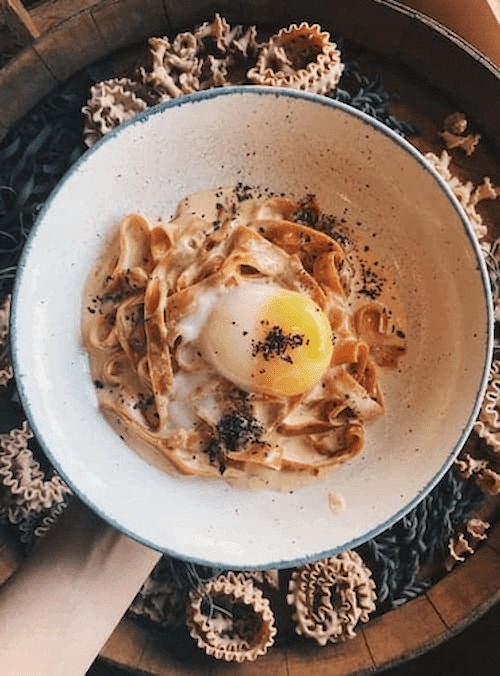 Key Services
Snug eatery offering build-your-own & set meals with handmade pasta, plus drinks & starters.
Address
785 North Bridge Rd, Singapore 198753
Website
https://www.tipo.sg/
Phone
+65 8768 0785
Email
ask@tipo.sg
Operating Hours
Sunday to Thursday
11am to 10pm
(Last Order 9.30pm)
Friday & Saturday
11am to 11pm
(Last Order 10.30pm)
Tipo Pasta Bar, also known as "doppio zero," is a well-known Italian restaurant that takes pride in providing a one-of-a-kind dining experience. Their menu features a delightful array of dishes, each meticulously crafted with the finest ingredients and utmost attention to detail. The true star of their Italian cuisine is the fresh handcrafted pasta, prepared with the highest-quality ingredients.
Embark on a culinary journey like no other as you savor the explosion of flavors in every bite. Whether it's the tantalizing sauces, perfectly cooked pasta, or the harmonious blend of ingredients, each mouthful showcases their culinary expertise. Your taste buds will be delighted, and your guests will be impressed by your discerning palate and culinary prowess.
And the best part? You can enjoy their delectable Italian food without breaking the bank. Tipo Pasta Bar offers their mouthwatering pasta dishes at affordable prices, ensuring that you can savor the food without any worries.
8) The Straits Teppanyaki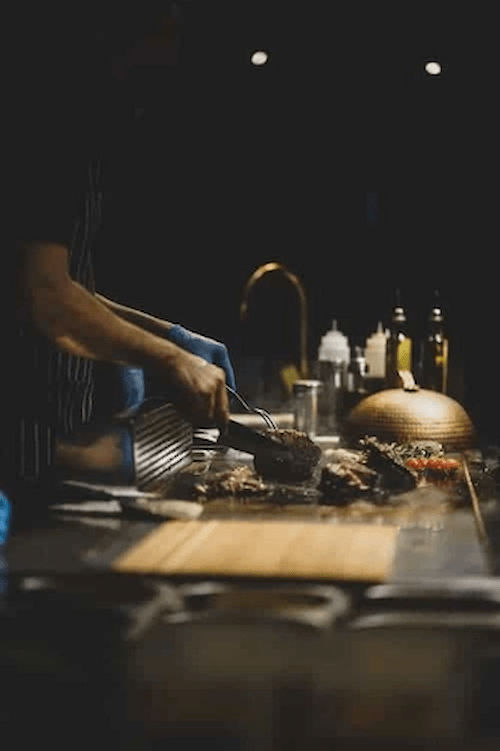 Apart from the captivating Rumi The Poets Cup, the owners have also introduced a delightful dine-in teppanyaki experience and a halal "bar" on the second floor of the same complex, appropriately named 'The Heart'.
At The Straits Teppanyaki, you can indulge in a tantalizing fusion of Western and Asian cuisine. Delight your taste buds with the exquisite flavors of The Straits Salmon Fillet, savor the crispy delight of crunchy chicken skin, and relish the mouthwatering goodness of halal wagyu beef, all expertly grilled on a traditional Japanese teppanyaki-style hotplate.
Immerse yourself in the culinary artistry as the talented chef skillfully prepares your hearty meal right before your eyes. Sit back, relax, and savor each delectable bite while enjoying the captivating performance.
9) Overrice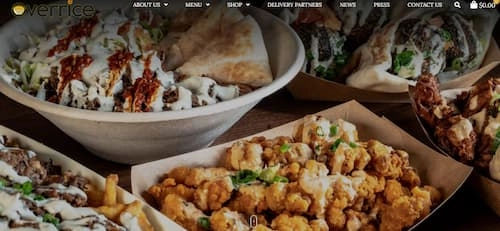 In Singapore, Overrice is similar to The Halal Guys, offering a halal snack pack that will surely satisfy your cravings. Indulge in their delicious bowls filled with fragrant basmati rice, crispy lettuce, juicy tomatoes, warm pita bread, and your choice of tender chicken, succulent pulled beef, or flavorful falafel.
Not only do they serve enticing food, but they also offer mouthwatering Overrice Fries, tantalizing Buffalo Chicken drumsticks, and a delightful selection of desserts.
Treat yourself to heavenly delights like rich brownies, Okieco's luscious banana pudding, and a bite-sized strawberry cheesecake "shooter" that will leave you wanting more.
10) Royz Et Vous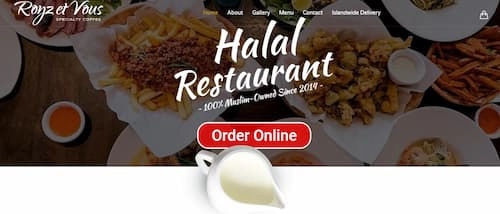 Royz Et Vous, a charming cafe with a French-inspired flair, is proudly owned by a Muslim proprietor. It offers a delightful selection of mouthwatering dishes that are sure to please your taste buds.
From the succulent Beef Asparagus to the delightful Soft Shell Crab Pasta, the menu features a variety of culinary delights that will satisfy even the most discerning palate. Indulge in the perfectly cooked Herb Crusted Salmon or savor the rich flavors of the Smoked Duck.
In addition to the impeccable cuisine, the cafe's cozy ambiance adds a touch of warmth, making it a true gem among the vibrant array of Singaporean cafes. Come and embark on a culinary journey like no other at Royz Et Vous.
Halal Food Arab Street Singapore
In conclusion, Arab Street Singapore offers an array of halal dining options, each with its unique charm, ambiance, and diverse menu that caters to different palates.
From cafes like Olivye and Penny University to more specialized cuisines like Tipo Pasta Bar and The Straits Teppanyaki, the culinary journey is limitless. Sweet or savory, traditional, or fusion, every food lover is bound to find a place that satisfies their cravings.
So whether you are a local resident or a tourist seeking to explore the rich and diverse culinary scene of Singapore, Arab Street stands as a must-visit destination for a halal food adventure.
Frequently Asked Questions (FAQ)
If you have any questions about Halal food options in Arab Street Singapore, you can refer to the frequently asked questions (FAQ) about the best Halal Food in Singapore below:
What are the best halal food options in Arab Street Singapore?
The best Halal food in Arab Street include ASAP & Co., All Things Delicious, The Straits Teppanyaki, Butter Studio, Overrice, and Fluff Bakery.
Is KFC in Singapore halal?
KFC outlets in Singapore are certified halal and provide a diverse range of halal menu choices, allowing you to savor their delicious fried chicken.
Is halal food available in Singapore?
Singapore offers a diverse range of options in various areas, including Arab Street.
Is Burger King in Singapore halal?
Burger King outlets in Singapore have obtained halal certification and provide a diverse range of menu options that are halal.
Which restaurant chains use halal meat?
There are several well-known restaurant chains in Singapore that serve halal meat, such as KFC, All Things Delicious, Burger King, McDonald's, and Subway. However, it's advisable to confirm with the individual outlet before dining. In general, Singapore offers a diverse and inclusive culinary scene with a wide variety of restaurants and cafes that cater to halal dietary restrictions, ensuring that everyone can enjoy their meals.
What are some popular halal cafes in Arab Street for eating halal food?
Arab Street is home to several popular halal cafes where you can enjoy delicious food. Some notable options include Sister Cafe, Fika Swedish Cafe, and Grill Ninety Nine.
Where can I find halal Chinese food?
If you're looking for halal Chinese cuisine, you should try out Grill Ninety Nine. They offer a variety of dishes prepared according to halal standards, including flavorful Chinese specialties.
Which halal restaurants serve amazing food?
Arab Street boasts several restaurants that serve amazing food. You can savor delectable desserts at Sister Cafe, enjoy chef-prepared comfort foods at Grill Ninety Nine, or relish delicious pasta at Fika Swedish Cafe.
What is the halal status of the halal food in Haji Lane?
Haji Lane, has various halal options. The halal status of the food establishments in Haji Lane may vary. It's always a good idea to check with individual restaurants or cafes to ensure their halal certification.
Where can I find halal Thai milk tea?
For a refreshing cup of halal Thai milk tea, you can visit Sister Cafe. They offer a range of tasty beverages, including authentic milk tea prepared according to halal standards.
Are there any halal restaurants that serve Nashville hot chicken?
Although Nashville hot chicken is not commonly found in Arab Street Halal food, there are many other delicious options to explore. You can try out various halal restaurants and cafes in the area such as Sister Cafe, Fika Swedish Cafe, and Grill Ninety Nine for a wide range of cuisines.
Additional Useful Articles
If you are looking for other useful guides and articles about Halal Food in Singapore, check them out below: