Korean BBQ Singapore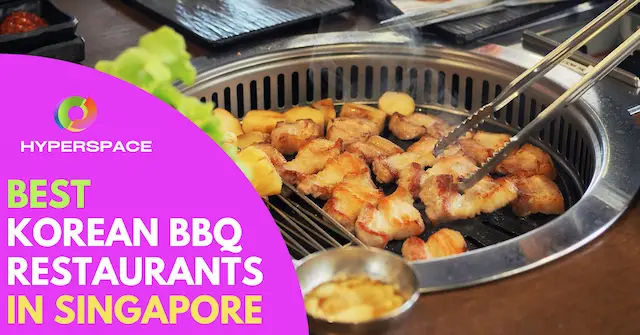 Immerse yourself in the delicious and unique food culture of Singapore with a visit to one of the many Korean BBQ restaurants spread across the city.
The best Korean BBQ Singapore restaurants are Jun BBQ & Beer, Chowon Garden, Hyang Yeon Korean Restaurant, and Wang Dae Bak Korean BBQ.
When selecting a Korean BBQ spot in Singapore, take into account elements like the variety of side dishes, meat quality, quality of service, marinades and sauces, and overall ambiance.
Korean BBQ in Singapore offers a delightful culinary adventure, combining the smoky, aromatic flavors of grilled meats with the tangy and spicy sauce of traditional Korean cuisine.
Whether you're craving the juicy tenderness of marinated meats grilled to perfection, or the spicy kick of traditional Korean side dishes, these top Korean BBQ restaurants in Singapore promise an unforgettable gastronomical adventure.
Best Korean BBQ Singapore
1) Jangsu Korean BBQ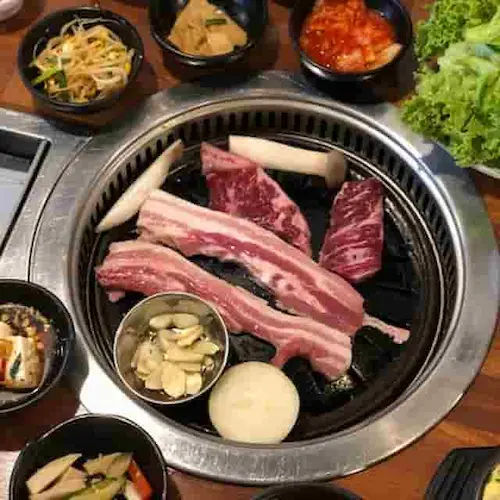 Tanjong Pagar doesn't hold exclusive rights to exceptional Korean barbecue establishments. Jangsu Korean barbecue, situated on Teck Chye Terrace in Serangoon, distinguishes itself among the line of shophouses.
Operated by a Korean couple and Chef Park, this laid-back Korean BBQ joint takes pride in serving incredibly tender and juicy slices of meat, using only 100% aged meat.
2) Captain Kim Korean BBQ & Hotpot (HALAL)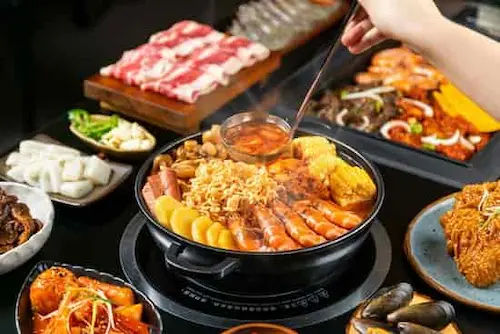 Captain Kim's, an underrated Halal Korean restaurant, is a well-kept secret in Singapore. Operated by the same team behind I'm Kim Korean barbecue and Gorogoro Steamboat Restaurant, this hidden gem boasts a wide selection of more than 60 high-quality BBQ buffet options.
Moreover, they also offer an extensive hotpot menu for those who desire a hotpot experience to complement their meal.
3) Jun BBQ & Beer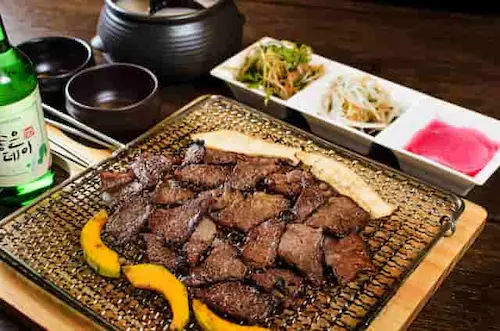 For an unparalleled Korean barbecue experience in Singapore, you must visit Jun BBQ & Beer. Since 2018, this laid-back Korean barbecue joint has been satisfying diners with its genuine Korean cuisine. Their extensive menu caters to all palates, ensuring there's something for everyone. Be sure not to overlook their delectable barbecued meats, impeccably crafted by their talented chefs.
4) Chowon Garden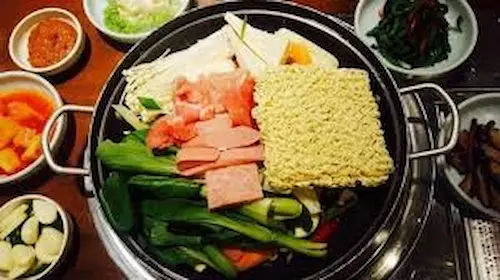 Singapore is home to a rich cultural heritage and a diverse range of delicious cuisines. Korean food, in particular, has become increasingly popular in recent years. One outstanding place in Singapore where you can savor authentic Korean barbecue is Chowon Garden Restaurant.
5) Han Kook Gwan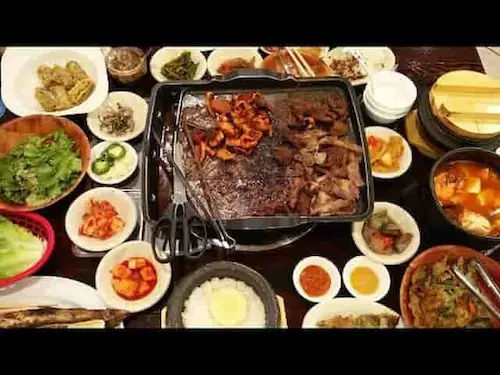 Singapore is home to numerous Korean restaurants, and this one is no different. Its popularity among local Koreans speaks volumes about the authenticity and traditional flavors of their cuisine.
When you enter Han Kook Gwan restaurant, you'll immediately notice the vibrant atmosphere, with middle-aged Koreans engaging in lively conversations in their native language.
6) Supulae Korean Restaurant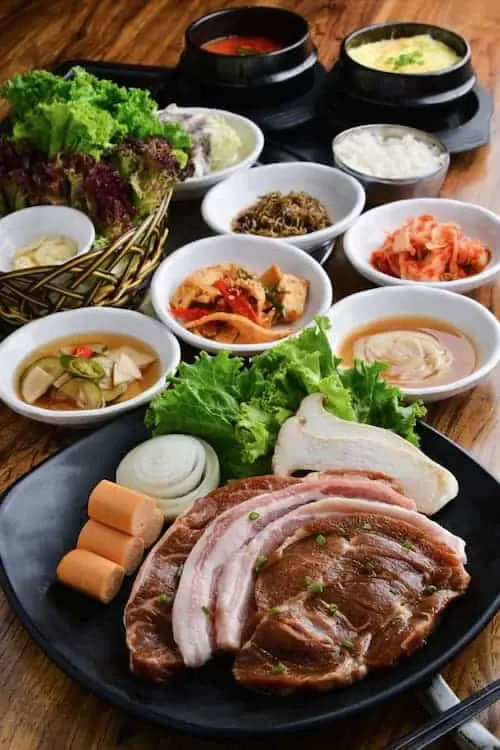 Supulae Korean Restaurant is conveniently situated and often bustling with patrons. They offer a variety of Korean dishes including Korean style raw beef, kimchi pancake, and beef brisket. The cozy and relaxed interiors create a warm and inviting atmosphere.
However, due to the close proximity of tables, some may feel hesitant to have private conversations with friends or family, fearing that others might overhear. Nevertheless, this adds to the vibrant ambiance of the place.
7) Seorae Korean Charcoal BBQ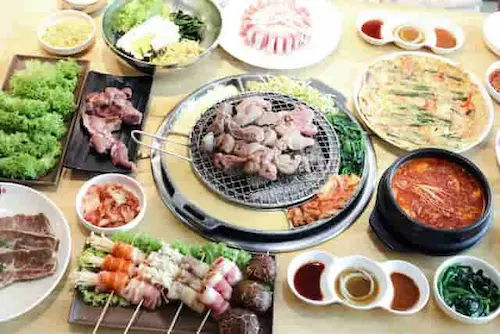 Seorae Korean Charcoal Barbecue first opened its doors in South Korea in April 2007, quickly becoming the go-to place for pork skirt meat. In December 2015, they expanded their reach by opening a dedicated barbecue outlet in Plaza Singapura. Among their impressive offerings is the La Galbi (S$29.90), showcasing expertly sliced US prime beef short ribs with bone-in.
8) Wang Dae Bak Korean BBQ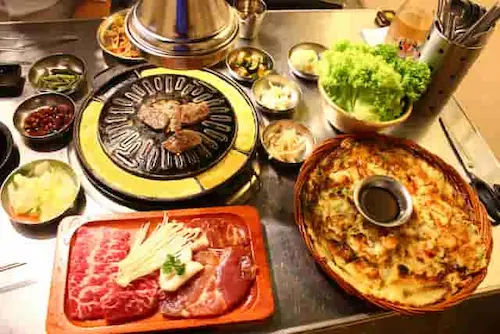 Wang Dae Bak, a well-known Korean barbecue establishment in Singapore, has been delighting customers since 2011. It is widely acclaimed for its authentic charcoal grilling, mouthwatering seafood, flavorful kimchi pancake, and delightful bibimbap. With its lively and soothing ambiance, this restaurant is a perfect pick for get-togethers with friends.
9) Kkongdon Barbeque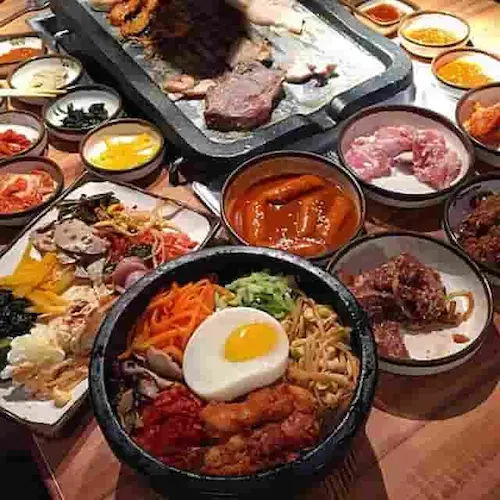 Located in a modern mall, KKONG DON BARBEQUE is a Korean BBQ eatery that boasts a trendy atmosphere. The energetic decor, upbeat music, and Korean song-filled TV screens create a perfect setting for the younger crowd.
Despite its compact size, this restaurant can comfortably accommodate groups of friends and families looking to spend quality time together.
It's a fantastic spot to unwind and savor, although the service may experience delays during peak hours.
10) Charim Korean BBQ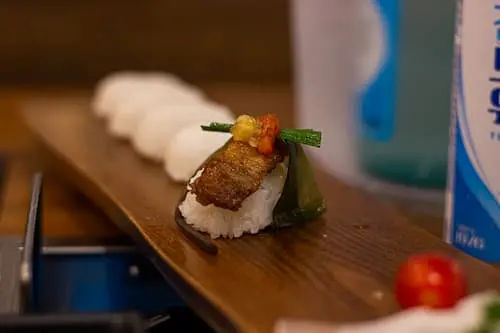 The Korean restaurant derives its name from "charim," meaning "the table is set," symbolizing the exquisite presentation of its cuisine. Every aspect, from the ban chan (side dishes) to the condiments, is carefully prepared to elevate the flavors of the BBQ meats. The set menus also offer a selection of soups (kimchi, soybean, or sundubu) and a delightful serving of steamed egg and salted pork neck.
11) 2D1N SOJU BANG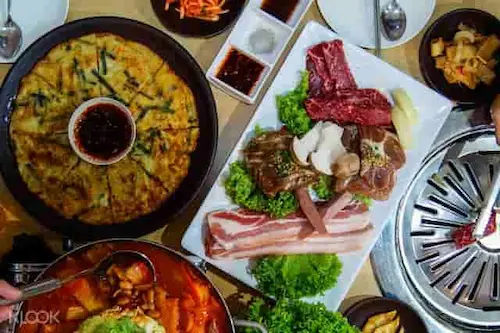 2D1N Soju Bang is a well-known and widely loved Korean restaurant that provides two distinct levels of dining experience, each showcasing its own distinctive Korean barbecue cuisine style. The first floor offers a traditional à la carte menu, while the second floor caters to a wider range of preferences with a buffet service.
12) Jang Won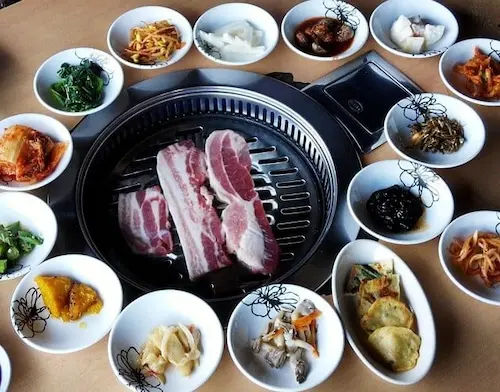 Jang Won Korean restaurant provides a delightful atmosphere and a cozy setting suitable for the entire family. Additionally, they offer a VIP room that can be utilized for small business meetings while enjoying a delicious meal.
With a limited but carefully curated selection of three beef and pork options, Jang Won is well-known for their signature dishes, including Samgyeopsal, grilled pork belly ($19), Galbitsal (prime beef ribs), and Jumulleok (beef with soy sauce).
13) Bornga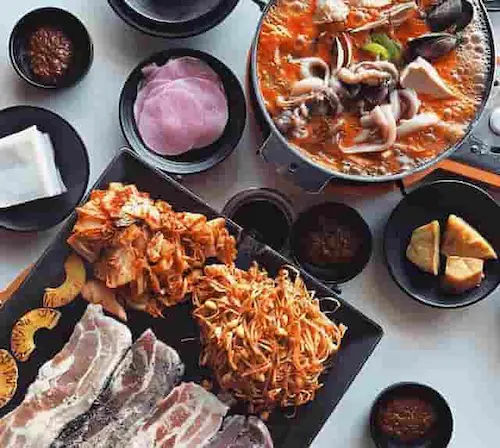 BORNGA offers a simple and open atmosphere with indoor and outdoor seating choices. The interior is well-ventilated, ensuring a pleasant, odor-free experience. However, the outdoor seating can get warm and lacks proper ventilation, so be prepared to leave with a greasy smell.
Although their menu is not extensive, BORNGA serves high-quality meat. You can savor their specialty dish of prawns for an extra $22.
14) I'm KIM Korean BBQ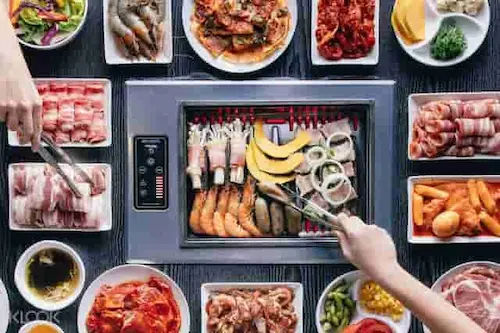 I'M KIM Korean barbecue, a renowned KBBQ brand in Singapore, presents a wide selection of delectable dishes priced at $14.90 or less. Noteworthy highlights include their renowned volcano chicken with its fiery heat, flavorful spicy pork collar, and one-of-a-kind Korean fried chicken wings that are difficult to find elsewhere.
15) Oh Neul Han Jeom Korean Restaurant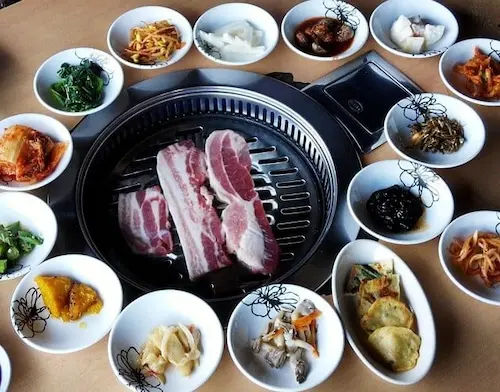 Oh Neul Han Jeom Korean Restaurant is a standout among the numerous Korean barbecue joints in Singapore. The quality of food here is outstanding, and the atmosphere is unparalleled, providing an authentic experience that distinguishes it from its competitors. Upon entering, you will feel as if you have been transported to Korea.
Moreover, the service is exceptional, surpassing expectations from both the waitstaff and the chefs. The menu offers a wide array of popular, authentic Korean dishes, ranging from pork shoulder to beef brisket and tofu soup.
16) Go! K-BBQ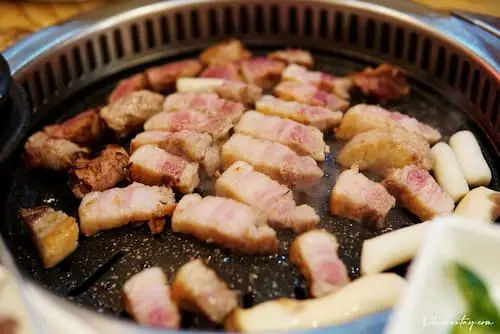 Go! K-BBQ is a modest eatery that focuses on exceptional aged meats. It has established itself as a trustworthy establishment for delicious grilled meat selections. Go K-BBQ is dedicated to serving only natural ingredients, with a particular emphasis on Korean barbecue and meat aged for up to 15 days.
While they do offer a variety of other dishes, such as the black pork belly, the true highlight is their barbecue meats.
17) Daessiksin Korean Grill Barbecue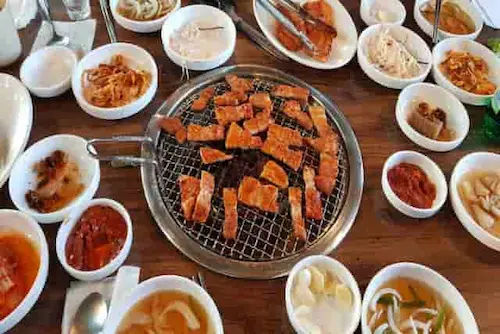 Daesskilsin Korean Grill Barbecue restaurant is a Korean grill known for its diverse menu that caters to all diners. The owners personally manage this charming establishment, serving up to 12 varieties of marinated meat, along with fresh ingredients and authentic Korean dishes.
Combining premium Korean barbecue meat with fusion flavors, their juicy pork belly marinade offers a delightful touch of sweetness that truly enhances the dining experience.
18) MIMI Korean BBQ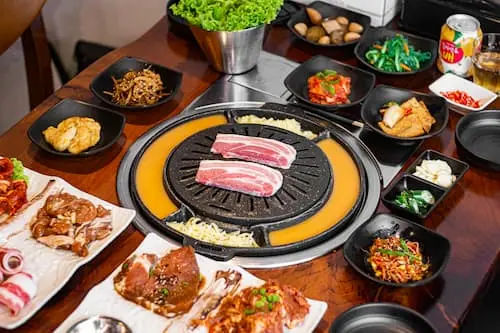 Mimi Korean Restaurant stands out from the rest with its unique offerings like the Steamed Beef & Vegetables with Cypress Steamer (starting from $59) and Steamed Seafood with Cypress Steamer (starting from $99)! Treat yourself to this one-of-a-kind combination of Singaporean beef, vegetables, and dumplings.
19) Hello Korean BBQ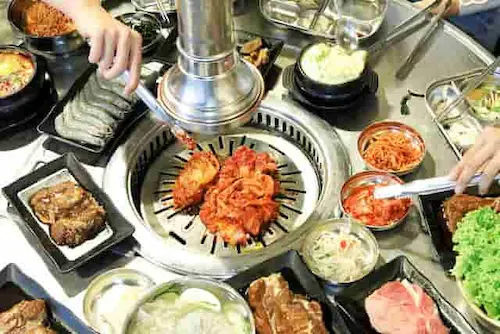 Hello Korean BBQ is a laid-back Korean BBQ eatery that specializes in serving genuine Korean cuisine. With two branches in Singapore, located at Boat Quay and Tanjong Pagar, they offer attentive service and swift delivery for your Korean BBQ order. The Tanjong Pagar location boasts a beautifully designed interior with a contemporary twist.
20) Danji Korean BBQ Buffet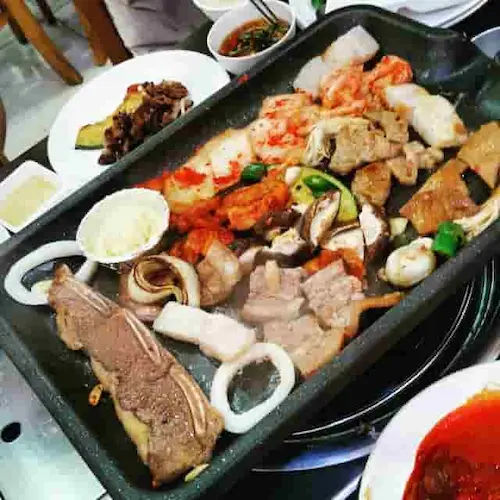 Although not as widely acknowledged as other establishments on this list, Danji Korean Barbecue Buffet is undeniably one of the top Korean restaurants in Singapore. Despite its bustling dinner hours, this place serves mouthwatering and authentic Korean cuisine that is simply irresistible.
21) I'm KIM Junior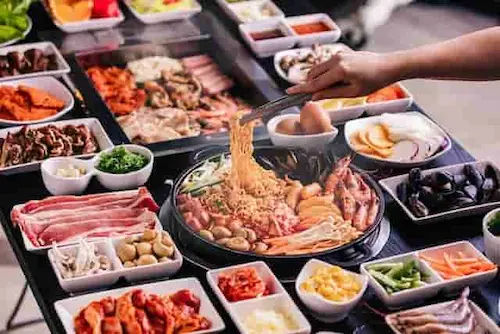 I'M KIM Junior is not just another version of KIM Korean barbecue; it is a unique establishment. For only $14.90, you can savor two dishes that other competitors charge a higher price for: army stew and DIY galbi (marinated beef ribs).
Moreover, the restaurant also provides DIY samgyeopsal (pork belly) at a slightly elevated price of $18, which is still a great deal considering the quality.
22) Guiga Korean BBQ Restaurant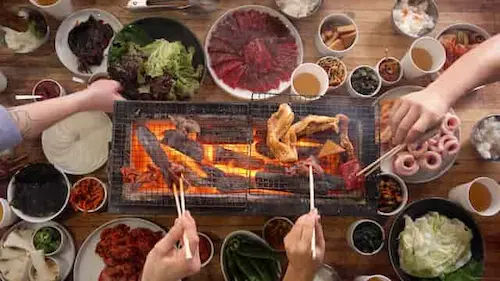 Located on a corner of Tanjong Pagar Road, Guiga Korean bbq restaurant stands out from its competitors, drawing a large customer base despite being relatively new. One potential factor for this success is their eye-catching and vibrant signboard that captures people's attention.
This casual Korean BBQ eatery showcases a lively interior and a peaceful atmosphere.
23) Singkoba Korean Charcoal BBQ Restaurant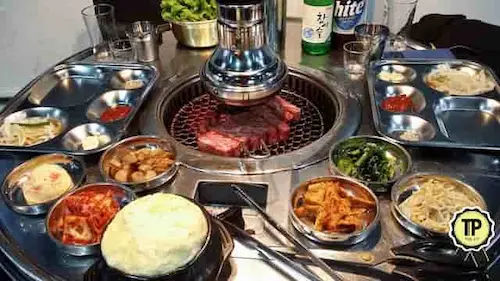 Singkoba Korean barbecue is a haven for meat enthusiasts. Treat yourself to their mouthwatering Homemade Dak Galbi, Pork Japchae, and Nag Seon Bulgogi. Complementing the main courses are delectable side dishes such as kimchi and beansprouts, elevating your dining pleasure.
24) Nanta Korean BBQ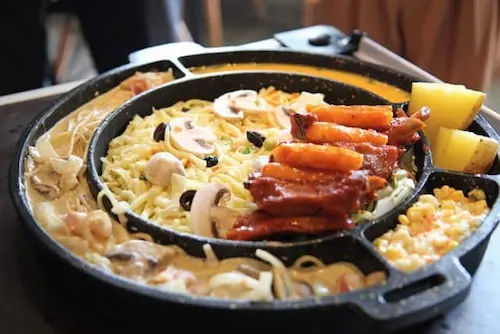 Nanta Korean BBQ is a modern casual korean bbq restaurant that combines traditional Korean meat barbecue with contemporary culinary experiences. What sets it apart is its ability to attract a large number of Korean patrons, ensuring an authentic dining experience.
25) Hyang Yeon Korean Restaurant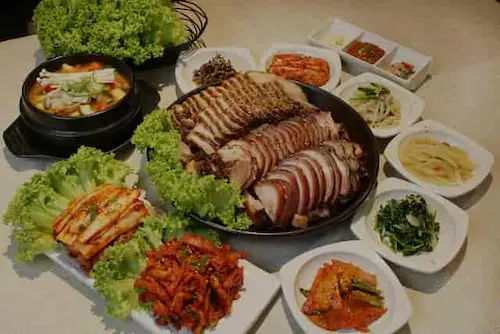 Hyang Yeon Korean Restaurant has been captivating diners in Singapore with their exquisite Korean barbecue for many years. Their menu offers a delectable selection of dishes, such as sirloin and marinated boneless prime ribs, catering to a variety of taste preferences.
26) BBQ World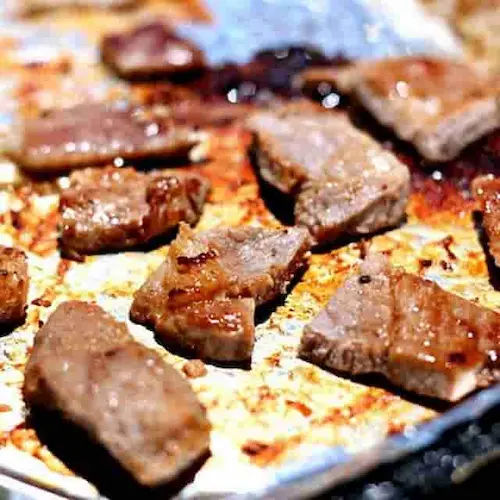 At BBQ World, you'll find a buffet concept similar to other Korean restaurants, with a unique twist. Instead of traditional serving style, they provide separate plates for side dishes, meats, and ginseng chicken soup, giving customers the freedom to choose their preferences.
The interactive experience at BBQ World allows customers to cook their own meats at their table, while the staff is available for taking orders, refilling water, and replacing charcoal grill plates.
27) Maru Korean BBQ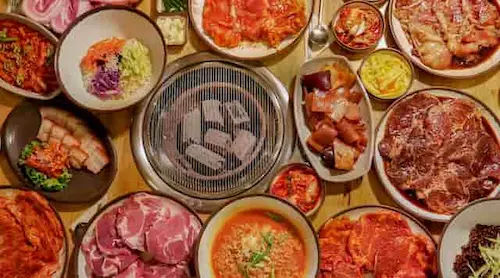 If you're looking for budget-friendly Korean barbecue, you must visit Maru Korean barbecue. They provide unlimited food refills and have a diverse selection of vegetarian options at their buffet. Families will love this restaurant as they are very accommodating to kids and seniors.
If you're not keen on the buffet, there's a fantastic alternative. Maru Korean BBQ buffet also offers barbecue cooked right in front of you, giving you the freedom to choose your preferred meat.
28) K.Cook Korean BBQ Restaurant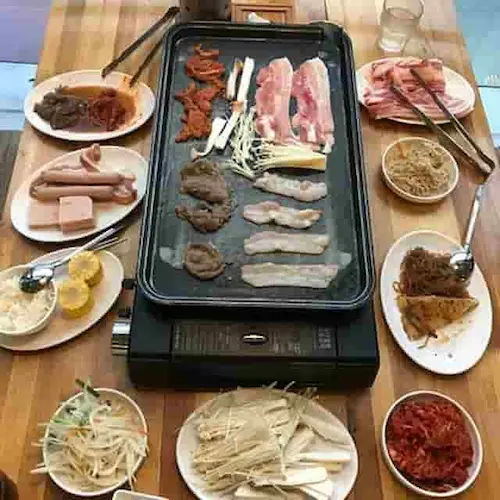 Located on the 7th floor of Orchard Central, K.Cook is a Korean barbecue restaurant that offers wallet-friendly prices starting from approximately $16.90++ (depending on the day). It's an excellent choice for adults looking for an affordable weekday lunch.
With both indoor and outdoor dining options available, you can choose to enjoy your grilled meat in the air-conditioned seating area or on the rooftop with a view of Orchard Road.
29) Eight Korean BBQ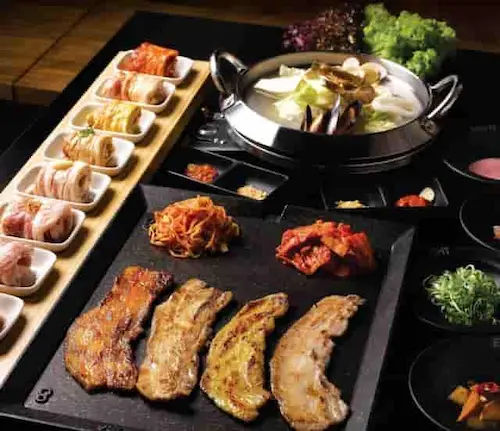 Eight Korean BBQ in Singapore is widely recognized as one of the best Korean barbecue establishments, and it's not hard to understand why. With a tempting selection of premium meats, it provides an authentic Korean bbq experience.
The restaurant even derives its name from its renowned 8 Colors set. Treat yourself to their barbecue menu showcasing top-notch meats such as Argentinian Beef, US Prime Beef, Ohmi wagyu beef, and Short Ribs.
30) Hansik Korean BBQ (HALAL)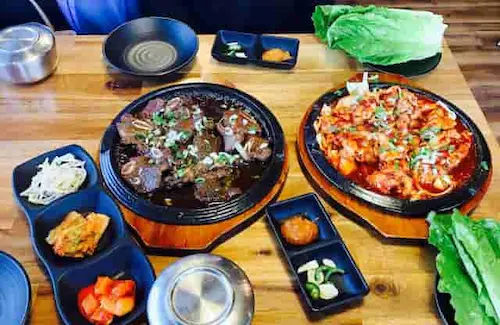 Hanssik is the go-to spot for a night out if you're a fan of Halal Korean barbecue. Their must-try dish is the kimchi fried rice, which combines spicy, sour, and umami flavors in every bite.
The bold kimchi flavor perfectly complements this dish. Alongside their signature Korean barbecue Singapore dishes, Hanssik also serves up other delectable options like pancakes, chicken wings, rye rice, and sliced pork belly.
Korean BBQ Singapore
In conclusion, the Korean BBQ scene in Singapore offers an array of options for every palate and budget.
Whether you're looking for an upscale dining experience, a family-friendly restaurant, vegetarian options, or Halal-certified dishes, there is a Korean BBQ spot on this list that is sure to satisfy your cravings.
Don't miss out on this culinary adventure that is not just about food, but a grand symphony of flavors, community, and culture.
Frequently Asked Questions (FAQ)
If you have any questions about Korean BBQ in Singapore, you can refer to the frequently asked questions (FAQ) about the best Korean BBQ in Singapore below:
Additional Useful Articles
If you are looking for other useful guides and articles about Korean BBQ in Singapore, check them out below: