Mooncake Singapore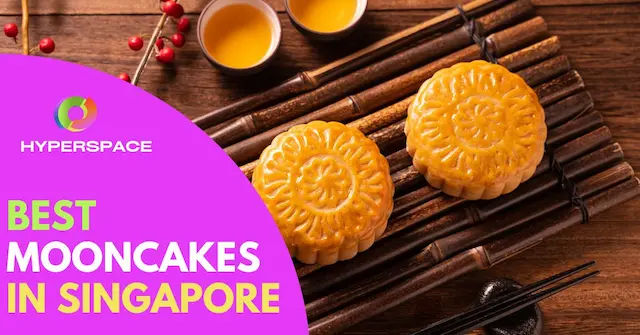 Mooncakes, a traditional Chinese delicacy, are an integral part of the Mid-Autumn Festival in Singapore.
The best Mooncakes in Singapore are from 5 ON 25, Janice Wong, Summer Pavilion, Shisen Hanten by Chen Kentaro, and Goodwood Park Hotel.
When selecting a mooncake in Singapore, take into account factors like the texture, flavor, filling, and size of the mooncake.
Mooncakes come in various varieties, such as snowskin, egg custard, white lotus paste, and baked mooncakes.
This guide will introduce you to the best mooncakes you can find in Singapore, ensuring your Mid-Autumn Festival is a scrumptious celebration.
Understanding Mooncakes: Tradition and Types
Mooncakes are more than just delectable treats – they embody tradition and heritage. Rooted in the Mid-Autumn Festival, these round pastries symbolize unity and togetherness. Singapore's rich cultural tapestry is woven into the variety of mooncakes available, ranging from the classic lotus seed paste to innovative snow skin creations.
Traditional and Modern Varieties: Explore the array of mooncakes, from time-honored baked ones to contemporary snow skin versions.
Cultural Significance: Discover the historical significance of mooncakes during the Mid-Autumn Festival and their role in family reunions.
Factors to Consider When Selecting Mooncakes
When navigating the galaxy of mooncake options, several factors should guide your choices. These factors ensure you're making informed decisions aligned with your preferences.
Flavor: Taste preferences vary widely – from traditional flavors like lotus seed paste to adventurous options like durian or matcha.
Presentation: The visual appeal of mooncakes can't be overlooked. Elaborate designs often elevate the dining experience.
Ingredients: For health-conscious consumers, ingredients like organic fillings or reduced sugar might be a priority.
Best Mooncake Singapore
1. 5 ON 25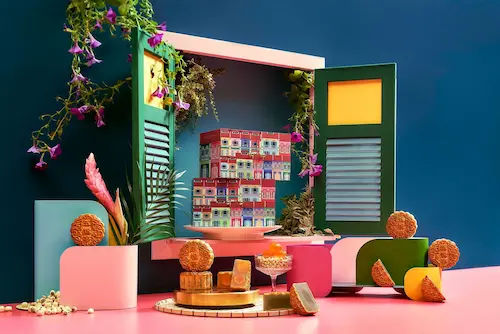 5 ON 25's mooncakes offer a delightful blend of traditional and contemporary flavors, creating a unique sensory experience. With a wide range of tastes to cater to diverse palates, each bite is a harmonious journey that combines tradition and innovation. Whether you're a connoisseur or an adventurous foodie, indulge in the art of flavor exploration with 5 ON 25's exquisite mooncakes.
Key Differentiators
Modern nostalgia
Artisanal approach
Customization options
Client Testimonial
The view here is fantastic, the food is very good and the service staff are attentive and friendly. Ambience is lovely but not noisy

Adrian Tan
2. Janice Wong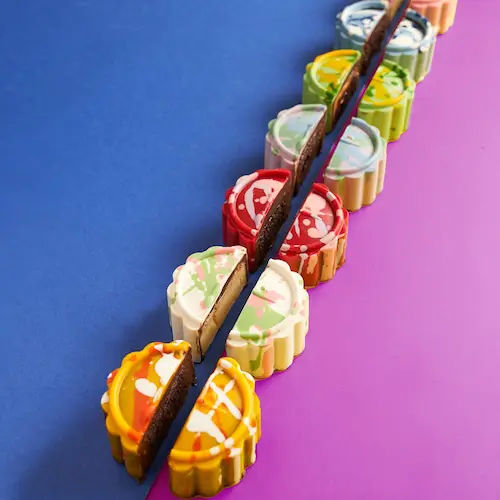 Janice Wong's mooncakes are culinary masterpieces, crafted with meticulous attention to detail. These delectable treats offer a harmonious blend of flavors and textures that delight the palate. With their exquisite design and unique ingredients, they provide a multisensory experience that transcends traditional desserts. Janice Wong's mooncakes fuse art and gastronomy, leaving you in awe of their unparalleled beauty and taste.
Key Differentiators
Culinary creativity
Artistic presentations
Unique flavors
Client Testimonial
Interesting selection of chocolates and cakes. The popular ones need one day before your event to order. The staff is very courteous to my parents even explaining what is inside the chocolate. Overall experience is great.

Andrew Chwee
3. Summer Pavilion
Summer Pavilion's mooncakes are the epitome of elegance and refinement, crafted with meticulous attention to detail and authentic Cantonese flavors. Each mooncake is a work of art, handcrafted using the finest ingredients and traditional techniques. With delicate golden crusts and luscious fillings, these mooncakes offer a true indulgence for the senses. Elevate your Mid-Autumn Festival experience with Summer Pavilion's luxurious and exquisite mooncakes.
Key Differentiators
Gastronomic refinement
Elevated flavors
Cantonese mastery
Client Testimonial
Food is definitely a hit ! However was more blown by the extremely detailed service given by Ady and another of his colleague. Both of them were so observant and listens to patron's need. This is a very rare exemplary F&B service I have encountered !

Lynn Lynn
4. Shisen Hanten by Chen Kentaro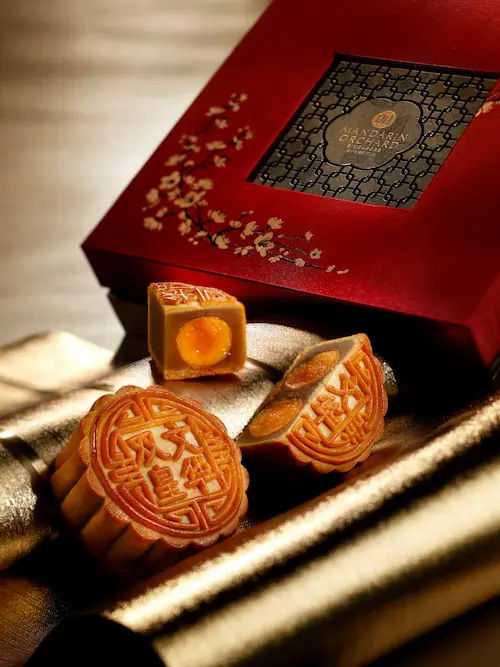 Experience the bold and flavorful culinary style of Chef Chen Kentaro with Shisen Hanten's exquisite mooncakes. These captivating treats offer a spicy twist on traditional favorites, combining aromatic spices and premium ingredients. Indulge in the perfect balance of flavors and cultural influences that are sure to leave a lasting impression.
Key Differentiators
Bold culinary fusion
Distinctive tastes
Chef expertise
Client Testimonial
Good food and good service! We were served by Penny and Katherine and they are very active and friendly! Would definitely come back with my friends and family to enjoy the food and service 👍🏻 price is also very affordable and value for money for Michelin standard.

S Q
5. Goodwood Park Hotel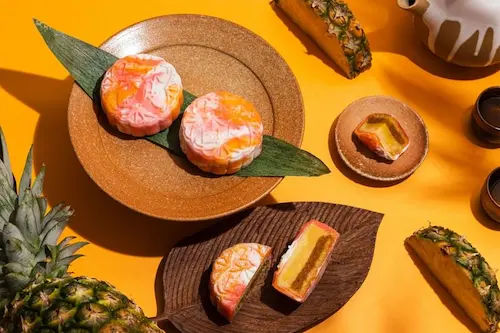 Goodwood Park Hotel's mooncakes are a testament to timeless flavors and exceptional quality. Meticulously crafted by skilled artisans using the finest ingredients, these heavenly delights capture the essence of the Mid-Autumn Festival. With each bite, be transported to a world of pure indulgence and unparalleled gastronomic bliss.
Key Differentiators
Culinary legacy
Signature durian delight
Luxurious presentation
6. Tai Cheong Bakery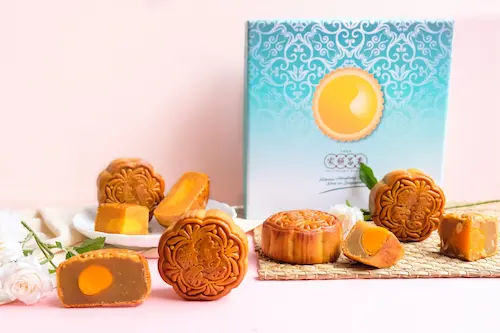 Tai Cheong Bakery's mooncakes are a delicious extension of their famous egg tarts. Meticulously crafted with precision and care, these mooncakes offer a symphony of flavors, blending tradition with innovation. The rich crust and luscious filling create a delightful contrast of textures. Indulge in these exquisite mooncakes and relive cherished festive memories. A culinary journey that leaves you craving for more!
Key Differentiators
Egg tart legacy
Meticulous craftsmanship
Heritage flavors
Client Testimonial
A convenient place at Holland Village to have brunch. Their menu are generally more suitable breakfast and brunch given such as tarts and macaroni soup. Able to dine indoors and outdoors(suitable for cyclist).

Terry Sim
7. Fullerton Hotel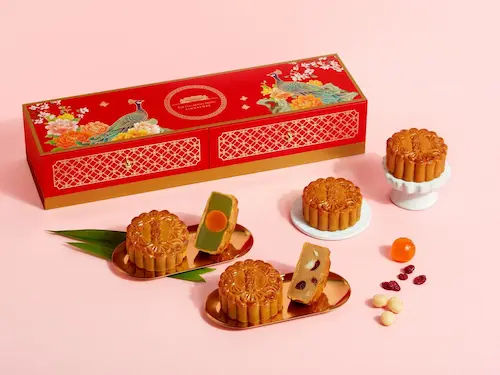 Experience luxury and opulence with The Fullerton Hotel's exquisite mooncakes. Meticulously crafted with the finest ingredients and artful presentation, each bite transports you to a world of grandeur. Indulge in the richness of flavors and delicate textures, capturing the essence of the Mid-Autumn Festival in a harmonious blend of tradition and sophistication.
Key Differentiators
Grandeur and opulence
Legacy of excellence
Fine ingredients
8. Hashida
Hashida's meticulously crafted mooncakes showcase Japanese culinary artistry, offering a delightful blend of craftsmanship and authenticity. These exquisite treats bring a touch of refinement to the festive season, captivating the senses with their delicate flavors. Experience a harmonious blend of tradition and innovation as each bite transports you to a world of culinary excellence and indulgence.
Key Differentiators
Japanese culinary artistry
Balanced flavors
Minimalist elegance
Client Testimonial
This was one of the best food experiences in my life. The chefs here are extremely talented, transporting me back to Japan. They fly in fresh fish from Japan & you can really taste the difference. They have a great selection of sake too. Very intimate dining experience with only room for 8 guests, where you get front row to watching the chefs create each dish. The staff are very attentive too. Thank you for taking me on an incredible food journey.

Ada K
9. Hai Tien Lo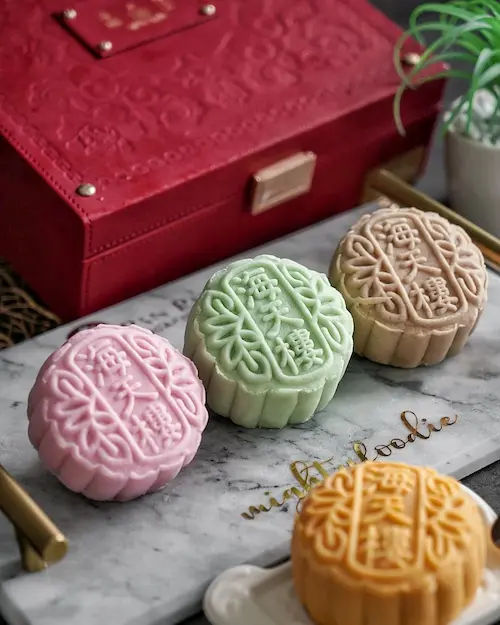 Hai Tien Lo's mooncakes are renowned for their exquisite craftsmanship and rich flavors, paying homage to the culinary heritage of Cantonese cuisine. These meticulously handcrafted treats symbolize tradition and bring joy to every gathering. With delicate pastry shells and mouthwatering fillings, they add elegance and delight to any occasion, creating unforgettable moments to cherish.
Client Testimonial
I would consider HTL to be one of the best Cantonese styled restaurants in Singapore. The food served is always different at every season. The staffs are friendly and attentive to our needs. Samuel, our server for today 8/12/22, was courteous and sharp. Good job! Finally, the seats are comfortable and the ambience is great.
Damage: A lot, but worthy.
I will definitely visit again.

Calvin Chua
10. Man Fu Yuan
Man Fu Yuan's mooncakes are a true embodiment of classic Cantonese cuisine. Meticulously crafted with the finest ingredients, each mooncake showcases culinary expertise and rich heritage. From the delicate flaky crust to the luscious fillings, every bite takes you on a journey of nostalgic flavors. Whether as a gift or personal indulgence, these mooncakes offer an enchanting and unforgettable taste experience.
Key Differentiators
Cantonese finesse
Traditional craftsmanship
Elegant aesthetics
Client Testimonial
Best Chinese restaurant in Singapore! Highly recommend. Nice food and amazing staffs! (Yongkang, Sam and Joanne) definitely come back with my family.

LEE Ji
11. Hilton Singapore Orchard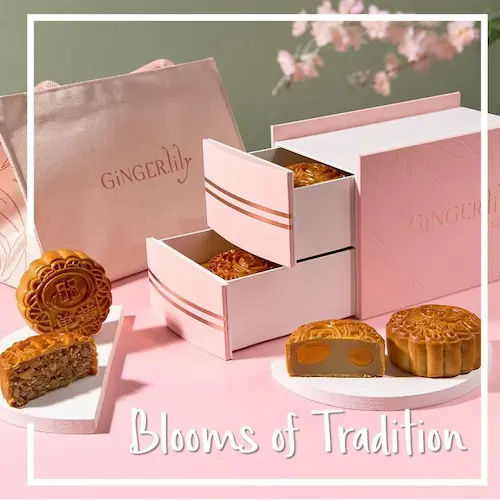 Experience the luxury of Hilton Singapore Orchard's exceptional mooncakes. Crafted with meticulous attention to detail, these delectable treats offer a harmonious blend of flavors that cater to diverse palates. Immerse yourself in the opulence and delight of their mooncake collection, perfectly aligned with the joyous spirit of the festive season.
Key Differentiators
Culinary excellence
Flavor diversity
Elegant packaging
12. Raffles Hotel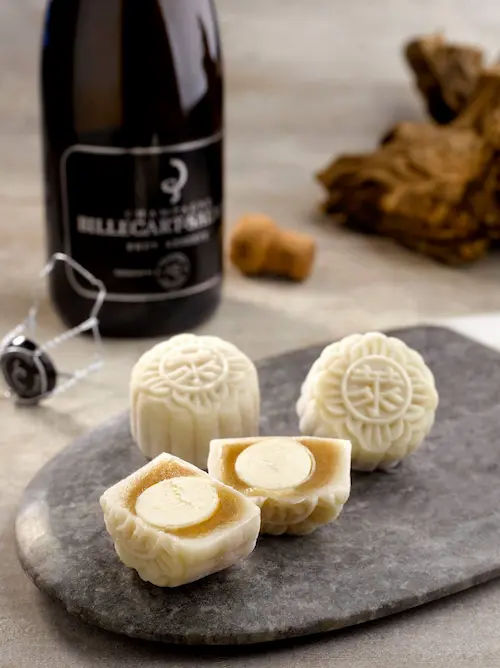 Raffles Hotel's exquisitely crafted mooncakes are a testament to timeless elegance and culinary mastery. Each meticulously prepared mooncake reflects the legacy of luxury and sophistication that Raffles Hotel is known for. With their delicate texture, perfectly balanced flavors, and intricate designs, every bite of Raffles Hotel's mooncakes offers an unforgettable experience of luxury dining.
Key Differentiators
Timeless elegance
Culinary craftsmanship
Artful presentation
13. PS.Cafe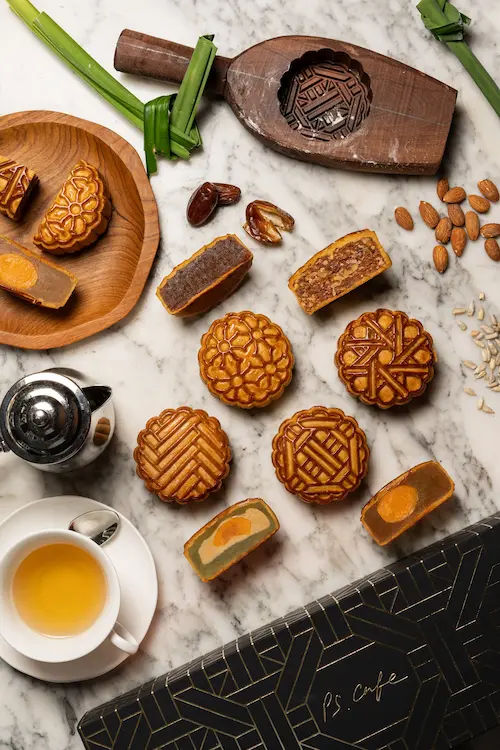 PS.Cafe's mooncakes are a perfect blend of tradition and innovation. With their creative combinations and tantalizing flavors, these mooncakes offer a fresh and exciting twist on traditional festival treats. Indulge in the artistry and craftsmanship of PS.Cafe's mooncakes, and elevate your Mid-Autumn Festival celebrations to new heights.
Key Differentiators
Contemporary twists
Artful aesthetics
Innovative combinations
Client Testimonial
A very good place to hang out with friend, but honestly I might not want to order the salad again, it's quite boring, should have try the steak sandwich, will do it next time.
The outdoor view is definitely the best, staff is so nice to give a birthday decor on the orange cake. Love the experience.
Best place to skate.

Mao Heng Sun
14. Conrad Singapore Orchard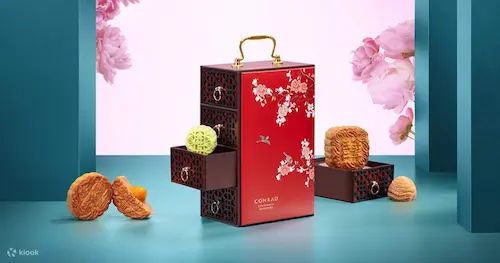 Experience the culinary mastery of Conrad Singapore Orchard with their exquisite mooncakes. Meticulously crafted to captivate your senses, these delectable treats offer a wide range of flavors to cater to every discerning palate. Indulge in the epitome of gastronomic excellence and create unforgettable moments with Conrad Singapore Orchard's extraordinary mooncakes.
Key Differentiators
Gourmet excellence
Diverse flavors
Artisanal crafting
Client Testimonial
My partner and I had our wedding two days ago at CONRAD hotel and were pleased with the food and setup for our banquet. Special shoutout to Vicky, whom had been super prompt and efficient with her service for the past few months. Definitely recommend Conrad Orchard and would visit this place again!

MAX TAN
15. SunnyHills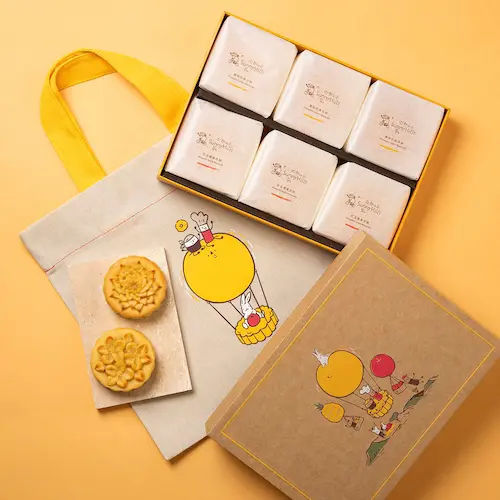 SunnyHills' mooncakes capture the essence of Taiwanese culture and tradition. With their exquisite flavors and meticulous craftsmanship, each bite transports you to a world of authentic tastes and nostalgic moments. Experience the true taste of Taiwan with SunnyHills' mooncakes, where tradition, quality, and shared moments come together.
Key Differentiators
Taiwanese hospitality
Quality pineapple cakes
Fresh, premium ingredients
Client Testimonial
Favourite pineapple cake in Singapore! Very authentic Taiwan taste. 👍🏻👍🏻 recommended for people who want a taste of Taiwan pineapple cake! 😋

安琪兒ANGEL HSU
16. Feng Shui Inn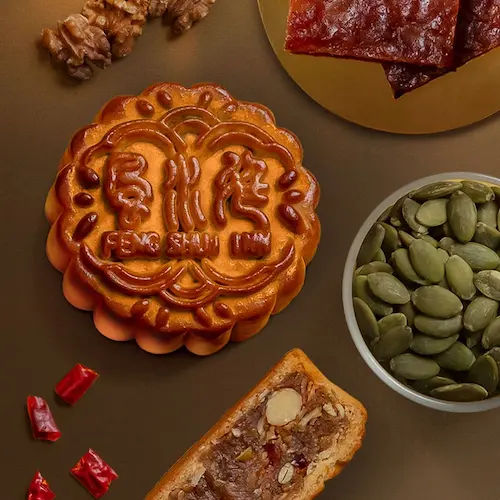 Feng Shui Inn's mooncakes are meticulously handcrafted, showcasing precision and balance. With flavors that evoke tranquility and nostalgia, these mooncakes offer an immersive taste experience rooted in Cantonese culinary traditions. Indulge in the artistry of Feng Shui Inn's timeless delicacy.
Key Differentiators
Cantonese authenticity
Classic techniques
Elevated ingredients
Client Testimonial
Friendly and accommodating staff. Superb food quality . 10/10 will definitely visit again!

Wen Qiao
17. The Marmalade Pantry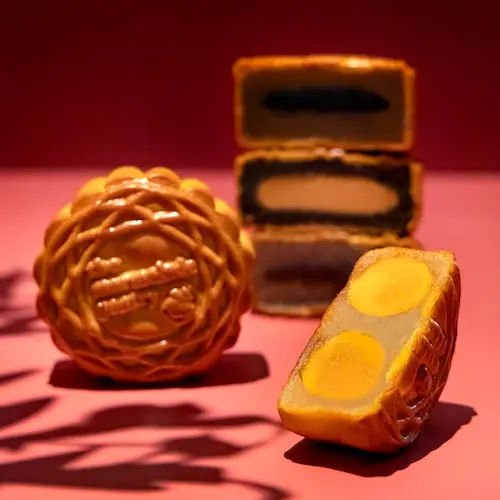 The Marmalade Pantry's mooncakes are a harmonious blend of tradition and innovation. With meticulously crafted creations that preserve traditional flavors while adding a modern twist, these exquisite indulgences take you on a flavorful journey. Experience the perfect balance of heritage and contemporary culinary artistry.
Key Differentiators
Contemporary indulgence
Modern flair
Gourmet touch
Client Testimonial
Really loved the food here, the portions were quite large. The truffle field mushroom risotto was my favourite. Truffle taste was strong but not overpowering, paired very nicely with the portobello and creamy risotto. Service was excellent, waiting time was very short and staff were efficient, very friendly,and helpful. Ambience is not bad too. Would come back again 🙂

Rachel Yong
18. Lime Restaurant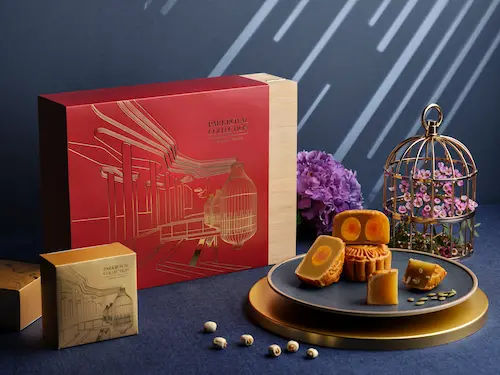 Experience Lime Restaurant's exquisite fusion of sophistication, culinary excellence, and artistic mastery with handcrafted mooncakes. These indulgent treats celebrate the spirit of the Mid-Autumn Festival, offering a blend of traditional and innovative flavors. Each bite is a symphony of flavors, from lotus seed paste to smooth salted egg yolk. Embark on a unique gastronomic journey and savor the enchanting experience of Lime Restaurant's mooncakes.
Key Differentiators
Culinary excellence
Artisanal creations
Luxurious taste experience
Client Testimonial
Especially thanks Yus for the lovely cake (aug bb x 3). Lobster festival was a great success. It was a very fantastic & sumptuous meal. Definitely you will see us again next year.

Cerlyn Lim
19. Swensen's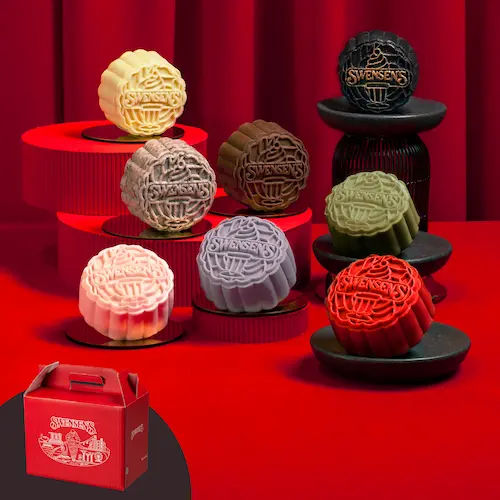 Swensen's mooncakes: a celebration of joy, tradition, and cultural heritage. With meticulously crafted flavors catering to diverse palates, these mooncakes bring warmth and happiness to the festive season. Each bite is a harmonious symphony of balanced flavors, creating an unforgettable culinary experience. Share with loved ones or gift to friends for lasting impressions and cherished memories.
Key Differentiators
Joyful indulgence
Family-friendly flavors
Wide selection
Client Testimonial
Have free birthday sundae on actual birthday. Pricey but food is good and enjoyable to celebrate birthday here.

Frank Pang
20. Laderach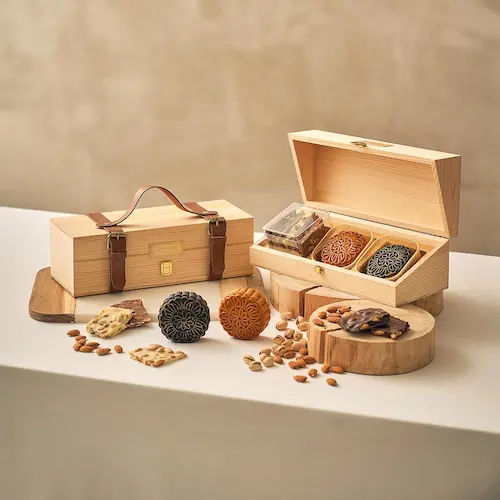 Laderach's mooncakes are a delightful celebration of Swiss chocolate mastery. Meticulously crafted with premium chocolate, these exquisite treats offer a luxurious journey of taste and texture that is simply irresistible.
Key Differentiators
Swiss chocolate mastery
Luxurious indulgence
Rich, quality chocolate
Client Testimonial
I cannot express in words how much delicious their chocolates are. They are prepared in Switzerland and oh my god they taste so good. Yes the chocolate sold is costly, but it is value for money.

n.deepak prasath
Tips for Storing and Enjoying Mooncakes
Ensuring the freshness and flavor of your mooncakes enhances the overall experience.
Storage: Keep baked mooncakes in an airtight container to preserve their texture and taste.
Pairing: Experiment with pairing baked mooncakes with different teas or wines to enhance the flavors.
Mindful Consumption: Savor each bite, appreciating the craftsmanship that went into creating these edible works of art.
Mooncake Singapore
From the luxurious offerings of Shangri-La and Yàn to the traditional flavors of Gin Thye and Mdm Ling Bakery, Singapore certainly has a mooncake for every preference. Whether you are a fan of the classic lotus seed paste and salted egg yolk combination or seeking a unique gastronomic experience with Mr. Bucket Chocolaterie's chocolate mooncakes, the options are truly diverse and delectable.
As we celebrate the Mid-Autumn Festival, let these exquisite baked mooncakes, each a testament to culinary artistry and tradition, add to the festive spirit. Remember to store your baked mooncakes well, enjoy them mindfully, and don't forget to experiment with different pairings. Happy Mid-Autumn Festival!
Frequently Asked Questions (FAQ)
If you have any questions about mooncakes in Singapore, you can refer to the frequently asked questions (FAQ) about the best Mooncakes in Singapore below:
Additional Useful Articles
If you are looking for other useful guides and articles about Mooncakes in Singapore, check them out below: