Set Lunch Singapore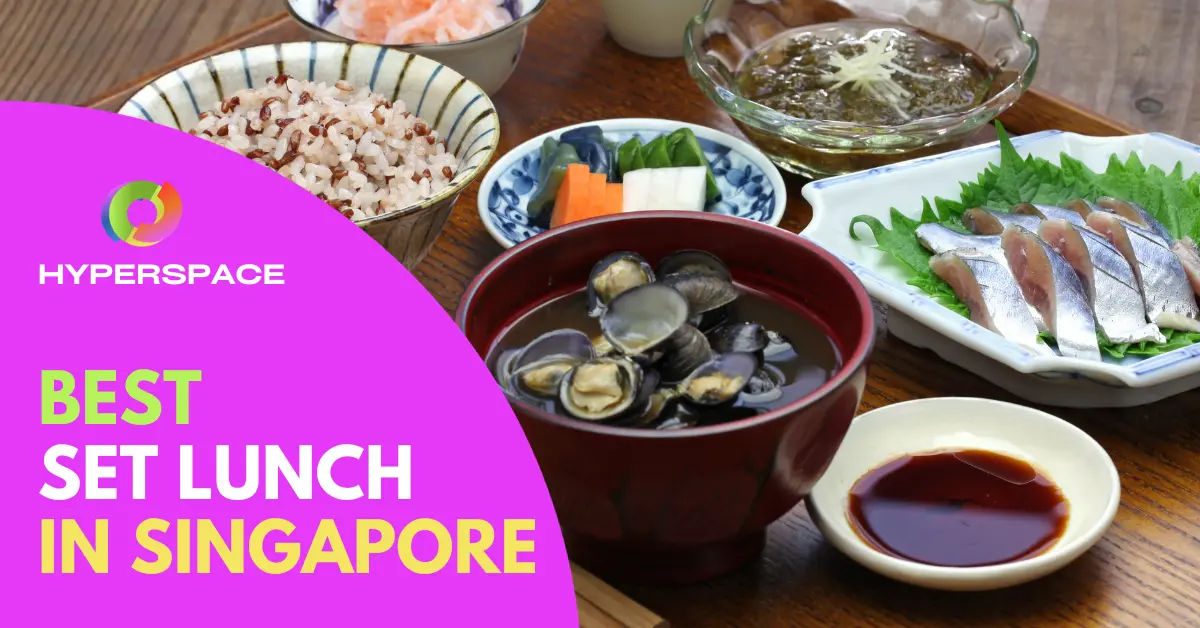 Singapore, a melting pot of diverse culinary traditions, serves an exciting array of set lunches that cater to a variety of palates.
The best set lunches in Singapore include Wolfgang's Steakhouse, Artemis Grill & Sky Bar, Collin's Grille, and Zafferano.
When selecting a set lunch in Singapore, take into account factors like delivery options, location, cuisine choices, and pricing.
In Singapore, set lunches are a delightful fusion of the city's multicultural culinary influences. They offer a mid-day feast that satisfies both traditional and adventurous palates.
This guide explores the top set lunch spots in Singapore, promising a unique gastronomic journey through local and international flavors.
Quick Summary
Best set lunches in Singapore include Wolfgang's Steakhouse, Artemis Grill & Sky Bar, Collin's Grille, and Zafferano.
When choosing a set lunch in Singapore, consider factors such as delivery, location, cuisine, and price.
Set lunches in Singapore are a delightful blend of the city's multicultural culinary influences, offering a mid-day feast that caters to both traditional and adventurous taste buds.
Key Consideration Factors
When choosing a place to go for a set lunch, make sure to check out these important consideration factors:
Delivery: With the current pandemic situation, many restaurants have introduced delivery options for their set lunches. This allows customers to enjoy a delicious meal in the comfort and safety of their own homes.
Location: Singapore is a compact city-state, but it can still take some time to travel from one end to another. Consider choosing a set lunch spot that is convenient and easily accessible for you.
Cuisine: From traditional local dishes to international flavors, Singapore offers a diverse range of cuisine choices for set lunches. Make sure to check out the menu beforehand and choose a spot that meets your taste preferences.
Pricing: Set lunches in Singapore can vary in price, so be sure to consider your budget when selecting a spot. Some restaurants may offer promotions or discounts during specific times, so keep an eye out for those as well.
Best Set Lunch Singapore
1) Artemis Grill & Sky Bar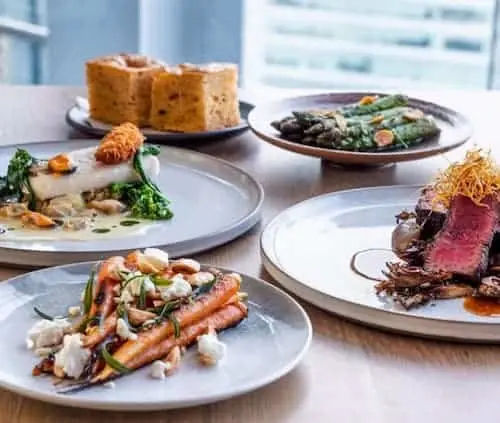 Key Service
Gluten-free and keto-friendly
Address
138 Market Street, CapitaGreen Rooftop (Level 40), Singapore 048946
Website
https://artemisgrill.com.sg/
Phone
+65 6635 8677
+65 9850 7954
Email
enquiries@artemisgrill.com.sg
Operating Hours
Monday to Friday: 11:30 AM – 9:00 PM
Saturday: 5:30 PM – 9:00 PM
Searching for a restaurant that offers more than just a meal? Look no further than Artemis Grill and Sky Bar! Tucked away on CapitaGreen's rooftop, this hidden Mediterranean gem offers not only a breathtaking view of the island but also an unforgettable dining experience.
Indulge your taste buds with a tantalizing array of dishes, from mouthwatering appetizers to irresistible desserts, all crafted with the finest ingredients. But that's not all! Brace yourself for the ultimate delight – their executive set lunch menu, available as a two course lunch set or three-course meal, is guaranteed to satisfy even the most discerning palates.
Experience an unparalleled culinary journey at Artemis Grill and Sky Bar, where you can indulge in breathtaking views and delectable dishes. Don't miss out on this extraordinary dining experience!
On the menu, you'll find a variety of mouthwatering options. From avocado and artichokes to roasted rack of lamb, chicken breast, roasted salmon, pork secreto, and quinoa falafel. Whether you're vegan, gluten-free, or follow a keto-friendly diet, rest assured that most of these options can be easily customized to suit your dietary preferences.
2) Rhubarb Le Restaurant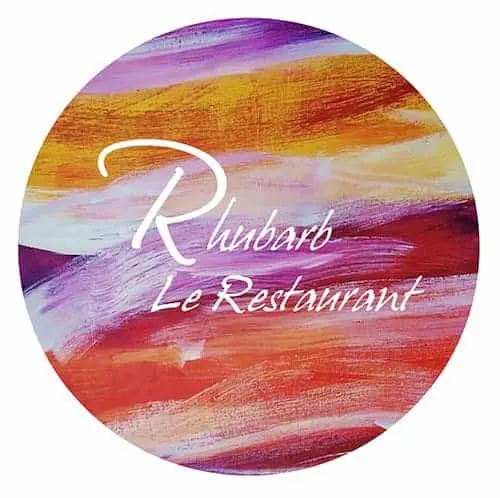 Key Service
Authentic French cuisine
Address
3 Duxton Hill Singapore 089589
Website
https://www.rhubarb.sg/
Phone
+65 8127 5001
Email
paul@rhubarb.sg
Operating Hours
Monday, Tuesday, Thursday, Friday: 12:00 PM – 9:30 PM
Saturday: 12:00 PM – 10:00 PM
For an incredible culinary journey into the world of authentic French cuisine, Rhubarb Le Restaurant is the ultimate destination. Nestled in the picturesque enclave of Duxton Hill, this hidden gem redefines fine dining, albeit with a slightly higher price tag.
When we say it's a small restaurant, we truly mean it. With only seven tables in its intimate dining area, Rhubarb creates a serene and peaceful atmosphere, where you can indulge in every bite and have a truly immersive and personal dining experience.
One of the advantages of having a small dining area is the personalized service each customer receives. With the chefs only preparing a few meals, there are no delays in service at Rhubarb. While waiting for their meals, customers have the opportunity to observe the chefs in action in the open-plan kitchen. Chef Paul, the head of Rhubarb's culinary team, brings a distinctive French cuisine approach to the table.
For the set lunch, you have the option to choose between a three-course or four-course meal, both of which showcase fruits and vegetables. This is an ideal choice for vegetarians looking to enjoy some classic French cuisine.
Due to high demand, Rhubarb is typically fully booked. We suggest making a reservation for a tranquil dining experience. While it's easy to schedule, please be aware that confirmation may require some time.
3) Zafferano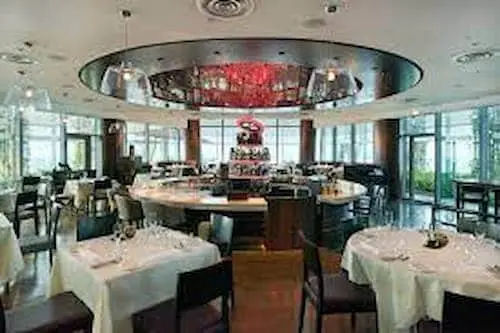 | | |
| --- | --- |
| Key Service | Contemporary Italian Cuisine |
| Address | Level 43 Ocean Financial Centre, 10 Collyer Quay, Singapore 049315 |
| Website | http://zafferano.sg/ |
| Phone | +65 6509 1488 |
| Operating Hours | Tuesday to Sunday: 12:00 PM – 3:00 PM, 6:00 PM – 11: 00 PM |
Located 43 stories above lively Collyer Quay, Zafferano, the Italian restaurant, offers an enchanting dining experience. Treat yourself to the irresistible flavors of genuine Italian hospitality while enjoying breathtaking views.
Immerse yourself in the captivating ambiance, impeccable service, and delectable dishes, all savored on our welcoming outdoor patio. Zafferano is where culinary excellence merges with the finest Italian cuisine in Singapore.
Savor the contemporary Italian creations by Head Chef Andrea De Paola, where his unique accent shines through every signature dish. Embark on a culinary adventure that evolves with the seasons, showcasing delightful Kurobuta Pork Cheek Ravioli complemented by a pecorino sauce and heavenly Tagliatelle Pasta adorned with Butter Sauce and White Truffle.
Experience the extraordinary flavors of autumn like never before!
4) Yantra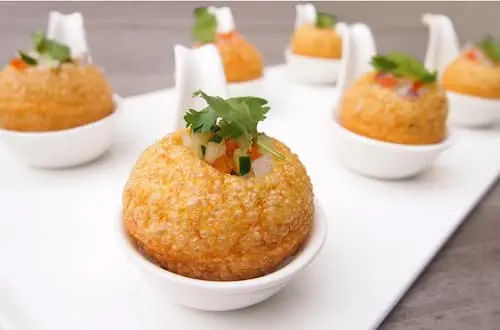 Key Service
Indian cuisine
Vegan options
Address
163 Tanglin Rd, #01-28/33, Si
Website
https://www.yantra.com.sg/
Phone
+65 6836 3088
Email
yantra@restobars.com.sg
Delivery
Yes
Operating Hours
Monday to Friday: 12:00 PM – 10:00 PM
Saturday to Sunday: 12:00 PM – 10:30 PM
Amidst Singapore's bustling culinary landscape, where Indian restaurants are aplenty, Yantra shines as a unique gem, providing an exceptional dining experience. Enter Yantra and be whisked away to a realm where traditional Indian flavors seamlessly blend with modern tastes.
The diverse restaurant menu caters not only to discerning palates but also to vegans and health-conscious individuals, making it a sanctuary for all.
Yantra has got you covered for both lunch and dinner, whether you prefer indulging in a delectable à la carte selection or opting for tantalizing set meals. Whether you're on a quest to maintain a perfect waistline or simply longing for a well-deserved treat, Yantra is the ultimate destination to satisfy your cravings.
Not only are all their dishes crafted with fresh and organic ingredients, but Yantra also offers a wide range of vegan options. However, it's important to note that vegan meals, like most others, tend to be pricier than traditional foods.
Yantra's interior is just as impressive, showcasing exquisite Indian cuisine vegan options and breathtaking decor. The walls are adorned with art that beautifully represents India's traditional cultures, while the restaurant itself offers ample space, large tables, and plush velvet sofas for a comfortable dining experience.
5) Collin's Grille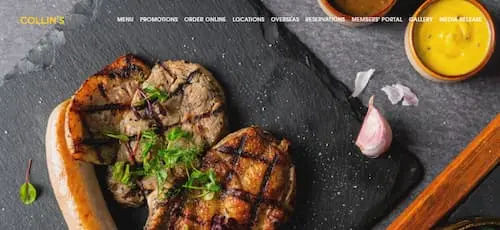 Key Service
Free deliver
With vegan choices
Address
6 RAFFLES BOULEVARD, #01-204/205 SINGAPORE 039594
Website
https://www.collins.sg/
Phone
6254 2502
Delivery
Yes
Operating Hours
Daily: 11 a.m. – 10.30 p.m. (Last order 9.30 p.m.)
Collin's Grille, with its convenient presence in more than 23 locations across the island, is easily one of Singapore's most accessible restaurants. No need to venture far; you'll likely find an outlet just around the corner, ready to delight your taste buds.
One of the reasons we included it on our list is the wide variety of nutritious dishes they offer. Their menu boasts salads, pastas, fresh seafood, burgers, pizza, and other popular Western cuisine choices.
While Collin's Grille is often known for its meat-based meals, they have now introduced plant-based options in collaboration with The Vegetarian Butcher, a prominent supplier of plant-based meats. This means that even vegans can indulge in their beloved dishes.
Customers have the freedom to choose anything from the restaurant's extensive menu for their set lunch. With a diverse range of culinary choices, it can be a bit challenging for some to make a decision.
Furthermore, the generous portion sizes are incredibly satisfying and can easily feed up to three people, as some patrons have attested. This abundance of delicious food makes it an ideal choice for team dinners and special gatherings.
6) Wolfgang's Steakhouse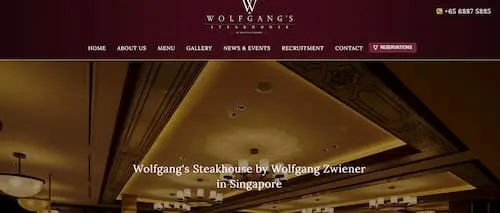 Key Service
High quality steak
More choices on set lunches
Address
1 Nanson Road #02-01 Intercontinental Singapore Robertson Quay Singapore 238909
Website
https://wolfgangssteakhouse.sg/
Phone
+65 6887 5885
Delivery
Yes
Operating Hours
Monday to Sunday: 11:30 AM – 11:30 PM
Treat yourself to a delectable steak for lunch at Wolfgang Steakhouse. Established in 2004, this renowned restaurant is a paradise for meat enthusiasts. Their dry-aged USDA Prime Black Angus steaks, aged on site for 28 days, guarantee exceptional tenderness and flavor.
However, Wolfgang Steakhouse offers more than just steaks. Explore their lunch menu, showcasing a delightful assortment of salads, seafood dishes, pasta, burgers, sandwiches, and desserts. Whether you're a meat aficionado or craving something different, this establishment caters to all tastes.
Discover a wide selection of lunch options at Wolfgang Steakhouse, showcasing exquisite entrees from the deli. Indulge in our impressive collection of contemporary and aged wines at the wine bar, because, let's be honest, a steak is always enhanced by a fine bottle of wine.
Join us to savor the perfect combination of quality, taste, and variety at Wolfgang Steakhouse.
7) Candlenut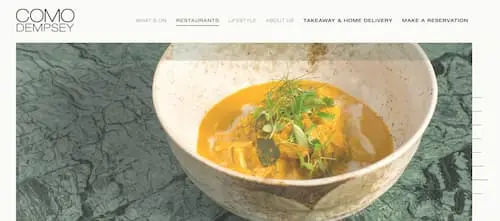 | | |
| --- | --- |
| Key Service | World's first Michelin-starred Peranakan restaurant |
| Address | Block 17A Dempsey Road, Singapore 249676 |
| Website | https://www.comodempsey.sg/restaurant/candlenut |
| Phone | +65 8121 0176 |
| Delivery | Yes |
| Operating Hours | Monday to Sunday: 12 PM – 3 PM, 6 PM — 10 PM |
Experience the culinary magic at the restaurant with our exquisite 'Taste of Candlenut' Lunch Menu, thoughtfully crafted by the passionate owners. Delight in a delightful three-course meal that takes you on a gastronomic journey.
Indulge in the succulent Maori Lake's Lamp Satay, savor the flavors of Chef Malcolm Lee's mother's chicken curry, and relish the timeless recipe of Aunt Caroline's Babi Buah Keluak. Prepare to be enchanted by the flavors that dance on your palate.
Candlenut has achieved a historic milestone as the world's inaugural Michelin-starred Peranakan restaurant, providing an unparalleled dining experience. Their inventive take on Peranakan cuisine elevates the flavors and intricacy while maintaining exceptional taste.
8) Wooloomooloo Steakhouse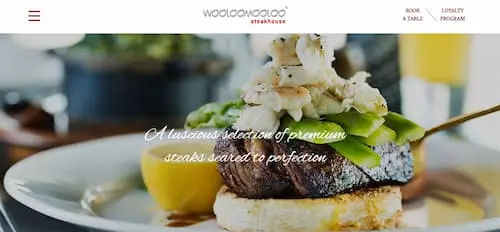 Located in the Swissotel The Stamford, this steakhouse with a classic Australian influence provides delicious and affordable meals. Enjoy breathtaking city skyline views while indulging in their mouthwatering dishes.
The Weekday Set Lunch offers a variety of options, including their famous steaks, tantalizing pasta, and beer-battered fish. For an enhanced dining experience, you can also choose from their premium meat selections.
The dining room has a capacity for up to 140 guests, while the semi-private room can accommodate 20 and the lounge can seat 70. The menu offers a diverse range of premium steaks, including renowned Australian beef, paired with an extensive selection of wines.
Enjoy a delightful culinary journey while taking in stunning city views through our floor-to-ceiling windows. Furthermore, the restaurant showcases Australian heritage with a captivating dot-painting mural. Please kindly note the smart casual dress code.
9) Lerouy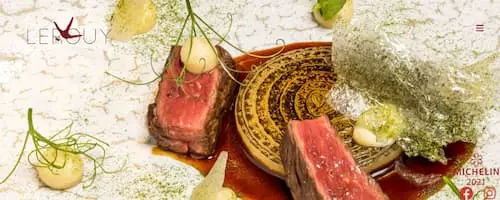 | | |
| --- | --- |
| Key Service | Authentic French cuisine relaxing ambience |
| Address | 104 Amoy St, Singapore 069924 |
| Website | https://lerouy.com/ |
| Phone | +65 6221 3639 |
| Email | contact@lerouy.com |
| Delivery | Yes |
| Operating Hours | Tuesday to Saturday: 12:00 PM – 8:45 PM |
Enter the world of Leroy, an exceptional Michelin-starred restaurant nestled in Singapore, where classic French cuisine takes on a contemporary twist. Leading the way is renowned chef Lerouy, originally from Alsace, France, with an impressive culinary journey encompassing top establishments in Abu Dhabi, Marrakech, Los Angeles, and Shanghai.
But Leroy offers more than just incredible flavors. Imagine an open-kitchen design, where anticipation blends seamlessly with entertainment. As you await your order, witness the skill and artistry of our talented chefs, transforming fresh ingredients into culinary masterpieces right before your very eyes.
Leroy: a sensory delight, blending gastronomy with theater. The lunch and dinner offerings at Lerouy are in a constant state of evolution, guaranteeing a unique dining experience on every visit. By coming once a month, you can savor a fresh array of French cuisine with each occasion.
10) VUE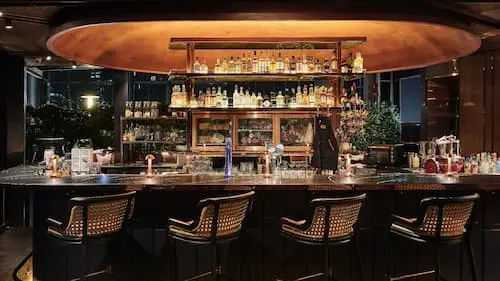 Key Service
Skilled chefs
Extensive wine list
Address
OUE Bay Front, 50 Collyer Quay Level 19, Singapore 049321
Website
https://www.vue.com.sg/
Phone
+65 8879 0923
Email
dining@vue.com.sg
Operating Hours
Monday to Friday: 12 pm to 2 pm, 5:30 pm to 10 pm
Saturday & Sunday: 12 pm to 2.30 pm, 5:30 pm to 10 pm
Savor a delectable midday meal with VUE's Executive Set Lunch! Delight your palate with a selection of enticing main courses, including the juicy Baked Kühlbarra Barramundi and the flavorful Grilled Chicken Breast.
For a truly luxurious experience, you can opt for the indulgent Grilled New Zealand Ora King Salmon or the tantalizing 24hr Slow-Roast Brisket. Prepare yourself for a lunch that will leave you yearning for seconds!
Situated on Collyer Quay, at the summit of OUE Bayfront, VUE presents a culinary experience driven by talented chefs, showcasing binchōtan-grilled delicacies, accompanied by a wide array of wines. What sets VUE apart is its distinction as Singapore's inaugural rooftop spritz bar.
Set Lunch Singapore
Whether you're in the mood for extravagant fine dining or a quick, affordable set lunch, Singapore's diverse culinary scene has something to offer.
From the world-famous Wolfgang's Steakhouse to the Michelin-starred Lerouy, each restaurant provides a unique dining experience and a taste of the city's rich cultural tapestry.
So, the next time you're in Singapore, make sure to explore these amazing lunch spots and enjoy a gastronomic adventure like no other.
Frequently Asked Questions (FAQs)
If you have any questions about set lunches in Singapore, you can refer to the frequently asked questions (FAQ) about the best Set Lunches in Singapore below:
What are the best set lunches in Singapore?
The best set lunches in Singapore include Rhubarb Le Restaurant, Lerouy, Yantra, Club Street, Collin's Grille, and Artemis Grill & Sky Bar.
Are there any restaurants in Singapore that specialize in authentic French cuisine and provide a relaxing ambiance for lunch?
Absolutely! Indulge in the charm of authentic French cuisine relaxing atmosphere at Rhubarb Le Restaurant and Lerouy. Their set lunch menu will transport you to the streets of France.
Which restaurants in Singapore are known for their fresh seafood dishes in their lunch sets?
For seafood lovers, Collin's Grille is the go-to place. Their lunch sets include a variety of fresh seafood dishes that are sure to please your taste buds.
Where can I find affordable lunch sets in Singapore that offer a satisfying two-course meal?
If you're looking for value without compromising on taste, head to Artemis Grill & Sky Bar. They offer affordable lunch sets that include a delicious two-course meal.
Do any restaurants in Singapore offer vegan options for Indian cuisine in their business lunch sets?
Yes, Collin's Grille is the perfect choice if you're seeking Indian cuisine with vegan options in their business lunch sets. Enjoy flavorful plant-based dishes during your lunch break.
Are the mentioned restaurants in the article's list offering both à la carte and dinner menus alongside their lunch sets?
Absolutely! Most of the mentioned restaurants offer a variety of options with both à la carte and dinner menus. You can savor their perfectly cooked dishes throughout the day.
What is the typical duration for a lunch break in Singapore?
In Singapore, a typical lunch break duration is around 60 minutes, allowing individuals to enjoy their meals and take a well-deserved rest.
Can I make reservations for the mentioned restaurants' lunch sets?
Yes, it is recommended to make reservations for the mentioned restaurants' lunch sets to ensure a seamless dining experience and avoid any inconvenience.
Do the mentioned restaurants offer a range of options in their lunch set menus, catering to different dietary preferences?
Yes, the mentioned restaurants curate their set lunch menus to cater to varied dietary preferences. Whether you're seeking vegetarian, gluten-free, or other specific options, they strive to provide a diverse selection.
Additional Useful Articles
If you are looking for other useful guides and articles about Set Lunches in Singapore, check them out below: