Water Dispenser Singapore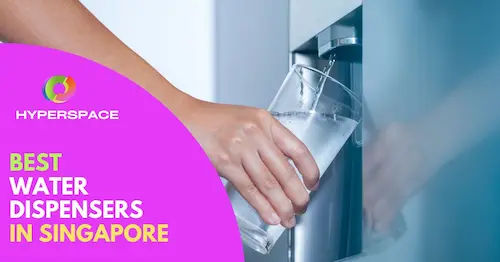 Water dispensers provide 24/7 access to clean, healthy water for the citizens of Singapore.
The best water dispensers in Singapore include AOX COMPAC O2+, CUCKOO Prince Top Lite Water Purifier Dispenser, and Xiaomi VIOMI hot water dispenser.
When choosing a water dispenser in Singapore, consider different factors such as price, water flow rate, capacity, features, noise level, design, and filtration system.
There are various types of water dispensers available in Singapore, such as bottom-load, top-load, countertop, and wall-mounted water dispensers.
In this guide, we will explore the best water dispenser Singapore options, briefly discussing their features and benefits to aid you in making a well-informed choice.
Key Consideration Factors
Space: When looking for a water dispenser that fits your interior space, you have several options. A wall-mounted model is perfect if you're working with limited square footage; while tabletop and free-standing models are also suitable choices depending on the room or house layout. For instance, when I had to save on space I chose a countertop option instead of a freestanding one – it was both efficient and aesthetically pleasing!
Price: When selecting the perfect water dispenser for your needs, one key element to take into account is cost. While some are more affordable, others come with a higher price tag but have additional features. For instance, if you need hot and cold water capabilities in Singapore then it would be essential to invest in this extra feature at an increased rate.
Water Flow Rate: When looking for a water dispenser, the flow rate should be taken into consideration since it can vary drastically between different models. The flow rate is essentially how quickly water pours out of the nozzle, so make sure to choose one that meets your needs.
Capacity: Purchasing a large capacity water dispenser will be more advantageous for those with big families or business offices. You also have to know that there are some versions which operate without tanks.
Best Water Dispenser Singapore
1) AOX COMPAC O2+
Although the AOX Compac O2 carries a hefty price tag, it is absolutely worth every penny due to its impressive design and cutting-edge features. This alkaline water dispenser offers more than just crisp hydration; with an inbuilt active oxygen sterilizer and abundant negative ions, this multi-tasking machine can obliterate allergens, viruses, and germs from your environment.
Key Differentiators
Cutting-edge style
Built-in active oxygen sterilizer
AOX Antioxidant Alkaline Minerals Filter
2) CUCKOO Prince Top Lite Water Purifier Dispenser
Are you the type of person who usually relies on Siri for help? Then rejoice – CUCKOO Prince top Lite Water Purifier is perfect for you. With its voice command feature, not only can you get your daily water intake in three languages (English, Chinese and Malay) quickly and easily; but unlike other water dispensers that have strictly limited amounts of liquids to dispense out per time, this one allows any amount with just a press! Say goodbye to long queues waiting for your turn – it's pure convenience at your fingertips.
Key Differentiators
Voice control — English, Mandarin, Malay
3 languages supported
Automatic dispensing of any amount of water
Client Testimonial
This product is outstanding. Not only does it have an attractive design, but it also functions top-notch. Although more expensive than a few of the other corresponding products on the market, this one goes above and beyond with tankless capability and intuitive user interface – making everyday usage effortless! It's well worth what you pay for; I highly recommend investing in this amazing item!

Anonymous
3) Xiaomi VIOMI hot water dispenser
When we just cannot be bothered to walk up those twenty paces to the kitchen, it can seem like a long journey into an unknown land. Thankfully, Xiaomi Viomi 2L water dispenser is here to make our lives easier! Not only does this lightweight and conveniently portable machine fit perfectly on shelves or side tables with its small size similar in shape to coffee makers; but also helps us get access quickly during such times of need!
Key Differentiators
Water temperature is adjustable with three modes: normal, warm, hot
Intelligent water shortage reminder
Water quality monitor for safe drink
Client Testimonial
I was elated with the delivery which arrived the next day, and I'm just as pleased with the product. Even though it came with a manual written in Chinese, it was still quite straightforward to understand! The water flows quickly so there's no need for me to wait long when using this product – I tested out all temperatures and couldn't be happier. Fingers crossed that this item will last me a good while – many thanks to NinjaVan and its seller for their amazing service! Highly recommended indeed.

lyz
4) AmGlow Touchscreen Hot & Cold Tabletop Dispenser
If you're searching for an effortless way to gain all the health benefits of alkaline water, like improved bone strength and reduced blood pressure, look no further than AmGlow's Touchscreen Tabletop Water Dispenser. Equipped with a unique filter system that removes chlorine, bacteria and germs in mere seconds – you can be sure your drinking water is always safe and clean!
Key Differentiators
Good for smaller spaces
With ultrafiltration features
Outfitted with an alkaline water filter
Client Testimonial
After two weeks of using this product, we can confidently offer our glowing review. From initial inquiries to installation and beyond – with their excellent after-sales assistance – they easily deserve a five out of five star rating! Their responses were always quick and helpful every time we had questions.

3 wheelingtots
5) Novita HydroPlus Water Purifier NP6610
The Novita Enhanced NP6610 furnishes a state-of-the-art six-stage filtration system to not only provide hydration, but also alkaline antioxidant water and energized HyrdoPlus® molecules with smaller cluster sizes. This extraordinary element is exclusive to the NP6610, providing you with optimal health benefits.
Key Differentiators
Effectively filters out debris, heavy metals, bacteria, in/organic matter, and other impurities, leaving only healthy, odourless, and safe drinking water
Electricity supply or piping is not required
Standalone unit, Restriction-free
Operational ease and no fuss handling
Client Testimonial
This product is truly outstanding! Setup was effortless, and it works like a charm. We now have access to clean, delicious-tasting water – what more could you ask for?

Ver K
6) Bluepro Instant Heating Water Dispenser
The Bluepro Instant Heating Water Dispenser has been designed with purity and health in mind. The boiling water transfers to the nozzle where it is sterilized, preventing dangerous splashes or drips from occurring as you dispense your hot water. With this system, you can enjoy a safe experience while still receiving clean pure drinking water!
Key Differentiators
Compact size
Easily cleaned and dishwasher safe
25°C, 45°C, 50°C, 55°C, 85°C, and 99°C temperature settings are available
Client Testimonial
The user guide was professionally written and even came with a nifty adaptor, which includes USB charging ports! After washing the water tank and running it through at 99°C, the water tasted excellent. The machine ran silently yet heated up quickly- when tested via meat thermometer, we found that its 99°C setting reached 91±5°C approximately, while 85°C achieved 82 ± 5 ° C. We are ecstatic about this purchase as we have not yet examined other temperatures and features such as dispense volume control (which were surprisingly useful!)and child lock feature proved to be beneficial too!

Carl T
7) Toyomi Filtered Water Dispenser
The Toyomi Instant Boil Filtered Water Dispenser is one of the top water dispensers in Singapore, due to its incredible health benefits like reduced risk of heart disease and enhanced digestion. It's also capable of remineralizing our bodies by reintroducing important minerals such as iron, zinc, and magnesium. With all these advantages at your fingertips with just a few clicks away from a water filter system – why aren't you joining people who have already made the switch?
Key Differentiators
Low water volume alarm
Filtration to re-mineralizes the water adding iron, zinc, calcium, magnesium, selenium, lithium, iodine and other minerals and trace elements
Stainless steel heating element
Client Testimonial
This product was warmly welcomed! Its delivery time was remarkably quick, and it lived up to its description. Hot water is now ready within seconds – all that's necessary is a bit of patience while the liquid passes through the filter. All in all, an excellent purchase!

chiekie92788
8) Puri Jiksoo OHC-7000D
Purikool, a Korean-based company established in 2017, has developed the Puri Jiksoo OHC-7000D–a slim and tankless water dispenser specifically designed for Singapore residences. This advanced model purifies drinking water by utilizing its 4-stage filter system combined with nozzle sterilization to remove any pollutants from your tap.
Key Differentiators
Complete filtration and sterilisation of water from the dispenser to cup
Instant cooling and heating system with varying temperatures
Volume control & easy touch panel
Space-saving with a sleek design
Client Testimonial
I recently purchased the pre-order promotion and was thrilled when my dispenser arrived during the second week after Chinese New Year. The installation process – even though drilling through quartz and concrete countertops proved difficult – Tony, with his assistant by his side, still managed to skillfully accomplish it in a timely manner while maintaining orderliness throughout. After completion of setup, he kindly took time to explain how to use the device: cold, room temperature, warm or hot! I am extremely pleased with its design – simplicty at its best – as well as its convenient functionality.

Lig29x
9) Waterlogic Firewall Cube
Singapore's tap water is safe to drink, but for those who want the ultimate in cleanliness and protection from Covid-19, Waterlogic Firewall Cube presents a first-of-its-kind solution. The innovative UV light housed inside the Firewall purifies cold and room-temperature drinking water through spiral tubes known as the Firewall. Independent researchers have tested this technology which has been proven to remove virus particles including those of Covid-19! Experience total peace of mind with Waterlogic's revolutionary system today!
Key Differentiators
1.4L for cold water | 1.3L for hot water
Unlimited for ambient water
UVC light to purify the water
10) Pere Ocean Hot Cold Table Top Direct Piping Water Filter Purifier Dispenser
If you're seeking a water dispenser with plenty of space, then this model is the perfect choice for you. Check out its four purification stages to effectively rid your drinking water of any and all germs! What's even more inviting is that it comes complete with a 12-month warranty – ensuring customer satisfaction like never before.
Key Differentiators
With high volume capacity with an attractive design
With automatic maintenance
Four purification features
Client Testimonial
Last month, I purchased the Gold Label hot and cold water dispenser, and it was a great decision! The customer service team were helpful in answering all my questions promptly. Additionally, delivery of the product arrived on schedule. What's more is that the design itself looks amazing – perfect for any modern home or office. In comparison to other water filtering systems, this device proves to be vastly cost effective over 3-5 years depending on your household consumption needs – highly recommended!

Norman Lee
11) Morphy Richards Hot and Warm Water
With the Morphy Richards Water Dispenser, you can craft your ideal cup of coffee with convenience and style. Not only does it permit you to pre-set the temperature for better taste, but its BRITA filter eliminates impurities like chlorine, limescale, and metals from water. Moreover, this tank dispenser is equipped with an auto-dispense feature that lets you fill containers without needing to press any buttons. Plus – no plumbing is necessary! Experience up to 3 liters of tasty hot or cold drinks in a single session thanks to its generous capacity.
Key Differentiators
Has a 3-liter water tank
With digital display and attractive design
BRITA Filtration Technology
Client Testimonial
Dispenser works as described in the video so am happy with that. However, got to have a separate system or jugs set up for cold or room temperature water.

Anonymous
12) Philips Filtered Water Dispenser
Philips, the well-known and reliable home goods producer, has a Philips Filtered Water Dispenser that is aiming for Singapore's title of best inexpensive water dispensers. This unique product features an AquaShield all-in-one RO filtration system which quickly and effectively removes 110 harmful contaminants from tap water such as lead, chlorine, and pesticides – ensuring you are provided with clean drinking water at an affordable price point.
Key Differentiators
Remove ultrafine contaminants as small as 0.0001um in water
Automatic water shortage reminder
Virus & Bacteria removal: up to 99.999%
Client Testimonial
I appreciate the swift delivery of this product, as it satisfies my demand for UV sterilisation and 45 deg C setting to store baby milk. The only downside is that I cannot pick a volume other than the four specified options; however, with some tweaking on settings, I am able to customise it for my needs. Although mastering accuracy can take time and practice, overall this apparatus has been a game-changer in providing convenience!

weekian56
13) Novita Countertop Water Purifier NP313
The Singaporean germ-free water dispenser ensures a reliable and affordable drinking experience. The shape of the device is unique, as it takes up little room but offers all necessary functions. Plus, you won't need to replace its filter often—if ever! Therefore, owning this product comes with few maintenance costs.
Key Differentiators
Budget-friendly
Offers 1-year warranty
Unique and smart design
14) Cosmo Quantum
For those of us working with a kettle, H20 is frequently room temperature or piping-hot 100°C water. Cosmo Quantum, on the other hand, has the handy function of offering three temperature settings at all times that you can tailor for green tea brewing, formula milk preparation, or disinfecting.
If you're particular about what goes into your drinking water, you'll thoroughly appreciate the Cosmo Ultra Precision Filter. With 0.0001 micron accuracy and 99.9% removal of impurities such as bacteria, viruses, and heavy metals – this filter will amaze even the most meticulous among us! Not to mention that all substances passing through are sterilised by an inbuilt UV LED for guaranteed purification with every single use; now that's sure to impress!
Key Differentiators
Filter change indicator
Energy-saving mode & 3-second reheating system
Quantity control to dispense specific volumes of water
Client Testimonial
Purchasing from this brand was an incredibly enjoyable experience! When I visited their showroom, the staff answered my questions promptly. Sure enough, after returning home I quickly made a purchase and it arrived in less than seven days – earlier than expected! The team who aided with installation were highly knowledgeable and had remarkable customer service skills; they left me feeling satisfied.

Peng Hwee
15) Drink Star DS 516TT
For a decade, Drink Star has been providing Singapore with clean and safe water. Their top-notch customer service is accessible to both commercial and residential customers alike. Furthermore, businesses of the public sector can also access their range of water dispensers – most notably the DS 516TT offering hot or cold temperature dispense, chilling capabilities as well as an advanced filtration system for optimal quality assurance! And what's more? It requires no difficult installation whatsoever!
Key Differentiators
With 2 taps and is installed with filters
Most competitively priced provider in Singapore
Suitable for commercial use
Client Testimonial
This product is excellent and recommended! The technician's services were outstanding.

Fadyan
16) FLC Inc Premium Water Dispenser
Not only is the following water dispenser safe and easy to use, it's also designed with an extra layer of protection in mind. Connecting your bottle to the device compresses the water immediately, preventing any airborne germs from entering your drinking supply. Plus, this item is perfect for children too! It can be locked automatically — protecting curious toddlers from getting scalded by hot liquid when they attempt to fill their own cups or bottles.
Key Differentiators
Prevents pollutants, resulting in a long-lasting freshness
Compatible with a bottle of a specific type
Locks to keep you safe from mishaps
Client Testimonial
Since we are using a dispenser now, there is no need to change the filter as with our previous system, and the used bottles are very easy to dispose of with our recycling.

Anonymous
17) WaterMaxx WM 2104 F/T
Watermaxx has designed and crafted three exceptional water dispensers specifically tailored to personal, business, or industrial applications. Not only do these models offer you the highest quality of crystal-clear purified water on demand; but Watermaxx uses the very best materials for construction so it's sure to last a lifetime!
Key Differentiators
Instantly heats or chills water
Has safety lock features
Efficient direct pipe-in for cold, hot, and room temperatures
Client Testimonial
One of the best investments I have ever made so far! I don't have to worry about the time factor when cooking or making milk for my toddler. I am glad that my family is now drinking cleaner water than before. Excellent customer service and value for money water filter machine. Strongly recommended if you are looking for one!

Priyalatha Ganaysan
18) Aerogaz Premium Digital Water Dispenser
Don't let the cost of a high-quality water dispenser scare you away! Take, for instance, the Aerogaz Premium Digital Water Dispenser – it is superior in more ways than one and yet comes with an unbeatable price tag of only $90! Compared to other options in its class, this model offers great convenience & quality without having to break your bank.
Key Differentiators
Big LED display with white light background, showing temp and volume
Boils water instantly
With 7 different water temp selection
Client Testimonial
I was astounded by the speed of delivery, as well as its careful packaging. The product is user-friendly and made me feel confident in my purchase decision – I would not hesitate to recommend it to others! My deep gratitude goes out to the seller for their excellent work.

darius.miens
19) Hydroflux H 2300 Nano Direct Tankless Water Purifier
The Hydroflux H-2300 takes your water purification seriously and implements a 4-stage filtering system to ensure that you receive the highest quality of cleanliness. It also utilizes modern sterilization methods to maintain your pipes in pristine condition. For maximum safety, UV radiation is used every hour for 15 minutes to disinfect any contaminants from the outlet using ultraviolet light.
Key Differentiators
Tankless, tiny model with an efficient self-cleaning system
Has 5 temperature settings to pick from
Can be regulated and equipped with a 4-stage filtration system
Client Testimonial
I just bought the remarkable Hydroflux Wish model, and I am incredibly pleased! Bryan provided a detailed overview of all its features and attributes when he came to me in person. Moreover, installation was fast, organized and efficient – thanks to the highly competent installer who made sure to give thorough instructions. And don't forget that it also comes with an unlimited warranty! All in all, this has been a great experience for me; top-notch service from start to finish.

Marie Tay
20) Coral Pure Natural Water Dispenser
When it comes to water dispensers, Coral Pure leads the way with their advanced systems such as the Coral Pure 365 Shower Filter, Premium 5, Premium 7 and 8++. But if you're looking for an unparalleled experience in terms of specifications and features that surpasses anything else on the market then you won't want to miss out on checking out their top-of-the-line model – The premium 9! Plus when you invest in a system from this brand not only do your get exceptional quality but also peace of mind knowing that all purifiers and non-electrical components come included with a lifetime guarantee.
Key Differentiators
Three pre-defined dispensing volumes
Provide the most thorough antioxidant water possible
Highest filtration specification
Create 100% Natural Antioxidant Alkaline Hydrogen Mineral Water like mountain spring water
Client Testimonial
After consuming Coral Pure for several months, my sodium and cholesterol levels dove, and nighttime restroom visits became far less frequent. Additionally, my thyroid health drastically improved – I'm sure to recommend this product to all of my family and friends. Thank you Coral Pure!

Jeanie Chew
21) 3M HCD2 Water Dispenser
The 3M AP2-G filter operates on advanced carbon technology to remove 0.5 microns of sediments, chlorine, lead and other compounds including arsenic and fluoride from your drinking water with a 99.95% efficiency rate. To further ensure the quality of your drinking water, this dispenser also includes an impressive UV system that guarantees a sterilization rate of up to 99.9%.
Key Differentiators
It offers instant hot water and has a UV system feature.
Setting up for power conservation and simplicity.
Client Testimonial
I should have been blessed with this wonderful machine ages ago; it has certainly made my life so much easier! All I need to do is press a button and, voila – boiling hot water, ice cold water, or room temperature water right away. Who would've known that getting access to these three temperatures could be such an effortless endeavor?

Yina Goh
22 ) Aqua Kent Singapore
Aqua Kent Singapore is an esteemed, local brand proudly dedicated to making your lifestyle more affordable and hassle-free. Their commitment to quality products and responsive service ensures that all customers have their needs met in the best way possible. From competitive prices to superior customer care, Aqua Kent Singapore pledges satisfaction for every purchase you make!
Key Differentiators
Most Affordable hot & cold Tankless Water Purifier manufactured in S.Korea.
A team of dedicated engineers & dietician to provide the most optimal solution.
18cm Slim Purifier with inbuilt UV sterilisation & advance virus removal filtration system
Client Testimonial
If you are searching for a tankless water purifier and dispenser, look no further! After doing extensive product research, I determined that the Pearl series is not only the most affordable unit made in Korea but also does not sacrifice quality. Kriz will be more than happy to explain its technology features when you make an appointment with him. Not only is installation fast and effortless, but there's currently an incredible offer available – it's truly worth taking advantage of!

Mr.Halim
23) IKEA KALASFINT Glass Water Dispenser
With the IKEA KALASFINT water dispenser, staying hydrated is a breeze! Not only does it require no power and have an easy-transportable design, but its low cost makes it an attractive choice. It's also simple to store and keep track of your daily water consumption with its 3L capacity – or take advantage of the 5L model for larger gatherings like family reunions or parties. Best of all? This glass dispense will make sure you stay refreshed at any time without breaking the bank!
Key Differentiators
It's a great choice for people on a budget.
Made of glass and capable of holding 3L of water
24) Raslok
For ten years, RASLOK has been revolutionizing Singapore and beyond by merging the latest technology into its products. Our aim is to drastically improve people's lives through top-tier products and services that meet our customers' needs – because at RASLOK, we believe in empowering individuals with innovative solutions!
Key Differentiators
Provides the best value-for-money products in the market
Instantly dispense super-hot, lukewarm and super-cold water
Powerful NSF and SGS-certified multistage filtration system
Client Testimonial
We are extremely gratified with our water dispenser! Alfred and Din provided us with superior service: we ordered it on Wednesday, and they delivered it the following Friday. Their technician was very kind and patient throughout the whole process—we couldn't be more pleased! We highly recommend them; thank you so much, AJ & Din!

Evelyn Poh
25) Cosmo
With a kettle, it can be hard to achieve the perfect temperature for whatever you're preparing—whether that's green tea, formula milk or items that need disinfecting. Luckily, Cosmo Quantum has your back with three varied temperature settings so you can get just what you want every time!
Key Differentiators
Filter change indicator
Energy-saving mode & 3-second reheating system
Quantity control to dispense specific volumes of water
Client Testimonial
Was an overall very pleasant buying experience with this brand. Went down to their showroom and the lady staff was there to help me with my queries. Immediately bought it when I went home and it arrived in about a week or less. When the order arrived, they came earlier than expected and the staff who helped with the installation was efficient, knowledgeable and very friendly.

Peng Hwee
26) Pure Water PW-310S/K
Pure Water Dispensers Pte Ltd proudly offers state-of-the art direct pipe-in water dispensing and filtration systems that have been carefully crafted to integrate seamlessly into any contemporary home or office. Our PureWater water dispenser has a sleek, modern aesthetic sure to enhance the look of your space without overwhelming it.
Key Differentiators
Aftersales assistance and a customized consultation
Provide recommendations from a professional staff
High quality and competitively price water dispenser
Client Testimonial
Peter exceeded expectations when he gave his best effort in diagnosing the pressure issue with my well. He provided me with a few solutions and an educated opinion, so I chose to follow his advice – which ended up being correct! It's remarkable having someone who understands what they're doing at such an affordable price point; Peter is sure to have my loyalty for life!

Mary H
27) Frigeria Z-Bottom Load Hot & Cold Water Dispenser
If you are in need of the perfect dispenser for your dining area, then welcome to the Frigeria Bottom Load Hot and Cold Water Dispenser! This stand-alone bottled unit features a bottle drawer at its base which makes switching out bottles hassle-free. Look no further than this specific model; it has all that you've been searching for.
Key Differentiators
It requires no installation
With a two-button dispensation
BPA-free, dishwasher-safe bottles with a minimalist look
28) Fresh Dew Hot & Cold Dispenser +4 Filters + NSF Tap
If you're searching for a space-saving water dispenser that is both attractive and efficient, then the Fresh Dew Hot & Cold Disperser should be your go-to option. This model has been very popular in Singapore due to its chic design, as well as its reliable filter technology which ensures clean drinking water with all necessary elements present. Best of all, there's no maintenance required since this machine doesn't need any servicing!
Key Differentiators
Built-in alarm system to alert users when the filter needs replacement
Meets safety standards and certified by NSF
Child safety lock feature to avoid accidental spills
Client Testimonial
We are delighted with the sleek and stylish FreshDew dispenser in our showroom. This has been incorporated into all of our latest projects, as well as Tomal Custom Series filters and NSF certified drinking taps being added to every luxury condo unit we construct at Balmoral and Ambers – underlining that access to clean water is a key element of modern life.

SG Property Developer
29) 828 Water Dispenser
For the utmost convenience and dependability in a water source, this floor-standing water dispensers are your go-to choice for offices or residences that boast ample space. With both hot and cold settings at hand, these can regularly be found in living rooms or other communal areas such as reception spaces and pantries. If you don't have much room to offer for a larger appliance, one of ther tabletop models would do wonders – they're small enough to fit just about anywhere but still give off chilled hydration!
Key Differentiators
Water dispensers are available in a variety of shapes, sizes, and styles
It works with a 4 stage filtering system
Customized installations and solutions are available
Recommended Product
828 Table Top Water Dispenser Series 3
828 Floor Standing Water Dispenser
Client Testimonial
I recently purchased a unit for my new home and the water dispenser is sleek and attractive. It functions perfectly, so I would absolutely recommend it to friends and family!

Li Yamei
30) Sterra
The Sterra S Tankless Water Purifier is an ultra-sleek, slim appliance from Korea that provides fresh, delicious hot and cold water in a mere three seconds. Not to mention its attractive design ensures it can fit into any kitchen without dominating the space. Moreover, this state-of-the art purifying system efficiently draws water straight from the source while boasting economical filter replacements as well as low electricity consumption – allowing you to save money over time with no difficulty whatsoever!
Key Differentiators
Most Value for Money Purifier brand
Round the clock, quality customer service
Top notch installation by professional technicians
Recommended Product
Sterra S Tankless Water Purifier
Sterra S Tankless Water Purifier
Client Testimonial
Sterra is a game-changer! No more wasting time trying to get the perfect temperature and amount of hot and cold water for your baby's milk. With Sterra, you can have warm water in an instant – always at the ideal temperature. I'm so grateful that I made this purchase, and would highly recommend it to any new parents out there!

Sheryl L.
31) Pure Water Dispensers Singapore
Pure Water Dispensers Singapore is devoted to bringing you premium direct pipe-in water dispensing, along with its wide selection of filtration products and services. They take pride in knowing they are offering the highest quality service possible, always maintaining your water dispenser units so that you will have them for as long as possible. Their friendly team of professionals know exactly how to help you choose the right unit and provide personalized consultation when necessary; plus prompt after-sales service should any issues arise down the line.
Key Differentiators
Personalized Recommendations
Affordable Solutions
Prompt and Friendly Service
32) Tecno Instant Water Dispenser
Tea enthusiasts love the seven temperature settings on the Tecno Instant Hot Water Dispenser! This feature makes it simple to steep all kinds of tea leaves, since each kind needs its own unique brewing temperature for optimal flavor.
Key Differentiators
Instant boiling water dispenser, boils water in 5 seconds
Stainless steel body with digital touch control
Food-grade PP material
Client Testimonial
The water dispensing process isn't bad, but it is a bit slow when you're wanting normal temperature water. To speed up the process, why not pre-fill your drink bottle or flask with filtered water? That way there's no need to wait for boiling because of the filter and instant hot water – making everything quicker!

tohhuili
33) AquaNova Alkaline Water Dispenser AQN 365TS
The AquaNova Alkaline Water Dispenser AQN365TS is a must-have water treatment system that helps you maintain the alkalinity of your body. Whether you require blood PH regulation or immune support, this device offers all the necessary features to meet those needs and more! Plus, it's equipped with a four-stage filtration mechanism that cleanses each drop so no impurities enter your glass when in need of hydration.
Key Differentiators
It dispenses alkaline water
4 times filtration system is improved
34) Hyflux/ELO Living D800 Dew Water Dispenser
The Hyflux/ELO Living D800 Dew water dispenser offers a hassle-free and foolproof user experience with its touch-sensitive buttons that only respond to your fingers. Furthermore, it features an innovative child lock system in order to protect children from getting hurt while operating the machine—making it perfect for families looking for convenience without compromising on safety!
Key Differentiators
Has powerful filtering features
With the smart, touch-enabled water dispenser and automatic cleansing
With a child lock key feature that is safe for kids
35) Wells Singapore
Wells Singapore, a brand that is devoted to pleasing customers with eco-friendly electrical appliances, knows there's only one way to provide the best: by delivering it. Their mission is to establish a healthy lifestyle for their patrons and present them with the gift of nature even in small spaces like homes or offices.
Key Differentiators
High Quality and Eco-friendly Appliances
Competitively Priced
Excellent Customer Service
Advanced Technology for Maximum Efficiency
Client Testimonial
We were instantly smitten with the incomparable simplicity of this design – sleek, chic and sophisticated. It fits beautifully on our kitchen island and is a breeze to use as well! We found customer service at The Well to be exemplary throughout the entire process; from the salesperson who helped us select our appliance all the way up to their talented technician.

Noryati AS
36) Livingcare
Key Differentiators
Homegrown company with impeccable service, proven by reviews
1st motorless water dispenser in SG (eco-friendly)
Used and trusted by many celebrities such as Zoe Tay, Fann Wong, Elvin Ng, etc.
37) Ruhens Tankless Water Dispenser
Bring a touch of modern style and vibrant color to your kitchen with the Ruhens V Series Tankless Water Purifier Dispenser! Available in bubblegum pink, white, silver, or black – it will be the perfect addition to any home. Plus you can enjoy reduced power consumption by 30% when using its eco-mode feature. So stop worrying about how your kitchen looks now; you'll have an attractive water purification system that also helps lower your energy costs!
Key Differentiators
Eco-mode feature reduces power consumption by up to 30%
Available in 4 stylish colors – bubblegum pink, white, silver & black
Easy to use and maintain for hassle-free operation
Built with advanced filtration technology for clean drinking water
Client Testimonial
I recently purchased a Ruhens water dispenser for me and my family, and we are absolutely delighted with it! It has truly made our lives much more convenient. Kishal's team of colleagues went out of their way to provide us with an in-depth explanation about the different models available until they found the perfect one that fit all our needs – they were so patient throughout the entire process!

AlexMegan BenDecarlos
38) Purity Singapore
Since 2014, Purity Singapore has been a trusted name in providing alkaline water drinking systems with an excellent reputation for customer service both before and after purchase. Boasting the best products at significantly lower costs compared to their competitors, they have received outstanding reviews on Google and Facebook from happy customers alike. With state-of-the-art precision tankless water dispenser models such as Purity Plus and Purity Pro – currently running launch promos – there's no excuse not to check out what this amazing local company offers!
Key Differentiators
Zero water wastage alkaline water dispenser
Fully customisable volume control
Medical grade nano 4 stages filtration system
Client Testimonial
After weeks of researching to find the right water dispenser, I finally chose Purity Plus. This sleek tankless appliance offers four different temperature settings and comes with Alkaline water. Installing it in my kitchen was a great decision – not only does it look stunning, but is also easy-to-use! The fast and smooth flow of this machine has been nothing short of amazing compared to what I had before. With no regrets about this purchase whatsoever, I'm more than satisfied with my new Purity Plus Water Dispenser!

Joan Yeow
39) TOYOMI Instant Boil Water Dispenser FB 6108
No longer do you have to wait ages for a steaming cup of hot chocolate! With the TOYOMI Instant Boil Water Dispenser FB 6108, you can now quickly get piping-hot water in seconds. Save your precious time and relish every sip of coffee with this amazing device.
Key Differentiators
You can use the transparent water tank to keep track of how much liquid is left
Has a capacity of 3L
It includes child-friendly security and an easy-to-use design
40) Viomi Hot Water Dispenser
Taking the 20-odd steps to our kitchen can feel like a long journey during all of those days when we are cooped up in our rooms and feeling extra busy or sloppy. Fortunately, the slim Xiaomi Viomi 2L water dispenser is here to make things easier; it fits perfectly on any side table or shelf while taking up roughly as much space as an average coffee maker.
Key Differentiators
Fast heating time (20 seconds)
Eco-friendly design with an energy-saving mode
Compact and stylish design that fits anywhere in the house
Two temperature settings
Client Testimonial
I was incredibly pleased with how quickly my product arrived, arriving in under 24 hours! It functions perfectly and is easy to understand even though the manual came in Chinese. The water flow is rapid so I don't have to wait for boiling hot or icy cold temperatures. After testing it all out, I am very satisfied and hoping this product will last me a long time – thank you seller and NinjaVan! Highly recommend their services.

lyz
41) Tomal Global – Fresh Dew
Tomal has combined a clear vision, entrepreneurial energy, and filtration know-how to elevate living standards in urban cities. By innovating bespoke solutions for both businesses and consumers alike with regard to their air quality and water consumption, Tomal is pushing the boundaries of modern lifestyle advancement.
Key Differentiators
Instant hot and cold water with a 3-in-1 filtration system
Multi-temperature control, allowing users to select the perfect temperature for their needs
Compact design that fits anywhere in the house while taking up minimal space
Client Testimonial
Awesome service, greatly effective and affordable system that was set up efficiently and hassle-free! My whole family now has clean, filtered, and alkaline water to drink daily, straight from the tap!

Lee Li Ping, Founder and CEO, Sogurt Pte Ltd
Water Dispenser Singapore
Providing safe drinking water for your family or office is a no-brainer. Plus, with the huge variety of Singaporean companies offering an almost endless selection of stunningly stylish water dispensers to suit any budget, you don't have to sacrifice aesthetics either! Finding the perfect water dispenser Singapore to meet all your needs has never been easier.
If you're looking for more recommendations, you can check out our other posts below:
Frequently Asked Questions (FAQ)
If you have any questions about Water Dispenser Singapore, you can refer to the frequently asked questions (FAQ) about the best Water Dispensers in Singapore below:
Additional Useful Articles
If you are looking for other useful guides and articles about Water Dispensers in Singapore, check them out below: