Catering Singapore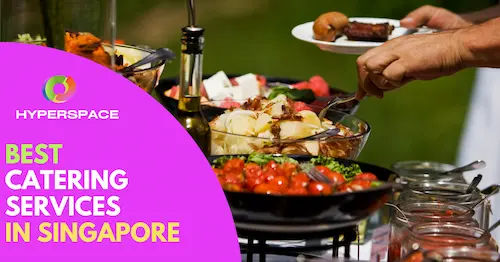 When it comes to catering services in Singapore, the options are vast and diverse, catering to every conceivable taste, event, and budget.
The best catering services in Singapore include Eatz Catering Services, Katong Catering, Monsta BBQ, The Plattering Co, and Deli Hub.
When choosing a catering service in Singapore, consider factors such as your budget, the variety of menu options available, any dietary restrictions, and feedback from previous customers.
Catering services provide a diverse range of culinary styles, encompassing local Singaporean cuisine, international dishes, and fusion food choices.
So if you're planning an event in Singapore, be sure to check out these amazing catering companies!
Key Consideration Factors
Here are some things to remember before choosing a catering service in Singapore:
Experience: Look for an experienced service provider that has a proven track record in catering high-quality meals for all types of events.
Food Quality: Ask about the ingredients used, cooking methods and make sure the food is freshly prepared onsite.
Service: Check out customer reviews to see if the company provides friendly and helpful staff.
Range of Options: Make sure the caterer provides a wide variety of dishes to suit different tastes and preferences.
Price: Compare rates with other service providers to ensure you get value for money.
Best Catering Singapore
1) Eatz Catering Services
Make your event unforgettable with EatzCatering! This trusted catering company will provide you and your guests with delicious buffet platters. With over 17 years of experience in event planning, EatzCatering is a reliable partner that can help you make your occasion special, ensuring it's remembered fondly by all. Book them today, and let the fun begin!
2) Katong Catering
Experience the familiar flavors of home-cooked meals from Kang Kong Catering. Their signature dishes, such as King Size Prawn Sambal, Curry Chicken, Mutton Rendang and beyond will tantalize your taste buds with their deliciousness!
3) Monsta BBQ
For an unforgettable grilling experience, look no further than Monsta BBQ! Their expert chefs provide a range of mouth-watering barbeque bundles featuring various meats like ribs, steak, and chicken. Plus, they have all the equipment you need for your barbecue–even disposable eating utensils. And if you're hosting large gatherings often? They even offer special pricing on bulk orders. Don't miss out – get in touch with Monsta BBQ today to start planning your next grill party!
4) The Plattering Co
Celebrate your special occasion in style with The Plattering Co! This catering services provider offers a wealth of options for any event, from luxurious buffet spreads to personalised gift boxes. Add an extra touch of whimsy with their signature donut walls, starting from just $17. Let The Plattering Co do the work for you and let yourself sit back and enjoy your special day without worrying about a thing!
5) Deli Hub
Treat your guests to delicious cuisine from Deli Hub! Not only do they have an extensive selection of catering services, from buffets to live stations, all dishes are overseen by culinary professionals. Moreover, their environmentally-friendly utensils help make events more sustainable. Owned by the Neo Group, Deli Hub provides quality food and space solutions with just one transaction — making them the perfect choice for your special occasion!
6) Culture Catering
With Trust Catering Culture, the possibilities are endless! We offer corporate catering and Peranakan cuisine for small gatherings like company-wide Halal Bensos Delivery to large events with over 12,000 attendees even during a pandemic. Our professionalism and efficiency makes us stand out from the rest – experience our services today!
7) Theme Catering
Make your wedding day one to remember with Theme Catering! Award-winning chefs craft unique menus while the experienced team of stylists guarantee elegant and thematic setups — all at prices starting from just $29 per pax. With their sharp eyes and attention to detail, Theme Catering will make sure that you get the perfect results for your special day. Trust Theme Catering to make your matrimonial celebration truly extraordinary!
8) Coriander Leaf
Indulge your taste buds in the exquisite flavors of Asia, created by renowned chef Samia Ahad at Chijmes. Her philosophy is built around her appreciation for food's simple beauty, which she pairs with a modern twist to make sure no classic dish loses its authentic essence. With an ambitious team ready to provide perfection – whether it be a private dinner or corporate lunch event – they are prepared to give you an incredible experience that will stay with you long after you leave.
9) QQ Catering
Get the best in fine cuisine with QQ Catering! Founded by Food and Beverage Industry specialists, this top-choice catering service specializes in food catering, buffet delivery, and bento services — all prepared with the finest ingredients by highly trained chefs. Taste the difference with QQ Catering as they revolutionize the industry with their focus on providing meals that are not only delicious but also nutritious.
10) Gusto's
Get the tastiest cuisine at an accessible price with Gusto's! Whether it's a birthday celebration in Singapore or engagement party, you'll find the perfect catering solution with their wide range of breakfasts, cocktail parties, buffets and fine dining services. Previous and returning clients alike have highly recommended Gusto's for budget-friendly yet delicious catering solutions — so why not make them your go-to caterer?
11) Lao Huo Tang Catering Pte Ltd
Enjoy restaurant quality dining at home with Lao Huo Tang Catering Pte Ltd! From small groups to hundreds of people, they provide the perfect buffet solution — with standard, deluxe and premium varieties. Plus, their specialty is bringing their restaurant directly to your…home so you can enjoy deliciously hot food out of the comfort of your own living room. Let Lao Huo Tang Catering make your next event a success!
12) House Of Catering
Get the most bang for your buck with House of Catering F&B! These professional chefs are cooking up tantalizing dishes like never before, with unique recipes and unbeatable prices. Their quality and quantity are second-to-none — so if you're looking for the best caterer in town, you know where to go. Experience the best of Singapore's food scene at House of Catering F&B.
13) Chilli Manis Catering
Spice up your next event with Chilli Manis! From the fusion flavors of Peranakan Cuisine to the unique blends of Chinese, Malay and Indonesian influences, you can't go wrong when it comes to this one-of-a-kind restaurant. Get premium catering services in Singapore that will leave your guests wanting more — experience the unforgettable taste of Chilli Manis today!
14) FoodLine
Look no further than FoodLine for all your dining needs! Founded by Joseph and Shawn in 2009, their mission is to make it easier for you to find the perfect catering service for your special occasion. Easily browse through reviews and recipes of different catering businesses, or post your budget and taste preferences — this one-stop shop has everything from cakes and desserts to wines and other food caterers. Enjoy the convenience of searching and choosing from multiple options with FoodLine!
15) Manna Pot Catering
Get ready to experience the exceptional cuisine and service of Manna Pot Catering! Founded in April 2002, this Singapore-based catering company has grown to become a one-stop shop for all your party and event needs. Taste the exquisite flavor of their ever-evolving menu, featuring both classic dishes and modern creations — add extra flair to any gathering with help from prestigious partners. Let Manna Pot Catering take care of your next get-together today!
16) Stamford Catering
Make your event a success with Stamford Catering! With two decades of experience and countless prestigious engagements — including the 28th SEA Games, inaugural Youth Olympic Games, StanChart Marathon and OCBC Cycle — this Halal-certified caterer is your go-to option for all your event needs.
Whether you're hosting an intimate gathering or a corporate event, Stamford Catering has got you covered with their customizable menus at competitive prices. Impress your guests with the exceptional quality of service offered by Stamford Catering!
17) Orange Clove
Get your event started right with Orange Clove Catering! From intimate gatherings to large-scale events, Orange Clove has the perfect dining experience for you. Choose from a variety of catering options, including buffet, cocktail, sit-down, Bentos, BBQ and food truck — all Halal certified for your peace of mind. Each menu is tailored to fit your event type and style preferences; count on Orange Clove to serve up delicious meals at any gathering of up to 120 people. Make your event extra special with Orange Clove Catering today!
18) Garibaldi
Are you searching for an unparalleled taste of Italy? Look no further than Garibaldi restaurant! Not only do they provide catering services for small parties, but their tantalizing canapes will make your mouth water. Their collection is full of irresistible options such as tomato and mozzarella skewers, golden saffron rice croquettes, or mini eggplant parmigiana – all sure to blow your mind!
19) Vegetarian Buffet
From intimate feasts to grand celebrations, creating cherished memories is effortless when you have amazing food and great company. Let them do the work for you in this area so that you can truly savor your time together! Their menu offers an exquisite variety of plant-based delights, perfect for those with dietary requirements or who simply prefer a diet high in whole grains and vegetables.
20) Purple Sage
Treat your guests to an unforgettable culinary experience with Purple Sage Catering! From sophisticated butlers to western sit-down dinners and creative molecular action stations, Purple Sage provides the most remarkable catering services in Singapore. Their fresh ingredients ensure that each dish is a savory delight – perfect for making any special occasion truly one-of-a kind. Satisfy every taste bud and exceed expectations with Purple Sage Catering!
Catering Singapore
Whether you're hosting an intimate birthday party in Singapore or a large-scale event, there is no shortage of catering options in Singapore.
From classic dishes to modern creations and Halal certified menus to molecular action stations, the best Catering Singapore services listed above have something for everyone!
With their delicious food, expert staff, and customized menu options – these caterers will help make your special occasion truly unforgettable.
So if you're looking for top notch catering services that won't break the bank – then look no further than this list of the best Catering Singapore Services!
Check out some of our other related articles below:
Frequently Asked Questions (FAQ)
If you have any questions about catering services in Singapore, you can refer to the frequently asked questions (FAQ) about the best catering services in Singapore below:
Additional Useful Articles
If you are looking for other useful guides and articles about catering services in Singapore, check them out below: